A Complete Solution for converting your visitors into leads then customer. It provides hosting, temples, attractive landing pages, and convertible actins.
PROS:
easy to use
saves lots of time
Beautiful Templates
Sort templates by conversion rate
Integrations of Leadpages
Pop-up, Alert Bard
Free Hosting & Domain
Online Payments
A/B Testing
Unlimited Landing Pages
CONS:
Extremely inflexible
Little-bit costly
Do you want to increase the number of subscribers to your blog? Or want to increase your email list?
If yes, then definitely you are in the right place. Here, in this article, We will tell you about a platform which is called "leadpages", which helps you to create a beautiful and attractive landing page.
Leadpages is an amazing platform that works on the principle of drag and drop and is used to create attractive landing pages, setting up email sign-up forms, and deliver ethical bribes.
If you don't like spending time coding and all, then the platform will be ideal for you. It will help you to build a relationship between you and your visitor online.
In This Post, We Are Sharing:
What Is LeadPages
Leadpages Pros & Cons
Features Of LeadPages
How Does LeadPages Works
Being a professional blogger and knowing the importance of time, so without wasting it, let's begins with the reviews of this amazing platform i.e. Leadpages.
Let's Start-
What Is LeadPages?
LeadPages is an online marketing platform, which helps you in creating sites, and landing pages, generate and manage leads, and many other features.
It is the best platform for marketers to drive their target audience on conversion pages. It provides some ready-to-use Premium Templates that you can buy from its stores.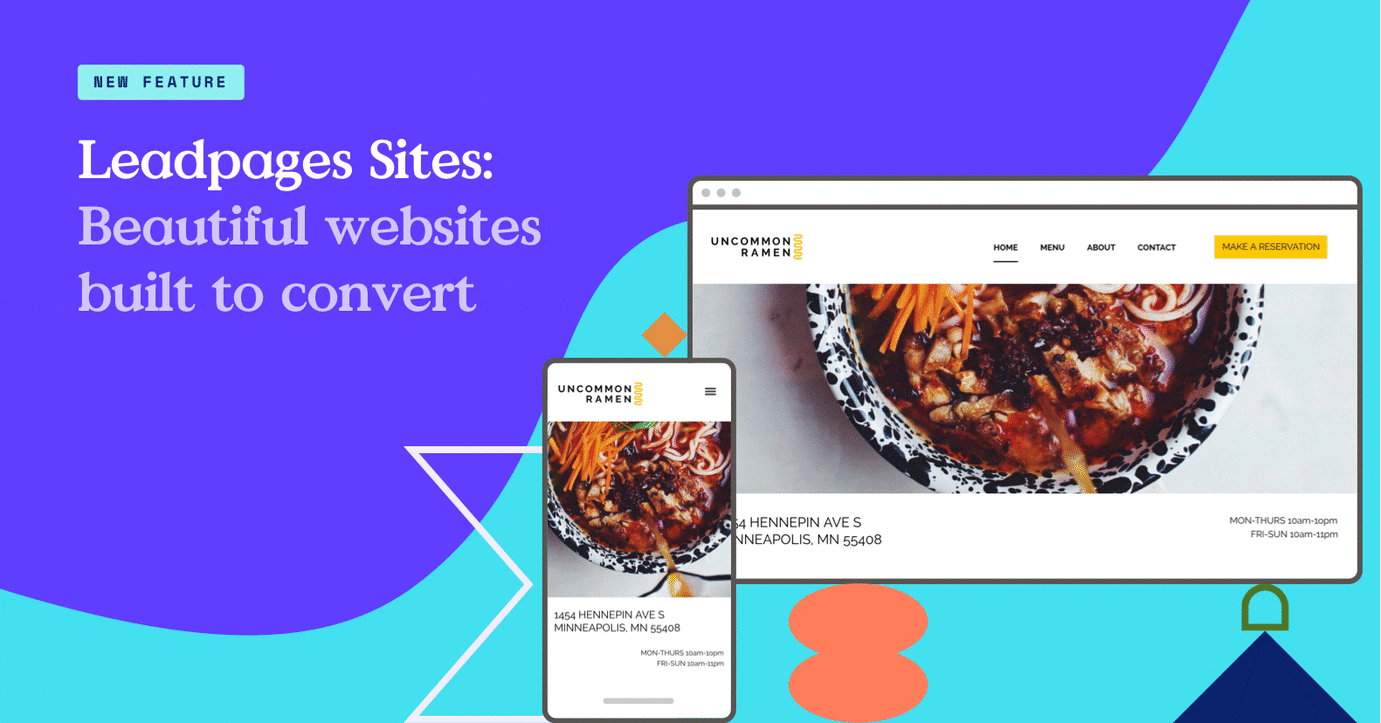 LeadPages offers a 14-Day of Free Trial when you choose any plan; you can experience using Leadpages features and tools and you can also get a good idea about your work without being charged.
Want To Try LeadPages For Free?

LeadPages Free 14-Day Trial
You can build an unlimited no. of landing pages, leads, and traffic using its 200+ professionally designed templates. LeadPages gives you full access to their features with a minimum charging any cost, which is the best deal for users.
Introduction – LeadPages Review
LeadPages was founded in 2010 by Clay Collins, Tracy Simmons, and Simon Payne at Minneapolis in the United States. It is basically a platform that works on the principle of drag and drop and is used to create attractive landing pages, setting up email sign-up forms, and deliver ethical bribes.
This tool helps you to create a landing page for doing webinars and creating courses and products. Setting up email sign-up forms enables you to enhance your email list much faster.
The best thing about this tool is, it is easy to use and does not require any coding skill and because of that, it becomes the most selling platform for creating landing pages. With its drag-and-drop feature, you can hardly create a good-looking landing page within 10 minutes.
Very popular email service providers like Mailchimp, Convertkit, and Aweber has built-in integration with lead pages.
No issue if you are using WordPress or not, if you are using WordPress then you can access it with their plugin and if you are not using word press then they provide you formatted HTML code, which you have to paste in the back end of your website.
Leadpages offers you tons of perfectly designed landing pages, which you have to sort by conversion rate, and then you get the best result of it. You can easily choose the perfect template on the basis of your need.
Know Its Features-
Leadpages Features Review
Here are the key features of Leadpages –
Drag and drop editing
130+ free templates
the huge marketplace of paid templates
Tons of marketing integrations
Hosted landing pages
Tons of website integrations
Easy A/B testing
Detailed analytics
30 days money-back guarantee
24*7 Customer Support
With LeadPages, You can Showcase your business with DIY websites and landing pages engineered to entice your visitors to take action.
You can Grow your email subscriber list with opt-in offers, instant digital file delivery, and conversion-optimized content.
Increase your income with high-converting sales pages, built-in checkouts, and secure online payments powered by Stripe. You Can Check up on your performance with real-time tracking and run unlimited split tests to maximize your results.
Which Plan is Best For You??
Leadpages Plans Review-
LeadPages has 3 plans and they are Standard, Professional, and Advanced.
Leadpages offers you a monthly subscription as well as an annual subscription for all their plans, of you, prompt to choose an annual subscription plan then you will be getting a 33% discount also.
Take a view on LeadPage Plans & Features:
Features

Standard

Professional

Advance

Sites

1

3

50

Templates

160+

160+

160+

Tools

40+

40+

40+

Pop-up forms

Limited

Unlimited

Unlimited

Unlimited Traffic & Leads

Yes

Yes

Yes

Custom Domain
With Annual Plan
With Annual Plan
With Annual Plan
Lead Notifications
Yes
Yes
Yes
Online Sales & Payments
–
Yes
Yes

A/B Testing

–

YES

YES

Advanced Integration

–

–

YES

Sub-accounts

–

–

5

PRICING

(Paid Annually)

$25/month

$48/month

$199/month
The best part of using lead pages is they offer a 30-day money-back guarantee, so after using if you don't like their platform, you can easily apply for a refund policy.
LeadPage Standard plan is its first plan with all the marketing features excluding online sales and testing tools. But for a marketer, there are lots of helpful tools to create amazing pages and sell using other sources.
Choose The Best Pricing For You-
Leadpages Pricing & Cost Review
LeadPages pricing start from $25/month in its Standard Plan. The rest of the 2 Plans are Pro and Advance cost similarly $48/mo and $199/mo.
If you want to use all the features then you can with their Advanced Plan, which starts at $48 per month, billed annually.
LeadPages pricing starts from $37/month in its Standard plan. LeadPage's other plans are Professional and Advanced which cost $79/month and $321/month respectively after the 14-day trial period if you choose a monthly subscription.
LeadPages offers three different plans to its users-
Standard
Professional
Advanced
LeadPages offers three different pricing plans for their users which are the Standard Plan, Professional Plan, and Advanced Plan, costing $37/month, $79/month, and $321/month respectively if paid monthly after the free 14-day trial period.
We've shared the total price and discounted price, so you can get the right deal.
| | | | |
| --- | --- | --- | --- |
| | Standard | Pro | Advanced |
| Monthly Plan Price | $37/mo | $79/mo | $321/mo |
| Total Annually Payment | $444 | $948 | $3852 |
| | | | |
| Annually Plan Price | $25/mo | $48/mo | $199/mo |
| Total Annually | $300 | $576 | $2388 |
All the above LeadPages prices are without any Coupon or Special Offer.
Want To Know More About LeadPages Pricing?

LeadPages Pricing Plans with Latest Discount
As per research, I got to know that their pricing and features do change from time to time. So for the latest, you can check their website.
Why You Choose Leadpages?
Leadpages are used to create amazing as well as attractive lead pages which help you to collect emails of your visitors. And enhance your email list. They offer tons of perfectly designed templates from which you can choose the one as per your need.
With its price and Feature, this tool seems to be best for those, who want to create landing pages for lead generation and for offering services.
This tool seems to be best for:
Blogger
Small business owners
Email marketers
Entrepreneurs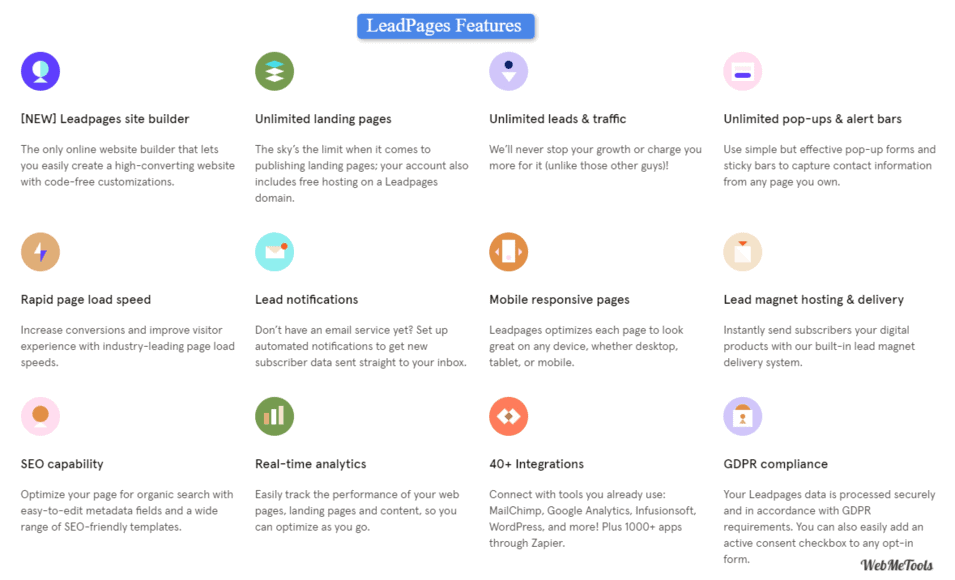 The best part about LeadPages is that they offer a 30-day money-back guarantee. So, in case after using it, if you don't like their platform, you can easily apply for a refund policy in which they will return you the whole paid amount without cutting any charges.
LeadPages seems to be best for beginners, bloggers, Affiliate Marketers, Small Business Owners, Entrepreneurs, and Email Marketers who are planning to start up or grow their businesses at a very affordable price.
Know Its Advantages & Disadvantages-
LeadPages Pros and Cons
Leadpages is one of the best landing Page Builder tools, But Like Every Other builder, It has some Pros & Cons As Well as, With Some Experience with leadpages, we are sharing its Pros & Cons On The User Basis.
Positive
Very quickly set up a conversion-tested landing page to gather leads.
You will find lots of variety of Sales And Landing Pages
You can Learn About Funnels & Marketing from Leadpages Resource.
Negatives
Hard to modify
It can be difficult to incorporate custom HTML & CSS
Little higher as compared to other builders
FAQs –
Queries Related To LeadPages & its Review
Get more ideas and info about LeadPages from the below FAQs.
What are the lead pages?

Leadpages is a very popular tool or platform used to collect leads or emails of your visitors, They provide one of the perfectly designed templates for lead magnets, webinars, and landing pages in order to grow your subscribers.

How Does LeadPages Work?

Leadpages is a drag-and-drop tool that you can use to: Create a landing page for your webinars, books, courses, and other products. and Increase Your Conversion Rate.

What is the difference between leadpages and ClickFunnels?

They both have plenty of the same features but only a few features are different. Click funnel is all-in-one sales software, it enables you to manage everything from lead pages to sales in one platform. While leadpages is specially designed for creating landing pages.

How much does lead pages cost?

Leadpages is available in 3 plans but they billed annually.
Standard – $25/month.
Premium – $48/month.
Advanced -$199/month.
It also comes with 30 days money-back guaranteed, if after purchase, you don't like their product, then you can easily apply for a refund.

Can I build a website with leadpages?

Yes, lead pages site builder helps you to create a high-converting website with code-free customizations. It not only builds your website, but it also builds your business.
| | |
| --- | --- |
| Category | Page Builder & Hosting |
| Starting Price | $25/mo |
| Key Features | Free Domain & Hosting, Lead Pages, Pop-Up & Alert Bars |
| Verdict | Create your each page Convertable with this complete solution. |