Billo is the ultimate platform where you can source short-form marketing video content. The innovative approach helps eCommerce businesses of all sizes connect with talented video creators, resulting in the production of custom videos like unboxing, testimonials, 360 videos, how-to guides, and more.
By producing valuable content, businesses can enhance their social proof – the concept that people are more likely to trust and follow the actions of others – and build stronger relationships with their customers.
Social media platforms such as Facebook, Instagram, and TikTok provide an ideal platform for businesses to share their content and reach a wider audience.
It's a fantastic place to start if you need fresh content about your products or you wanted to be a creator. It is fueled by a dynamic team of individuals who prioritize trust, continual learning, empathy, and self-awareness.
In this review article, we'll discuss Billo cloud-based platform which helps to scale up your E-commerce businesses and UGC content.
So without wasting more time let's dive!
Let's Start!!
About – Billo
Billo was launched in January 2020, with a focus on building use cases in the home market while simultaneously exploring other markets.
According to Tadas Deksnys and Donatas Smailys, the co-founders of "Billo," the marketing industry's global shifts have motivated them to establish this platform.
In its first year, Billo has made significant strides in fine-tuning its approach and optimizing its platform to better serve its customers.
With a commitment to innovation and expansion, Billo is well-positioned to continue providing cutting-edge solutions to businesses around the world.
Billo's goal is to provide access to a wide range of unique and authentic video content for businesses of all sizes. 15000+ brands have already joined Billo to get their content needs met.
Know About Process
How Does Billo Work?
Here are the points that Billo can provide for brands:
Customization: Billo enables you to personalize the videos according to your requirements, to the extent that you can create custom briefs or select the specific type of editing that needs to be performed.
Experience: Billo offers details about a Creator's prior video creation experience and feedback from other brands, making it simpler to find the perfect match.
Collaboration: Once businesses find suitable content producers, they can collaborate with them to create content that resonates with their audience and promotes their brand.
Payments: Billo handles all payments between businesses and creators, making it easy for both parties to get paid for their work.
Communication: Billo provides a communication channel for businesses and creators to stay in touch and ensure that campaigns are running smoothly.
Contracting: Brands obtain ownership of the content they receive on Billo without the need to sign contracts with each individual creator separately.
Know The Features In Depth-
Billo Features Review
1. Affordable Content:
Billo offers affordable content creation services through its network of content producers. Businesses can work with creators to create high-quality, engaging content at a lower cost than traditional advertising methods.
It allows businesses to find creators who align with their brand and audience, and collaborate with them to create custom content that resonates with their target demographic.
It also offers scalability, allowing businesses to create multiple pieces of content for various channels at a fraction of the cost of traditional advertising methods.
2. No Subscriptions:
Billo does not require any subscriptions. Businesses can sign up for the platform for free and browse the influencer network to find relevant content producers.
The platform follows a pay-as-you-go model, which means that businesses only pay for the videos they commission.
It handles all payments between businesses and creators, making it easy for both parties to get paid for their work.
This model allows businesses to have more control over their marketing budgets and only invest in the services that are most relevant to their needs.
3. Lifetime Content Rights:
Billo offers lifetime content rights to businesses that use its platform to create custom content with creators.
This means that once the content is created and paid for, businesses have the right to use and repurpose it in perpetuity, without any additional fees or limitations.
This is a significant benefit for businesses, as it allows them to leverage the content created through Billo in various marketing channels, such as social media, email campaigns, and advertising.
It also means that businesses can continue to benefit from the content long after the initial campaign has ended, maximizing the ROI of their UGC marketing efforts.
4. Custom Video Parameters:
Billo's custom video parameters allow businesses to create video content tailored to their brand and messaging, ensuring that it aligns with their marketing goals and resonates with their target audience.
This level of customization also allows businesses to stand out in a crowded digital landscape and create a unique brand identity through their video content.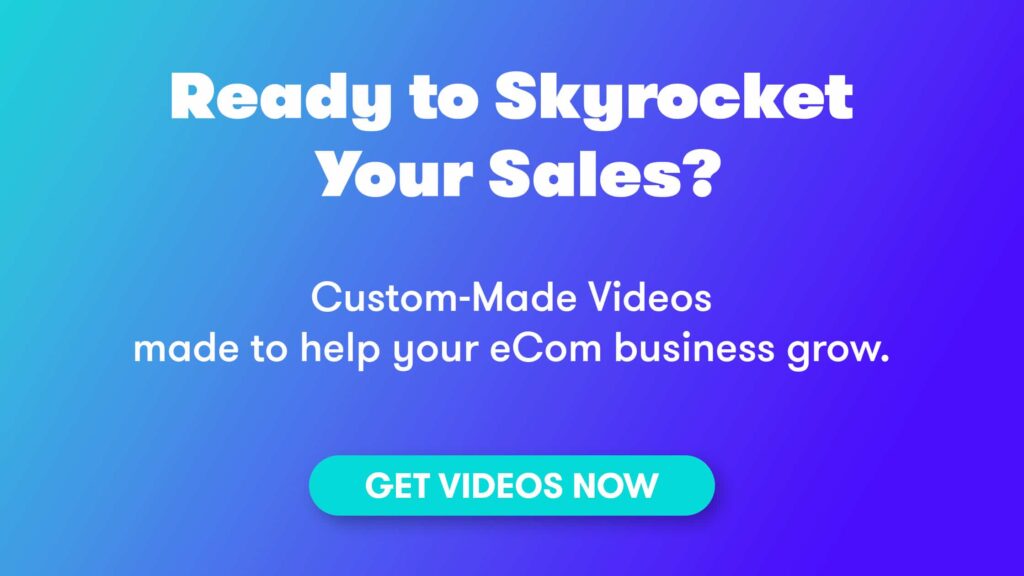 It offers custom video parameters to businesses looking to create video content through its platform. This means that businesses can work with creators to create custom video content that meets their specific needs and requirements, such as video length, format, and style.
5. Easy of Use:
Billo is designed to be easy to use for businesses and content producers alike. Its user-friendly interface and streamlined workflows make it easy for businesses to find, collaborate with, and pay creators, as well as create custom content that meets their specific needs.
The platform offers a robust search function that makes it easy for businesses to find relevant creators based on location, interests, and audience demographics.
6. Customer Support:
Billo offers customer support to businesses and creators through its dedicated support team. The team is available to answer any questions, provide guidance, and resolve any issues that may arise during the influencer marketing and content creation process.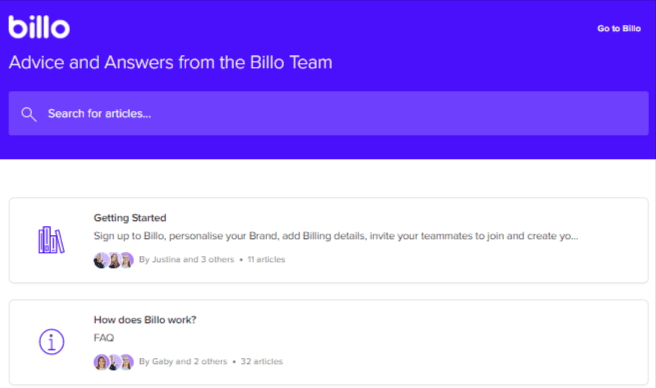 The customer support team is accessible through several channels, including email and live chat. Businesses can reach out to the support team at any time to ask questions or report any problems they encounter while using the platform.
It also provides businesses with access to a comprehensive knowledge base that contains helpful articles, FAQs, and tutorials on how to use the platform.
This ensures that businesses have all the resources they need to make the most of the platform and achieve their marketing goals.
7. Photo Offering:
Billo offers businesses the ability to request custom photo content from its network of content creators. This means that businesses can work with creators to create unique, high-quality photo content that aligns with their brand and messaging.
The photo offering allows businesses to specify their photo requirements, such as the type of photo, the style, the number of photos required, and any specific instructions or guidelines they want the creators to follow.
Once the content producers(creators) receive the request, they can collaborate with the business to create custom photo content.
It also offers businesses the ability to access and use pre-existing influencer photos from its vast library of user-generated content.
Choose The Right Plan For You
Billo Pricing Plans Review
Now we are sharing the pricing plan details of Billo so that you can choose the perfect fit for your needs.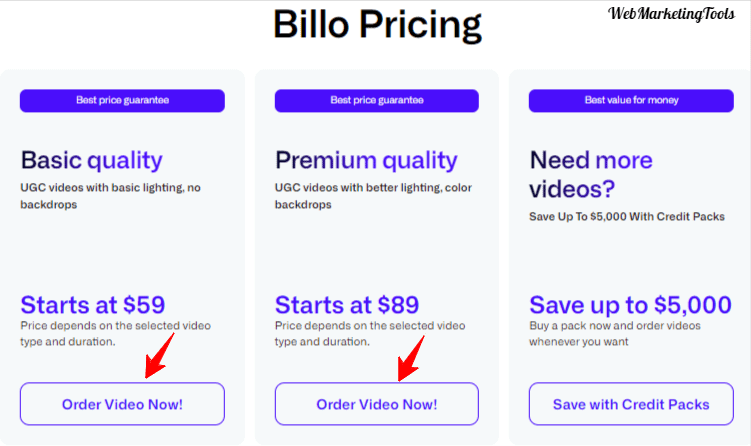 Billo Basic Quality Plan
Better for beginners
Basic quality video plans are created by up-and-coming content creators who are eager to kickstart their careers and typically film in natural environments using their smartphones.
These videos start at $59 and may cost more if you require additional features such as subtitles or advanced editing options
Basic Quality Price: $59 Pay as you go
Key Features of Basic Plan:
Video editor with a range of tools and features
Library of pre-made video templates
Ability to download and share completed videos
Custom video dimensions to suit specific needs.
Billo Premium Quality Plan
Bet for professionals
Premium quality videos showcase a carefully curated group of highly skilled creators with exceptional experience and top-notch home studios.
This enables brands to obtain 4K videos with neutral backgrounds and improved lighting. These videos begin at $89 and may increase if extras such as subtitles or music are required.
Premium Quality Price: $89 Pay as you go
Key Features of Premium Plan:
Unlimited HD downloads of completed videos
Advanced video editing tools
Premium video templates and graphics
Remove the Billo Creator watermark from completed videos
Priority customer support.
If you need more UGC videos, billo provides credit packs where you can get more videos and other options for big marketing levels.
Some Advantages-
Benefits of UGC Videos In Billo
UGC (User-Generated Content) videos of your product can offer several significant benefits
Let's take a closer look at each of these benefits:
1. Increased Credibility:
UGC videos are created by real people who have used your product, and as such, they are seen as more trustworthy and credible than branded content.
Consumers are more likely to trust recommendations from their peers and family members rather than from brands, making UGC videos an essential tool for building brand credibility.
When customers see UGC videos on Billo, they are more likely to believe that your product is of high quality, and they will be more likely to purchase it.
2. Cost-Effective Marketing:
UGC videos are essentially inexpensive advertising, as the content is much cheaper than professional advertisements and can be a cost-effective way to promote your brand.
This is a cost-effective way to generate high-quality content that can help to increase your brand's reach and visibility.
3. Greater Engagement:
UGC videos often generate higher levels of engagement than branded content, as they are perceived as more authentic and relatable.
When customers see UGC videos of your product on social media, they are more likely to engage with the content by liking, and commenting, on it with their friends and family members.
This can help to increase your brand's reach and visibility, as more people will be exposed to your product.
4. Improved SEO:
UGC videos can help to improve your search engine rankings, as they provide fresh, relevant content that can be optimized for search.
This can help to improve your search engine rankings, as search engines will recognize that your content is relevant to these keywords and phrases.
5. Insights Into Customer Behavior:
UGC videos can provide valuable insights into how your customers use and interact with your product. This information can be used to improve your product and marketing strategies.
When customers create UGC videos on Billo, they may include feedback or suggestions for improving your product.
This feedback can be used to make improvements to your product, which can help to increase customer satisfaction and loyalty.
Is This Worth It For Me?
Conclusion – Billo Review 2023
Billo appears to be a useful app for creating user-generated content videos. The app provides users an easy-to-use platform for creating high-quality videos, which can be shared on social media platforms like Instagram, TikTok, and YouTube.
Users can also explore and discover videos created by others, which can provide inspiration and ideas for their own content.
One of the key benefits of Billo is that it enables brands to leverage user-generated content to promote their products.
This is a valuable tool for content creators and brands looking to create and share high-quality videos. While the app is relatively new, it has the potential to become a popular platform for user-generated content in the future.
At the end of this post, we hope that this article was informative for you, now it's your turn to market your business through visual content with Billo.
Queries Related To This Post
FAQs – Billo Platform for Creators
Here we have added some frequently asked questions about Billo:
What is Billo?
Billo operates as a marketplace for original UGC or short-form videos that businesses can leverage for their marketing, product pages, or any other content requirements. The app is designed for content creators and brands looking to create engaging video content on social media platforms like Instagram, TikTok, and YouTube.
How does Billo work?
Brands can place orders for specific videos, including requirements such as duration, quality, editing, and brief. They can then select interested creators based on their prior experience. After sending their products, the creators receive them and produce the content. Once the content is uploaded, brands gain complete ownership and can use the video beyond Billo for their marketing, product pages, newsletters, and other needs.
Is Billo free?
There are no charges for signing up as a brand since you only have to invest once you make an order for a video. If you just want to explore the platform, feel free to sign up here: (link)
If you want to sign up as a creator, the app can be downloaded for free from an app store.
Can brands use Billo to promote their products?
Brands do not actively promote their products on Billo but instead receive valuable content from Billo that they can use to promote their products on other social media platforms.
Is Billo only for social media creators?
No, Billo is designed for anyone looking to create and share high-quality user-generated content videos, including social media creators, brands, and everyday users. The app is designed to be easy to use and accessible for users of all skill levels.