Divert your leads and clicks through Ads, Mails, and Traffic on Conversion Focus pages.
Landing Pages & Templates
9.5
PROS:
Quickly build landing pages
Quickly create variants for testing
Amazing templates
Highly customizable
Amazing landing page builder
Split testing functionality is awesome
CONS:
Lack of some key features in the form builder
You can't add custom classes to buttons
Do you want to create a beautiful landing page that will give more conversions? And wants to increase your email list?
If yes, then We are blessed to tell you that you are in the ✅ right place!!
Here, in this article, We will tell you about a very amazing platform, i.e. Unbounce, which helps you to grow your email list and brings lots of conversions for you.
We know, giving lots of time in coding and all is really a difficult job. So if you are like us, and don't want to spend time in coding, then this platform will be ideal for you.
Before moving a step ahead, let me tell you, we personally try this tool, and we feel very happy to see the conversions that are coming after using this platform. This platform really becomes a game-changer of my life.
Being a professional blogger and knowing the importance of your time, so without wasting it, let's begin with the article.
What Is Unbounce?
Unbounce is a landing page creator which create powerful, optimized, conversion, and lead generation pages.
It is easy to use platform which comes with drag and drop feature. It also offers you some perfectly designed templates for your help. It also offers automatic SLL encryption to your website.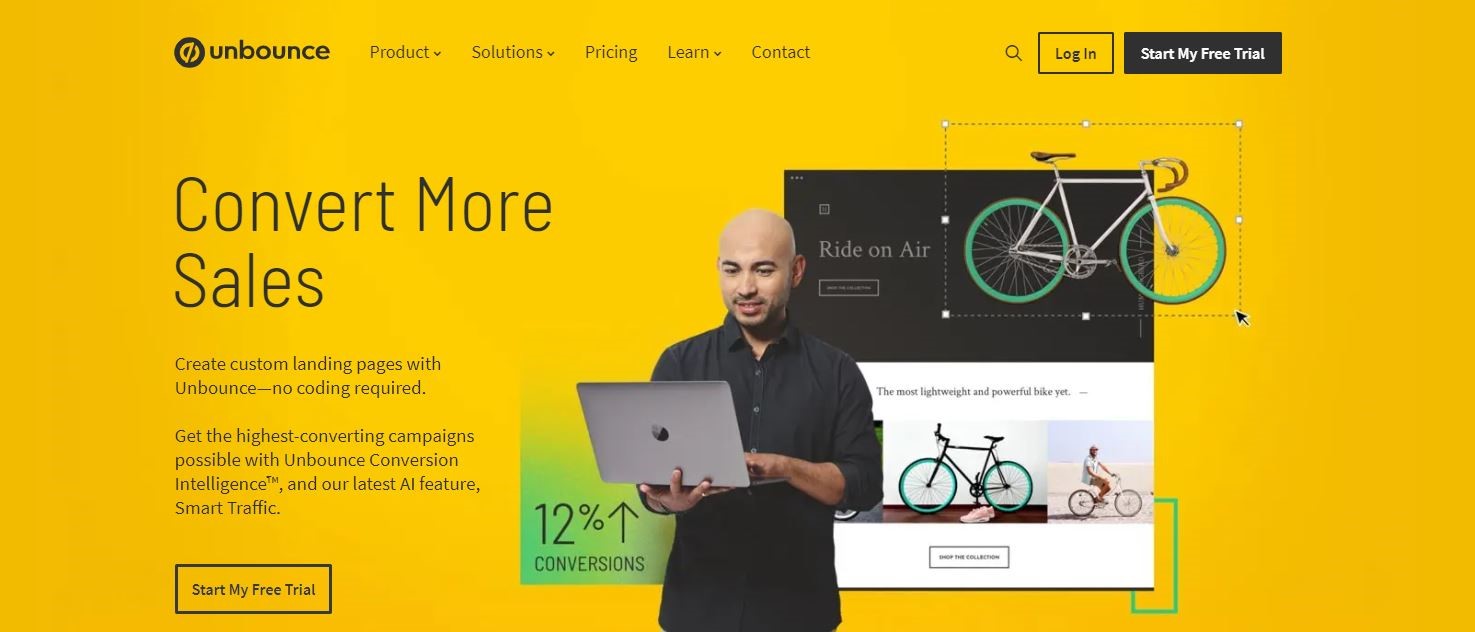 They are having a team of more than 150 members, with 15000 customers all around the world. The best thing is that it offers 30 days of free trial. It gives you a choice to start with a template or a blank page.
With the help of login details that are assigned to you in your email address, you can sign in Unbounce very easily.
Introduction – Unbounce Review
Founded – 2009
Founder – Rick Perreault
Landing pages are the foundation of your online business, it helps you to get more sale and generate hence more loads.
Rick Perreault with five other professionals founded unbounce in 2009. It is a Canadian software company.
A web page that serves as the entry point for a website or a particular section of a website is known as Landing Page. A Landing Page is the first page you "land on" after clicking a link.
In this sense, a landing page could be almost anything: your home page, a blog post, a product page, a lead capture page…you get the idea.
Unbounce Features Review
AMP Pages
Collaborative workflow & management system
Custom Popups & Stickybars
Customizable templates
Drag and drop interface
Dynamic text replacement
Integrations
Lead generation tools
Multi-user & client management
Real-time stats
Two-factor authentication
Visual landing page editor
14 days of a free trial
24*7 Customer Support
With Unbounce, You will get easy drag-and-drop builder and all-you-can-eat buffet of 100+ landing page templates, you can bring any campaign vision to life in a fraction of the time it would take with a developer.
You can Design pages that look and act 100% the way you want them to. Customizable templates with optional JavaScript and CSS put looks and functionality in your hands, for both desktop and mobile.
You will Get built-in AI conversion power with Smart Traffic and the ability to A/B test your pages to see exactly what's working. Experiment with messaging, design, and forms to validate what makes more visitors convert more often.
What Are Unbounce Plans
Unbounce offers 4 plans to their customers-
Launch
Optimize
Accelerate
Scale
You can publish unlimited landing pages with Free hosting and a good unique visitors limit in their Launch plan, Optimize plan, Accelerate plan, and Scale plan respectively.
Unbounce plans pricing is also affordable and valuable.
If You work at a busy small business, and you're just getting started with landing pages. You can choose Launch Plan.
If You're ready to start optimizing your pages and really get 'em converting. You can Go With optimize Plan.
You can go with Accelerate plan, if Your company or agency is growing fast and you're looking for a lil' extra juice.
Scale Plan is the hardcore plan of unbounce if Your business is scaling like crazy now you just need more traffic volume, You can pick this plan.
Looking for Unbounce Discount Coupons?

Unbounce Latest Discount Coupons & Codes
Unbounce Plans and Features:
| | | | | |
| --- | --- | --- | --- | --- |
| Features/Plans | Launch | Optimize | Accelerate | Scale |
| Landing Pages | Unlimited | Unlimited | Unlimited | Unlimited |
| Popup & Sticky Bars | Unlimited | Unlimited | Unlimited | Unlimited |
| Domains | 1 | 3 | 7 | 15 |
| Conversion | 500 | 1000 | 2000 | 3000 |
| Unique Visitors | 20000 | 30000 | 40000 | 50000 |
| Users | 2 | Unlimited | Unlimited | Unlimited |
| AMP landing pages | – | – | YES | YES |
| Free Hosting | YES | YES | YES | YES |
| A/B Testing | | YES | YES | YES |
| Launch scheduling | – | YES | YES | YES |
| Customer Support | YES | YES | YES | YES |
| PRICING | $80/month | $120/month | $200/month | $300/month |
| | Get Launch | Get Optimize | Get Accelerate | Get Scale |
What Is Unbounce Pricing
Unbounce pricing start from $80/mo in its Launch Plan. Unbounce other plans are Optimize, Accelerate, and Scale which costs $120/mo, $200/mo, and $300/mo respectively after 14 days trial period if you choose a monthly subscription.
Unbounce offers a 10% discount when a user pick annually payment option. Unbounce is an expensive tool, so if you're sure that it can be a game change and very needy tool, you can pick its Annually Plans.
Launch Plan costs $80/month when you opt-in for a monthly subscription and $72/month when you opt-in for an annual subscription where you can use all the essential features of Unbounce in this plan. It offers a 10% discount on all its annual plans.
Optimize Plan costs $120/month when you opt-in for a monthly subscription and $108/month when you opt-in for an annual subscription, where you get everything within the Essential plan and double the size of few features.
With Accelerate Plan, you have access to the entire Launch and Optimize pricing plan features plus some other advanced features also in combination. It costs $200/mo for a monthly payment and $180/mo for an annual payment.
Scale Plan costs $300/mo for a monthly payment and $270/mo for an annual payment. It offers a 10% discount on all its annual plans. With this plan, you have access to the entire Essential and Optimize pricing plan offers plus some other advanced features in combination.
Want To Know More About Unbounce Pricing Plans?

Unbounce Pricing Plans with Latest Discount.
Unbounce Pros & Cons
Unbounce is one of the best landing Page Builder tool, But Like Every Other builders, It has some Pros & Cons As Well as, With Some Experience with Unbounce, we are sharing its Pros & Cons On The User Basis.
Unbounce Pros: Unbounce is very easy to use when its comes to web developments, and their A/B testing and optimization are excellent. Integration with different software is easy with unbounce, it Allows creators with no development background to create great landing pages.
Unbounce Cons: Some customization in Unbounce is hard to do. You can't add custom classes to buttons, so we had to rebuild them in HTML, which prevented us from tracking goals in Unbounce, It needs more improvements when it comes to mobile page designs.
What is Unbounce Used for
Unbounce is an amazing platform creating landing pages, it comes at a very affordable price.
They also offer tons of perfectly designed templates. Anyone can take advantage of this platform.
From all the prospects and regarding their features and pricing, Unbounce seems to be best for those who want to create a perfect landing page at a much affordable price.
Unbounce seems to be best for:
Bloggers
Affiliate marketers
Small business owners
Entrepreneurs
Email marketers
FAQs: Unbounce Review & How It Works
If still you have queries in your mind about Unbounce and wants to know more, then here we added some frequently asked questions, which will help you, and hope, it may clear your all doubts.
How does Unbounce track my page's New visitor?
Unbounce uses cookies to detect whether a user is a repeated visitor or unique visitor. The cookies given by Unbounce is stores in your own browser, so in case if the user uses another browser, it will be count as a new visitor.
Their cookies expire after every 180 days. If a user visits with the same browser, then it will be counted as a repeat visitor. And is the same user visits after 180 days, even if the browser is the same, then also it will be counted as a new browser?
How Does Unbounce Work?
Like Every Other Landing Page Builder, On Unbounce You can Create Your Landing Page and also increase Your Conversion rate. But Its Provides more superior Features as Compare to others.
Where can I find more templates for my Unbounce landing page?
Unbounce have perfectly designed templates on a variety of custom and mobile-friendly templates, you can choose the one, as per your choice, work or need.
You can also look for a variety of templates in ThemeForest's section of Unbounce templates. If you find the perfect theme of your choice in ThemeForest, then after downloading, you can install the theme in your Unbounce dashboard.
How do I get a SSL certificate for my WordPress domain in Unbounce?
Unbounce will not provide you SSL certificate, it will only help you in creating a landing page, If you need an SSL certificate, then you have to purchase if from your hosting provider itself. After buying an SSL certificate of, you need to enable it in your WordPress's setting. For the sake of an easy job, you can also you plugins provided by word press for SSL certificate, which will give secure connection to your website.
How can I drive traffic to my landing pages?
You can use Facebook ads, search engine marketing, social media marketing and email marketing to drive more and more traffic to your landing page, once it read.
How do I transfer pages between accounts?
Landing pages can easily be transfers from one Unbounce account to another. In order to make it easy, you can simply download the landing page from one account, and upload it on your another account. This is the easiest way of transferring landing pages, it will only take 10-15 minutes.
| | |
| --- | --- |
| Category | Landing Page Builder |
| Starting Price | $79/mo |
| Key Features | 375+ Landing Pages, 40+ Popup & Notification Bar, Ready Templates |
| Free Trial | 14 Days |
| Verdict | Best Soln for Ads, Mails & Direct Landing Pages. |
Title
Landing Pages & Templates
9.5
PROS:
Quickly build landing pages
Quickly create variants for testing
Amazing templates
Highly customizable
Amazing landing page builder
Split testing functionality is awesome
CONS:
Lack of some key features in the form builder
You can't add custom classes to buttons