Listed 20 Best SEO Software for Agencies Category Wise of 2023. Get the Top SEO Tools for your Digital Agency after comparing their Features, Pricing, Accuracy, and Other Data. We mentioned all SEO Software in the category wise so you can choose accordingly.
Are Looking for the best SEO Tools & SEO Software for your Marketing Agency??
Most agencies work around the competitive market, So It is Important to choose the right tools. They require a system that helps in forecasting, analyzing, and executing business projects.
SEO tools aren't only useful for tracking your rankings or conducting keyword research.
You can gain valuable insights about your competition, how your SEO efforts are paying off, and whether you are generating a solid ROI for your clients.
By employing the best SEO Rank Tracking Tools, the agency can convince clients of their competence. For example, a Milwaukee business searching for a 'digital marketing agency near me' will discover the optimized site in the top slot. 
So, if you give them your word for placing them at the top, your position in SERP will be proof of service delivery. Using SEO tools for your agency – before trying them on clients – strengthens your promises.
In this Post, We are sharing some of the best SEO Tools For Agencies, that can make SEO Work on a large scale.
Let's Start!!
Why SEO Tool Is Important For An Agency?
Digital marketing is the marketing strategy that happens online. It involves digital channels such as websites, social media, emails, and search engines. These channels use paid and SEO services to improve business performance.
SEO marketing is the running of campaigns that attract exemplary visitors to your site. It entails keywords and search intents that place you on top of search engine results pages (SERP).
Typically, the process focuses on understanding your target audience. That way, you can create topics that naturally fit your keywords.
What is the best SEO software?
It is tough to choose the right SEO software but the main thing is it depends on your requirements.
SEO Tools:
SEO tools investigate the potential of Web pages for high placement on search engine ranking pages. They provide information on backlinks and keywords as well as insights into SEO competition on the Internet.
With SEO tools, you can see which new and existing keywords your competitors are ranking for. You can then add these terms to your own list, use the tools to identify related keywords, and even consider expanding to new markets.
Here are the various categories of SEO tools we will look at in this article:
Keyword research tools – Discover organic, high, low, and medium keywords necessary for ranking.
Competitive analysis tools – For information about competitors and strategies giving them a competitive edge.
Link building and outreach tools – For backlink acquisition and management.
Rank tracking tools – Determines current SERP position and how to improve or maintain it.
WordPress Plugins – For support of your WordPress SEO efforts through relevant suggestions.
Site audits tool – Run regular checks and report health issues and areas that need change.
SEO suite tools – These are one-in-all tools. They support several categories of search engine optimization.
Let's start the countdown of Top SEO reporting tools for agencies and Marketers.
Better Keyword Researching For Your Agency-
Best SEO Tools For Keyword Research
Keyword research tools help you discover topics that interest specific audiences. Research tools tell you about topics that are doing well on search pages.
Through this software, you get topic ideas. You then use the ideas to create a content strategy. Keyword research tools place you in a competitive position in the market.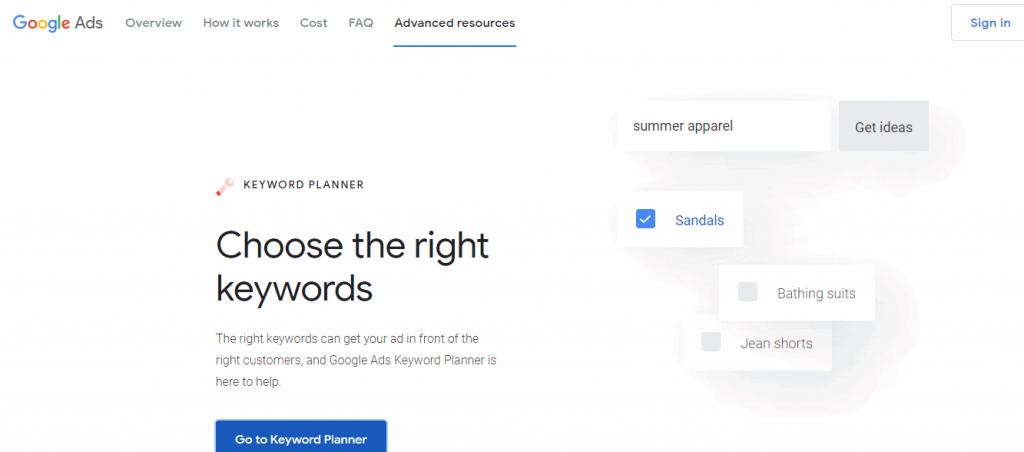 The Google Keyword Planner is a reliable tool for SEO and PPC Marketing. It supports the discovery of keywords necessary for paid and organic campaigns. The planner delivers search volumes and estimates that assist with ADs management.
What makes it more interesting is that it is a free tool. To access it, you need to create or access your Google ADs account. From there, choose to discover new keywords or get the search volume and forecast.
The Keyword Planner is designed with best SEO monitoring tools and PPC services in mind. It supports the operations of business marketers and digital marketing agencies.
Ahrefs is an excellent keyword research tool because of its massive database of keywords. It delivers more than 7 billion keywords that are updated every month.
What's even better is the different search engines it collects keywords from. It collects data from Google, Bing, Amazon, and many others.
Interestingly, Ahref keyword explorer shows keyword difficulty. If, for instance, you were to search for a 'web design company in Massachusetts', the tool would indicate how difficult it is to rank for the term.
The benefit of this is a better understanding of keyword selection. You also get accurate results for the thousands of keyword ideas available online.
Other SEO aspects that Ahref will help you discover include:
Estimated number of clicks on keywords
Advanced SEO metrics for better results
The parent topics for target keywords
Data from over 170 countries
Position history and SERP overview
Ahrefs Related Posts:
The most exciting part about Keyword Everywhere is that it is overlaid on major search engines. You can find it on YouTube, Google, or Search Console.
In Google, it is located on the right-hand side of every search result page. It shows the traffic volume on each search result. 
For every search you perform with Keyword Everywhere, you can view several reports.
People also searched for
Long-tail keywords
Keyword difficulties
Trending data
Related keywords
Keywords Everywhere have both free and paid plans. It's available as a Chrome and Firefox extension. It shows CPC values and graphs to support keyword research processes.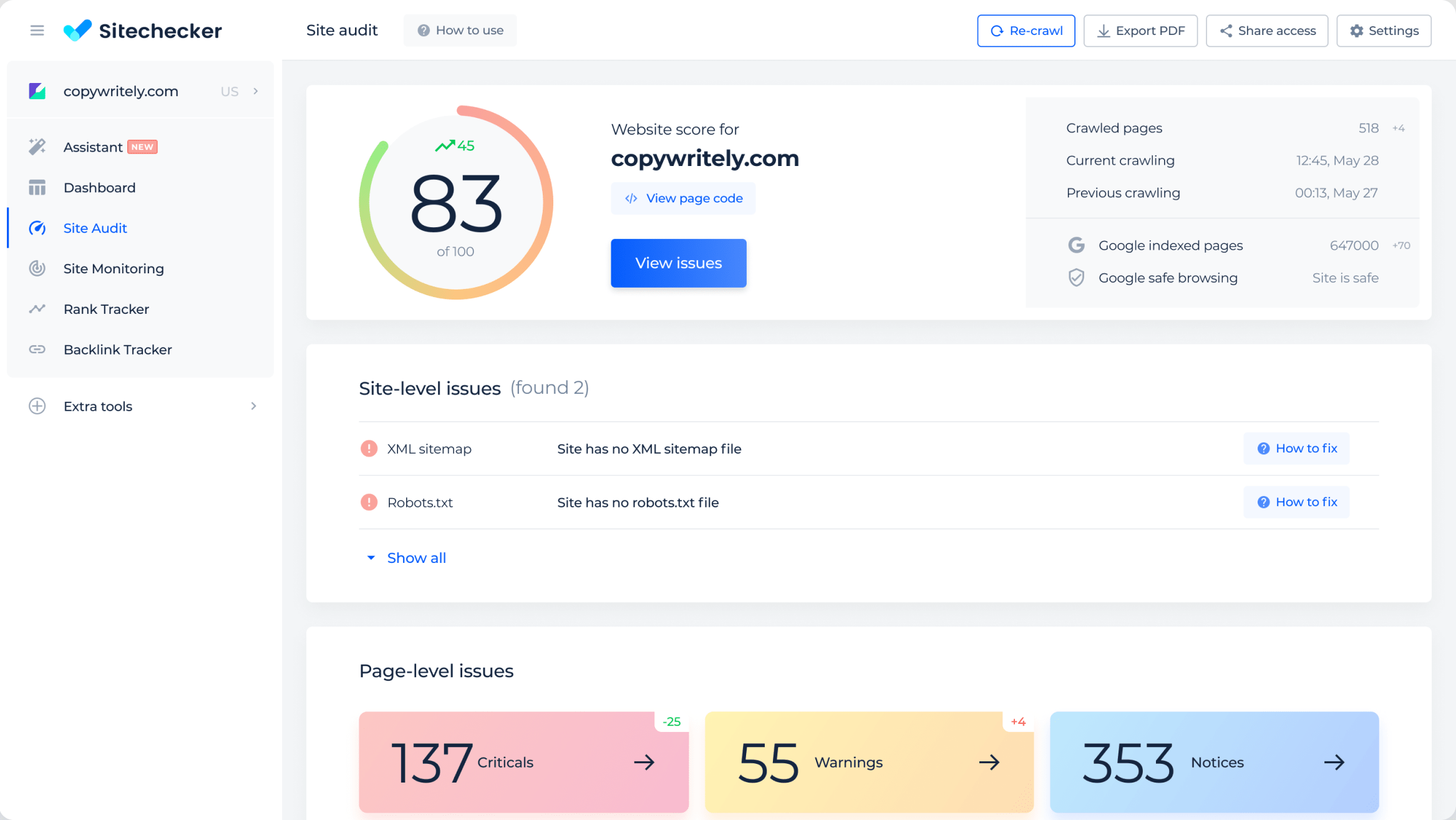 Sitechecker is an All-in-one SEO Platform for Agencies. With Sitechecker you can Improve your clients' on-page and technical SEO, Impress clients with white-label PDF reports.
Showcase your success with an accurate Rank Tracker, Monitor your clients' websites 24/7, Turn data from Google Search Console and Google Analytics accounts into actions, and Get personalized step-by-step SEO instructions.
SiteChekcer Features:
Site Audit
Site Monitoring
Rank Tracker
Backlink Tracker
SiteChecker Pricing Plans:
Basic – 3 Websites, 1500 Pages, 500 Keywords, 3000 Backlinks
Standard – 10 Websites, 5000 Pages, 1000 Keywords, 5000 Backlinks
Premium – Unlimited Websites, 50000 Pages, 2000 Keywords, 10000 Backlinks
Enterprise -Unlimited sites, 100,000 Pages, 5000 Keywords, 20,000 Backlinks
For Better Competitive For Your Agency-
Best SEO Tools For Competitive Analysis
The online spaces are very competitive. Even established agencies need regular monitoring to maintain their top position.
Because of this, SEO companies need to know what their competitors are doing. They require tools that analyze competitors' data. 
For better performance, these tools need to work in real time. They should also deliver data that is accurate and flexible. 
Product
Specification
Photos
Videos
Semrush is a Leading SEO Tool and SAAS  company that was started in 2008 by Oleg Shchegolev and Dmitry Melnikov. In 2016, it reached its milestone …
| | |
| --- | --- |
| Starting Price | $119.95/month |
| Free Trial | 14 Days |
| Money Back | 7 Days |
| Expert | Leading SEO Tool with Each Feature that you Need. |
SEMrush allows the comparison of companies of different sizes. It gives you an insight into backlinks, keywords, and domain authority.
Using this information, you can discover gaps in your strategy. You can then use their tracking tool to access progress. That way, you gain a competitive edge in the market.
In addition, SEMrush boasts an extensive database. It has over 130 countries on its list. This means that its content is rich for successful campaigns. The traffic, queries, and targets are also well-laid out to help you discover what's trending.
If you want to start your first free trial on an SEO tool, then Semrush is the best SEO software for agencies' free trial or demo. If you want more details then we already have mentioned them below.
Semrush Related Posts:
SpyFu helps you study your competitor in many ways. It displays ranking history, top pages, and backlink data. With its over 7 billion results, SpyFu delivers insight into top performers.
This way, you can segment sites similar to yours so that you can know their progress.
Another essential feature is domain comparison. With SpyFu, you can view and compare how domains are performing.
The comparison tables allow you to organize your data. It offers strategies for moving ahead and maintaining top positions. 
iSpionage offers opportunities to learn and visualize your data. It's a great SEO and PPC management tool since it includes more search engines. iSpionage supports the three major search engines, namely Bing, Google, and Yahoo.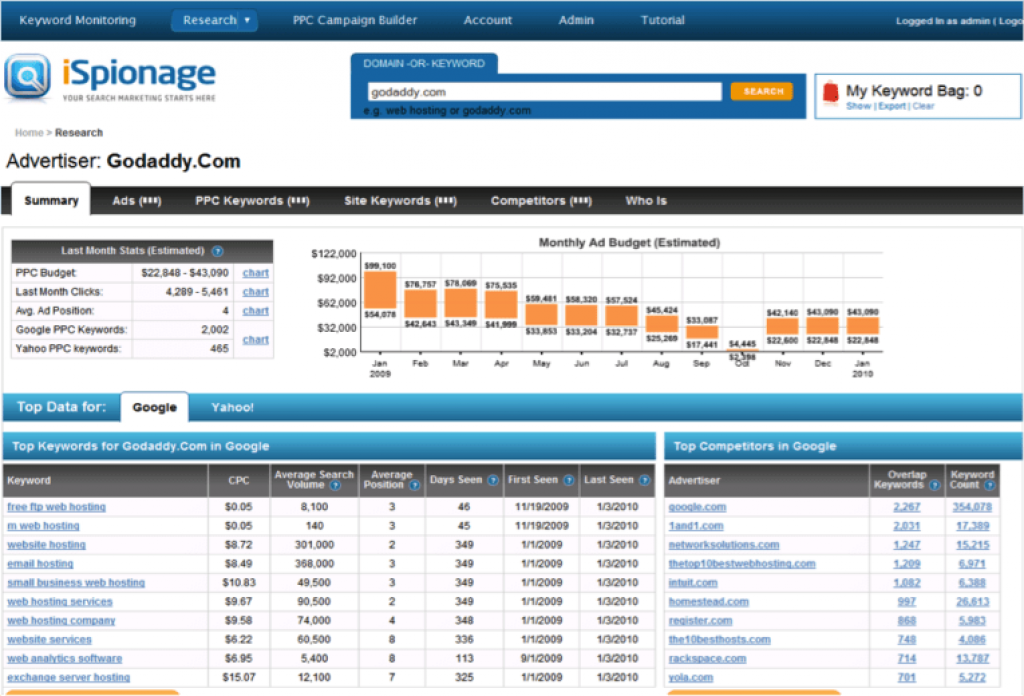 The tool identifies top competitors in Adwords. It delivers information such as monthly budgets and PPC targets. By using this information, you can know strategies that can give you a competitive edge.
All In SEO For Your Agency-
Best SEO Suite Tools
SEO suite tools are an all-in-one set of software.
They contain features that support almost all aspects of SEO marketing. They collect keywords, competitors' data, audits, and outreach information.
We have added list wise seo Suite tools, at their convenience since all services happen from a single location. 
Ahrefs ranks among the best SEO platform for agencies. It contains the site explorer, keyword research, site audit, and rank tracking features.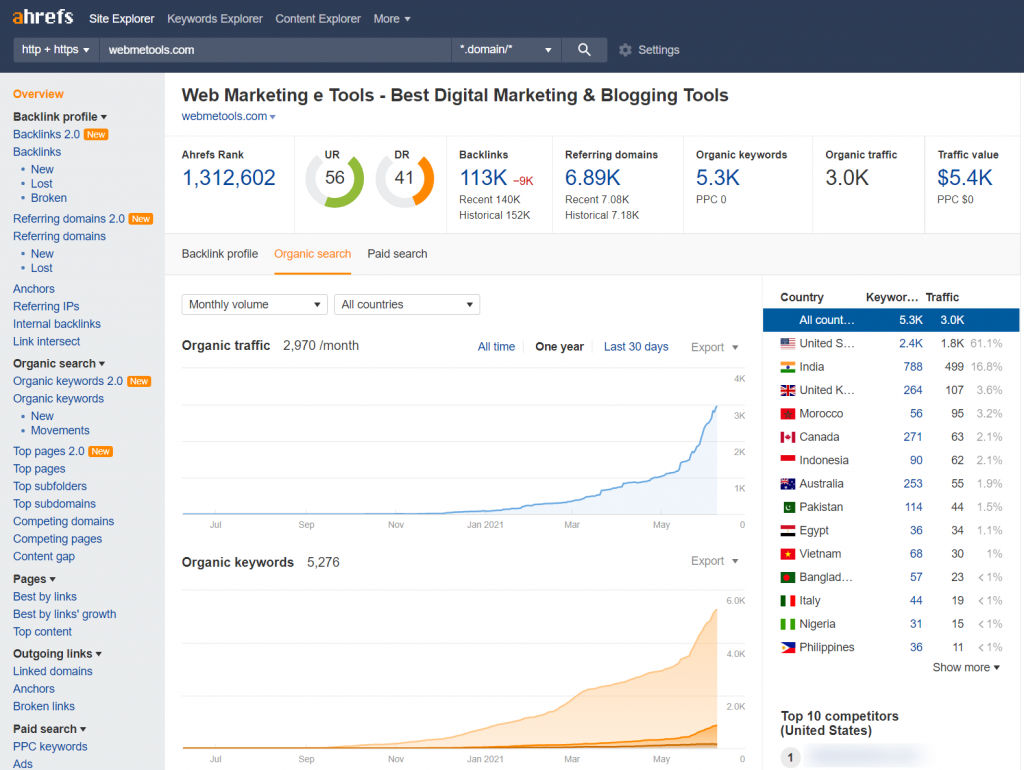 For both new and established agencies, Ahrefs assists in creating helpful content. It allows businesses to analyze and track site performances.
If you want a tool that will help you discover, analyze, and deliver better SEO strategies, then Moz Pro is the best choice. Moz Pro has a keyword tracker, rank tracking, and audit features at its disposal.
It allows for link exploring to discover backlinks that boost the authority of your page. More importantly, you can create custom reports and use them to manage client progress.
Agencies can also customize the information for sharing with stakeholders and clients.
Moz Pro is a brilliant tool for optimizing pages for better ranking. It's also fast and convenient for extracting large volumes of data.
Searchmetrics helps you uncover hidden gaps relevant to competitive market analysis. It reveals opportunities in regional, global, and local markets.
Through its competitive analysis features, you can discover operational data for better decision-making processes. 
Its API also enhances the quality of retrieved data. Searchmetrics covers all SEO requirements for successful digital marketing agencies.
Best Linking Building Tools For Your Agency-
Best SEO Softwares For Link Building and Outreach
Links are relevant for delivering traffic to a website. And because of this, SEO efforts require link-building tools that enrich the prospecting process.
Through link-building and outreach tools, and a best SEO agency tool can send responsive emails. The company also enjoys suggestions and tracking of better backlink opportunities.  
Pitchbox focuses on link-building and influencer outreach. It delivers better link opportunities by customizing emails to specific audiences.
Everything in Pitchbox happens in record time. You can find backlink opportunities, influencers, and bloggers in the shortest time.
Furthermore, Pitchbox is designed with digital marketing agencies in mind. It maximizes every SEO effort to deliver the best results.
Buzzsumo offers outreach programs that deliver better link-building opportunities. It explores various sites to discover trends that work. Through Buzzsumo, a digital marketing agency can find influencers that can attract more traffic to websites.
With Buzzsumo, marketers can target link-building opportunities guaranteeing better results. Even better is the ability to track performance and capture leads when they are likely to convert.
BuzzStream Link building SEO tool
As the name suggests, Buzzstream creates a buzz in your link-building efforts. It provides link-building insights for all your outreach programs.
More impressive is how Buzzstream monitors your links. It tracks performance and ensures profitable link-building projects.
The tool also manages your emails. It allows you to create email templates to boost conversions. It also enables the sharing of templates with team members, thus enhancing link-building strategies.
For Better Rank Tracking For Your Agency-
SEO Tools for Rank Tracking
Here is the Best SEO tracking software which is relevant for monitoring performance. They tell you when you are doing well and when you start dropping from top positions.
Tracking helps marketers discover trends that can maintain top posts. It also shows when they need to update keywords and link-building strategies.
Rank ranger allows for international tracking of performance. It tracks reports from search pages like Google, Bing, and Baidu.
Rank ranger supports SEO campaigns by allowing SERP monitoring via zip code or city. It also offers advanced reports on mobile and desktop.
Rank ranger has a fantastic interface that is easy to navigate. For example, if you want to compare the collaboration between your clicks and rankings, it's available on the dashboard. Information about the upward and downward trends of keywords is also available.
The tools create graphs that enrich comparisons. Even better is its suggestion capabilities. Ranger has a site explorer that discovers and solves your SEO efforts gap.
Advanced web ranking is accessible from any device. It's also available in different languages and on various search engines.
Additionally, it delivers weekly, monthly, or on-demand rankings. It also allows for the customization of reports.
This makes it possible to share content in any format or size. Furthermore, the customization allows sharing through user accounts or links.
If you are looking for a tool with better competitor insights, this is the right one. It's also convenient since it integrates with most third-party reporting tools.
Serpstat tracks rankings on Google and Yandex. It delivers live updates for all your search queries. Because of this, any sudden changes in position are reported immediately.
Additionally, the tool is excellent at segmenting activities. You can view reports based on project names, keywords, and websites.
It also allows for sharing of data with specific team members. Because of this, there is more privacy in the extracted data.
In addition, you can export retrieved data. And since the data is organized, the client can easily translate it. By using Serpstat, clients can tell when efforts are positively impacting their business.
Serpstat gives you an in-depth look at a client's SERP position. It is an excellent tool for tracking performance without switching between tools.
Some Better SEO Plugins For Your Agency-
Best SEO WordPress Plugins
WordPress plugins help in the optimization of websites. They offer suggestions that place pages at competitive positions in SERP. Plugins are essential for attracting and retaining page visitors.
Yoast SEO is essential for improving the readability and ranking of web pages. It offers suggestions on keywords and metadata that can push a business up the ranks.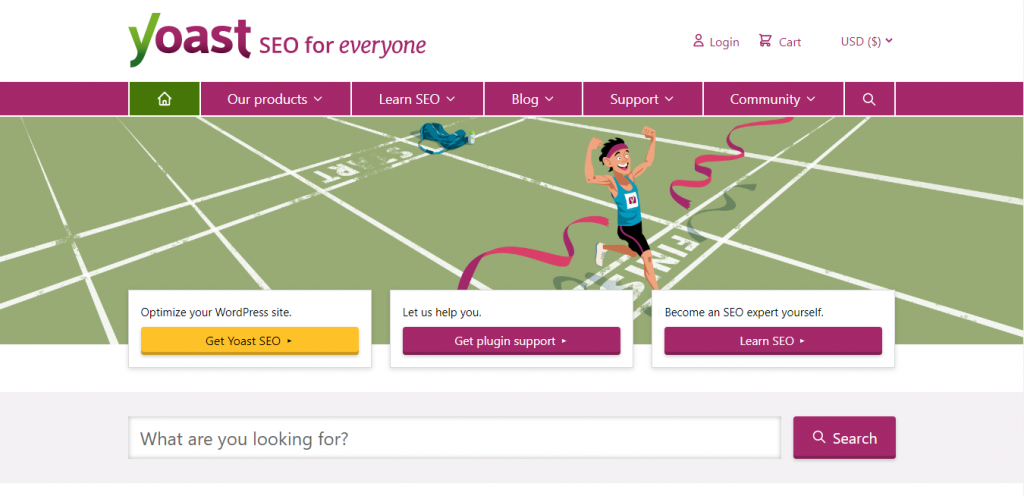 Yoast has a user-friendly interface and generates clean XML sitemaps. It's also a reliable tool for internal links and social media sharing functionalities. Yoast is a convenient SEO WordPress plugin for agency and business websites.
Rank Math is a simple-to-use WordPress plugin. It's free and allows for targeted keyword searches of up to five terms. It also allows for editing of aspects like the metadata and meta description.
Rank Math focuses on on-page SEO.
It checks content, URL, and titles for rankability. It also confirms the length of content. This is to ensure that it meets the ranking standards.
In short, Rank Math delivers reports on aspects of your website that might affect your SEO scores.
For Better SEO Reporting For Your Agency-
Best SEO Tools for Site Audit
A site audit tool scrutinizes your website for technical and SEO problems that can affect ranking. They confirm if search engine bots can crawl and index your page. They also check your site's health and report upcoming issues.
The screaming frog is a powerful spider crawler. It comes with flexibility and real-time reports of website problems.
For both small and large agencies, here are aspects that the crawler will address.
Schedule audits
Discover duplicate content
Find broken links
Create XML sitemaps
Collect Data
Crawl JavaScript websites
SEOptimer can identify issues dragging back your SEO efforts. It goes through your website to check the health of your page. If it discovers a fault, the crawler will deliver a report in real-time.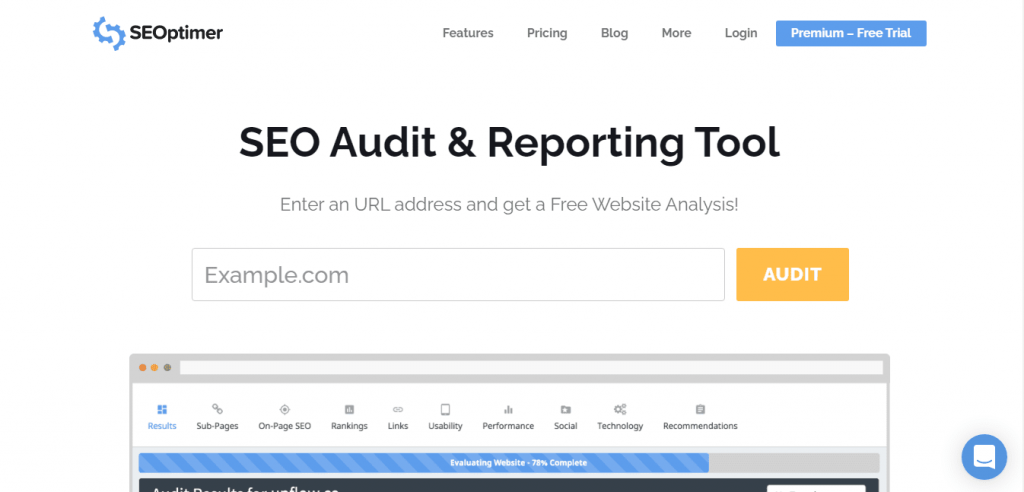 SEOptimer also customizes reports. It provides white-label SEO reports in several languages. Through the site, you can create branded reports for your clients. This way, you inspire action through appealing emails.
In addition, SEOptimer allows sending of reports through various customer management systems. It integrates with Active Campaign, Salesforce, and MailChimp.
Deepcrawl focuses on technical SEO. It contains a user-friendly interface that filters breakdowns, trends, and general health issues. Every aspect is grouped in the dashboard. This makes it easy to identify problem areas.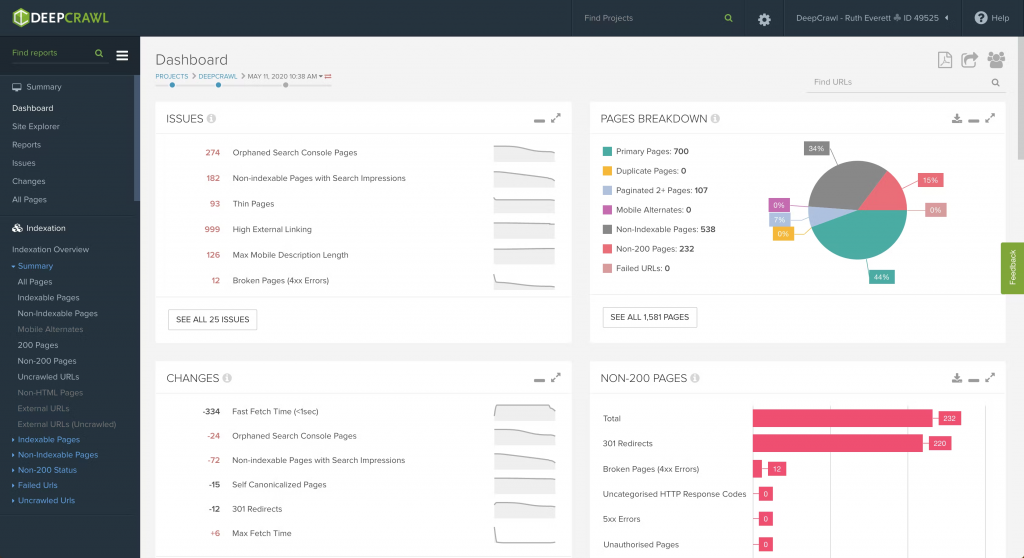 In addition, Deepcrawl is flexible. It can dig into deeper parts of your websites to perform comprehensive crawls. It's also accessible on various devices.
You can use your mobile phone, tablet, or computer for the process. It is interestingly convenient since it allows for task scheduling.
Which Tools Do I Choose?
Wrapping Up – Best SEO Tools for Agencies
We have shared the details of best SEO software for agencies and big websites, after reading this topic you have lots various options to find the right SEO tool for your agency.
There you have it – the Best SEO tools for agencies of Digital Marketing. These tools will support your business in delivering remarkable results to your clients.
They will also help in analyzing and auditing site problems. SEO tools are essential for winning new customers.
They are also crucial for retaining old clients. SEO tools are necessary for analyzing and forecasting future performances. 
At the end of this post, we just want to say that we have mentioned all the best SEO software &Tools That you can use for Digital Marketing, We have provided all the basic details about tools, so you can choose according to your need.
Here we have added some frequently asked questions that related to the SEO software and tools for agencies.
1. What Are the Best SEO Tools for Digital Agencies?

SEO Tools are mainly made for making your SEO work easy, with the help of SEO Tools, you can track and analyze your data and these tools also help you to improve your overall SEO.

2. What are SEO tools for youtube?

For youtube, you can simply use YouTube Analytics & youTube Autosuggest, these tools will help you to do youtube channel & video SEO.

3. What are free SEO Softwares for Agencies?

There are lots of free SEO Tools in the market it depends on why you need them, for Page SEO you can choose rank math, and for keyword planning, you can use google keyword planner.

4. What are Small SEO tools?

Small SEO Tools is a bundled collection of PRO SEO Tools. Popular small SEO tools like Plagiarism Checker, Article Rewriter, Backlink maker, etc.