Brizy is a WordPress page builder with some great features and flexible plans for developers.
PROS:
150+ Premium Layouts & Blocks
12 PRO Elements
14 Popup Design & Builder
Dynamic Content
Has a Lifetime Plan
Amazing Block Library
Great User Interface
Offers Innovating Features
Templates Are Very Well Designed
CONS:
No Theme Builder
PRO-Version Is Not GPL
Looking for a platform other than WordPress, which can easily manage your website or Brizy Review?
If yes, then absolutely you are in the right place and this article is only for you.
We know, putting lots of effort into managing a WordPress website is really a difficult job. To simply your efforts and saves your time as well as money, we come up with an amazing platform for you, which is called Brizy
Before moving further, we would like to tell you that, we personally use this platform on one of your websites and got a very fantastic experience with it.
That's why today we are writing a Brizy review and hope that it will be helpful for you.
Being a professional blogger and knowing the importance of your time, without wasting it let's begin with the article.
Introduction-
About Brizy
Brizy is a website builder that allows users to create beautiful, responsive websites without needing to have any coding knowledge. It offers a drag-and-drop interface, which makes it easy to create custom layouts, add elements, and style your website.
| | |
| --- | --- |
| Founder(s) | Dimi Baitanciuc, Marian Petrov, and Radu Oprea |
| Founded | 2018 |
| Headquarters | Timisoara, Romania |
| Number of employees | 30+ |
| Plans | Free, Personal, and Studio |
| Free plan features | Basic page builder, access to free templates, limited elements |
| Personal plan price | Starts at $49 per year |
| Personal plan features | Use your own domain name, access to premium templates, no Brizy branding |
| Studio plan price | Starts at $99 per year |
| Studio plan features | All Personal plan features, create client accounts, white-label builder |
Brizy also provides a library of pre-built templates and blocks that users can use as a starting point for their website design.
Brizy is still a newcomer platform in this industry. It requires lots of things to implement, in order to make it all in one solution. But we can say that the price at which it is available, was just amazing.
It is a free version that is efficient for making an ordinary website with some ordinary pages. In fact, with its free version, you can easily create a website for the purpose of branding or business.
Its plugin is also available in WordPress as a wordiness page builder, you can try its free version.
In order to use its free version from your WordPress dashboard, all you need to do is go to your plugin section and then click on add new. Then search for Brizy, and then install it and activate it.
Brizy Features
Here are some features of Brizy-
Smart & clutter-free1
Intuitive drag & drop
Global Styling
Mobile Friendly
Images Edit
Resize columns
Content Adjustments
Design Elements
Video Backgrounds
Paddings & margins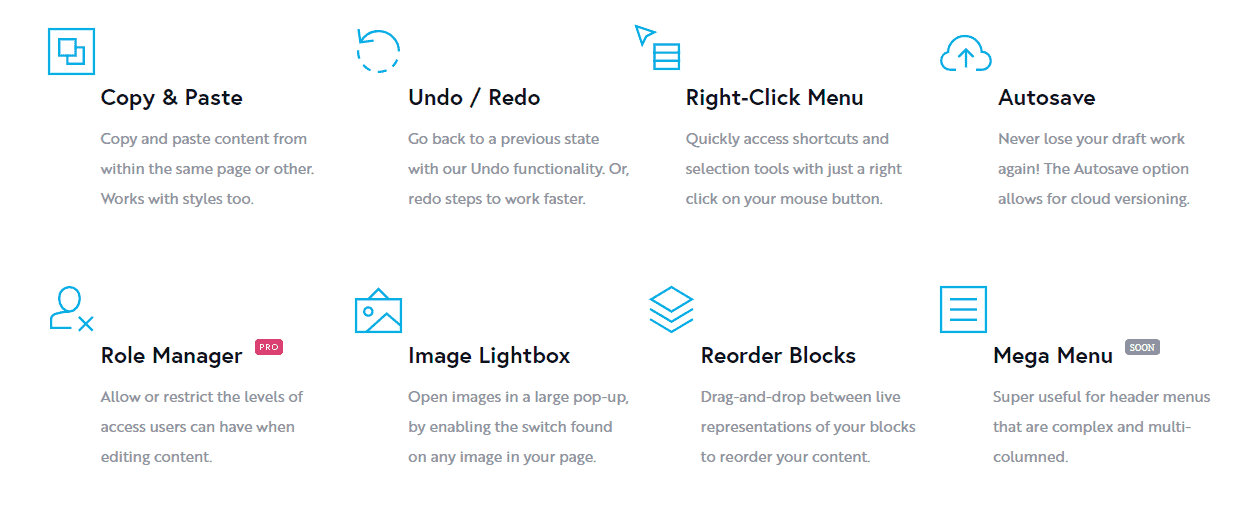 here are some more details about the features we mentioned:
Intuitive Drag-and-Drop Editor:
Breezy's drag-and-drop editor allows you to easily create complex page layouts without having to write any code. You can drag elements onto the page, resize them, and arrange them in any way you like. Brizy also offers pre-made blocks and templates to help you get started.
With Breezy's inline text editing, you can click on any text on your page and start editing it right away. You can format the text using the toolbar that appears when you select it, and you can also add links, lists, and other elements.
4000+ Icons and Vector Shapes:
Brizy includes a library of over 4000 icons and vector shapes that you can use to enhance your designs. These graphics are scalable and can be customized to fit your needs.
Brizy allows you to apply global styles to your website, which means you can change the appearance of multiple elements at once. For example, you could change the font and color of all the headings on your website with just a few clicks. You can also create custom styles and save them for future use.
Brizy's Smart Text feature allows you to create dynamic text that can be updated automatically. For example, you could create a block of text that displays the current date or time, or that pulls in data from a spreadsheet or other source.
Brizy offers A/B testing, which allows you to test different versions of your website to see which one performs better. You can test different designs, layouts, and copies, and Brizy will track the results for you.
Brizy allows you to upload and use custom fonts on your website. You can also choose from a selection of Google Fonts and other popular typefaces.
Integration with Popular Platforms:
Brizy integrates with a range of popular platforms, including WooCommerce, Zapier, Mailchimp, and more. This allows you to connect your website with other tools and services you use.
Brizy includes a range of features to help you optimize your website for search engines. This includes the ability to add meta tags, customize URLs, and more.
Brizy includes a range of advanced animations that you can use to add movement and interest to your website. These animations include parallax scrolling, hover effects, and more.
It offers three plans to its customers-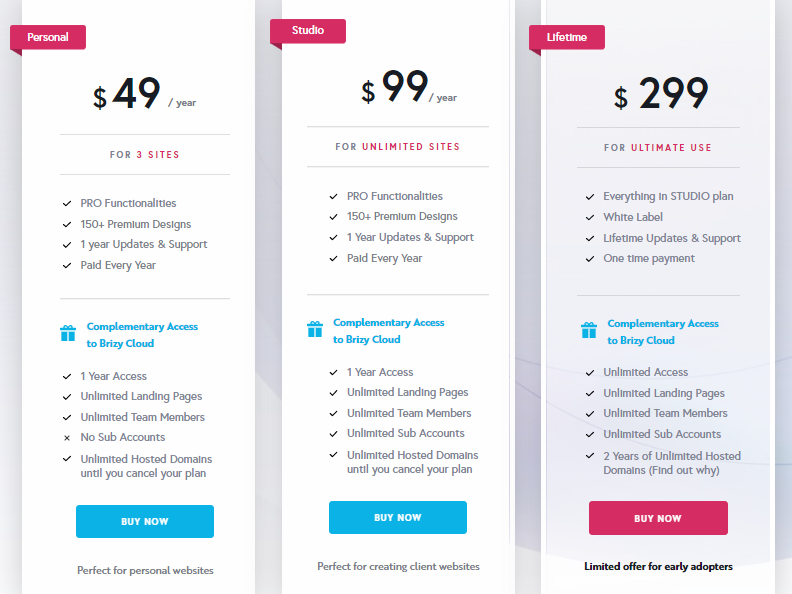 Personal: if you are an individual and running 1 website, then you can go with this plan. this plan includes features like PRO designs & features, Pop-up & Alerts Builder, WooCommerce Builder, etc.
Freelancer: if you are running any agency, or have your own brand or small agency, then this plan will be ideal for you. this plan will provide you with features like 100 PRO websites, Membership functionality, and features that are included in your personal plan.
Agency: if you are highly satisfied with their services, and want to use this platform, then this plan will be best for you. this plan is Perfect for white-label solutions, It includes features a special feature called White Label and here you will get 500 PRO websites.
| | | | |
| --- | --- | --- | --- |
| Features | Personal | Studio | Lifetime |
| No. of Sites | 1 Site | 100 Sites | 500 Sites |
| PRO designs & features | ✔ | ✔ | ✔ |
| 1-Year Updates & Support | ✔ | ✔ | ✔ |
| Pop-up & Alerts Builder | ✔ | ✔ | ✔ |
| Theme Builder | ✔ | ✔ | ✔ |
| WooCommerce Builder | ✔ | ✔ | ✔ |
| Membership functionality | – | ✔ | ✔ |
| White Label | – | – | ✔ |
| VIP Support | – | – | ✔ |
| PRICING | $49 per year | $99 per year | $199 per year |
Brizy cloud is a separate hosted platform apart from WordPress which is been powered by the Brizy builder.
This Platform is available at a very affordable price. The best part of this plugin is, It offers unlimited storage and bandwidth.
Brizy is a good choice for website owners who are looking for an easy-to-use page builder plugin that offers a lot of design flexibility. Here are some types of users who may benefit from using Brizy:
Non-technical users: Brizy's drag-and-drop interface makes it easy for anyone, regardless of technical skill level, to create professional-looking web pages.
Designers and agencies: With Brizy's extensive design options and flexibility, designers and agencies can create custom websites for their clients without having to write any code.
Small business owners: Brizy's affordable pricing plans make it accessible to small business owners who want to create their own websites without breaking the bank.
Bloggers and content creators: Brizy's visual editor and content blocks make it easy for bloggers and content creators to create engaging and dynamic content.
Overall, if you are looking for a user-friendly and versatile page builder plugin, Brizy may be a good option for you to consider.
Brizy Customer Support Review
Brizy's customer support is generally considered to be responsive and helpful. Many users have praised the team's responsiveness and willingness to help with issues and questions.
The Brizy website features a knowledge base with a variety of tutorials and guides, as well as a community forum where users can ask questions and share tips. Brizy also offers email support for customers with questions or issues.
Overall, users have been satisfied with the level of customer support provided by Brizy. While there have been occasional complaints about response times or issues not being resolved, these appear to be the exception rather than the rule.
FAQs-
Queries Related To Brizy Review
1. What is Brizy cloud?
Brizy cloud is a separate hosted platform apart from WordPress which is been powered by the Brizy builder. Its aim is to provide a more amazing experience when it comes to creating landing pages and multi-page websites. The best part is that it offers unlimited hosting space and enticing free publishing options.
2. How do I use WordPress Brizy?
In order to use WordPress Brizy first, you have to install the plugin from your WordPress built-in plugin installer, then activate the plugin through the plugins menu in WordPress. Then go to pages and click on add new and then click on the "edit with Brizy " button.
3. Can I use Brizy cloud for free?
Yes, you can use Brizy cloud for free. Brizy cloud allows you to create an unlimited number of projects for free with a free Brizy account. All the projects are hosted on their fast servers, and in order to create free projects, you should use either one of their three options subdomains, server sync, and export HTML.
4. What are the specifications of Brizy cloud?
It will host all your projects on superfast hosting servers which will give impressive speeds to your pages. They also offer unlimited storage and bandwidth.
Hosting: Amazon EC2 + load Balancers
Storage: Amazon S3
Image processing: fastly image optimizations
Database: amazon relational database server
Content delivery: Bunny CDN
5. Will the Brizy cloud and Brizy word press plugins intersect in any way?
In the present time, both are not linked with each other in any way. But Yes, they are currently working on a feature that will sync all the saved blocks and layouts from your WordPress project into your Brizy account, and you can access this from any of your WordPress projects.
It is one of the best features if you are doing Clint's work. You are having a huge number of your saved work or layouts which you can access anytime from any WordPress project.
There are many page builder plugins available in the market, and here are some top Brizy alternatives:
Elementor: Elementor is one of the most popular page builder plugins for WordPress. It has a similar drag-and-drop interface and offers a wide range of design and customization options.
Beaver Builder: Beaver Builder is another popular page builder plugin that offers a lot of flexibility and customization options. It also has a user-friendly interface that makes it easy to use.
Divi Builder: Divi Builder is a powerful page builder plugin that offers a lot of design options and templates. It is also easy to use and offers a responsive design that works well on all devices.
Thrive Architect: Thrive Architect is a page builder plugin that focuses on conversion optimization. It offers a range of design options and templates that are designed to improve website conversion rates.
WPBakery Page Builder: WPBakery Page Builder is a widely used page builder plugin that has been around for many years. It offers a range of design options and templates and is known for its user-friendly interface.
These are just a few of the many Brizy alternatives available in the market. Each plugin has its own strengths and weaknesses, so it is important to evaluate your specific needs before choosing one.
Our Opinion-
Conclusion: Brizzy Plugin Review 2023
Brizzy website builder is that it is a solid option for businesses or individuals looking to create a website quickly and easily, particularly those who do not require advanced customization or e-commerce features.
While there are some limitations to the platform, its attractive design templates and user-friendly interface make it a good option for those without extensive web development experience.
That said, for those who require more advanced features or customization options, Brizzy may not be the best fit. Overall, the platform appears to be a reliable and affordable choice for those looking to create a website quickly and with minimal hassle.
| | |
| --- | --- |
| Category | WordPress Page Builders |
| Starting Price | $49/year |
| Key Features | 250+ Premium Design & Block, 12 Pro Elements, Pop-ups, Dynamic Integration |
| Verdict | New-Era and Growing WordPress Page Builder with some new features and elements. |
| Money Back | 30 Days |