15+ Best Alternatives to Thrive Themes & Competitors in 2023. Compare all Thrive Themes Alternatives with their Plans, Features, and Price and Choose the Right Thrive Themes, Architect, Leads & Membership Alternative.
Thrive Themes is the Best Design Toolkit for WordPress to create high-converting pages and an optimized website.
This Article has:
Thrive Themes Membership Alternatives
Alternatives of Thrive Themes
Thrive Architect Alternative
But there are also some cons to Thrive Themes, which pushes us to search for Alternatives to Thrive Themes & Its other WordPress Tools.
Thrive Theme Alternatives Summary:
If yes!
Then you're on the right page.
Foster your community on a similar platform to WordPress. May it be your Internet site or simply a community where your team can thrive.
Thrive Themes brings you staff, users, and members together with the most flexible and comprehensive, and flexible internet connection theme for WordPress.
Why do People Search for Alternatives to Thrive Themes?
Thrive Themes recently changes its plans, Now users have to purchase their Membership Subscription. While Before users can also purchase any individual Thrive tool.
Thrive Themes may prove to be a little complicated for someone building his or her first website. Its visual interface is only available to Thrive Members.
Cons of Thrive Themes:
Only Membership Subscription
Too Many Products
Only Forum/Text Support
Only for WordPress
Therefore for the person who is creating a website or blog for the first time on WordPress then they can use any of the best thrive themes alternatives suggested by us.
Compare all the similar themes like Thrive themes with their Price, Features, and Plans. And choose the right WordPress Toolkit for your Blog or Business Site.
Top Alternatives of Thrive Themes with Price and Key Features.
Alternatives to Thrive, Architect: Looking for a Page Builder, Have a look below.
Let's explore 15 Best Thrive Themes Alternatives & Thrive Themes Competitors with their Overview, Features, Pricing Plans, and Why you should use them over Thrive Themes.
Elegant Themes are the most popular in the world. It can be the best alternative to Thrive Themes due to multiple products same like Thrive Themes. It has earned its name due to the price seg7ment. This Theme is highly affordable.
Thrive Tools vs Divi Tools:
Additionally, the main benefit of the Elegant Themes is that it is an entire drop-and-drag theme builder. It's like using Squarespace or one of that drag-and-drop websites builder.
Elegant Themes features
46 content elements
20+ pre-designed layouts
24/7 customer support
30 days of a free trial
100+ ready-to-use websites
Smart split testing
Responsive Editing
Global Elements
Drag and drop page builder
Customization of pages can be done through CSS codes.
Integrated 800 premade website designs
Integrates seamlessly with Monarch and Bloom
Presence of WooBuilder
Translation ready
Elegant Themes Pricing: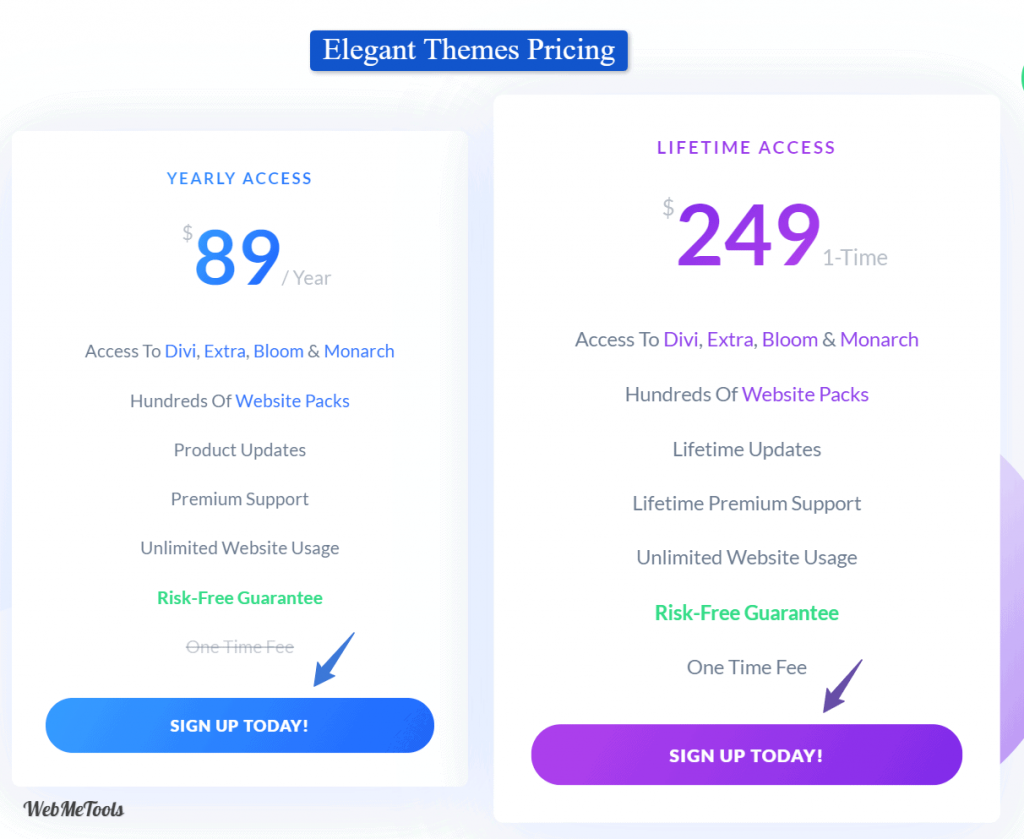 Yearly Access – $89/year
Lifetime Access – $249
Why Divi is Best Thrive Themes Alternatives
To answer it, we have simple points to consider:
The Thrive Architect costs you around $67 per site while Divi allows you to use it with unlimited sites.
For about $89, you can use the above 88 themes and five premium plugins for a year. However, in case of non-renewal after a year, the sum of $249 is enough for a one-time lifetime payment.
One of the main highlights of Divi is its highly intuitive drag-and-drop option. This builder has a bit of a learning curve. You can build a beautiful custom website in just a few hours.
Divi comes up with popular plugins like Bloom opt-in forms email marketing. Also, your Divi website is integrated with a nifty A/B testing system. This is great for conversion rate optimization.
My Theme Shop is Similar to Thrive Themes. It has its own WordPress Themes & Plugins.
Same as Thrive Themes, My Theme Shop also offers Membership and Individual Tools. MyThemeShop is the Best Alternative to Thrive Themes due to the same tools & price.
MyThemeShop Features
There is a long list of MyTheme features.
Providing 67 Premium Themes
involves 17 Premium Themes
Fast Loader pages
SEO Ready
Multiple Site License
The products Range is free
24/7 Support for 1 year
30 Days Money Back Guarantee
MyThemeShop Theme plans and pricing
The pricing of MTS is also the same as the Genesis Framework. MTS is affordable and has flexible plans. MyTheme shop offers you 2 plans.
Here are the plans of MyThemeshop with their key features.
Plan 1- Single Product at $39/ year: The Key features of our 24/7 support, 3 WP themes, 7 WP plugins, Lifetime usage, Responsive, One-Click updates, and many more.
Plan 2 – Extended Product at $199/ year: Extended Plan includes all the essential features that are provided in the Single Product plan as well as extra features such as Access to all new products, All 70 WP themes, and All 17 premium plugins. This plan is for developers and agencies.
Why MyThemeShop is a Similar Marketplace to ThriveTheme
MyThemeShop is one of the greatest WordPress clubs around and the best ThemeForest alternative, claiming a huge 600,000 plus happy customers, and a connected catalog of more than a hundred themes and plugins. Exactly, 150+ themes are accessible.
You'll also get access to any new products that MyThemeShop delivers if you're not an active member then these features might be missing at Themeforest.
Template Monster is also the best Thrive Themes Alternative due to the huge no. of products & membership plans.
The same as thrive themes, users can also choose Template Monster One Membership where they can access up to 5,000 Themes, Plugins, and Graphic Files.
Template Monster Features
It has the following features:
More than 1600 themes are available
SEO friendly
24/7 support
14 days money-back guarantee
Drag and Drop builder
Finest Stock images
Ready to use website
Template Monster Plans and Pricing
Template Monster Offers two plans and it is more reliable than that Themeforest. Here are the plans for this website with its great features:
Creative Plan $7.40/mo – Graphic Design Assets, Presentation, Video & Audio, Unlimited Projects
ALL-IN-ONE $13.25/mo – WordPress and CMS Themes, E-Commerce Theme, Plugins
Lifetime $529 – Unlimited Lifetime Access
Why Template Monster is Best ThriveTheme Alternative
The template monster offers a wide range of features that makes it the best alternative to the ThemeForest marketplace for buying themes or templates.
While we compared it with the Themeforest. This site includes lifetime access with various themes available to use with a minimum price range.
It includes hosting support and also web copywriting services and the vendors may receive a share of 40% of the theme cost from the non-exclusive themes. And this commission of the exclusive themes will depend on the purchasing volume. Check Template Monster Themes
Envato Elements also offers a huge no. of themes, plugins, audio, video & another kind of graphics files.
It is similar to template monster but here you can access more digital assets than Template Monster. It is also a better alternative to Thrive themes due to lots of themes & plugins.
But here you'll miss tools like Thrive Architect for Page building but you'll get more than Thrive themes here.
Envato Elements Features:
Flat monthly rate: only $16.50 a month, cancellable at any time!
Unlimited downloads.
Over 25,000 graphic assets including Vector graphics. …
Over 200,000 premium stock photos.
More than 1,000 tutorials and ebooks.
Single Use license: each element can be used in one single project per download.
Why Envato Elements is a Thrive Theme Alternative:
If you need a path to a huge and increasing collection of graphics, audio files, images, videos, designs, fonts, HTML templates, and WordPress themes and plugins, as well as extra content, then ThriveTheme could be exactly what you seem for.
It provides unlimited subscription service for digital assets, tailored to the needs of agencies, designers, marketers, and other professionals who need items on a frequent or high-volume basis.
Moreover, ThrievTheme subscribers soon also gain access to 1,200 video courses and eBooks from EnvatoTuts+. Appreciation to this, you not simply get access to almost 1 Million Digital Assets but also informative content to ease your work with them efficiently.
Kadence theme is a lightweight theme with this you can create your website beautifully and effectively by using its advanced features. you can also save your bu quickly launched with starter templates and with a drop-in ready section from the gallery you can build new pages
This theme offers a free version and two paid versions. with the free version only you get limited features of Kadence but with two paid versions you received access to its advanced features.
Kadence theme is one of the best and it is a good alternative to Astra. helps to improve your website speed and also offers the best features like customization and more design.
Kadence Theme features
'X' a theme by THEMECO and today, it is one of the most selling themes on the ThemeForest marketplace
The latest version of the Theme i.e. version 6, consists of all the features that make the Theme better than ever.
X theme comes integrated with a visual page builder named Cornerstone. However, it is a very intuitive Page builder which provides an addon for designing pages just by simply dropping and dragging elements.
On the other hand, the Theme doesn't come with a visual builder. You also get premium plugins for free. The names of such plugins are Ubermenu, EssentialGrid, ConvertPlug, TypeKit, Checkout Editor, and many more.
X Theme Features
Starts as low as $59
30+ Demo Sites
40+ stellar elements
400+ Icons
6 months of THEMECO support
Typography options with over 600 fonts
Mega menus
Drag and drop page builder
WooCommerce support
Unlimited Sidebars
Unique Portfolios
Revolution Slider
Google Analytics Integration
Smooth Scroll
Icon Fonts
Translate Ready
RTL Support
BuddyPress Support
bbPress Support
Shortcodes
Retina Ready
Custom Background
X Theme plans and pricing
The regular version is priced at $79/per year
GeneratePress is a multipurpose Theme with light features. This Theme is perfect for those who are eager about speed rather than visuals.
However, you may also combine GeneratePress with a page builder like Elementor Pro. It will help you to redesign your Theme to make it look more attractive.
GeneratePress Features
GP or GeneratePress has the following features:
Starts at $49 only
File size 30KB only
43 ready-to-use sites
40% renewal discounts
Unlimited websites
Full access to the site-library
30 days money-back guarantee
1 year of updates and support
All premium modules included
GeneratePress theme Plan
The Yearly plan starts at $59 per year
One-Time Payment Cost is $249
Why Choose GeneratePress as an Alternative to Thrive Theme
GeneratePress's free version is listed in the WordPress theme directory from there you can install and use it.
But the GeneratePress Premium version is some advanced features and options and advanced which have more power to this theme to exercise its premium version you have to install the GeneratePress Premium plugin.
Astra seems the best lightweight-optimized theme as Thrive Themes Alternatives.
When it comes to WordPress Themes, Astra is new on the list. It came out in the mid – 2017. The Theme has not been around in the market for a long time. Yet, it is the best lightweight Theme that you probably find on the Internet.
Astra theme features
55+ agency starters templates
1-to-1 support
24/7 tutorials
14 days money-back guarantee
Ultimate addon for elementary
Ultimate addon for Gutenberg
Ultimate addon for Beaver Builder
WP portfolio
Convert Pro
Schema Pro
Astra Theme Price
Astra pro at $47: Features include All Astra Pro Features, 20+ Free Starter Templates, One-to-One Support, Extensive Training, and Unlimited Website Usage.
Essential Bundle $137: Feature includes all the pro features plus WP Portfolio Plugin and Ultimate Addons for Elemento/Beaver Builder.
Growth Bundle at $187: Features include all pro and Essential features plus Convert Pro Plugin, Schema Pro Plugin, and SkillJet Academy.
Why Astra Theme is Best Thrive Theme Alternative
The Astra theme is marketed to be used with page builders like Beaver Builder, Elementor, etc. There are fewer complaints filed regarding incompatibility issues when it comes to using Astra with any good page builders in the market.
Genesis cannot design elements using page builders like Elementor, and it has no Whitelabel feature.
Astra is very scored very well in user-friendliness because Genesis is a bit complicated, and it is difficult to use for beginners. Astra theme is almost similar to GeneratePress Theme simple, clean, and lightweight.
The site is built using the Genesis Framework with a StudioPress Theme. It is recommended for WordPress starters to use StudioPress. Like Thrive Themes Membership, StudioPress also offers unlimited membership for designers which makes it a good alternative to Thrive Themes.
StudioPress is perfect for different types of people:
One who wants a faster theme to work on.
Likes one of the designs at StudioPress
Someone who is not very picky about how their site looks.
StudioPress Genesis Features
Impressive plans start from $93 onwards.
3 months free subscription (for annual subscribers)
35+ WordPress Theme
Unlimited support for 1 year
Built on HTML 5
Over 50 content widgets
2,00,000+ happy customers
Fully SEO optimized
Page speed is faster
One-click demo installation
StudioPress Genesis Plans and Pricing
Genesis Framework: $59.95
Single Theme + Genesis Framework: $100-$130
Pro Plus Membership: $499.95
Why StudioPress is the best Alternative to ThriveTheme
GeneratePress is just a single theme while StudioPress has its oven Genesis framework and has 35+ WordPress themes that are ready to use.
Studiopress also provides quality support, the fastest themes, and is optimized for SEO the same as GeneratePress but on StudioPress has more options to choose a WordPress theme.
Even later you can also use an addon theme from 3rd party which has been created on the Genesis framework. StudioPress Themes are also very simple, clean, and easy to use similar to GeneratePress Theme.
Elementor is the top alternative to Thrive Architect. The best feature it offers is an easy-to-drop and drag page builder.
About 300 templates are present, which allows the user to choose the best option available. It offers you to build a blog post, search page, or 404 page.
Additionally, you can also add blocks of buttons, text, videos, and more to your page. It not only allows you to use drag and drop to your entire page but also lets you virtually see how the entire page is working out.
Elementor features
The top features of the Theme are: –
300+ templates
50+ Advance Widgets
300+ pro templates
20+ web tools Integration
24/7 Premium Support
30 days Money-back Guarantee
Support and update for 1 year
Ability to set a global look, style, or color theme for your site.
Integrated WooCommerce.
Pop-ups like Welcome mats and exit Intent popups can be created.
Elementor is Integrated with third-party marketing tools and popular social media platforms.
Options to add animations, emojis, inline elements, background space dividers, mouse effects, etc.
Option to add e-commerce blocks.
The navigator tool is useful when building long landing pages.
Plans of Elementor
Personal plans priced at $49/year
Plus Plans priced at $99/per year
Expert Plan prices at $199/year
Why Elementor is Thrive Themes Competitor
Elementor theme is a faster theme. The speed is all you need. When you choose Elementor over Thrive, you probably enjoy higher speed in terms of working.
The faster drag-and-down builder makes the Theme so popular. Elementary is well-funded and rolls out with many latest features. The team of Elementary is well innovative. This helps them to stay updated with market trends.
Optimize Press is a landing page builder for WordPress. You can use it for opt-in landing pages, sales landing pages, and entire marketing funnels.
Start by choosing from the category of 40+ landing page templates. By the use of drag and drop, you may add elements such as sign-up forms and video sales pitches.
Examples are iContact, Drip, Sendlane, Infusionsoft, Aweber, GetResponse, MailerLite, and many more.
OptimizePress Features
30+ Templates
40+ custom elements
Up to 50 conversion focusses templates
More than 60 Integration and services
A/B split testing
Sales and landing pages
Live editor
Content drip feeding
Custom member portals
Shopping cart
Mobile responsive
Blog Sites
OptimizePress Plans and Pricing:
The Core plan is priced at $129 for up to 1 personal site.
The publisher Plan is priced at $199 for up to 1 personal site and extra features.
The Pro Plan is priced at $249 for up to 5 Client sites.
WP Beaver Builder is a WordPress landing page builder plugin. This plugin comes up with a WordPress template that can be used with the Beaver Builder drop and drag editor. Beaver Builder is the right alternative to Thrive Architect, & Thrive Theme.
These templates are designed for entrepreneurs and small businesses in a variety of industries. Additionally, you can also create contact pages about pricing pages and more.
There is a Beaver Builder Theme that you don't have to use. You may only use the Plugin, the plugin integrates with any WordPress theme.
The Beaver Theme also gives you access to some additional features. It supports WooCommerce. You may use it for your online store.
Beaver Builder theme Features
30 Days Refund Policy
Keyboard shortcuts
Saved rows, columns, and Global Toggle
Control Access based on User Role
Overwrite modules
Get animations and a video keyboard
Why consider Beaver over Thrive Themes?
With the release of Thrive Themes, Beaver has a very tough competition
When compared, Beaver Theme is preferable as it leads to no issues down the line
Beaver Theme is comparatively better as it has many add-on features
Beaver Builder is a real page builder with full website builds in Mind.
Beaver Builder theme Plans and Pricing
The Unlimate Version price at $559/year
The agency version is priced at $399/year
The pro version is priced at $199/year
The standard version is priced at $99/year
Why use Beaver Builder as Thrive Theme Alternative
Beaver Builder is one of the best page builders in WordPress. The builder is fit for website clients, and you don't need to be concerned about its releases.
But if you require a loyal website, you will require custom CSS, or you can add an add-on pack. Though Beaver Builder has some disadvantages, it is still doing the best in the store.
The great thing is the page builder helps 3rd party add-ons to fill this gap. Ultimate Add-ons could be an answer to Beaver Builder. It has 45+ different modules and 100+ page templates.
Now, proceed to the community of both builders. Divi has a massive community, whereas Beaver has a small number but is powerful. On the opposite hand, Beaver has a substantial amount of community and over 5000,000 websites created with Beaver Builder.
When we talk about the digital Marketing Industry, ClickFunnels is a big name. it especially belongs to the affiliate Marketing Domain. It is used worldwide to see digital products like courses and collect email addresses for list creation.
As per ClickFunnels, they have over 1,17,000 users worldwide.
ClickFunnel focuses on building an entire funnel, not just the websites. You have the freedom to add as many pages as you want to your funnel. This can include thank you pages, upsell pages, and checkout pages.
Example of a funnel you can be built with ClickFunnel:
Upsell Pages
Sales pages
Opt-in pages to collect email address
Digital download access page
ClickFunnel Features
A/B Testing
Drag and drop Interface
SEO Management
Tags & Keywords
Conversion Tracking
Click–through Tracking
Website Tracking
Sales trend analysis
Monitor web traffic
Pre-built funnel templates
Click–through tracking
Social media Integrations
Rule-based workflow
ERP Integrations
ClickFunnels Plans and Pricing:
The basic plan is priced at $127/per month
The Pro plan is priced at $157/per month
The Funnel Hacker plan is priced at $208/per month
Why ClickFunnel is Thrive Themes Alternative
Clickfunnel is a one-stop solution for building sale funnels to sell your services and products
Click funnels include A/B Testing
This page talks about the Best Alternatives to Thrive Themes and Thrive Membership Alternatives for Designers & Agencies. So they can pick the right web development & marketing tools for their business.
Though Thrive Themes comes with top-notch features and reliability, there are multiple options to consider. An individual may consider other names as their website partners.
The names could include ClickFunnel, Beaver Builder, GeneratePress, Elementor, and many more. They provide a more generic platform to the user and also improve their experience.
Therefore, the user must have a deep analysis before considering the best options that suit his/her needs.
Thrive has been designed as the ultimate foundation for your collaborative online community.
Thrive Themes brings together events, messaging, forums, file sharing, task management, e-commerce, and even e-learning.
This innovative theme can be tailored to your needs. This becomes convenient for your members to share events, messages, files, tickets, or/and forums. It also enables you to collaborate and edit files, documents, and even projects.
Thrive Themes offers you a private site option with a secure login for members.
To guarantee a premium performance for your WordPress site, we have selected the most powerful and outstanding plugins. This will support each of Thrive's awesome features.
For a start, building your site is easy and quick with the Thrive Architect drag-and-drop page builder. Thrive Themes is fully integrated with BuddyPress, BuddyDrive, and BuddyDocs. The WooCommerce, WP-Polls, WP Form Builder, and more.
This extensive and creative WordPress theme is designed as a complete platform for Intranet, Extranet, and Company Portals.
The simple way to set up and run is packed up with almost all the features you will probably need. It is not difficult to clarify why Thrive is one of the top intranets, self-hosting social media, and extranet solutions for WordPress.
Get ideas about Thrive Themes and Similar Products more inside the below FAQs.