SEOPress is WordPress Freemium SEO Plugin to optimize your On-Page SEO and Lots of Advance SEO Features.
PROS:
Free to use
Fully featured
Pricing
Google Knowledge Graph
Content Analysis
Great documentation
CONS:
Not as well-known as the competition
Learning curve
Feeling like you have wasted lots of money and time on the SEO of your website?
If yes, then you are in the right place and this article is only for you.
We know, putting lots of effort to get tons of traffic from SEO is really a difficult job. To simplify your efforts and saves you time as well as money, we come up with an amazing plugin for you, which is called SEOPress.
Before moving further, we would like to tell you that, we personally use this plugin and got a very amazing experience with it that's why today we are writing a review about this amazing plugin.
Being a professional blogger and knowing the importance of your time, without wasting it let's begin with the article.
Introduction-
About SEOPress
SEOPress is a popular WordPress SEO plugin that is designed to help website owners optimize their sites for search engines. The plugin was launched in 2017 and has quickly gained popularity among WordPress users.
It also includes a range of features that can help website owners to optimize their content for search engines. The plugin provides tools for creating meta descriptions, XML sitemaps, and managing redirects.
| | |
| --- | --- |
| Founder | Benjamin Denis |
| Founded Year | 2017 |
| Plans Available | 3 Plans |
| Price (Annual) | Pro: $49, Insight: $99, Bundle: $128 |
| Free Version Available | Yes |
| Key Features | XML sitemap creation, meta tags optimization, Google Analytics integration, content analysis, redirections, and more. |
It also offers Google Knowledge Graph integration, local SEO features, and WooCommerce optimization.
Climbing to the top of search engine results pages is the main motive of every website owner and with SEO it becomes much easier. And SEOPress comes with all the new features of SEO. The need for an SEO expert becomes minimal if you follow SEOPress very carefully.
SEOPress is a very user-friendly platform and also it offers many guidelines and tutorials. So that you can execute all the features in the right direction. It is fully featured, never slows down your website as well as a lightweight plugin.
It is a powerful and affordable SEO plugin that is ideal for website owners looking to improve their search engine visibility and rankings.
With its range of features and intuitive interface, SEOPress is a great alternative to more well-known SEO plugins like Yoast SEO and All in One SEO Pack.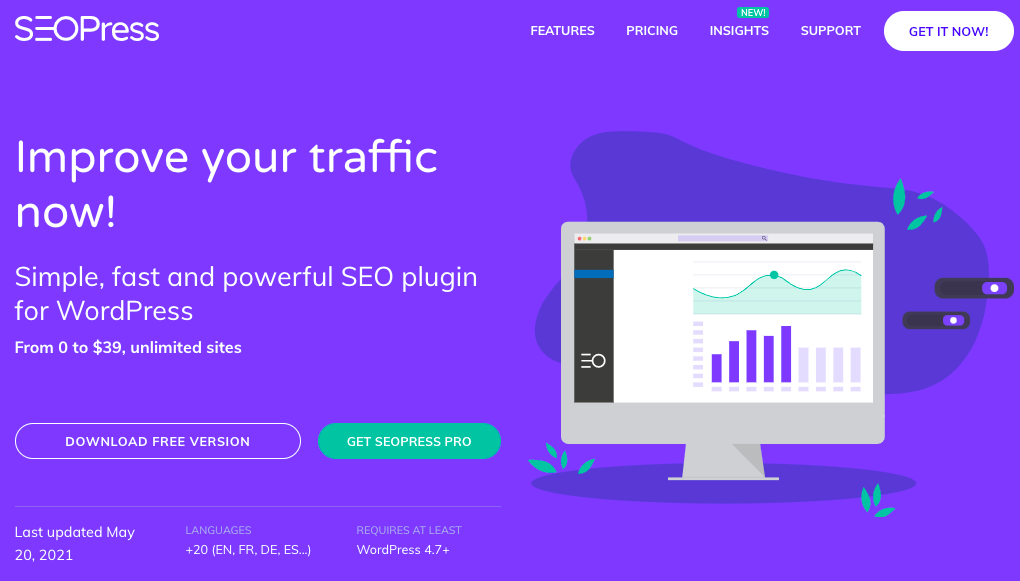 As per our own experience, it is one of the best alternative to Yoast Seo and rank math in the market. With this plugin, you can easily make your own XML sitemap, change the meta description of your own website, and easily control over "no index " and "Nofollow" pages.
Like Rankmath, it also allows you to edit .htaccess and robots.txt files easily from your admin dashboard.
SEOPress Key Features:
control of meta descriptions and titles
XML sitemap generation
HTML sitemap Generation
Analysis of content
Google Knowledge Graph
Google Analytics tool
Google Suggestions
broken link checker
Google Structured Data Types
Video XML Sitemap
Redirection
Google Page Speed Insights
WooCommerce integration and optimization
Google News Sitemap
404 monitoring
SEOPress is a popular WordPress plugin that is designed to help optimize websites for search engines. It has a variety of features that can help improve the SEO of your website, including the following:
SEOPress automatically generates an XML sitemap for your website, which helps search engines crawl and index your pages more efficiently. This feature is important for ensuring that your website is easily discoverable by search engines.
SEOPress analyzes your content and provides feedback on readability, length, and other factors that can affect your website's SEO. This feature can help you improve the quality of your content and make it more appealing to both users and search engines.
SEOPress provides suggestions for optimizing your pages and posts for search engines, including meta titles, meta descriptions, and meta keywords. It also allows you to customize your URLs and add schema markup to your content.
Social Media Integration:
SEOPress allows you to optimize your website's social media sharing by providing options to add meta tags and descriptions for social media platforms like Facebook and Twitter. This can help to increase the visibility of your website on social media and drive more traffic to your site.
Google Analytics Integration:
SEOPress integrates with Google Analytics, allowing you to track important metrics such as traffic, bounce rate, and engagement. This feature can help you to better understand how visitors are interacting with your website and make informed decisions about how to optimize your content.
SEOPress includes a redirect manager that helps you to manage and update your website's redirects. This is important for ensuring that visitors are directed to the correct pages on your site, and for maintaining good SEO practices.
SEOPress provides a backlink analysis tool that allows you to monitor the quality and quantity of backlinks pointing to your website. This information can help you to identify areas for improvement and develop a strategy for building high-quality backlinks to your site.
Overall, SEOPress is a powerful tool for improving the SEO of your website. Its range of features can help you to optimize your content, improve your website's structure, and increase your visibility on search engines and social media platforms.
SEOPress is one of the best and trending WordPress plugins for SEO. Their features can easily reduce your efforts, time, and money in doing SEO on your site. SEOPress Pro is an add-on to its free plugin SEOPress.
In order to use SEOPress, either free or paid, you have to first install the free plugin on your WordPress site. If you want it Pro Version, you have to buy the license, which is available at a price of only $39/ year.
They offer lots of features like XML sitemap, Google Analytics and many more others in their free version, which is perfect for a newbie blogger and site owners.
SEOPress Pro – This is the premium version of SEOPress, which includes additional features, such as redirections, Google Analytics integration, schema markup, video XML sitemap, broken link checker, and more. This Plan will cost you $49/year.
SEOPress Insights: This plan can be used by SEO Professionals because it comes with some advanced features, SEOPress Insights provides useful data to understand how your site is performing in SEO. this comes with features like Keyword rankings, Competition, Backlinks, Google Trends, etc. this plan will cost you $99/per month.
SEOPress Bundle: This Plan is the combination of both Pro and Insight Plan because it includes all the features of both plans, and when we combine the pricing of both plans, so this plan will cost you $128/year.
Who Should Choose SEOPress
SEOPress is one of the best tools for SEO or content Optimization. This plugin is available at a very affordable price. The best part of this plugin is that you can use it on multiple sites with a single license.
Website owners who want to improve their site's visibility on search engines: SEOPress can help you optimize your website for search engines, making it easier for potential customers to find your site online.
Businesses that rely on organic traffic: If your business relies on organic traffic to generate leads or sales, then SEOPress can be a valuable tool for you. By optimizing your website for search engines, you can increase your organic traffic and drive more sales.
WordPress users who want an easy-to-use SEO plugin: SEOPress is a user-friendly plugin that can be installed and set up quickly. If you're looking for an SEO plugin that doesn't require extensive technical knowledge, SEOPress could be a good choice.
Website owners who want a cost-effective SEO solution: SEOPress is an affordable SEO plugin that provides many features and functionalities similar to more expensive SEO tools. If you're on a tight budget but still want to improve your site's search engine optimization, SEOPress is a great option.
Overall, if you want to optimize your WordPress website for search engines and improve your online visibility, SEOPress is a powerful SEO tool that can help you achieve your goals.
FAQs-
Queries Related To SEOPress Review
If still you have some doubts about SEOPress and want to know more, here we have added some frequently asked questions so that you can get more about this amazing SEO plugin.
1. Is SEOPress pro an add-on or a plugin?
SEOPress is used for SEO or Content optimization. It is available in both versions i.e. free version as well as the paid version.
SEOPress Pro is an add-on to its free version. If you want to use it, then you should do it in your client area, then download the zip file of SEOPress pro, and then upload it in your WordPress plugin's section.
2. On how many sites I can use SEOPress pro?
You can use SEOPress pro on multiple websites after purchasing only once. And this is the only reason why many bloggers and SEO experts use this plugin instead of any other paid plugin for SEO or content optimization.
3. How much does SEOPress pro cost?
If you are a beginner, you can go with their free version and whenever you found the use of the pro plan, then you can buy their pro subscription which is at a cost of $39 per year for unlimited sites. The best part is that you can unsubscribe from their plan at any time.
4. Can I cancel my license?
Yes, you can easily cancel your license at any time. All you need to do is write an email to them for the cancellation of your license or you can do it on your own also, go to your customer account section then click on "my license keys "and then click on cancel.
5. How many languages are available?
SEOPress is available in more than 20 languages: English, Spanish, French, Chinese, Vietnamese, German, Italian, Romanian, Brazilian Portuguese, Telugu, Tamil, Italian, and Japanese. Greek, Arabic, Bulgarian, Russian, and more.
Top SEOPress Alternatives
here are some alternatives to SEOPress:
Yoast SEO – A well-known SEO plugin for WordPress that offers features like content analysis, meta-tag optimization, and XML sitemap generation.
All in One SEO Pack – Another popular SEO plugin for WordPress that offers similar features to Yoast SEO, including meta tag optimization, XML sitemap creation, and social media integration.
Rank Math – A newer SEO plugin for WordPress that offers a comprehensive set of features, including content analysis, meta-tag optimization, and integration with Google Search Console.
The SEO Framework – A lightweight SEO plugin that focuses on essential SEO features, such as meta tag optimization and XML sitemap creation.
Squirrly SEO – An AI-powered SEO plugin for WordPress that offers content optimization, keyword research, and real-time analytics.
All of these plugins offer similar features and functionalities to SEOPress, including meta tag optimization, XML sitemap creation, and content analysis.
They all have user-friendly interfaces and help documentation to guide users through the setup process.
Our Opinion-
Conclusion: SEOPress Plugins Review 2023
SEOPress appears to be a popular and well-regarded SEO plugin for WordPress. Users praise its user-friendly interface, affordable pricing, and comprehensive feature set.
They offers a range of features, including XML sitemap creation, meta tags optimization, and schema markup implementation. Users can also monitor their website's traffic and rankings, and track their progress over time.
Compared to other SEO plugins, SEOPress offers a more affordable solution without sacrificing quality or functionality. It is easy to install and set up, even for users without extensive technical knowledge.
Overall, based on reviews from other websites, SEOPress is a reliable and effective SEO plugin for WordPress users who want to improve their website's search engine optimization.
| | |
| --- | --- |
| Category | WordPress SEO Plugin |
| Starting Price | Free, Premium – $39 |
| Key Features | Schema, Analyse, Broken Backlinks, Meta Tags & E-Commerce |
| Verdict | Best SEO Plugin with some Exclusive Features. |