Looking for efficient and reliable accounting software for your business?
Quickbook accounting software is the package complete tool of accounting, invoicing, tax, payroll, budgeting, Payment processing, filing, and for mid-sized and small businesses.
Check out our in-depth review of QuickBooks, which covers everything from its pros and cons to its features, pricing plans, alternatives, and frequently asked questions.
Whether you're a small business owner, accountant, or bookkeeper, QuickBooks could be the perfect tool for managing your finances and streamlining your operations. Read on to learn more!
In this post Review of QuickBooks, you get:
Overview of FreshBooks
Features of FreshBooks
FreshBooks Pricing and Plan
The total cost of FreshBooks
Introduction-
About QuickBooks
This is one of the most popular accounting software for small as well as mid-sized businesses which follows both customers and vendors and handles all banking-related tasks easily and automatically.
You can get used to a variety of payment options, including annual subscriptions and one-time multi-user licenses.
With QuickBooks software, you can manage all your accounting work like managing inventories, managing cash flow, tracking time, customized invoicing, good for a tax deduction, and managing all your accounts like profit/loss, and balance sheet.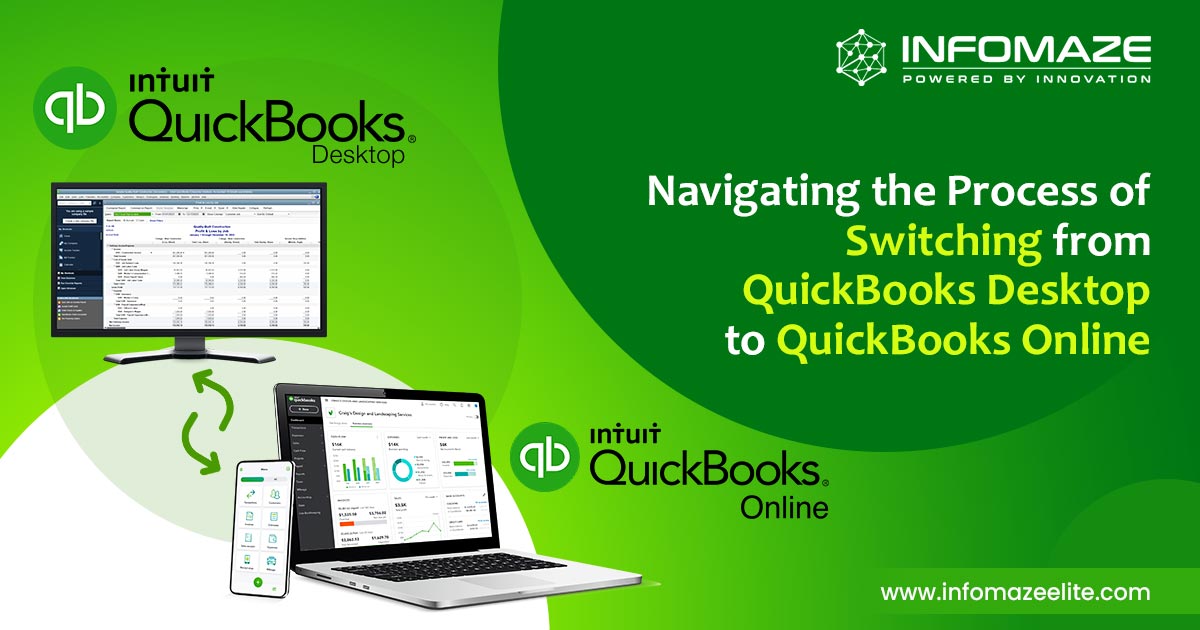 If you need more Add-ons for your business QuickBooks also offers Payroll add-ons options for each premium plan.
Key QuickBooks Features:
It has the following features:
25 users included
1099 contractors to manage
Track miles
30-day free trial
Easy to navigate and use
Track sales & sales tax
Capture & organize receipts
Provide Better Features?
QuickBooks Features Review
We're also sharing some other important features that can help you in providing a full QuickBooks review.
QuickBooks is an easy GST invoicing software for all types of small businesses, it saves time and gets paid faster by sending invoices online. with these features, you can customize invoices matching your brand style guide with a customization tool.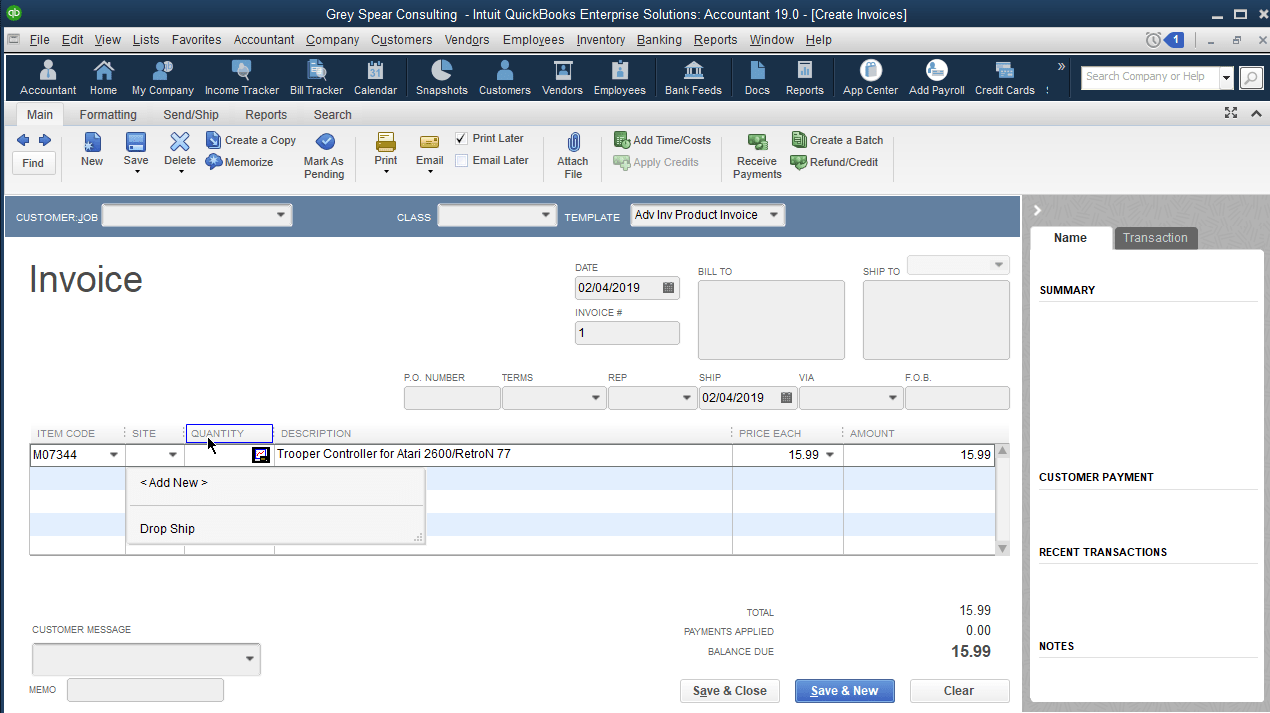 You can also generate GST invoices by choosing in-built data fields, setting invoices for customers that pay regularly, and setting schedules.
One of the great advantages of QuickBooks Accountant over solutions like common spreadsheets is the ease with which you can generate reports and graphs.
Using the data you enter, QuickBooks Accountant can automatically generate reports like cash flow statements. profit and loss sheets or balance sheets.
This QuickBooks feature keeps track of your inventory, which makes it easy to handle your inventory. You can manage your inventory quantities when you buy and sell products, your inventory quantities are automatically updated.
And get the real-time inventory valuation automatically adjusted in your balance sheet, also you can keep track of what you've ordered from each vendor.
QuickBooks can manage your daily inbound and outbound cash flow management in one place, cash flow allows you to show the financial condition of the business that more helpful at the timing time of raising a Budget or goodwill for the business.
By showing your real financial position investors invest more in your business and Manage cash flows at your fingertips with a real-time view of your cash position.
QuickBooks online banking downloads and matches transactions automatically, and you can connect your bank accounts with QuickBooks. with QuickBooks online banking, always know where your money is going.
This feature automatically matches transactions to your sales and expenses, and reviews & approves bank-reconciled transactions in one click, you can get this feature's discounted rate by using the QuickBooks promo code.
Select the right plan
QuickBooks Plans Review
Quickbook offers 4 types of pricing plans simple start plan, essential plan, plus plan, and advanced plan. starts from $15/month, which can you buy at discount prices by applying the Quickbook coupon code.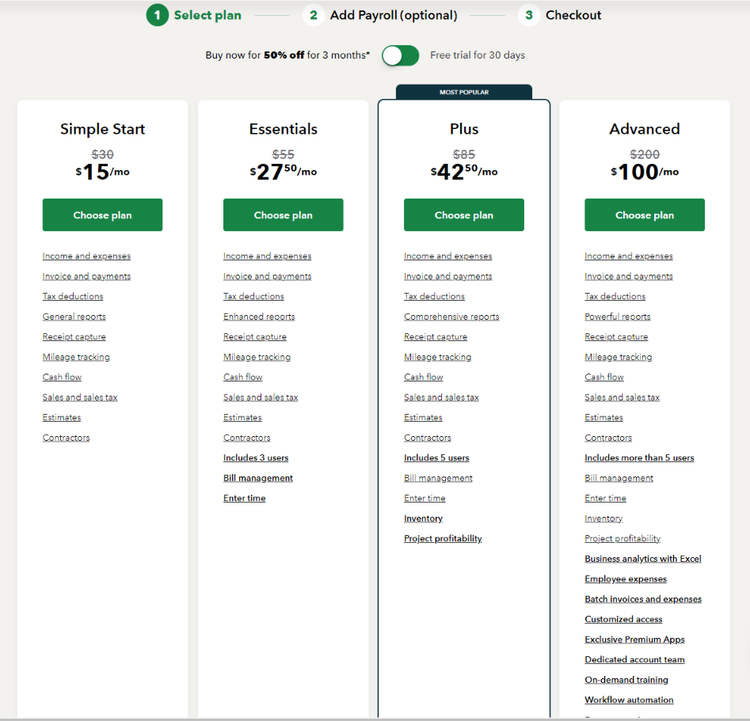 QuickBooks Online has four main plans, plus a host of add-ons for an extra monthly charge.
This accounting software also offers a 30-day free trial and also you buy now 50% off for 3 months.
Quickbook Simple Start Plan
The Quickbook simple plan costs $30/per month, supported by users, it also offers special deals for 3 months when you buy by skip-free trial you get 50% off for 3 months.
This is the very first plan offered by the which best for small businesses, whether an LLC is run by just an individual. it is also useful for larger operations because it doesn't offer many bells and whistles.
It includes all simple start plan features such as mileage tracking, receipt capture, tax deduction, invoice, and payments Etc.
Simple Start Plan Features
Income and expenses
Invoice and payments
Tax deductions
General reports
Receipt capture
Mileage tracking
Cash flow
Sales and sales tax
Estimates
Contractors
Quickbook Simple Start pricing
A monthly Subscription cost $15/month.
Quickbook Essentials Plan
The Essential plan is the second plan offered by QuickBooks to its users which is cost $55/per month, this plan supported 3 users. if you skip the free plan then the first 3-month cost will be only $27.50/month.
Quickbook essential plan includes all simple start plan features and also includes extra features like recurring billing, tracking expenses, recording payments in multiple currencies, Etc.
The essential plan is great for growing small businesses that have an increased no. of clients, suppliers, and employees.
Essential Plan features
All Simple start plan features
Includes 3 users
Bill management
Enter time
Essential Plan Pricing
QuickBook monthly subscription cost $27/mo.
This is the third plan of QuickBooks costing $85/month for the 5 users this plan also gives an option that if you can skip the free plan option then you can get 50% OFF for a 3-month cost dropped to $42.50/month.
The plus plan is best for businesses that need to manage the complexities of billable, and mid-sized businesses that growing number of ongoing projects.
It includes advanced features like an organized bill in one place, scheduling payments, paying online for free, tracking products, cost of goods, and more awesome features.
Plus Plan Features
All simple start and Essential plan features
Include 5 users
Bill management
Create purchase order
Manage vendor
Enter time
Project profitability
Plus Plan Pricing
Monthly Subscription $42/month
This is the most popular and advanced pricing plan offered by QuickBooks with the all advanced pro features of accounting which cost $200/month, but if you skip the free trial you can get this plan for $100/mo, which means you get 50% OFF. supporting 25 users.
An advanced plan is great for enterprise businesses with support for extra users, and also helps businesses operate more efficiently at scale. For example, it brings customer user permission and online training courses.
It includes features like Business Analytics with excel, batch expenses, and invoices, workflow automation, and many more.
Advanced Plan Features
Employee expenses
Batch invoices and expenses
Customized access
Exclusive Premium Apps
Dedicated account team
On-demand training
Workflow automation
Data restoration
Advanced Pricing Plan
The monthly Subscription Plan cost $100/per month
QuickBooks Pricing starts from $15/mo in its simple start Plan QuickBook's other essential plan price is $27/mo, Plus plan is $42/mo, and the advanced Plan price is $100/mo.
All QuickBooks Plans Pricing is affordable and set based on the number of billable clients.
| | | | | |
| --- | --- | --- | --- | --- |
| | Simple start | Essential plan | Plus Plan | Advance |
| 50% offer price for monthly | $15 | $27 | $42 | $100 |
| Total Annually Price | $180 | $324 | $504 | $1200 |
| | | | | |
| After a 30-day free trial monthly price | $30 | $55 | $85 | $200 |
| Total Annually Price | $360 | $660 | $1020 | $2400 |
| | | | | |
Here we've cleared the Price and Total cost of using QuickBooks, I hope this detailed article will help you to choose the right plan according to your need and budget.
QuickBooks Plans also have 30 Day money-back guarantee. so you can try this for 30 days risk-free. And if you found that this tool is not beneficial and any issue you can easily apply for your money back.
For You, Or Not?
Who Should Choose QuickBooks
QuickBooks is a versatile accounting software that can be useful for a wide range of individuals and businesses. Here are some groups of people who may benefit from using QuickBooks:
Small business owners: QuickBooks offers a variety of features that can help small business owners manage their finances, such as invoicing, expense tracking, and financial reporting.
Accountants and bookkeepers: QuickBooks can be an effective tool for accounting professionals who need to manage multiple clients' finances and prepare financial reports.
Freelancers and self-employed individuals: QuickBooks Self-Employed is a version of the software that is designed specifically for freelancers and independent contractors. It includes features such as automatic expense tracking and estimated tax payments.
Non-profit organizations: QuickBooks offers a version of the software that is tailored to the needs of non-profit organizations. This version includes features such as donation tracking and reporting.
Ultimately, anyone who needs to manage their finances and track their expenses could benefit from using QuickBooks. However, it's important to evaluate your specific needs and budget to determine if QuickBooks is the right fit for you.
Looking For Some Other Options?
QuickBooks Alternatives
We're also sharing some top QuickBooks online alternative means sites like FreshBooks.
FreshBooks is an award-winning finance & accounting software and one of the most reliable cloud solutions for small business partners. It is the current holder of FinancesOnline's Best Accounting Software Award for 2019 and has the most powerful consumer satisfaction rates of all related apps in this section.
It is prevalent among companies for streamlining customer invoicing and time-tracking processes. Developed with small and rising businesses in mind, the software sets a strong set of characteristics that have offered inflexible, pricing plans. In reality, freelancers who need to optimize their sales cycle and collection can marshal the software.
FreshBooks Features
Customizable Invoices tools
Project management software
Time tracking
Sales tax report
Provide full support to its customers
Multi-currency billing
FreshBooks Pricing and Plan
The Lite plan costs $6.99/per month
Plus Plan cost $12.00/per month
Premium Plan cost $22.00/month
Xero is the best financial collaboration app that stands high on our list of best accounting solutions. This system has been designed to satisfy the requirements of small businesses in any enterprise and accountants term it the "handiest asset for handling financial activities".
It is a user-friendly platform that allows over 110 app integration and when you start using Xero You'll also get access to a mobile app and the basic tools for tracking inventory, paying bills, creating invoices, and more.
Xero Plans and Pricing:
It offers three plans with a wide range of Features:
Plan-1: Starter plan for $20. You will get the features to send 5 invoices and quotes, Reconcile 20 bank transactions, etc.
Plan-2: Standard plan for $30. You will have the features to Send unlimited invoices & quotes, Capture bills and receipts with Hubdoc, and much more.
Plan-3: Premium plan for $40. It includes handling multiple currencies, reconciling bank transactions, etc.
Wave is another best and free Alternative to Freshbook that you can get this Accounting software completely free for unlimited clients and time and you can sync your expense statement, balance sheet, and bank account.
But this also offers the paid services for more functionality, features included in Wave are bill and invoice reminders, expense & income tracking, unlimited bank and credit card connections, and wave also offers tools that help you to file your business taxes.
You can only pay for the Payroll cost of $40, for Advisors $149, Self-service stats cost of $20, and the Accounting payroll caching cost of $379.
Wave Features
Fixed Asset Management
ACH Payment Processing
Budgeting/Forecasting
General Ledger
Tax deduction
Reporting
Manage business projects
Our Opinion-
Conclusion: QuickBooks Review 2023
Overall this post we are sharing all possible things for providing you full of QuickBooks like QuickBooks features, QuickBooks pricing and plan, and total cost QuickBooks that help you to select the right plan for you.
Now we know that QuickBooks is the accounting software for small business and mid-sized business, and offer key features that a business needs to handle its accounting terms just as inventory management, cash flow management, Invoices, Monetary transactions, and accounting support.
So this is the all-in-one solution for business, QuickBooks offers the 4 premium plan to its users that are simple start plan, essential plan, plus plan, and advanced plan for monthly subscription cost starting from $30/month. use QuickBooks coupon for a discount.
We highly recommended you try QuickBooks for once to enjoy its 30 days free trial.
FAQs-
Queries Related QuickBooks Online Review
What is QuickBooks?
QuickBook is an all-in accounting solution for small businesses as well as medium businesses, which is developed by Intuit.
Does QuickBooks Provide a free trial?
Yes, QuickBooks accounting software provides a maximum of 30 days free trial to its new as well as old customers for a better experience.
What is Starting Price of QuickBooks?
QuickBooks offers 4 types of premium plans which is cost start from $30 per month.
Maximum Discount Offer by QuickBooks?
The maximum discount offered by QuickBooks is 50% OFF on each premium plan for 3 months.