Product is rated as #1 in category Other
EngageBay is a unified business marketing software for growing enterprises, startups, and SMBs, combining sales, marketing, and service into a single, complete package. It is a robust platform for conducting lead generation, business automation, email marketing, and landing pages, all in the same place.
PROS:
All-In-One Marketing Tool
Affordable Pricing Plans
3 Subscription Options
All companies, regardless of their size or industry, face a common challenge: customer retention & engagement.
To earn a customer's loyalty and attention, companies should focus on creating a well-planned customer journey. A customer journey map helps companies understand their target audience: what their needs and requirements are, how best to engage with them, and how to convert leads into sales.
There are plenty of tools in the market that can help address a customer's needs. Unfortunately, using different tools and software makes it difficult for companies to see the big picture.
There's a risk of missing out on significant touchpoints. This can lead to companies getting an incomplete understanding of user behavior and requirements.
Enter EngageBay. EngageBay is an integrated software platform that offers Marketing, Sales, and Customer Service solutions. This blog will walk you through EngageBay's features and what you can expect from the software.
EngageBay Features
EngageBay is an all-in-one marketing, sales, and customer support hub combined with a user-friendly CRM. Essentially, it offers companies a common platform that helps with their marketing and sales needs.
The software offers tools, features, and resources in a common CRM suite, so companies don't have to pay for separate services to different providers. The list of features included are:
Email marketing
Landing pages
Email automation
Lead generation tools
Push notifications
Sales automation
Task & contact management
Help desk and customer service hub
Appointment scheduling
Calendar sync
Analytics and reports dashboard
As the name suggests, this software is primarily used to engage with customers, drive growth, and convert leads into sales.
It works a little bit like this. A company XYZ can use EngageBay
To attract customers through customizable landing pages.
Nurture and engage leads with drip campaigns and email broadcasts.
Convert leads into sales through automated workflows and pipelines
Different dashboards for different purposes.
EngageBay Dashboards
The software has three dashboards.
1. Marketing Bay
The marketing platform has a whole suite of useful and accessible tools. Instead of paying for different services, companies can build an end-to-end customer journey. The hub also offers tools and resources that can be used to boost customer interaction.
The main features of marketing bay are:
Lead capture forms: There are standard templates available that can be customized to create responsive forms. Both standard pages and popups are available.
Landing pages: It's easy to create landing pages, to capture leads from different sources, with EngageBay's drag-and-drop builder. The design of the templates can be changed to suit the brand.
Email templates: This is a plus point, as coding a template can be tedious. EngageBay offers rich templates and a drag-and-drop builder that is intuitive and responsive. Companies that want more customization can also code their template using HTML.
Email marketing: This feature offers segmented lists and audiences, automated email sequences, and email broadcasts.
SMS and push notification: Companies can broadcast web and push notifications as well as text alerts along with email broadcasts.
Process automation: The automation features don't end with email and SMS. There are also options to automate manual tasks such as syncing data, tagging contacts, and updating lead statuses.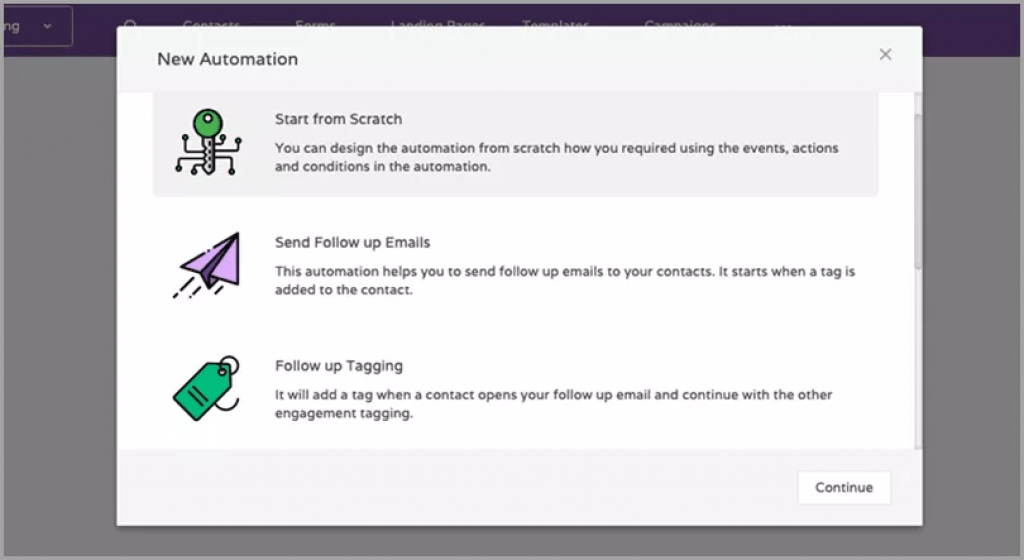 Social media marketing: Companies that are active on social media can make use of this handy tool. All social media content and posts published across channels.
Video marketing: With video marketing templates, companies can add to their content library by creating demo videos, how-tos, or infographics.
2. Sales & CRM bay
EngageBay's sales segment is useful for field and online sales teams. The CRM software helps track deals, update lead scores, and maintain interaction with customers. The sales & CRM bay is a comprehensive solution that is intuitive and easy to use.
The features included are:
Contact management: The dashboard gives a complete view of all customer interactions on a common platform. There is also an easy lead-scoring system that helps prioritize leads and sales.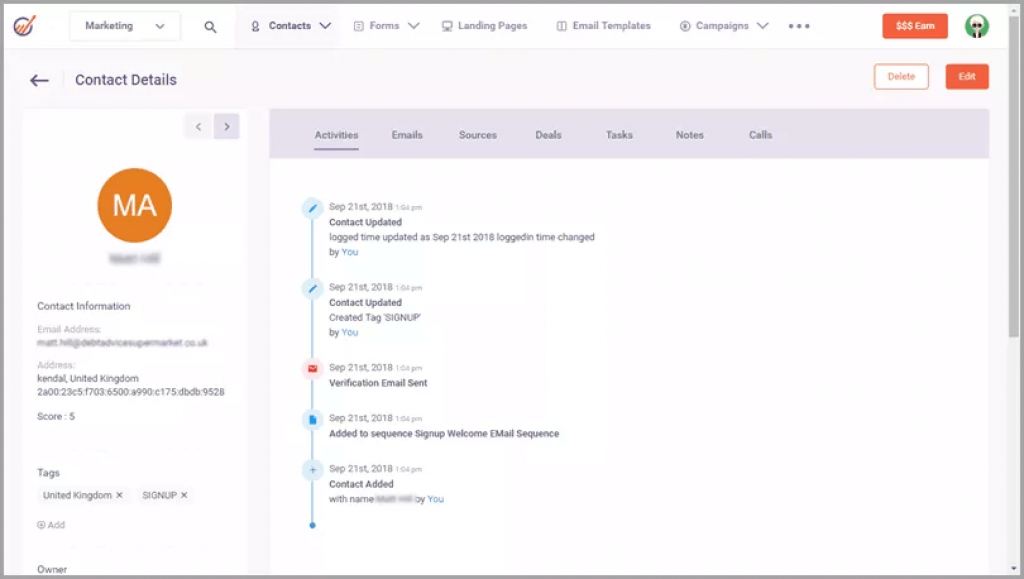 Visual pipeline: This feature provides an easy-to-track status of every lead, visualized as a Kanban board.
Appointment scheduling: Every other software offers a third-party calendar tool that syncs with Google or Microsoft calendar. In EngageBay, the calendar is a built-in feature. Individual sales reps can create their calendar or have larger shared team ones.
Task management and automation: Sales reps often deal with bulk leads. It's easy to lose track of progress. EngageBay offers a simple task management solution that helps keep track of every lead – from engagement to follow-up. Routine tasks can also be automated using rules.
Email tracking: This feature allows for companies to know if their email has been opened and read or if it has been moved to spam.
Email integration: Email communication can be managed end-to-end with CRM Email Integration.
Reports & Analytics: This board has options from sales forecasting, deal analysis, and task assignments.
Gamification: Perhaps, the most interesting feature of this CRM is gamification. Leaders can engage with employees by gamifying the sales process through leaderboards and targets.
3. Service Bay
One of the biggest points of building a good user-centric product is having excellent customer support service. EngageBay provides 100% free customer service software that enables companies to help their clients. The features included are:
Live chat: Companies get access to the live chat feature that helps teams engage with customers in real-time. This live chat option also offers assistance to users who are browsing the website.
Ticket views and segments: It's easy to view open tickets, in progress, or closed tickets – all on one dashboard.
Pre-built template responses: Communication consistency is important. This is why EngageBay offers response templates for common queries and questions that save time.
Support: This option allows agents to segment customers and support agents into groups and funnels tickets to the most appropriate support group.
Ticket automation: Tickets can be automatically assigned to agents through rules and parameters.
Macros: Teams can use macros as shortcuts when responding to common queries frequently. This helps free up time.
Get the Right Plans for your Business.
EngageBay – Pricing
EngageBay is either available as a full-stack solution, or individual hubs depending on a company's needs. The pricing plans available are:
1. EngageBay Free Plan
500 contacts
1,000 branded emails per month
Lists
Email Marketing
Lists
Email Marketing
Sequences
Contact Management
Ticketing Management
Lead Grabbers
Forms
Facebook Ads
Social Media
20GB File Storage
Email & Chat Support
2. EngageBay Basic Plan :
$8.99 per month per user. This plan includes all the features of Free plus a few extra.
Email Templates
Web Pop-ups
Landing Page Builder
Lead Scoring
SMS Marketing
3rd Party Integrations
Social Suite
Tag Manager
3. EngageBay Growth Plan :
$29.99 per user per month. This plan includes all the features of basic plus:
Marketing Automation
Push Notifications
Site Messages
Broadcast A/B Testing
Landing Page A/B Testing
Custom Domain
Call Records
Service Automation
Products
Proposals
4. EngageBay Pro Plan:
$47.99 per user per month. All the features of Growth are included plus:
Marketing Automation
Web Analytics
Proposal Analytics
Role Management
Goals
Custom Reporting
Dedicated Account Manager
Uptime SLA
Phone Support
Many startups prefer to invest in one tool rather than the whole suite. The pricing plan for each hub is given below.
Marketing
From Free To Pro: Features at every level include
email broadcasting,
sequences
landing pages
video marketing, and custom fields.
For enterprise teams, the higher subscription plan offers
SMS marketing
tag management
third-party integrations
web analytics
custom reporting.
CRM & Sales
From Free to Pro: Features at every level include
contact management
deal information
email tracking
task assignment
appointment scheduling
live chat
For enterprise teams, the higher subscription plan offers
leaderboards
predictive lead scoring
sales automation
products
proposals
role management
call records
call scripts
goals
custom reporting
Customer Support
The customer service software is free-to-use and included in the package. Companies can instantly add the live-chat and helpdesk options to get started without paying any fee upfront.
EngageBay – User Experience
EngageBay is a comprehensive CRM solution. Companies can choose a particular bay or invest in the all-in-one package. The all-in-one package gives access to:
Marketing hub: including email marketing tools, marketing automation, social media connections and more.
CRM/Sales: Service solutions that include contact management, appointment scheduling, task management and more.
Customer support: A free customer service software with a wide range of support options
While the vast number of features are engaging, the best part of EngageBay is its simplicity and ease of use. Generally, with most CRMs, the learning curve is quite steep. It goes like this: A company subscribes to different tools and software, tries to learn the ins and outs, and never returns to it. The interface of this software is simple, which is impressive considering how versatile the product is. The onboarding process is a breeze.
EngageBay is very intuitive; it's easy to navigate and understand the product without consulting guides or demos. For the all-in-one package, one can easily jump between marketing, service, and sales. To the right of this drop-down menu, one can access all the features of the section.
It is also structured efficiently. The communication is the same throughout; menu sections are labelled with the same names as the messaging on their website. The transition from discovering the product to using it is a seamless experience.
Ultimately, the result is this: it's an easy-to-use product, made simple through its design and language. It's clear that the software was built for those who want customer engagement but have no prior experience. EngageBay offers many of the crucial tools that businesses need to drive their growth and engage customers.
All the features and tools are free to use on the free plan, so there's no pressure to register for a trial. Though, if your company is looking to make the switch to something that offers functionality without the big price tag, EngageBay might just do the trick.
| | |
| --- | --- |
| Category | CRM Software |
| Starting Price | $12.99/month |
| Key Features | CRM, Landing Pages & Funnels |
| Free Plan | Forever Free with 500 Contacts |
| Payment Option | Credit Card |
| Verdict | Advanced marketing features at an affordable price. |