Movavi Video Editor
WebMeTools Team
Are you wondering if Movavi Video Editor will meet your needs in video editing processes?
Movavi Video Editor is a helpful tool that allows you to edit videos and get high-quality results even if you've never opened any editing software.
Our thorough Movavi Video Editor review covers all the details on the pros and cons, pricing plans, features, alternatives, and competitors, and frequently asked questions about this video editing software.
We have made a solid analysis to help both beginners and professionals with the choice of software. Read on to find out all the details.
About Movavi Video Editor
The first version of the program, Movavi Video Editor 1.0, was released back in 2004.
In 18 years, the program has changed radically and now it is a strong competitor to other video editing programs.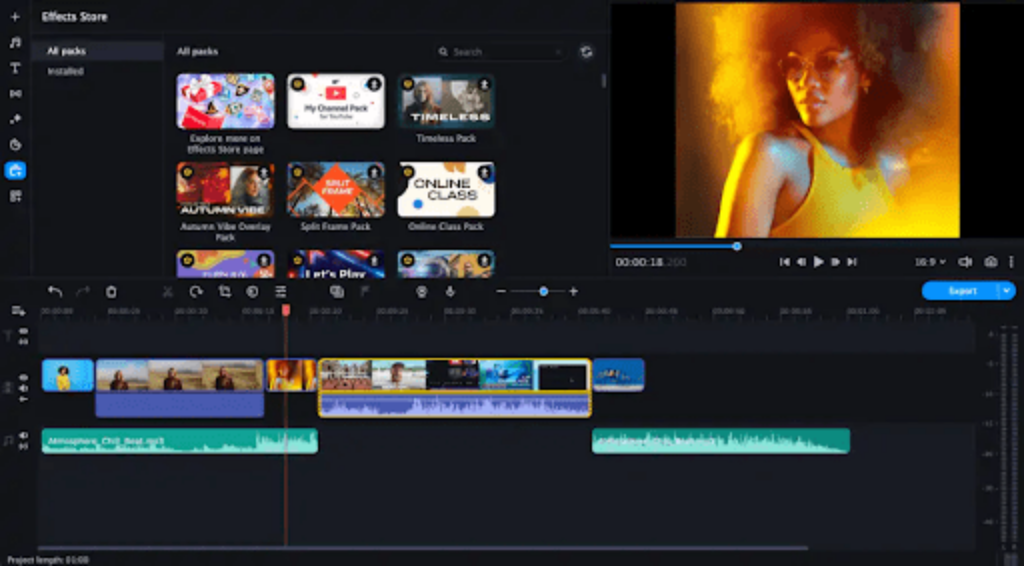 The primary goal of the platform is to make the editing process simple and convenient for every user. This goal is achieved through the program's intuitive and user-friendly interface.
The video editor by Movavi has become famous due to its openness to new users. It is one of the best programs in terms of learning how to make videos. Imagine how many content creators started from this place.
Movavi Video Editor Key Features:
Text overlay
Media library
Visual effects
Variety of filters
Transition options
Ready-made templates
Split and splice videos
Audio noise reduction
AI background removal
AI motion tracking
Equalizer
Reverberation feature
Pitch adjustments
Automatic video editing function
Video stabilization
Chroma key
Movavi Video Editor Payment Plans
Movavi Video Editor has 2 kinds of pricing plans:
Annual Subscription: $54.95/year for 1 user
One-Time Purchase: $79.95 for 1 user
Movavi Video Editor also provides a 7-day free trial, so you risk nothing and will be able to try out the app. With the free version, you will determine whether it is worth paying for a license. 
Info – In addition to the standard subscription, Movavi constantly offers a discount for Movavi Video Editor + Effect Pack's annual plan. The same price plus additional quality effects.
Movavi Video Editor Free Trial
Let's get to know what the program offers you for $0:
All the features from the Paid version are available, The Free and Paid versions have no differences at all
The free version adds watermarks to your exported and saved videos
Has a limit on audio project saving: only half of the audio track will be saved
Get Movavi Video Editor for Free
Movavi Video Editor Features Review
We've listed a considerable list of features that Movavi accommodates. Now we'll tell you in detail about the features that may influence your decision.
Wide Library of Filters, Effects, and Transitions
The video editor by Movavi aims for high results. That's why it includes a collection of filters, effects, and transitions to help you achieve a cinematic look for your video.
Even if you are a beginner, your video will have a professional touch. By the way, if you need background music, the program offers a copyright-free library with a vast variety of tracks.
The program offers a feature called Montage Wizard. Click "Create Quick Video" from the "File" menu to find it. After that, you add media files, select and customize a template, add music, and the program will do all the tough work for you. When you get the result, you can make minor adjustments manually or download and upload the final video to social media platforms.
This feature is especially useful for newcomers. You watch a professional edit a video, learn from their experience, and then practice on the project yourself.
All the Essential Tools Are Available
In Movavi Video Editor you can turn any idea into reality. To achieve that, you need all the basic editing tools, which are present in the software. Whether you want to split, trim, and join clips, or you want to learn how color correction works; everything will be available within one program.
What makes it perfect for both newcomers and professionals, is the timeline tool. It allows you to drag and drop media and make detailed frame-by-frame changes, making sure that you realize your full creative potential.
The software allows you to save time on editing and make less effort, yet get high results. It is achieved through AI-powered options, and Movavi Video Editor has the following features: AI background removal, AI noise reduction for audio tracks, and AI motion tracking.
Advanced Audio Production Features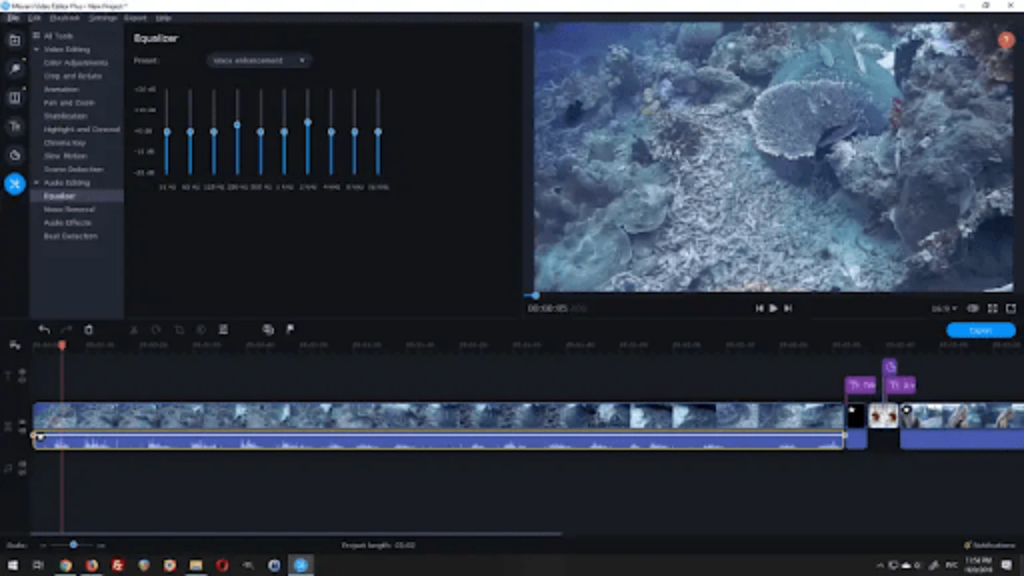 Video editor by Movavi provides versatile options for working with audio files. For example, you can adjust the pitch and the tempo of your voice.
What is more, the program has a tool, that makes it easy to leave voice comments to an already recorded video. You can also work with high, mid, and low frequencies through a pre-installed equalizer. And lastly, it includes a reverberation feature to make your voice sound more spacious. 
What You Will Be Able to Create in Movavi Video Editor
This editing tool supports many video formats, for example, MP4, AVI, MOV, MKV, and others. The software also can instantly export to YouTube, TikTok, Google Drive, etc.
We didn't mention that Movavi Video Editor has a video ratio editing feature. With its help, you can optimize your video for different platforms to make sure the video looks great on any website or app. Below we will list the most popular categories of videos that you can create in the program:
Commercial Videos
Social Media Videos
YouTube videos
Webinars and Training Videos
Video Presentations
Video for Internal Use
Animated GIFs
Documentaries and Film Footage
Is Movavi Video Editor Worth It?
As you may have noticed, the program has a huge number of features and opportunities to be creative. But for what reasons is it singled out by other users? Here are some of the key factors that Movavi Video Editor is best for:
User-friendly interface
To help you learn how to edit videos, the program has been simplified in every possible aspect. Therefore, the same function will be easier to use exactly in the video editor by Movavi. Take color correction as an example. DaVinci Resolve is much better in terms of color grading, but because of its complexity, it will be easier to get the same result in Movavi Video Editor.
Get Quick Results
The program is distinguished among competitors for its ability to provide results quickly without losing quality. Automation features combined with an intuitive interface saves you the time it takes to edit.
Reasonably Priced
In the price-quality ratio, the program is one of the best solutions. You get a huge number of features with which you can get almost the same result as in a professional program for $200-$300. We want to draw your attention to the fact that the results will be almost similar, as we all understand that truly professional editing can be obtained in expensive programs. It all depends on your needs.
Movavi Video Editor Alternatives and Competitors You Should Consider
#1 Final Cut Pro X
Final Cut Pro X is professional video editing software that offers a comprehensive suite of advanced editing tools for filmmakers.
It features multi-camera editing, precise color correction, audio mixing, and a wide range of advanced special effects. Additionally, Final Cut Pro X seamlessly integrates with other Apple creative tools, simplifying the transfer of files between different Apple software applications.
#2 Sony Vegas Pro
Sony Vegas Pro is robust video editing software known for its versatility and advanced editing capabilities.
It provides multi-track editing, precise color grading, audio enhancement, and a plethora of special effects options. Furthermore, the program is favored by video editors for its flexibility and comprehensive toolset.
#3 DaVinci Resolve
DaVinci Resolve is powerful video editing software that caters to both professional and amateur filmmakers.
It offers advanced features like multi-camera editing, professional-grade color correction, audio post-production, and a vast library of special effects. The program is unique in its fusion of video editing, color correction, audio mastering, and visual effects, all within a single application, making it a popular choice among content creators.
Conclusion – Movavi Video Editor Review 2023
Movavi Video Editor will help you turn any idea into your video. And its user-friendly interface will assist you in achieving results much faster than other creators.
The program will be especially useful for those who have never used video editing software before. If you want to learn, you should start with the simple.
The variability of formats and tools gives you the ability to make commercials, documentaries, or simple videos for social media.
Queries Related to Movavi Video Editor Review 
Que. How hard is it to learn editing with Movavi Video Editor?
Ans. The program has a simple and intuitive interface. The software itself is aimed specifically at beginners, so you can learn the basic tools even in a day.
Que. Is there a free trial version?
Ans. Yes, you can download the program and use the free 7-day version.
Que. Does the program have a color correction feature?
Ans. The program does have basic color grading functions. Users can enjoy adjusting color manually or get the advantage of an automatic feature.
Que. Does the program support AI features?
Ans. Movavi Video Editor offers AI background removal, AI noise reduction for audio tracks, and AI motion tracking.
Specification:
Movavi Video Editor
| | |
| --- | --- |
| Category | Video Editing tool |
| Starting Price | $54.95/year and $79.95/lifetime |
| Key Features | Wide Library, Automatic Editing |
| Free Version | Yes Available |
| Verdict | Affordable Video Editor tool with all the Essential Features. |