ConvertBox is a software tool designed to create and display on-site messages, typically in the form of pop-ups or notification boxes, to engage website visitors and convert them into leads or customers.
These messages can be used for various purposes, such as collecting email addresses, promoting special offers, or directing users to specific pages.
ConvertBox is known for its versatility, allowing users to customize the appearance and behavior of the messages based on user behavior, demographics, and other criteria. It often includes features such as intelligent triggers, A/B testing, and integration capabilities with other marketing tools.
Features:
Target the right visitors
Segment visitors and leads
Drag & drop simplicity
Build lists and collect data
A/B split testing
Track everything
What can you do with ConvertBox?
There are lots of things that you can do with ConverBox. It gives you endless possibilities to notify users about any news or offer. Convert the visitors into your lead and buyers.
Here are some of the ideas that you can do with ConvertBox.
Cart abandonment – Save abandoning visitors from leaving your shopping cart.
Discount coupons – Boost sales with targeted discounts & promotions.
Promote webinars – Promote your workshops and online events.
Lead generation – Build huge lists and segment your leads.
Announcements – Announce new products and services to visitors.
Limited offers – Run limited-time offers for your products and services.
Upgrades – Offer existing customers new products and services.
Social engagement – Prompt visitors to like and follow your social media.
Segmentation – Segment visitors and leads as they arrive at your site.
Evergreen offers – Run limited-time evergreen offers and promotions.
ConvertBox Lifetime Deals 2023
$495
Limited Time Offer.
Avail ConvertBox Lifetime Deal and Save $$ on its Regular Pricing.
$590
Limited Time Offer.
Upgrade to a PRO Account with more Specifications and Higher Limits.
ConvertBox is providing a lifetime deal on its plan for a limited time, users can get its Regular or Pro Plan at a one-time fee for the lifelong.
It is a very useful software to increase leads, and sales, announce something, and notify website visitors about anything. Soon I am also planning to use this WP Plugin on this website.
In this Convertbox lifetime deal, users also get lifelong plugin updates, which means you will always get new features and upgraded versions of this tool.
As you also get customer support with this lifetime deal, that also makes this the best choice for marketers.
How to start ConverBox Lifetime Deal
Here are some simple and easy-to-follow steps by which you can start your lifetime account on the Convertbox.
Step:1 – Visit the ConvertBox Site
The first step is, simply to visit the ConvertBox website.
Visit here: https://convertbox.com/
Step:-2 Click on any Orange Color Button
After visiting on ConvertBox site, You will see some Orange Color Buttons, with the text, 'Get Your Lifetime Account'.
Or else
Scroll down to the almost end of the page and then see the ConverBox Features Price.
Step: 3 Optional – Upgrade to PRO Account
On the Checkout Page, users also have the option to upgrade to a Convertbox Pro account.
The difference between a Regular Pro account is about Page views and the Number of Sites License.
If you have a large website, that receives nearly 500,000 Pageviews monthly, then you must pick PRO Plan.
Or If you want to use Converbox for more than 10 Websites then also consider Pro.
Otherwise, Simply pick the Regular Plan and Check this.
| | | |
| --- | --- | --- |
| | REGULAR | PRO |
| Monthly Page Views | 250,000 views/month | 500,000 views/month |
| No. of Sites | 10 | 50 |
| One-Time Price | $495 | $590 ($95 Extra) |
Step: 4 Enter the Account Details
Now it's time to enter your personal details.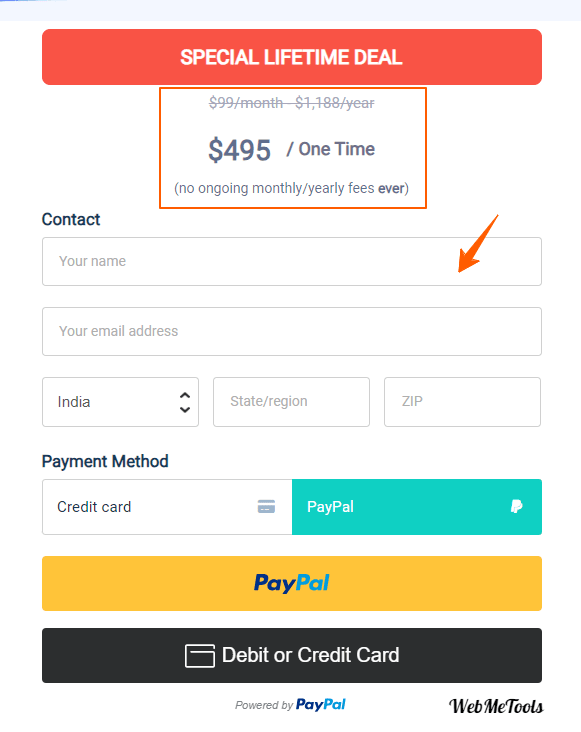 Simply enter:
Name
Email
Country
Region
ZIP Number
Step:5 Enter the Billing Details
To make payment for the ConvertBox Lifetime Account, there are 2 Payment Options:
Credit Card
Paypal
The credit Card section also has multiple choices, users can select any payment method based on their decision.
Step:6 Start the ConvertBox Lifetime Account
If it is all good!
Then? Complete the Payment and Avail ConvertBox.
Voila! You have successfully availed of the ConvertBox Lifetime Deal.
ConvertBox provides a 30-day refund policy, so users have the option to cancel their Lifetime subscription under 30 days and get a refund.
Select from our collection of high-performing templates or start from the ground up, effortlessly crafting and tailoring every element to align seamlessly with your offer and website branding using intuitive drag-and-drop functionality.
Drag and drop – Simply drag and drop elements to quickly and easily create beautiful, high-converting onsite messages.
Multiple steps – Build smart funnels with multiple steps to segment and convert your visitors.
Mobile editor – Create a mobile-specific version of your ConvertBox in our mobile editor with just a few clicks.
Quick undo/redo – Quickly revert back through your previous edits with smart undo and redo options.
A/B split testing – Create and test variations of your ConvertBox directly from the editor to see what performs best.
Fast cloning – Quickly clone elements or entire steps of your ConvertBox to save time and re-purpose in other areas.
Test funnel flows – Check your steps and funnel flows inside the editor without having to make it live on your site.
Custom scripts – Fire custom scripts on specific steps of your funnel for tracking and retargeting pixels.
ConvertBox Display Option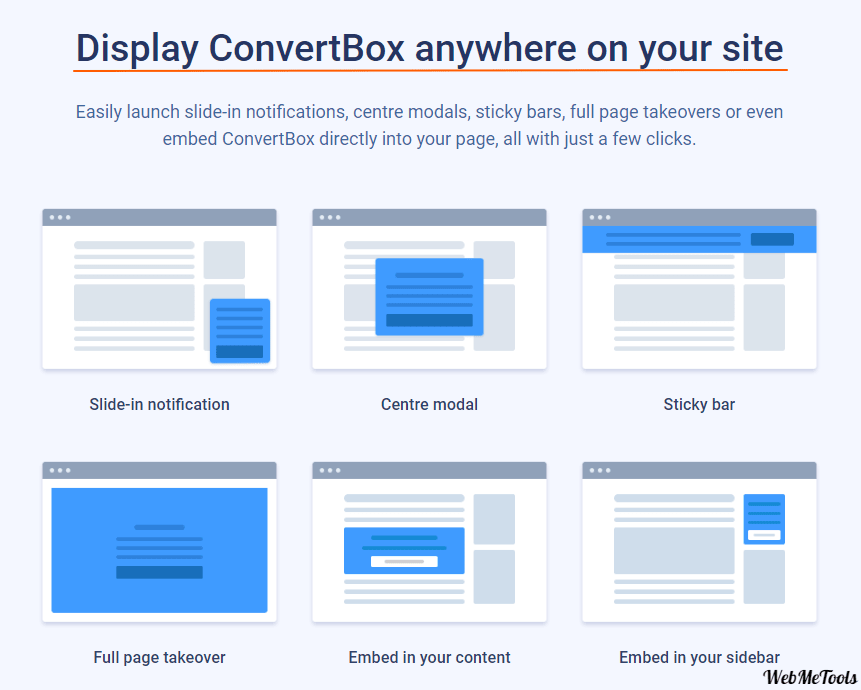 Slide-in notification
Centre modal
Sticky bar
Full page takeover
Embed in your content
Embed in your sidebar
Integrations Options:
ConvertBox integrates seamlessly with all the major autoresponders, page builders, and cart platforms and we are constantly adding new integrations to our platform based on our user's requests.
On click trigger – Trigger your message from a regular text link or any button on your page.
Yes / No options – Create engaging messages with simple high-converting Yes or No options.
Embed videos – Embed a personal video inside your message to grab your visitor's attention.
Abandonment triggers – Save abandoning visitors when they try to leave your site or checkout.
Easy website manager – Quickly switch between all your website dashboards with one click.
Follow-up messages – Create follow-up messages if visitors don't take your initial offer.
Countdown timer redirects – Redirect your visitors to another page when your message deadline has ended.
Multiple integrations – Easily connect and manage multiple ESP accounts to use across all your sites.
Custom HTML elements – Add custom code inside your ConvertBox using our custom HTML elements
Should you avail this ConvertBox?
ConvertBox is an amazing software for Display Pop-ups, Notifications, Forms, or Converting Banners. Right now, For a limited period of time, It is providing a lifetime Deal, where users just have to pay a one-time fee and can access ConvertBox lifelong.
The best part of this lifetime deal is, that users also get Regular Updates and Customer support from ConvertBox lifelong. That also makes this deal really worthy and supportive.
It is the best solution to generate more leads and sales from website visitors.
Does ConvertBox Provide the Lifetime Deal?
Yes, ConvertBox is providing a lifetime deal with regular updates and support.
Is there any money-back guarantee?
Yes, ConvertBox provides a 30-Days Money Back Guarantee. This allows users a Risk-Free Trial of ConvertBox for 30 Days.
What is the Convert box lifetime price?
ConvertBox regular plan costs $495 and Its Pro plan costs $590 for the Lifetime.