PROS:
The free version also has a good website.
Integration with Learndash.
Integration with Woo-Commerce.
Accessibility-ready
Huge documentation and great forum support
Build Fast & Beautiful Websites In Minutes
You can customize your website in minutes
Have No. of color and typography options.
They also offer many theme features.
CONS:
Kadence Theme offers a few no. of Templates.
Much more expensive than the other.
Complicated for first-time visitors or users
Kadence is a fast and beautiful theme for WordPress. Kadence is launched by the Builder, Dentist, Lawn care & Roofing. with pro starter Templates. It lets your users change the look and feel of your site on the fly.
Kadence customizable theme, you can build your website in no time. Kadence Theme allows you to add elements from many categories like e-commerce, blog, portfolio, and more. support their content management workflow.
So, are you thinking about buying Kadence Theme??
And You don't much about Kadence.
So this article…
We are going to tell you everything about Kadence. and provide you an overall Kadence Review.
Let's Start-
What is Kadence Theme
Kadence Theme is a beautiful, fast-loading theme, and an accessible website with Kadence Theme. Easily build your header and footer with real-time preview as you drag and drop and also Effortlessly Build Fast & Beautiful Websites In Minutes.
It includes easy-to-use navigation with a built-in 404 error page that works on mobile devices too, powerful Template Builder for creating any template you want.
You will see many options in this theme like Global Typography, Global Button Settings, CSS Pre-loading, Scroll To Top, and, more. And They always put their customer first.
In kadence Theme, they added extra features and deep integrations into the world's best plugins.
Know It Features-
Kadence Theme Features Review
Here we are sharing some features of Kadence:
In the Kadence theme under the typography settings, you create the perfect design for your website. Because of the Kadence feature, you can customize headings, buttons, links, fonts, and many more.
In the Kadence theme, you have the option to control the website layout down to the pixel. It is possible because of Kadence theme layout settings such as choosing from wide, narrow, or sidebar layouts, site-wide for posts and pages, etc.
You can easily customize these options by clicking on the customizer buttons.
In the Kadence theme, You also customize color buttons. In this option, you can see a global color palette to easily apply colors anywhere on your site. Also, you change styles according to your in-button style including border-radius and typography.
In this theme, many customized options are available. so, you can design the website according to you. Customize options like color buttons, typography, and Layout.
With the help of these customized options, you can create the perfect design for your website, Easily apply a color button anywhere on your website, and control the website layout.
Kadence theme offers you the categories of templates. But this offer only limited templates compare to other sites. it only offers templates for Gutenberg and Elementor. It is only beneficial when you use the plugins like page builder plugins.
But you can also customize templates according to your needs and choice before you share. it's worthful to mention that you can change the design, fonts, and color buttons.
Kadence theme offer page builder like Elementer, Breavbuilder, and Gutenberg. With these page builders, you can create content by dropping and dragging the pre-built control.
They also help to control content types. page builder provides several main features such as Drag and drop and a customization function for content creation.
Kadence provides you excellent page-builder tool for your website. So, you can use these tools easily and improve your website performance.
Woo-Commerce builder is a plugin. With this plugin, you can create custom templates to replace the default woo-commerce templates. You can also customize the woo-commerce companies so, you can have Full Control of your Data
This builder can create and manage an online store easily. and give you benefits like Fast loading speed in both the area backend and front.
Kadence Theme provides you with a header & footer builder you can easily create a custom layout for the header part of your website by using drag and drop editor and by different elements of the header.
But in the free version of the Kadence theme, you can add only 8 elements including buttons, primary, and secondary navigation, a logo, a social link, and a search bar.
Cart icon and Html. In the premium plan, you can add 19 additional header elements like extra buttons, content elements, etc.
In Kadence theme support footer navigation with this, you can easily add important pages to your website footer sections and the up main navigation. Its main use for the link in this you can link to your site's disclaimers, policies, and another same page.
Integrations With The Plugins
Integrations with the plugins. Kadence theme includes this extra feature for making it easy to use of this theme. Different categories of plugins are available in this theme. You can install the plugin for free.
Learndash – Learndash is a course builder platform that Creates courses that are beautifully in sync.
Gutenberg – This plugin styles your page.
Elementor – This plugin is for designing a custom website. It is very easy to use for users because of its user-friendly interface.
BeaverBuilder – This plugin is for content. BeaverBuilder helps you to Build your content.
Woo-Commerce – Woo-commerce is a plugin for product-based websites. this plugin is optimized and creates a high-converting products page.
LifterLMS – With this, you can fully customize your website look and feel of your course lesson page, gride, and course page.
Give – With this plugin you can create a form or donation page so, to match your brand color. for this use nonprofit starter templates.
Scroll on the top – Enable, style, and choose a location for a scroll to top arrow for your site.
Social Links – By having this feature you can add your social links in your header and footer part to connect with your visitor.
SEO Optimization – With this theme you can improve your SEO Practices for markup and schema where needed.
Sticky header – Sticky header is used when your website header is stuck on the top so, sticky headers are enabled and define custom styling.
30-Day money-back guarantee – If You are unsatisfied with the Kadence theme, you can take your money back within 30 days. Kadence 100% protects your money.
For the money-back procedure you just simply log in to your account and With the request, you can submit your support ticket.
Powerful or Not??
Kadence Theme Performance Review
Under any website Blog speed is the main focused ranking factor because in SEO loading time and speed matter a lot.
Faster Theme improves your SERP Performance, Site Ranking, User Engagement, Sales, And more.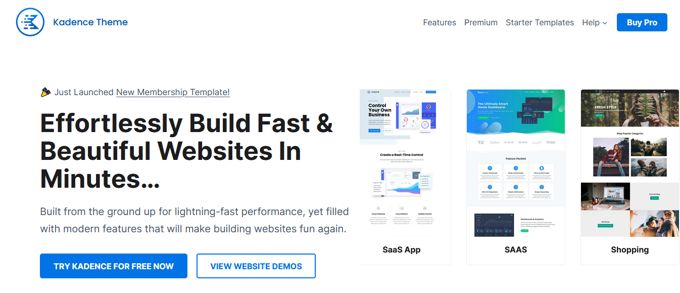 Kadence theme is fast or not you can check with Our given list below To see, how fast it is.
Core web vital test – For speed test.
Pingdom – another for speed test.
GTmetrix – For performance report.
Let's move to its plans and pricing structure.
Which One Is Most Suitable To You??
Kadence Pricing Plans Review
Kadence theme offers you two types of pricing plans that are more costly than the other theme. Both plans include different features. The first plan is the ESSENTIAL BUNDLE and the second plan is the FULL BUNDLE.
If you buy the first plan you get limited access to features and if you buy the second plan you get unlimited access to Kadence features.
Kadence is also a free WordPress theme. you can use Kadence for free forever.
But in its free plan, you get only limited access to its features. The free plan is good for beginners who can use it for the first time to create their website on WordPress by using the Kadence theme.
Features of Free Plan
Starter templates
Kadence theme
Kadence block
Essential bundles start at $129/annually. after purchasing of this you get access to many features like, you can use unlimited sites and Pro starter templates. etc.
If you want to build an amazing and dynamic website then you need to buy the plan. you can Renew this plan annually and also cancel anytime.
Features include
Kadence pro-Starter templates
Kadence blocks pro
unlimited websites.
Kadence custom fonts
One year of support and updates
30 days satisfaction guarantee
The full bundle is $ 199 much more costly than the essential bundle. After purchasing this bundle you get unlimited features like Kadence conversions, Including all our themes and plugins, and a 30-day satisfaction guarantee.
If you want to build an amazing and beautiful website in one complete bundle of tools then you should buy the Full Bundle plan. You can also Renew annually and cancel anytime.
Features of the Full Bundle plan
Essential Bundle full features
You can use blocks pro
Kadence Theme pro
You get pro-starter templates.
Kadence cloud
Kadence conversion
Kadence custom fonts
Kadence woo-commerce shop kit
Child theme builder
Kadence Recaptcha
Includes all our theme and plugins
Get a 30-day satisfaction guarantee.
Exclusive access to all future products
Lifetime Full Bundle is a one-time bundle you get under $649. In this bundle, you get everything such as One-time payment, Lifetime support, Access, updates, and get all future products.
Options You Have-
Kadence Theme Products Review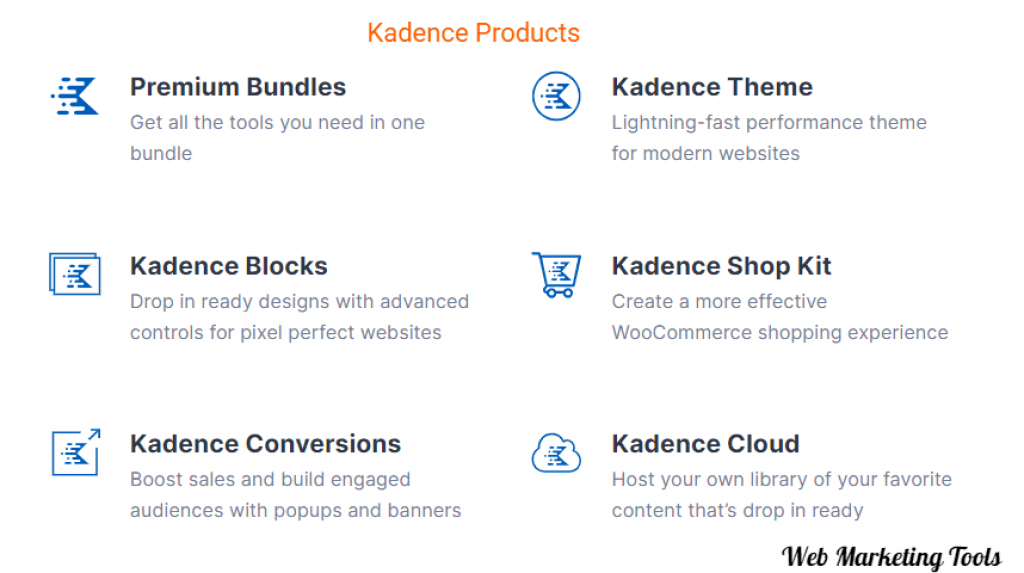 Kadence Also offers its products to its audience or customers.
Kadence cloud price starts from $69. by purchasing this product you get 20%. you can renew and cancel anytime.
Kedence theme custom block helps to you create a beautiful and effective WordPress website.
Each and every block is crafted with regard to accessibility, performance, and extensibility. With help of the block's unlimited design potential, you create content beautifully.
Features of Block Pro Addon
Custom pro block
Pro-add-ons to kadence block
Dynamic content
Custom icons
Premium design library
And More
Kadence cloud price starts from $59. by purchasing this product you get 20%. you can renew and cancel anytime.
With the theme pro addon, you will create a website beautifully, Effortlessly, and fast in minutes.
The theme is filled with modern features that will make building websites fun again and Built from the ground up for lightning-fast performance.
Features Of Pro Addon
Header addon
Conditional headers
Hooked Elements
Ultimate menu
WooCommerce improvements
And More
Kadence cloud price starts from $79. by purchasing this product you get 20%. you can renew and cancel anytime.
Kadence theme launched the shop kit to grow your eCommerce revenue With over 15 powerful modules, Kadence Shop Kit 2.0 is the most robust WooCommerce extension available.
With Kadence Shop Kit's custom template builder, you can easily customize your attractive product layout many other features are included.
Features of kadence shop kit
Templates Builders
Improved product galleries
Advanced Reviews
Variation Swatches
Product Brand
And More
Kadence conversion price starts from $69. by purchasing this product you get 20%. you can renew and cancel anytime.
Build your engaged audience with kadence conversion and boost sales.
Kadence Conversions helps you capture attention with easy-to-build cookie consent forms, sale banners, customized models, slide-in notifications, and more.
Features Of Kadence Conversion
Six unique launch triggers
Prebuilt library to get you started
Built-in Analytics
Works with Dynamic Content
WooCommerce conditionals
And more
Kadence cloud price starts from $69. by purchasing this product you get 20%. you can renew and cancel anytime.
Browse your library and drop it into any of your websites with a click. Host your own library of your favorite content and you can drop your favorite design elements into any website.
Kadence Cloud – $69
Kadence Full Bundle – $199
Features Of Kadence Cloud
Create Unlimited Cloud Items
Conditional Headers
Hooked Elements
WooCommerce Improvements
Ultimate Menu
And more.
Kadene Theme Support Review
It is also a most key thing in the Kadence theme they provide full support to their customers in very kind ways to contact Kadence.
In their support system, you can ask for the first premium ticket question and get support from the Kadence theme staff.
Kadence theme also provides a version if you using the free version and have facing any problems Kadence provides you support from their support page. In a free theme, no other WordPress theme can provide support but Kadence do.
In another, you can contact them for support on their Facebook community. or you can also join their Facebook groups. And ask your question they replied to you in a very kind way.
Kadence Theme also provides Huge documentation If you're looking for guileful tutorials. In these tutorials, you get info about how to use and customize themes and plugins.
If they did not cover all topics then on the documentation page on this page you surely get full details or a guide about your Questions for their theme or plugins.
Our Opinion-
Conclusion- Kadence Theme Review 2023
Overall, Kadence Theme is easy to use in a modern and creative form. You can see a lot of options and features with can easily design your website According to you by using customization options like color buttons, fonts, and color.
It is noticeable that many features are available in the Kadence theme other than the other WordPress theme. so, Kadence is the best competitor of another site. but excluding price terms.
Now you're looking for an easy theme with a customization option, support for the woo-commerce, and decent loading time. and If you want to use either Gutenberg or an element in this also Kadence theme is a good choice. so, the Kadence theme is a better option for you.
At the end of this post, we just want to say that we have mentioned all the details related to Kadence so you can decide if this tool is made for you or not.
FAQs-
Queries Related To Kadence Review
What is the Kadence theme?

Kadence is an amazing and lightweight WordPress theme that builds beautiful websites in minutes.

Is the Kadence theme good for woo-commerce?

Yes, Kadence is a great theme for wooCommerce websites with many advanced features like customization, and to unblock more advanced options Kadence offers a shop kit.

Is Kadence Theme Pro worth your money?

Yes, the theme pro is worth your money needs extra advanced features such as functionality for your header/footer, ultimate menus, and premium support to build an awesome website so you definitely go for Kadence theme pro.

Is the Kadence theme compatible with Elementor?

Yes, The Kadence theme is compatible with Elementor and Elementor works with most of the themes.
Specification:
Kadence Theme
| | |
| --- | --- |
| Product Type | WordPress Theme and Plugin |
| Starting Price | $49 Individual and $129 Bundle |
| Key Features | Lightweight, Fast, and Customizable. |
| Free Trial or Plan | Free Plan Exits |