Bridge is a Multipurpose & Creative WP theme with lots of Ready to use Demo for any business.
PROS:
400+ Theme Demos
200+ Site Elements
Huge Theme Customization
4 premium plugins
Affordable price
24 layout options
2 Page Builders
6 months support
CONS:
Difficult for beginners to handle the theme.
No live preview options for Theme general options.
Out of many Themes in WordPress, Bridge is one of the finest ones. In this Bridge WordPress Theme Review, we'll cover all the important details and highlights of this theme.
The Bridge Theme is a multi-purpose and popular theme. On the ThemeForest, this WordPress Theme powers over 1,00,000 websites.
In this Bridge Theme review, we will be looking at some top features offered by Bridge Theme. We will also emphasize who can benefit from the theme. Read this Bridge theme review to get new ideas about this theme.
In this Salient ThemeForest theme review, We are Going To Describe:
Bridge Theme Pros & Cons
Bridge Theme Documentation
Bridge Themeforest Theme Examples
Reasons to Choose Bridge WordPress Theme
By the end, you will have a good understanding of the numerous features that Bridge provides. Additionally, you will also be able to decide whether Bridge will be suitable for you or not.
Let's start the Bridge theme review and unlock its hidden gems.
Let's Start With Basics-
Introduction – What Is Bridge Theme
The Bridge is a responsive retina WordPress Theme. It is a multi-purpose theme and is an extremely feature-rich Customer theme.
Category – Multipurpose WPTheme
Founder – Qode Themes
Founded Year – 2013
Total Sales – 194k +
Avg Rating – 4.77
The Bridge Theme was created by Qode Themes in 2013. Code Theme is a digitally designed Agency. Since year of its establishment, Qudo Themes have created around 15 WordPress Themes. You'll find some amazing information in the Bridge WordPress theme review.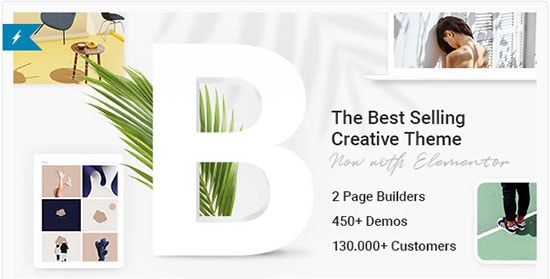 In such a short period, Qudo Themes has earned an elite power batch on ThemeForest. They achieved sales figures of over 57,000. The sales figures for the sales item for more than 2 million US dollars. The company is growing fast with the help of 38 employees.
Moreover, Bridge ships with a collection of over 430+ demo sites. Therefore, to whatever domain your business locates, Bridge has a perfect theme to offer. Bridge the
Does it Worth?
Bridge ThemeForest Theme Review –
The Bridge has given complete control of the design process and provides a range of options that will help you to easily and quickly customize any aspect of your website. These include a wide assortment of elements and modules, numerous theme panel options, and an effective drag & drop option.
You can decide to create your E-commerce store, start your blog, or promote your business or sources via attention-grabbing websites. The Bridge will help in all the ways possible.
With its impressive collection of 500+ pre-designed demos, versatile customization options, and seamless integration with popular plugins, Bridge offers limitless possibilities for creating stunning websites. It's user-friendly interface and responsive design ensure a seamless browsing experience across all devices.
However, some users may find the learning curve slightly steep due to its vast array of options. Overall, Bridge is a robust theme that empowers you to build visually striking and functional websites with ease.
Let's Talk About Their Features-
Bridge Theme Review – Features Highlights
Bridge Features are extensive, but some of them are so useful that they will affect a lot on your new website.
With over 430 demos to choose from, if you decide to opt for Bridge, you will get plenty of choices. The demo category includes:
Blog
Fitness
Travel
Shop
Portfolio
Business
All 430 demos are 100% customizable and can be downloaded with a click. In addition, the price mentioned is under $69. If you lack some features in one demo, then different features can also be obtained from another demo. This is done to help you describe your niche and branding more clearly.
After having a deep look at the theme, we sort out some essential points that might help you to understand whether the theme is necessary to you or not.
480 Bridge Ready-to-Use Site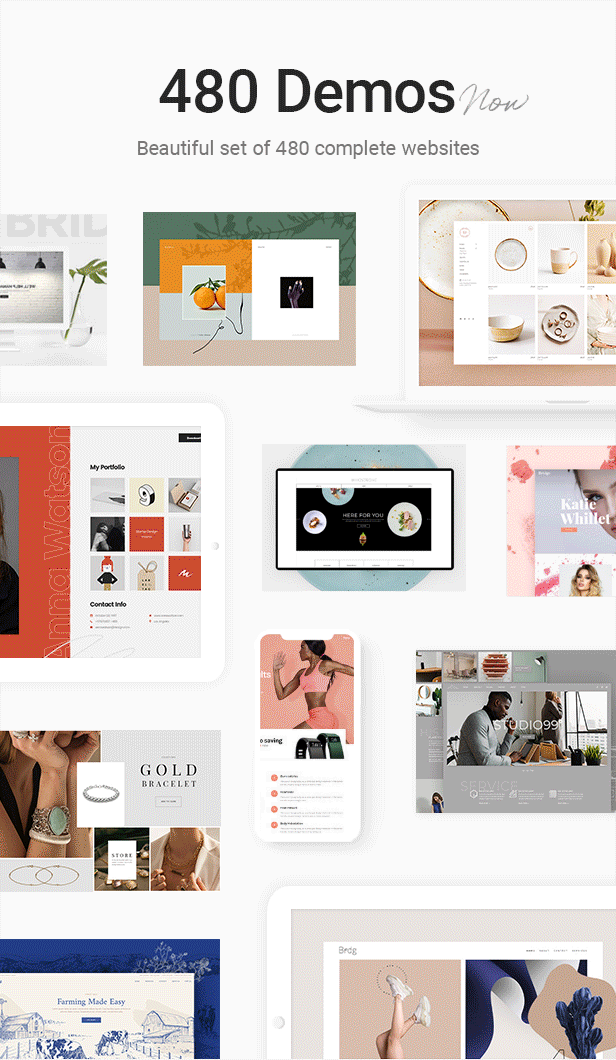 One of the most lovable features of Bridge Theme is it offers plenty and tons of demo sites. Bridge Theme is a multi-purpose theme that helps to build virtually any kind of site.
To provide convenience to its users and make it easy for them to create a website, Bridge Theme comes with 350+ demo sites. Each demo site comes with its design and content.
With several no. Of demo sites, you can be assured that almost all kinds of niches and sites are covered. Whether you are looking for portfolios, coming–soon designs, photography websites, photo galleries, bar and restaurant websites, hair salons, or any other kind of website, you will find a demo site for the same.
As you find a demo site, deploying it as easy as just clicking the import button. After clicking on the demo, all the elements of the demo, including the design, widgets, and content will be installed on your site.
Now, all you need to do is replace the contact with your content. After doing so, your site will be ready to go live.
The option for customizing the website is also available. The options for drag & drop page builder is present, which helps you to apply the look as per your business needs.
The best part of all the processes is that these demo sites are responsive. This means that they are designed to work correctly on different devices with different screen sizes.
Full-screen Size and Parallax Effect
Bridge themes are specially designed to allow complete control in the customer's hand. It also lets customers design their website's background as per their website needs.
Another good feature of using Bridge Theme is that it offers you full-screen background images and places a CTA button on your website's header.
Many of the layouts that come with this feature are enabled. It makes it easy for you to replicate the feature on your website. Parallel layers can also be deployed by using Bridge Theme.
This created the illusion of depth on the visible layers of each page. It makes your website more engaging and Interactive.
Bridge Theme is equipped with 24 unique layout concepts.
It allows you to explore thousands of opportunities that will help you to design your website. You might be eager to find an innovative, standard, or authentic design for your site. All of this can be achieved by using the Bridge Theme.
The layouts are grouped into categories like grid, classic, portfolio, one page, left many, full screen, landing page, and shop. Deploying these layouts is as simple as just a click. Most importantly, these layouts can be customized several times to make them perfect.
Bridge WordPress theme has lots of elements, and site layout blocks. You can directly use them to build a professional site it will save you time and gives you a stunning layout.
Bridge Theme comes with simple ways to navigate the structure of your website. It also has built-in support. Users can customize both standard and mobile menus.
There is also a benefit to creating wide or regular sub-menus at the same time. Another option includes the full menu layout with or without icons.
You can also add widgets to one of the full options of the main menu and choose from the various modules.
Premium Plugins with Bridge Theme
Bridge theme also comes with a premium and exclusive plugins.
Another thing you will love in Bridge Theme is Free Plugins. that's the best part of the Bridge theme review it also has some premium plugin that adds more functionality to your site.
Bridge comes along with four premium plugins, which are free of cost. The four plugins are: –
Visual Composer (worth $34):

This is one of the most famous builds in the plugin from Bridge. Visual Composer allows you to design beautiful pages in a matter of minutes. This can be done even without any technical experience.

Layer Slider (worth $22):

Another feature-packed plugin from WordPress is the Layer Slider. It allows users to create image sliders with 2D & 3D effects and CSS animations.

Slider Animations (worth $25):

This is the most powerful and innovative plugin which allows you to easily and quickly create modern presentations.

Time Table Responsive Schedule (worth $22):

Another powerful and easy WordPress plugin that easily lets you create timetable views of the events. With the use of the plugin, you can make online reservations and generate PDF formats of your timetable.
Compatibility with Other WordPress Plugins
You always wanted to make sure that the WordPress theme works before buying one. Luckily, the Bridge Theme is compatible with offers full support for many popular premia and free WordPress Themes.
The bridge offers native support to WooCommerce, the world's most popular e-commerce Plugin. It has ready-to-use shop templates, which help to set us your shop in a factor of minutes.
Bridge also offers Integration with some other famous plugins like such as contact form 7, WPML, Gravity Forms, and google maps.
Bridge Theme price is $69 for a Regular License and its costs $2950 for an Extended License.
The Bridge WordPress Theme has multiple options to choose from. Customers can avail of the benefits of the different plants available at various pricing. They can opt for the one which suits their needs.
| | |
| --- | --- |
| | Bridge Theme Price |
| Regular License | $69 |
| | |
Thrive Themes Coupon and Thrive Themes Discount: Get Up to 50% OFF

Looking for discount on Themes??
Bridge Theme Documentation and Support
The most important thing to look at before buying a WordPress theme is the documentation and support options. Bridge Theme involves extensive documentation. It includes step-by-step instructions about setting up your website.
The bridge theme comes with a 6-month support.
It also includes instructions to use almost every feature of the theme. This is one of the growing selections of video tutorials. this Bridge theme review covers its docs and supports links.
Qode Themes also provide support through its Ticksy platform. On the other hand, The support team is also very responsive and helpful. There is another option for viewing past tickets and forum threats. This helps to check whether the problem you are experiencing has been solved before.
ThemeForest's Bridge Child Theme WordPress
Child themes are useful for adding your own code snippets to a theme and keeping them safe from theme updates. They are recommended for the more advanced WordPress user.
Child Theme #1 Amoralighting.com
Child Theme # 2 Mindstorms.lu
User Review On Bridge Theme.
Bridge ThemeForest is Best For
Just to wrap up our bridge Theme review, we can conclude that the Bridge Theme is an all-around Versatile and impressive theme. It also offers a wide array of useful features.
With over 376+ demo sites, any kind of site. The large no. of demo sites offers flexibility to the users to choose the most suitable site for them. This all can be done with just a click and it is about a matter of minutes, regardless of the niche you choose.
The theme is also compatible with different devices like mobile phones, tablets, desktops, or computers. The user may get an impressive experience using any method of running his site.
This Theme is useful for:
Non-developers
Bloggers
WooCommerce Website
Freelancer
Entrepreneurs
Businesses
On Themeforest, Bridge Theme retails for about $69. However, the amount being charged is worth every penny. The reason behind this is the pack of features that the theme offers to its customers.
The theme comes up bundled with four premium plugins. The important point to note is that when these plugins are bought separately, they cost you around $103, as well as lifetime access to updates.
On top of everything, the theme is backed by an extensive amount of documentation and excellent support provided by the Qode Theme.
Here are some Alternatives to the Bridge themes.
Some Queries Related To This Post-
FAQs – Bridge WordPress Theme Review
I purchased a Bridge Theme. Where to find templates or Widgets, etc.?
After purchasing the Bridge theme, you can visit the ThemeForest website to find the templates or widgets.
Can I customize the Bridge theme?
The bridge Theme comes with 100% customizable options. You can edit the themes by using your PSD Files.
Did the Bridge theme work with third-party plugins?
Yes, the Bridge theme is compatible with most third-party plugins. To help you more with this, the latest feature has been added to our Themes.
What is the total number of layout options in the Bridge theme?
There are a total of 24 layouts in the Bridge theme to assist you in making a customized website.
Should I Choose This Theme?
Conclusion – ThemeForest Bridge Theme Reviews
The Bridge Theme includes all such features and options that make it perfect for usage. It could be a quick pick-up for someone who is in need of a multi-purpose theme that is fully functional. With the starting price of $69 on ThemeForest, it is even more compatible.
We hope you enjoyed this Bridge Theme Review, and now you confirm this theme. Building your website with Bridge lets you be more creative and provide an impressive look.
It helps to design a professional website that will accurately describe your brand.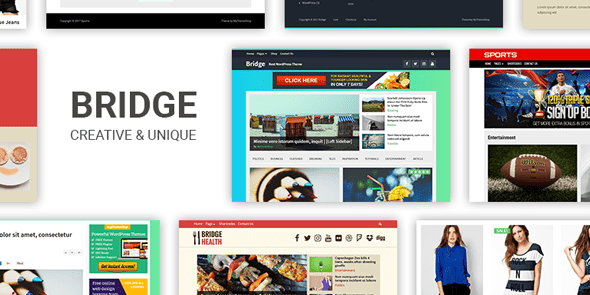 Overall, the Bridge Theme is great. However, it needs some optimization over time. You can even consider installing a Plugin like WP Rocket that will help you to get optimal performance with a good solution.
Specification:
Bridge Theme
| | |
| --- | --- |
| Category | Multipurpose WP Theme |
| Starting Price | $59 |
| Key Features | 500 Demo, Plugins, 24 Layouts, Elementor, 200+ Elements |
| Verdict | Creative, Multipurpose Theme |
1 review for
Bridge Theme