12+ Top Alternatives to MediaVine and MediaVine Competitors. Compare all Best Mediavine Alternatives with Pros & Cons. So you can choose a better option for yourself.
MediaVine is a company dedicated to management and advertisement optimization and boosts its income.
The service looks after the advertisements management and drives profits via advertising placed on websites.
But although it sounds fantastic, MediaVine also has some drawbacks. For example, it is necessary to have monthly sessions of appx 25,000 visitors or unique visitors for your blog to use this service. So if you're starting, you won't qualify to use it.
That is why here we have mentioned some of the top Mediavine alternatives.
Also, another disadvantage is that Mediavine is the one who will decide on the amount and type of ads that will display on the site.
Let's Start!!
Why Are People Searching MediaVine Alternatives?
A trustworthy and reliable ad management platform is an integral part of that team. Mediavine is an example of an ad management platform, which works a bit differently than networks such as Adsense. Ad management platforms completely manage the ads and are a great fit as your blog grows.
but there are plenty of reasons why people try to find MediaVine Alternatives, which are:
Mediavine ads include Mediavine branding which we personally find quite distracting. And whilst we certainly can't prove it,
we wouldn't be surprised if that branding actually has a negative impact on RPM.
The private Mediavine Facebook group is a bit scattered.
Mediavine at times provides SEO and blogging advice that is one-sided, outdated, misleading, or simply wrong.
Get The Best Option For you!!
Best MediaVine Competitors With Their Pros & Cons
Today we are here with our great MediaVine alternatives list. If you are searching for the same, you are here on the right article. So, these are our few Mediavine competitors to boost your income:
The next name on our list is SHE Media. If you have a female-oriented blog (where most of the things are posted related to females) that you want to monetize, SHE Media could be the perfect option for you.
She media can be the partner network that monetizes your blogs and websites catering to female audiences; SHE Media generates more than 50 million visitors per month. So SHE Media gives you an excellent opportunity to reach out to a pretty sizeable audience and boost your income.
SHE Media also offers sponsored posts and amount paid product reviews. This gives publishers such as yourself even more opportunities for monetization, thus incrementing profit.
SHE Media Pros & Cons:
Pros:
For the most part, the management team was extraordinarily competent and worked to help their employees grow.
As a women's media company, many tent poles positively impact the world, making this work more meaningful.
There are lots of different jobs to do, so never a dull moment
Great people and a collaborative environment
Cons:
There is a plan for SHE Media that involves very little of the current staff and hence lacks communication.
The company is not transparent. The prominent leader likes to have ideas that sound good in headlines, but in actuality, they have no such idea what it means or how to do it, leaving everyone very confused all the time.
Terrible leadership; lack of support
The second none in our MediaVine Alternatives list is AdThrive, an ad management service, and a certified Google partner.
Although it requires at least 1,00,000 page views per month to qualify for the AdThrive Edge, you must have at least 7,50,000 page views per month to be eligible for its Premium.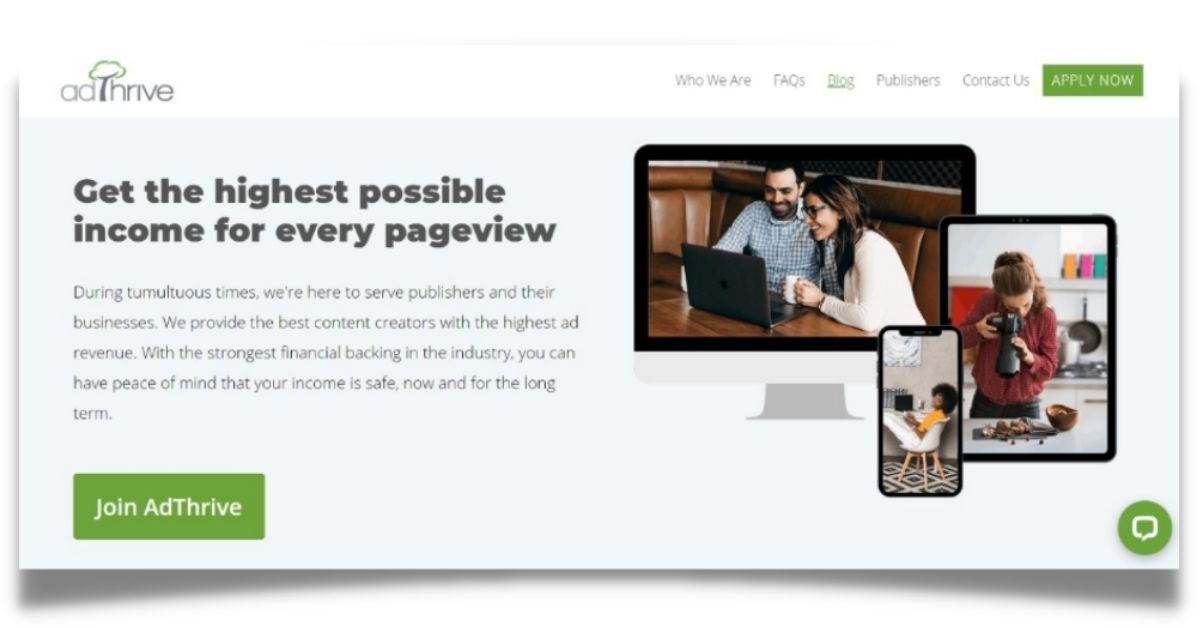 Again, both are very good, but with AdThrive Premium, you get a little more personalized help to maximize your ad revenue for your blog.
According to the Work At Home No Scams website review, most bloggers have reported an income of $1,300 per 100,000 page views via AdThrive. They pay monthly with direct deposit.
AdThrive Pros & Cons:
Pros:
They consistently pay on time.
They are speedy to answer your questions when you need to send an email.
You get certified by Google.
it offers a very active community.
They provide excellent customer service.
Cons
One Million views can be a lot for a beginner.
The third name on our list is Media.net. If you are looking for alternatives to Mediavine, then Media.net can be a great option to boost your blog's income monthly.
In addition, publishers can use the Media.net self-service platform to create and customize ad units, which display relevant text ads from across the entire Yahoo!
Unlike Mediavine, Media.net does not ask for any minimum traffic, which is a perfect thing. This is because so many advertisers participate in real-time auctions to serve only the highest-paying ads on their pages.
Media Pros & Cons:
Pros:
Media.net offers excellent data capabilities and reports in real-time.
You do not need to have a minimum number of visits to qualify on media.net.
Customer control and data protection.
ROI and revenue optimization capabilities.
Very easy to use and integrate.
Cons:
Your website only needs to receive visits from the UK, Canada, and America for you to be eligible to monetize.
The fourth name on our list is Monumetric. This is another perfect option if you have a blog and want to boost your income. You can add advertising to your blogs, and the payment will increase according to the number of visitors you receive on your page.
This service has an excellent reputation among all the publishers because it offers excellent tools that help you manage and control where you want the advertising to appear. This means that you can choose with whom you want to work, according to the ads they offer.
As for the minimum visits that Monumetric requires, you must have a minimum no of 10,000 visits to your page per month to be able to join.
Monumetric Pros & Cons:
Pros:
You will receive professional support from the beginning.
They place the ad units for you and according to you.
They provide more significant potential for ad revenue.
They provide a wide range of ad units.
They work with PayPal, which is widely used, and hence it is the best payment method.
Cons:
You need at least 10,000 page views per month to join the Monumetric service.
Our next topic is Taboola from our list. This is another from the list of Mediavine alternatives because the payment happens daily and offers good performance and great support.
Instead of products as other companies do, promotions, and brands, Taboola advertises content from other sites to generate traffic and consequently closed business.
Its strategy is to display content on the most visited places on the Internet and related to what the Internet user is reading. Thus, It is generating traffic for advertisers.
The only drawback is a platform for new affiliate participation or beginners. Though Taboola does not advertise, those interested in participating must have a lot of traffic on their channels and good authority. We should notice that Taboola does not have a trial plan or a free plan to check.
The services are activated by subscription on the platform method that makes a budget based on the activated modules and installed applications, which can be a con for it. The rest of the things are perfect, which is why this was there in our sorted list.
Taboola Pros & Cons:
Pros:
In this, you will get safe and constant earnings.
Here, you will get a greater possibility of conversion
This is available in multiple languages
ROI tracking
Campaign management
Budget management
Cons:
It does not include activity notifications.
It does not suit small projects.
The first name according to our MediaVine alternatives list is Ezoic. It is a Google Certified Partner. Ezoic is a service that automatically optimizes ad placement and increases revenue through Adsense and other online advertising networks.
They use artificial intelligence (AI) and big data technologies. It also improves website loading speed, SEO, user experience, etc.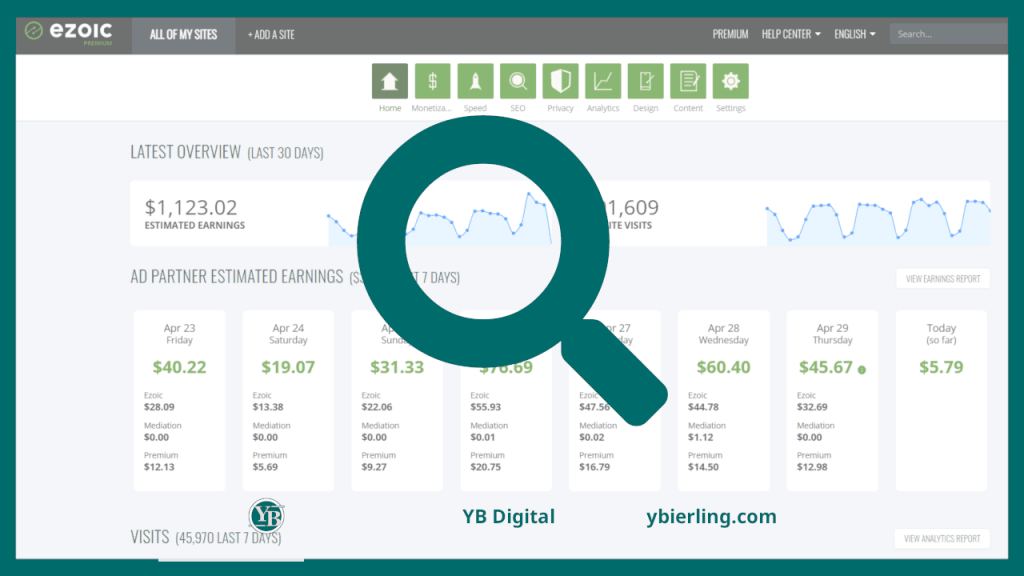 Ezoic only asks that you have 10,000 visits per month and allows you to have a high income, while MediaVine requires 25000 visits per month minimum.
It should note that Ezoic does not require exclusivity. On the other hand, Mediavine does require an exclusive annual contract, so it is not possible to work with other providers.
Ezoic Pros & Cons:
Pros:
Ezoic has a customer service team, which is available 24/7.
Ezoic allows you to use different payment methods like- PayPal, which is widely used nowadays.
Ezoic makes your income much higher, as compared to others.
Ezoic has a constant support and monitoring service.
Cons:
You must exceed at least 10,000 visits per month to your website to use it.
Its installation and configuration, at first, is a little bit complex.
Ezoic Alternatives & Competitors – High Paying Ads network for Bloggers
The last name on our list of MediaVine alternatives is Adsterra. It offers excellent advertising options for both publishers and advertisers, allowing them to try a different approach that doesn't rely on Google.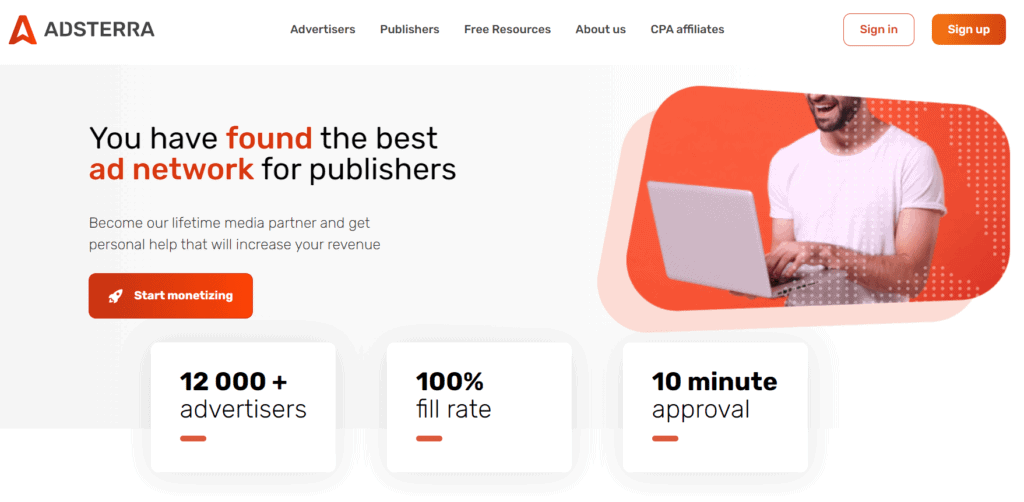 Adsterra is a fast-growing and well-respected network that creates over 10 billion impressions per month.
With its user-friendly platform, Adsterra makes it incredibly easy to monetize your website traffic, which boosts your views and income, which is why it's one of the world's leading digital advertising companies.
Adsterra Pros & Cons:
Pros
A flexible referral program that helps publishers earn 5% extra
Flexibility in terms of traffic, which can monetize.
Here, both managed and self-serve services are available
This provides a 24*7 support system
Adsterra includes support for multiple languages
Here, you will get three-level anti-fraud protection.
Easy API and tracking integration
Multiple cost models: CPA, RTB, CPC, CPM, CPI, and CPL are available.
20+ filters targeting user activity
There are no limitations in terms of traffic volume
No traffic manipulation or exchanges allowed
Cons
CPM rates may be different in different countries
The minimum payout is somewhat high for publishers. However, the minimum payout on Paxum and Webmoney is only $5, but still, it is shallow.
There is no web support channel.
The last name in our list is – PropellerAds; it is an extensive ad network that offers a range of adverts like banners, sponsored links, and push notifications, and allows you to reach 1 billion users.
This self-serve platform is easy to use with a simplified ad creator to get your campaigns live with minimal hassle.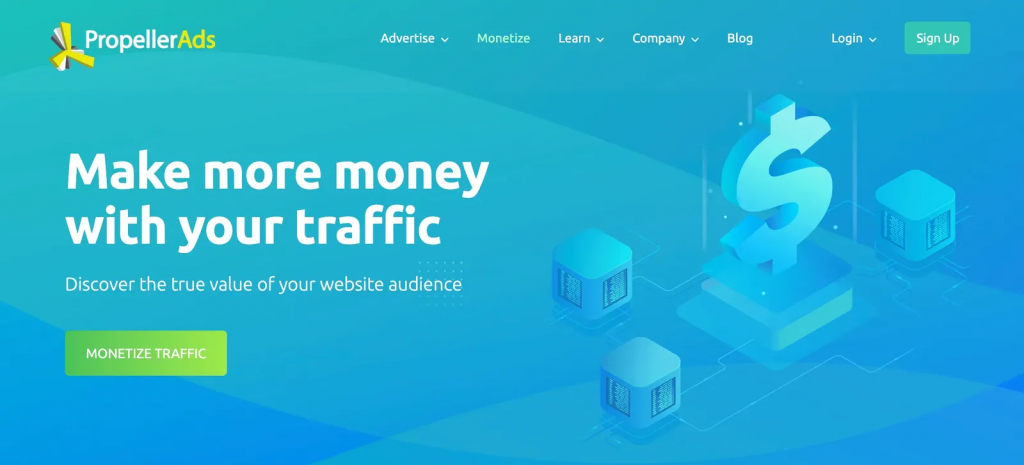 In addition, with lots of targeting options and real-time performance measurement, you can work reactively to improve your campaigns and improve your views.
It also features automated ad optimization, where your settings are very fine-tuned by AI, giving you the best number of conversions for each ad without manual effort.
PropellerAds Pros & Cons:
Pros:
Here, no minimum traffic requirement
You will get a wide range of payment options
Low payment terms and threshold
Cons:
Lower revenue for non-English sites
Low CPM on the low-quality website
No header bidding
Another popular Ezoic alternative to consider is AdPushup. The network prides itself on being an optimization solution for earning with ads. They offer layout optimization, A/B testing, and an extensive ad-type catalog.
They operate on a CPC basis but offer solutions to increase engagement and viewability. As a result, publishers have the opportunity to yield high profits.
Starting with AdPushup: Publishers must meet a traffic requirement of 10,000 page views per month to join. Integration and setup is a simple 2-step process.
PROS:
Works to improve user experience, ad layouts, and CTR
Offers competitive rates
CONS:
It's an invite-only ad network.
Reporting and analytics could be improved upon for deeper insight
Google AdSense is perhaps the most known and widely used advertising network. They offer a set-it-and-forget-it approach to selling and buying display ads. As a result, it's an ideal platform for new bloggers.
Although publishers have access to Google's pool of advertisers, AdSense does not support header bidding—severely limiting the demand pool.
Additionally, compared to other networks' catalogs, they don't support as many different ad types.
It's common practice for most publishers to seek an AdSense alternative once they start scaling their website—so be careful not to take two steps back! Instead, if you're considering using AdSense as an alternative, look for an ad platform willing to work alongside them.
Starting with AdSense: No set traffic requirement, but they assess website quality for approval. Integration requires a WordPress Plugin, and then it's relatively hands-off.
PROS:
It's free to join
Publishers can place ads on multiple sites from a single account
Can use an ad solution platform in conjunction to boost earnings
CONS:
High payout threshold of $100
Limited network stack
Unexplained account bans at any time; for reasons ranging from policy violations to click fraud
Another competitive Ezoic alternative to consider is BuySellAds. The network is comparably a breath of fresh air for publishers who feel Ezoic relies too heavily on AI. They bring back a more traditional way of buying and selling different types of ad space.
To clarify, they connect publishers to advertisers and allow you to set pricing and auction your ad space. As a result, publishers have more control and transparency.
Starting with BuySellAds: Traffic requirement of 50,000 impressions per month to join. Publishers use an HTML code (sent by BuySellAds) to display/serve ads.
PROS:
More control and transparency in the bidding process.
Simple setup
Flexible when it comes to the amount and type of ad space
CONS:
It takes a high commission percentage – a whopping 25%
High traffic requirement to be approved
English-only websites
Publishers can potentially price themselves out of the market
Looking to break away from traditional display ads? Infolinks is a reputable global ad network that specializes in in-text advertising. They index publisher content to provide ads based on specific keywords—SEO lovers, rejoice!
They deliver timely, relevant, and optimized ads using their smart algorithms. Publishers can still implement sidebar, banner, and expandable display ads using Infolinks.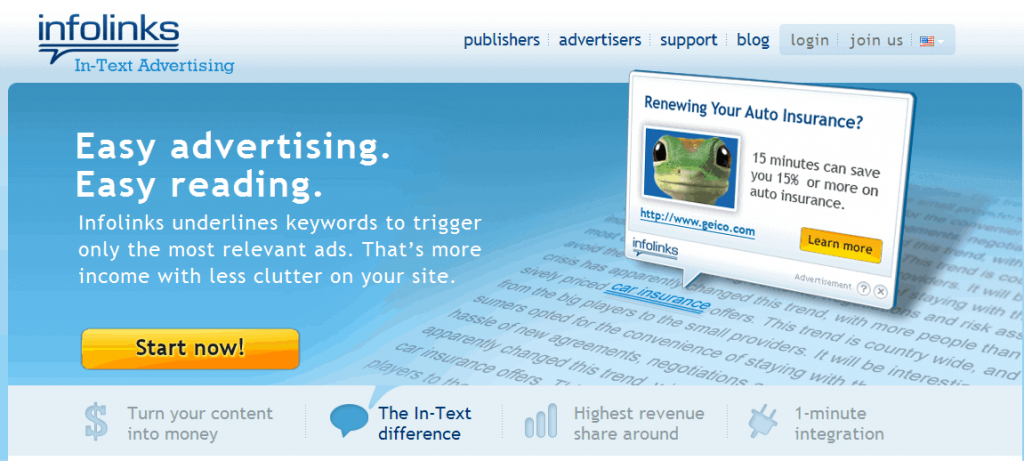 Unfortunately, they operate on a cost-per-click (CPC) revenue model. So any publisher hoping to earn big will need decent traffic and user engagement.
Furthermore, since they're not an ad management platform, publishers will be solely responsible for optimizing placement and layout. However, publishers who can deliver optimized ads will benefit from solid industry rates.
Starting with Infolinks: There are no page views or monthly traffic requirements to join. Publishers can integrate the ad network through an easy WordPress plugin.
PROS:
Offer a great alternative to display advertising (while still supporting it!)
Helps SEO-lovers capitalize on their efforts
CONS:
In-text ads have been known to slow page loading speed
CPC is not the most profitable avenue for earning
Newor Media is a full-service ad management solution that supports header bidding. Header bidding is the programmatic advertising technique of bringing an array of networks to bid in real-time for inventory.
Unlike networks that only sell units to their advertisers, Newor Media draws from various networks to drive competition—leading to higher earnings for publishers! 
They specialize in revenue maximization and balancing user experience. For example, they work with publishers to optimize ad placement and layout.
Ezoic relies on AI to optimize strategies, but Newor takes a balanced approach between manual and AI.
As a result, publishers get strategies tailored more to their website and audience rather than strategies based on best practices. Additional services include revenue-generating solutions (Adblock revenue recovery, ad refresh, etc.), page-load speed assistance, and a consent management platform.
Starting with Newor Media: Publishers must meet a traffic requirement of 30,000 unique users per month. Account reps work with publishers to integrate header bidding onto their websites.
PROS:
Supports an extensive ad catalog; sticky ads, display ads, native, video ads, interstitials, vignettes
Non-contractual and non-exclusive, so they'll work alongside AdSense
Gives publishers access to Google's AdX inventory through their Google MCM channel
Full ad-management service
CONS:
Traffic requirement makes it difficult for new bloggers to join
Our Opinion –
Conclusion: Which Mediavine Competitor Is Better?
If you're looking for the best Mediavine alternative to maximize or boost your display ad income, then there are a few great options to choose from. However, many bloggers monetize their traffic with MediaVine and have never tried Monumetric.
We have been more than happy with my Monumetric experience and earnings so far. We have saved heaps of time not regularly monitoring and adjusting my ads.
If you're not quite there yet with your blog traffic, use any of these tools to increase your traffic.
Finally, if that setup fee isn't your thing, then you don't worry. Ezoic is another fantastic display ad network that requires 10,000 monthly pageviews, but they don't charge you to join. You can try anyone from this list and boost your publishers.
At the end of this post, we just want to say that, we have mentioned all the Mediavine alternatives with their review and it totally depends on you which one you want to choose you.
Here are a few Frequently asked questions written below with their answers for your information.
How to find excellent tools like Mediavine?

If you are looking for MediaVine alternatives, you must have a few things in your mind. These are-
Fair income
The straightforward and beginner-friendly setup process
Support and help

Which is the best Mediavine alternative for bloggers that pays well?

Out of all the ad networks we've worked with, the best match is Monumetric.

how is Monumetric different from Mediavine?

There are many differences between them. But the main difference between them is –
There's the minimum traffic requirement.
You must have at least 25,000 monthly sessions or views to join Mediavine. Hence, it takes a lot of work to qualify if you start blogging.

Is Mediavine better than Ezoic?

Mediavine is slightly better for Outdoors-related (US/Canadian) Traffic. Ezoic is hands down superior for international traffic. Ezoic outperformed Mediavine slightly but consistently in most niches.