Salient is a WordPress Multi-Purpose theme with Demo data, Exclusive Page Builder.
PROS:
65+ Elements
1000+ Configuration Options
330+ Useful Templates
Salient Page Builder
Several demo sites
A custom Visual composer setup
A multipurpose theme
You can build any kind of website.
CONS:
Not good for who wants to go deep.
The code level controls your theme.
The salient theme was released in March 2013. Since then, it has generated more than 80K sales, which makes salient one of the best WordPress themes in the marketplace.
Let us start the complete Salient WordPress Theme Review In-Depth. It is a multipurpose theme of ThemeNectar.
In this review, we will be exploring features, plans, pricing, tools, etc.
If you wish to build an eCommerce Website, this review will help you know the Pros and Cons of the Salient Theme.
In this Salient theme review, We are Going To Describe:
Salient Theme Pros & Cons
Themeforest's Salient Theme Examples
Salient Theme Documentation
Reasons to Choose a Salient Theme
In this Salient Theme Review, we'll find out all possibilities of this amazing theme. No matter what type of website you want to build, salient aims to provide everything you need.
So let's get started.
Theme Introduction.
Salient WordPress Theme Review
You will find some great and multipurpose premium WordPress themes in the ThemeForest marketplace.
Salient is one of them. The Salient is from Power Elite Author ThemeNectar. Since its release, it has been updated day by day. It will give tools to make any kind of website powered by WordPress.
Category – WordPress Theme
Founder –ThemeNectar
Founded Year – 2013
Sales – 136k+
Salient is the best theme for someone who is starting a new website. Salient is a multipurpose theme. It can be used for various projects and websites. The salient comes with different useful demo sections. It is all about giving you the power to create your fantastic website.
There are more than 86,000 Customers of Salient Theme.
More than 87% of Five-star ratings for Salient.
There are more than 27,000 comments.
The price of the salient theme is 60 US dollars.
The salient belongs to ThemeForest Market.
The categories for Salient are Creative and Portfolio.
In the salient, there are more than 250+ pre-made templates to make your efforts less.
The author of Salient is Power Elite.
Here we've shared a deep review of the Salient theme with all its criteria, measurements, and features so a user can choose the right WordPress theme.
The best thing about salient is that you can include several demos and pages on your website.
Quick features of this WP theme.
Salient Features
This theme has many features that will help you to create your website more attractive.
330+ templates

It provides 330 professionally designed templates to help you in making a customized website.

Front-end and back-end page builder

You can create and build your website very quickly.

1000+ configuration options

It offers a complete solution by offering 1000+ configuration options to build your stunning website

Tons of available demos:

Salient provides lots of demos that help you to create a website instantly.

4 icon packs:

Icon minds ($59 value), Font Awesome, Steady sets & Linea.

Customizable 9 Portfolio styles:

Salient provides 9 portfolio styles and unlimited layouts for each one.

Extensive Theme Options:

Currently, salient is provideing17 different option panels and subcategories within them.

SEO Optimized

salient takes Care of coding, and search engines will appreciate it.

19 Post Layouts –

Choose from the 19 post layouts available that is most appropriate for your website.

Off-Canvas Menu

Salient offers a powerful off-canvas menu option with 4 different styles that can be used on desktop/mobile displays.
Choose The Best Plan For You.
Salient Theme Pricing Plans
The majority of ThemeForest items (themes, code, graphics, 3D, and flash) are included in ThemeForest Standard Licenses. If your final product, including the thing, is going to be free to the end user, then a regular Licence is what you need.
The best part is you get all these features for the price of one theme. The Salient theme is priced at 60 US dollars for a regular plan and 2950 US dollars for an extended plan.
Regular License
Theme price

[With 6 months of support]

$60
12 months of Extended support
$78
The regular license of salient costs 60 US dollars.
The Extended Licence of Salient Costs 2950 US dollars.
The extended support for a regular license costs 18 US dollars for 12 months.
The Extended Support for an extended Licence Costs 881.25 US dollars for 12 months.
Salient Theme Reviews – Features Highlights
Look, and features are the most essential part of any website. The Salient provides you both. We have reviewed the features of the Theme Salient so that you can decide whether it is for you or not.
Salient Theme Action Control Panel
If you don't desire or need to start making your custom page layouts or modifying the demo templates, but still want to personalize the look and feel of your site, then the Salient theme options control panel will be more interesting to you than the visual composer page builder tool.
You can change as many aspects of your website from the salient theme options panel. such as:
Colors and fonts
Layout settings
Navigation functionality
Page transitions and animation effects
Header and footer configurations
You can build a stunning and unique website. Salient features 65+ elements and 1000+ configuration options. It is a complete solution.
Call to action text
Social media integration
1-click demo content import
The Salient also contains support for the customizer tool from WordPress.This permits you to customize some of the factors of the website through love, a front-end interface.
More help for the Customizer is always appreciated, so it would be good to see more compatibility for this tool added in the future.
Salient is a highly customizable WordPress theme. If you want to redesign the included templates, create your own from the site with the Visual Composer page builder tool, or change the existing settings through the theme options panel, you will not experience any difficulties.
Predefined Templates of Salient Theme
From the collection of 330+ premade demos with professionally designed, unique layouts and content, Salient is the most versatile theme allowing you to create almost any type of site you can think of. All of them can be installed easily with just one click.
Templates are split up into more than 10 categories for easy navigation
These predefined templates are time savers.
Visual Composer Page Builder of Salient theme
As well as the ready-made demo versions, Salient comes provided with a well-built drag-and-drop page builder tool. This is a personalized update of the Visual composer page builder WordPress plug-in that has been upgraded by the development team of salient.
You can not only use this exclusive page builder to make your custom layouts and designs from scratch all through a drag-and-drop visual editor, but you can also change any of the templates and layouts that make up Salient and its demo versions.
Visual composer is comprised of authentically needful elements, every of which can be dragged and dropped to your page layout to boost your content.
As a part of their personalization of visual composers, the Nectar Development group has attached some bespoke elements of their own to the creator, creating it even more useful.
SEO Friendly and Robust Blogging
The Salient theme is SEO-friendly for your WordPress site. The W3C validated code-behind, proper use of typography, and suitable compatibility with SEO norms, all these features add together to achieve an exceptional score in Search Engine Optimization.
You can share your ideas with the world very beautifully. The salient theme is capable of powering personal blog posts.
Theme Heading & Theme Options with Salient
The theme options make it easy to tweak the site's look and set up the site much more comfortably, especially for those who are not seasoned designers or developers.
Similar to any other WordPress theme Salient also came with excellent theme choices to give you all the control you desire easily useable.
Salient has amazing theme options. It is very hard to beat salient in theme options. You will enjoy all the desirable controls.
Setting up Sliders with a Salient Theme
You will have two choices of the slider with this theme, the first is A homepage slider, and the second is a Nectar slider. You can place these sliders on any page or post.
With each slide, you will get to choose a background image, lines, button text, and links. You can also post videos to utilize as a background in MP4 or OGV format. There is also a space to submit code for videos from YouTube Video.
Demo Version of Salient Theme
The salient theme for WordPress is all about giving the enhanced power to create your extraordinary website, without the need for coding skills. This is attainable applause to the impressive selection of demo versions and ready-made configurations you get access to.
At the time of creating a website, there are a total of 8 demos of the salient theme. You can apply any of them to your WordPress websites with just some clicks.
The Demo versions consist of a range of Project types, together with the default corporate settings, an agency demo, a layout of one page, a mode for blogging, and an e-commerce shop for online selling of your products and services.
So, if any of your projects fall under these categories, you could have run your new website up. However, Even if your projects do not fall under these categories, salient has some more tricks to help you to get your website online with very little effort.
Personalize to complete your needs in Salient Theme
Here, you can now start to personalize the theme to fulfill your requirements better, so you have to go to the salient menu section, which comprises the panel of their theme choice where you will see many options.
The "General" settings are where you can choose a theme skin, favicon upload, back to top button, turn on or off responsiveness, and so on.
You can choose some accent colors for your site and some extra color choices for things such as buttons and icons.
There is an inclusive typeface section where you can permit Google fonts and set font choices for the size elements, such as size, line heights, spacing, etc.
Below the set of headers, you can select from three header layouts, set a text or picture logo, set a logo of the retina, and many other options like size, fonts, and color.
You have other choices for the footer, portfolio, and blog so you can change the layout and many other options for each.
Build a Portfolio with a Salient Theme
You can show off your work in style. Salient offers lots of grid styles, sliders, and casual options.
Front-end Editing with Salient Theme
You can create your pages even faster by editing the front. You can build beautiful designs.
Other factors in selecting Salient:
Apart from other factors, The Theme Salient is full of many other needful features to rival any modern WordPress theme. Some of the key features include:
Full-screen video and image backgrounds
Responsive layout and retina ready design
The salient has a very responsive layout and design. You can build it with responsive styling. The Salient will ensure that your content will look great.
Multiple posts, page, and header layouts
Header styling is very important to the user experience. The rest will be assured by salient that they are in no short supply.
Selection of templates including landing pages
Custom sidebar and footer widgets
The online portfolio publishing tool
Huge icon and font library
Complete WooCommerce Support for Online Businesses.
You can create your online store using salient. It provides premium WooCommerce integration with multiple product styles.
Video tutorials with narration.
Silent was launched in March 2013, although it has been updated regularly and improved. Now Salient has its 7th version. If you have any doubts regarding creating your website, it will surely go away. Salient and the ThemeNecter team have a proven record in this update action department.
It was our complete Salient WordPress theme review, with its features, price, and key highlights that users should know before buying this amazing WordPress theme.
With a cost of just 60 US dollars, silent is an aggressively priced theme, and it is tough to beat its value.
ThemeForest Salient Theme Documentation and Support
Even it is a theme. Itis made for beginners and lets you create a website with the help of every available option. You will get more than enough support as and when it is needed.
The Salient theme is very well presented so that you can easily go through the instruction and make up for your website on your own. Since the documents are well-planted, you can search for the answers and help you require.
Because even if you are a master of WordPress, you might need some help with the theme.
You can modify the defaults and create your website look and feel you need, with the help of guidance of a salient theme. They will make sure that the presentation of the theme is always updated whenever a feature is upgraded or a new feature is created.
On purchasing the theme, you will get support for the theme by ThemeForest. Therefore, if you need any technical guidance while setting up the website with the theme salient, you can connect with them and get your problems solved.
The Salient theme support is provided for six months and if you want to extend it to 12 months to support, you can have it by giving extra 18 US dollars.
It is very easy to navigate salient, whether you are new or experienced. Salient's easy-to-navigate documentation will make your process enjoyable.
What Are Some of the Salient Theme Demos?
Salient is a WordPress theme from ThemeNectar. It has been purchased over 40,000 times and has an active community of users. An updated version has recently been released and it promises improved performance coupled with bug fixes.
Visual composer is now a plugin in the new version rather than being inbuilt in the theme itself and existing users will have to activate it in their Admin panel.
We are sharing some Salient Theme Examples, all these Examples We have chosen from the post of Colorlib.com/Salient Theme Examples.
Example #1 Avioa
Example #2 White Knight Video
Example #3 Retroyspective
Example #4 Imagiinate
Reason To Choose a Salient Theme.
A Salient Theme Is Best For
The salient theme is very polished. If someone does not want to stick to coding problems and wants to customize every factor of the theme, it would be a great choice for the theme.
It is a lovely and eye-catching theme. The documentation of this theme is very good. There are lots of PDFs and Video tutorials if you need them.
The salient theme integrates seamlessly with WooCommerce providing multiple product layout designs, rich gallery options, AJAX cart, and many more.
This theme is useful for:
Non-developers
Bloggers
WooCommerce Website
Freelancer
Entrepreneurs
Businesses
A salient WordPress theme is an elegant tool for building your next dream website. We've put years of experience as a design and development studio in Salient.
The salient theme provides a level of quality in customization and design never offered before in WP themes. Build great-looking websites without coding knowledge.
Salient Theme Alternatives
Salient is a multipurpose WordPress theme, with lots of customization features, ready-to-use demos, and layout options.
Here are some similar themes to the Salient.
Should I Choose This Theme?
Conclusion: Salient Themeforest Reviews
One of the most beneficial multipurpose themes at ThemeForest just got an absolute lot better, gratitude to the addition of its own frontend page builder tool.
While you think the additional videos from internet specialists are added, then the set comes with everything you require to build a site that not solely looks great but functions well.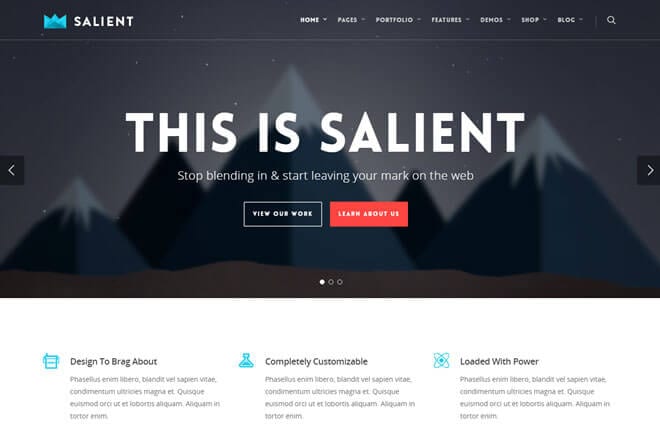 Salient is Themeforest's most hot WordPress theme with lots of features, demo data, main style, and huge premium plugins. Once upon a time, We was also a big fan of this powerful WordPress theme.
It is a multipurpose theme that is suited for all kinds of sites that you can create on WordPress. Its price is almost the same as other popular WP themes.
Qauries Related To This Post-
FAQs – Salient WordPress Theme Review
Get More ideas about the Salient Theme Review in the below FAQs section.
What kind of premium plugging will I get?

On purchasing the Salient theme, you will get the most exciting Drag and Drop page builder plug-in visual composer included in that.

How easy is it to use the Salient Theme?

It is effortless to use the salient theme.

Will I get support from the company?

Yes, while purchasing the theme, you will get six months' support from ThemeForest and you can avail of 12 months of extended support by giving 18 US dollars

Is the Salient Theme is costly?

It depends on the license. If you want to purchase a Regular Licence, it will cost you just 60 US dollars.

How many premade templates I will get in the salient theme?

You will get more than 250 premade templates in a salient theme.
Specification:
Salient Theme
| | |
| --- | --- |
| Category | Multi-Purpose WordPress Theme |
| Starting Price | $60 |
| Key Features | Huge Templates, Configuration Options & With Amazing Features. |
| Verdict | Best Choice for Build any Website with clean and modern design. |
1 review for
Salient Theme