PROS:
All-in-One E-Commerce solution
Perfect for beginners and experts
Create new stores Quickly and easily
55+ Add-Ons Option
Highly Customization templates
100% Optimized for Dropshipping
Extend and build brands
Boost your conversions
Increase sales and revenue
Good Refund Policy
24 hours support
CONS:
The Free Version is just ok
For advanced features, you should buy the pro version
Looking for the world's smartest eCommerce theme then you are at the right place.
Your time is so precious, that you don't want to spend hours figuring out how to build your online store and retail store. Read the Debutify review article and know the smartest way to build your business online.
Debutify Theme is an e-commerce theme for Shopify Stores launched by dropshipping Based YouTuber, Ricky Hayes from Europe and Trusted By Leading Ecommerce Entrepreneurs. It is the smart way to launch your eCommerce business.
In this Debutify theme review, we have covered all its add-ons, features and pricing, plans, possibilities to use, and many more. that all these help you select the right Shopify theme for you.
So, Just read the full Debutify review post to grow your stores and business online and grow your knowledge of how to generate more conversions by using the Debutify Theme.

Let's Start-
What is Debutify Theme
Debutify is the Theme for Shopify stores where you can build your eCommerce platforms, retail shops, and dropshipping. the theme has everything you need to scale and test to store efficiently.
Launched by dropshipping Based YouTuber, Ricky Hayes from Europe and Trusted By Leading Ecommerce Entrepreneurs.
The all-in-one eCommerce solution for brand owners with 55 Add-on options that helps you to maximize your conversion rate and revenue.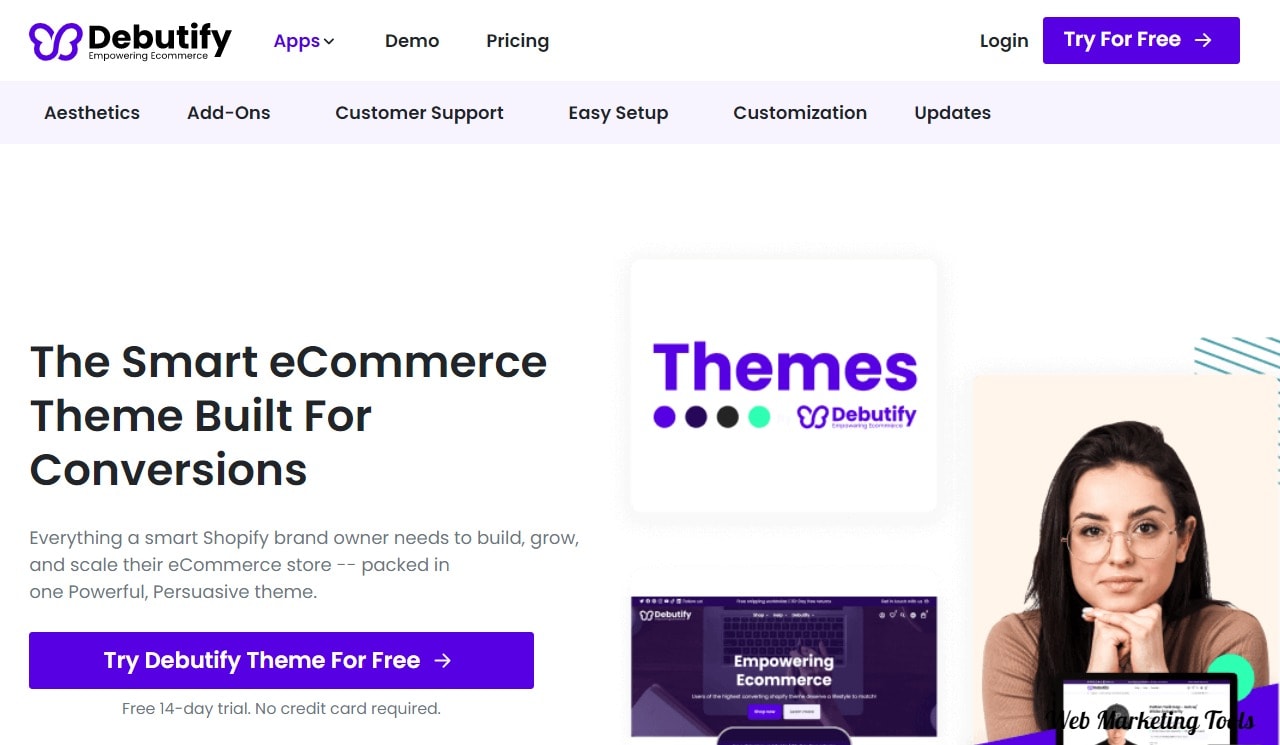 Debutify Pro plans activate all of the available add-on features and some other advanced features.
If you don't have any kind of web design experience Even then you build and launch your eCommerce store by having its multiple AND powerful tools.
The freemium theme with a full package of product research tools, store startup tutorials, dropshipping tutorials, and store conversion ADD-ONs with you can launch your store in hours and Highly optimized for getting you higher conversions with a lot of conversion add-ons and fantastic website design.
Know Its Features-
Debutify Theme Features
In this article of Debutify review, you'll all its advanced features that we have explained in detail.
May be many other themes you used before debuting theme but Most of the time it is risking making your store look as you want.
Debutify has highly customizable features that you can easily customize your website or store look according to your requirements. Customizable features like Templates, product pages, headers, footers, Layout, Add-Ons many more.
And since it has a user-friendly interface, We believe anyone can do the same!
In this feature, you choose the number of products to show on the product slider with or without arrows and dots or the autoplay option. the product slider will adapt itself to both desktop and mobile.
Showcasing features and products on your site will redirect your user and customers to your lending or desired pages.
Debtify not only provides Add-Ons options but also offers third-party integrations. Currently, you can connect the theme with-
Ali Reviews App
Ryviu App
AterPay
Klaviyo
and more
This is one of the key features for every eCommerce website or stores to grab the customers you need to boost your product speed.
The Debutify theme has more functions to improve your conversion rate by making your store faster.
If you want to create specific niche websites Debutify has fancy ready-made templates. choose out from different templates you could either plug and play or customize to fit your brand.
It has different categories of templates you can choose any of them and design or create a store according to your requirements.
Every customer and user is loved and attracted by the speeder loading time so, they easily connect with the Speed loading page by these features you can increase your conversion and sales rate.
The Dubutify theme is already on top of faster page speed. they looking for more ways to quicken their code to give your visit an even smoother experience.
Debutify will be the central app to manage all other apps within their umbrella. You do not need to more waste time comparing third-party apps because Debutify brings them all native for you.
Spotify theme provides you 24/7 support whenever you need it and wherever you want it. they provide world-class help from different platforms and choose whatever works best for you.
Debutify theme is an eCommerce and conversion booster solution for savvy brand owners.
With its lot of Add-Ons, you can build business faster and increase your conversion rates, and set your sales dashboard on fire.
50+ Add-Ons to grease your customers buying decisions for optimal conversion.
Under cart, maximizers include 8 Add-Ons options.
Add-to cart animation – On the product page Add-to-cart button add an animation to attract the customers.
Cart Goal – Offer free shipping to your customers when a specific cart total amount is reached.
Cart Reminder – Display a small cart banner on the bottom when there's a product in the cart.
Cart Saving – This is another way to grab your customers by displaying the total amount of savings in the cart.
Cart UpSell – Add up-sells and cross-sells directly in your cart.
Collections Add-to-Cart – Allow your website visitors to add products to the cart directly from collection pages.
Gift Wrap – This option allows customers to mark an order as a gift and add a unique gift message.
The minimum Oder – This option allows store owners to set a minimum order amount before customers are allowed to checkout.
Cart Discount – This Allow to customers to enter discount codes in the cart before checkout.
Customizable Product – With help of this option Add several options and fields to customize your products.
Discount Save – Display the discount amount of on-sale product variants on the product page.
Skip cart – This Add-Ons option Sends customers directly to the checkout page when the add to cart button is clicked.
Social Discount– With a discount code Reward customers when they share your products on social media.
Sticky Add-to-cart – When scrolling past the Add-To-Cart button Add a Sticky Add-To-Cart bar.
Trust Badge – Custom trust badges or Display payment icons under the add-to-cart and checkout buttons.
UpSell Bundles – Let your customers buy different products in one click by creating bundle offers.
UpSell Pop-up – When adding a product to the cart display a customizable Upsell Pop-Up that triggers.
Newsletter Pop-up – Display a customizable Newsletter Pop-Up to capture your visitor's email before they leave your store.
Oder Feedback – This is also a good Add-ons just because of this option you find out how your customers know about you.
Wish List – In this list, customers add their favorite products so they can come back later to buy.
Age Check – With this, you can verify the age of website visitors before they can access your content and products.
Agree to Terms – With this option, you can easily Ask customers to agree with your Terms & Conditions before checking out.
Cockies Box – In these Add-Ons, you display a Cookie Box to make your website GDPR compliant.
Shop Protector – Protect your product image, articles, description, and other content from being stolen.
Automatic Geolocation – This is helpful to add the ability to set default language and currency based on user location.
Back in stock – Back in stock allow customers to fill back in the stock request form.
Cart Favicon – This is to Change the page favicon to a secondary image if there is a product in the cart.
Collection Filters – Allow visitors to filter the products on the collection page by the parameters they want.
Color Swatches – Also add Color Swatches to your product options.
Custom Currencies – These Add-ons Show prices in multiple currencies without having to use Shopify Payment multi-currency converter.
Delivery Date/Time – Allow visitors to select their preferred delivery date and time in the cart.
Feedback messenger – This is Allow your visitors to select their preferred delivery date in the cart.
FAQs – You can also add a searchable question and answers module to your store.
Inactive Tap Message – Display a different page title when the user goes to another tab.
Infinite Scroll – you can Replace paginations with a 'Load more' button or by automatically loading items as you scroll down the page.
Instagram Feed – With this option, you display the latest images on your Instagram page.
Mega Menu – Add nested products, articles, collections, products, and more to your header navigation.
Order Tracking – Order tracking is a good feature for your customer to let your customer track their orders directly from within your store.
Page Transition – Display a preloader with your logo while the page is loading.
Product Swatches – Product swatches allow you to create product groups and link them as swatches on each product page.
Synced Variant Image – With this option, you got Variant changes when changing the slide in the product gallery.
Choose THe Right Plan For You-
Debutify Pricing Plans
Debutify offers its users 4 types of different pricing and plans that up the level of your eCommerce store. By using its pro plans your online store defiantly or surely grows faster than others.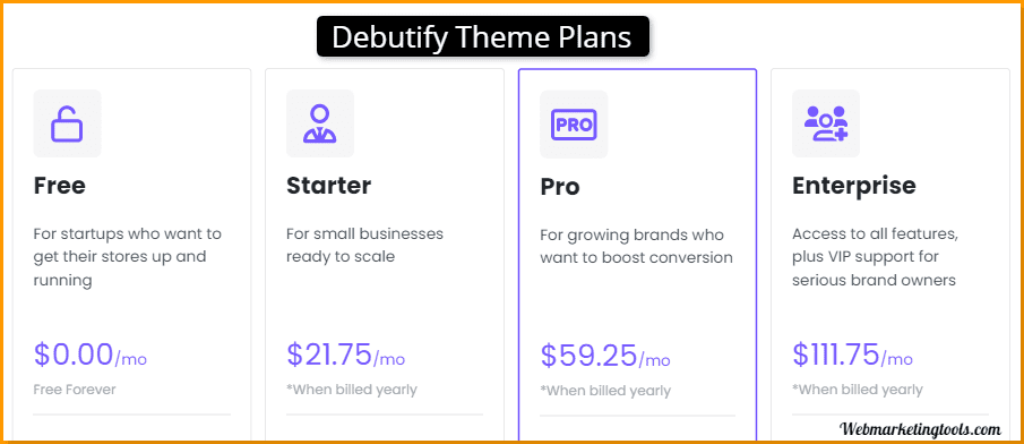 Check and get the right plan for any stage of your business there are no hidden fees and no guesswork.
If you looking for scaling your brand and conversion improvements – Debutify got you covered.
Choose the right plan that matches your needs.
Debutify theme is also the freemium theme of Shopify $0/month and you can also use this theme for free without paying anything.
But if you used Debutify for free you'll only get limited features. in the free plan, they do not add any add-Ons options.
The free plan is good for beginners starting out from scratch.
Features of Free Plan
One store license
Basic support
It is the second plan for monthly, quarterly, and yearly offered by Debutify starting from $29/month.
If you purchase it yearly and quarterly you can save your money up to 15 and 25 percent. this plan is good for small business owners looking to grow their stores.
Debutify adds 5 Add-ons in the starter plan you choose any Add-ONs option out of 55 like page-speed builder, cart discount and add-to-cart animations, etc.
Features of Starter Plan
One store license
Access up to 5 Add-Ons
Advanced support
One-click integration
Debutify starter plan cost
Monthly subscription $29/month
Yearly subscription $21.75/year – Save 25%
This is the third plan of Debutify which starts from $79/month. Pro is the advanced plan of Debutify by purchasing this plan you get a lot of add-on options that help you to increase your conversion.
The Pro plan is good for brand owners who want to increase conversion rates. the pro plan gives the option to choose 30 Add-ONs from 55 Add-Ons options.
Features of Pro Plan
One Stores license
Access up to 30 Add-Ons
1-click integration
Advanced support
Debutify pro plan cost
Monthly Subscription – $79/month
Yearly Subscription $59.25/year – On purchasing a year plan you save up to 25%.
This is the last and one of the advanced pricing plans that starts from $149/month. it has unlimited Add-Ons options that defiantly grow your online stores fast.
An enterprise plan is best for serious brand owners who want to maximize conversions and scale faster.
Features of Enterprise Plan
3 Stores license
Access all Add-Ons
VIP Support
1-one-click integration.
Debutify Enterprise plan cost
The monthly Subscription is $149/month.
Yearly Subscription $111.75/year – Save up to $25%.
This Debutify review article helps you to choose the right plan for building your online stores fast.
Build Online Stores-
What We Can Do with Debutify Theme
With the Debutify theme, you can launch, build, and Extend three types of brands. This review of the Debutify theme helps you to tell what kind of things you can do with this theme.
Launch your eCommerce brand with the Debutify theme and add a new store to your income stream with Debutify.
Debutify theme helps you to Build your eCommerce brand and its advanced features will increase your conversion and you can create your online stores easily.
Use their powerful features to grow from zero to six figures and beyond.
Increase your conversion
Create new stores easily and quickly
Kill the competition
Build A Successful Dropshipping Brand
Build your successful dropshipping brand, Start selling today, and build your dream business with an eCommerce mentor.
With Deputy you can extend your dropshipping brand by using its advanced features and you will also create the store exactly you want to create.
Build your store exactly how you imagine it
Scale with group mentoring and secret marketing strategies
Get maximum revenue from every visitor
Extend Your Retail Brand Online
With Debutify you extend and grow your retail brand online reach your customers worldwide and increase your sales and revenue.
Grow your retail business online easier and faster with customization options and tested online sales methods.
Let our Conversion Boosters do the selling for you
Create your desired store look quickly and easily
Learn foolproof tactics to grow your business online
The Debutify team provides 24/7 hours support to its customers and users. if customers have any queries related to theme function or theme installation or any other you are free to contact them.
They provide full support whenever you want, wherever you want it. you get world-class help from different platforms. Choose whatever works best for you.
Debutify theme has three ways in which they support its customers are –
Contact Us Page – Need help from our support, or have a business inquiry? Send us a message below. Get in touch with our team, we're here to help
Live Chat – They have also provided live chat support to their customers or users. you can chat with them and ask your queries.
Contact number – They have also mentioned their contact number 1(844)945-2440 feel free to contact them.
Under the help center option, they already provide some written articles related to customers' queries. so you search for your queries on the search box they provide you with your queries related to articles.
You are free to Advice and answers from the Debutify Team. the Debutify review article also provides you with help support section of the deputy theme.
Some Queries Related To This Post-
FAQs – Review of Debutify Theme
Why is Debutify better than other themes?

Because Debutify optimizes beyond the look and feel of your store it also optimizes your sales and revenue. With over 50+ Add-Ons, Debutify helps shoot up your conversions.

Why is Debutify better than other themes?

Add-Ons are the key features of Debutify specifically made to fit the Debutify ecosystem. That means they do not affect loading speed. 

Does Debutify have a free plan?

Yes, Debutify offers a Free Plan and provides 14-day Free Trial to its visitor who wants to try first Debutify free.

Is Debutify the best Shopify theme?

Yes, Debutify is the best Shopify theme with a lot of advanced features and 50+ add-on options.

What is Debutify theme?

Debutify is the best theme for the Shopify store with 55 add-on options. it is the smartest way to launch and grow your online stores.

What is the refund policy of Debutify?

Yes, Debutify provides a 30-day money-back guarantee to its user who is not happy to buy Debutify.

Does Debutify have a free plan?

Yes, Debutify is also the freemium theme that also offers a free plan to its customers.

What is the starting price of Debutify theme?

Debutify Theme price starts from $29/month. This is the cheapest price offered by Debutify.
Our Opinion-
Conclusion – Debutify Review 2023
Overall, in this deputy review article we discuss the above theme features, Customization features, Pricing plan, Add-ons options, support, and documentation policy, and its pro and cons. So, in this post, it is clear that the Debutify theme is much better compared to another theme.
Debutify is the smartest eCommerce theme nowadays and comes with many advanced customization features and 50+Add-ONs options. But if you want to use these features you need to purchase its premium version because, in its free version, you get limited features that are good for beginners.
You can enhance and extend your retail, drop shipping, and eCommerce brand and increase sales, conversion, and revenue with powerful selling feature you can also create your online store easily with its high customization features and also demo stores
We highly recommended you use the Debutify theme because of its Smarter way to build and Launch your website and store. after reading the Debutify review may be you get all info about this theme.
You can also start with the free trial to decide which – if any, add-ons and integrations you require for your Shopify store.
Helpful Links:
| | |
| --- | --- |
| Category | Shopify Theme |
| Starting Price | $29/month (Monthly Subscription) |
| Key Features | For Multiple Stores and 50+ Add-Ons |
| Verdict | Amazing Theme to Boost the Shopify Store. |