PROS:
5 Premium plugins
5 Page block templates on the theme
35 Website elements on the theme
6 Months of support offered in the theme
12 Prebuilt Header Layouts
48+ Prebuilt websites
Lots of visual effects
Pop-up Builder
Personalize title bar
Integrated cookie notice for data protection
CONS:
Bit Difficult Learning process
Limited Tutorial videos
Flatesome theme is the multipurpose responsive WordPress WooCommerce Theme. It is the best-selling WooCommerce Theme. This theme is perfect for any WordPress or WooCommerce site.
Are you looking for an incredible WooCommerce theme?
Then you must have a look at Flatsome Theme Review.
In this review, We are Going To Describe:
Flatsome Theme Pros & Cons
Flatsome Theme Documentation
Reasons to Choose Flatsome Theme
Themeforest's Flatsome Theme Tutorial
We've shared our best Flatsome WooCommerce Theme Review, so you can choose the right WordPress theme.
In this Flatsome WordPress theme Review, we've included all the necessary data and details that you should check before buying this theme.
Let's Start With Basics
Introduction: What Is Flatsome Theme
Flatsome WordPress theme is the selling theme WooCommerce theme of the ThemeForest marketplace.
Category: Multi-purpose WordPress theme
Founder: UX- Theme
Founded year: 2013
Total sales: 210K+
Rating: 4.82
Flatsome Theme is the no.1 selling WooCommerce website. Since its release in 2013, the theme has been updated regularly. The theme was updated last on 26th April 2020. It is Gutenberg optimized theme. The theme has a high resolution. Flatsome is also widget-ready.
These are compatible with every browser. It has 4+ columns. The theme is well-documented. The layout of the theme is responsive. The name of the new update is Flatsome 3.11. The tagline is 'Build anything, No coding required.'
Flatsome has improved lots of things in its fresh update. The freshly updated theme is now compatible with WooCommerce 4.0. They have added lots of new Google fonts to it. They have also added 'My account title color, align, and background options.' The option to disable the blog date has been updated too.
They have added column background radius options and column border options. There is an option to remove jQuery Migrate.
The new featured posts image size option is also added. They have introduced button element padding options. The new update includes 10+ new payment icons. Let's know more about it in this Flatsome theme review post.
Does It Worth It?
Flatsome WordPress Theme Review –
Flatsome theme is the perfect theme for any shop, company, website, or all your clients' websites as an agency or freelancer. It has all the necessary tools to make your website work smoothly.
It will help your website to be a super, fast, responsive website. It has a fantastic user experience. It helps you to create any website without knowing the coding process. Flatsome WordPress theme review has all the detailed info and points that are valuable.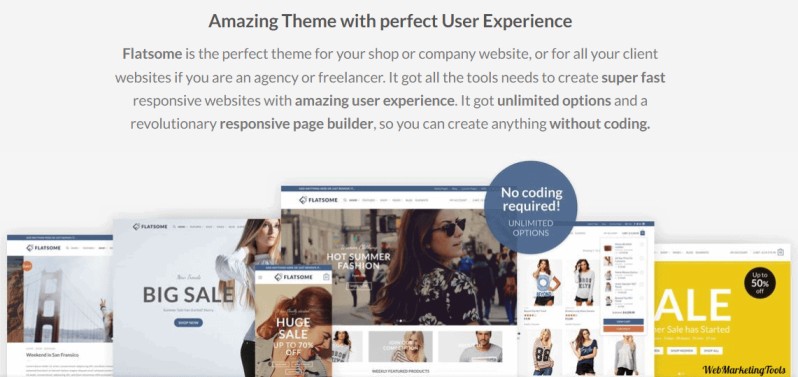 Flatsome theme has unlimited options with a responsive page builder, and that will help you create anything.
Let's start the Flatsome Theme Review step-by-step with deep and useful points.
Flatsome Theme Review- Features
It will not be a lie if we say that Flatsome is a feature-packed theme. Here are some incredible features of the Flatsome theme.
Free Lifetime updates:

Flatsome gives you unlimited free updates for a lifetime, once you purchase the license.

WordPress 4.8+ Ready:

The theme is ready to use for 4.8+ WordPress users.

WooCommerce 3.2+ Ready:

Users who are using WooCommerce 3.2 or more can use the theme effortlessly.

Child Theme Included:

They have included a Child theme too.

RTL Support:

There will be full RTL support

Easy Setup:

It is very easy to set up.

SEO Optimized:

The theme is entirely SEO optimized

Rich Snippets Optimized:

It is also rich snippets optimized.

Demo Content:

The Flatsome theme has also included Demo content.

Responsive banner and slider system:

The theme has a responsive banner and slider system.

Translation ready:

It is a translation-ready theme.

Live Page Builder:

Live Page Builder is also included to make your website look more beautiful than ever

Drag & Drop Header Builder:

The popular drag-and-drop feature is also there.

Contact Form 7:

They have integrated Contact Form 7

MailChimp (With CF7):

They have integrated MailChimp

700+ Google Fonts included:

More than 700 Google fonts have been included.

Amazing Parallax Effects:

The trendy Parallax effects are also included in the theme.

Super Smooth CSS animations:

The animation of the theme is very smooth with the CSS.

Mobile optimized sliders:

The sliders are also mobile-optimized.

Minified CSS and JS:

They have minified CSS and JS.

Unlimited Footer options:

You will find endless footer options.
ThemeForest's Flatsome Theme Review – Features Highlights
Flatesome is a multipurpose responsive WordPress theme, which is designed by UX-theme. The theme was featured on theme forest. It has massive sales of more than 125K. It is a powerful and beautiful theme. The theme is very compatible. The theme has been updated recently in April 2020.
Let's Dive into Flatsome Theme Review with its highlights.
Flatsome has Amazing WordPress Support:
So the first highlight of this.
The live page builder is 100% compatible with the new version of WordPress. You can use the UX builder to build advanced layouts and a new WordPress editor to create rich content. It the help you make your website look more aesthetic.
Build Anything with Flatsome Theme
You can build anything to make your website look more beautiful using a live page builder and vast element library.
The new UX builder is the ultimate tool for creating amazing responsive websites without knowing to code.
The theme has a front-end page builder, responsive options, and superfast features.
Tons of options in the Flatsome Theme
You can personalize anything using the drag-and-drop feature. You can create anything using live theme options.
There will be a choice to organize your content using drag and drop. This function helps to make things simple. You can create and alter the layout using the layout options. There will be an also option to edit the text using the text editor.
All the content will be created and edited in the UX builder,
Flatsome Theme is Speed Optimized
The flat theme is incredibly fast and fluid. The reason is UX builder is built on angular. It will give a quick experience to the customers.
The theme has a motto to satisfy customers with ground-breaking possibilities and options.
With the minimum and optimized codes, it makes the theme one of the fastest WordPress themes on the market.
Demo Content with One Click of Flatsome:
Most customers face the problem of designing their sites like demos. To make it easy Flatsome theme gives a very significant feature of Demo Content with just one click.
It is effortless to set up your site just as the demos, only with one click. There is no need to have coding knowledge.
There are demo options such as:
Classic shop
Cute shops
Parallax shop
Big sale
Full-screen fashion
Mega shop
Sales countdown
Slider cover
Business Demo
The Flatsome theme is also planning to launch new demos.
Flatsome Keep Updating Itself
The aim of the designer is just to focus on the flat. Since its release, they have updated the theme very frequently.
The theme will always be compatible with the future woo-commerce and WordPress versions.
The major thing is you will get lifetime free updates. For that, you just need to buy a license for a single time.
Extensive Library of Pre-Defined Layouts & Great Designs
There is a vast library with pre-defined layouts. The sections are also ready to be inserted into your Flatsome site.
There are more than 300+ pre-defined sections and layouts.
The name of the library is Flatsome Studios. The Flatsome studio is optional and can be disabled in theme options. The studio is loaded externally, so it does not bloat the theme.
The library has premade elements and full-page layouts. You can add your project with just one click.
You can import the element with just one click and you can also preview them with a simple click.
Flatsome Theme Wireframe Kit:
The wireframe kit is new in the Flatsome theme. It contains a massive amount of pre-made mock-ups and starter pages.
You can kick-start your project with just one click. Wire kit provides multiple site elements using these elements you can create a more functional site. It is a unique feature of the Flatsome theme review, so we included this.
The kit is available in Flatsome studio. You can add pre-made mock-ups and starter pages such as Header titles, header banners, testimonials, pricing tables, FAQs, CTAs, etc.
Flatsome Theme's Design made for sale:
The theme is specially made for WooCommerce. So the focus point is to sell. The theme is built with the mindset of selling, While searching content for the Flatsome theme review, we saw lots of shop designs made for selling products.
The designs are beautiful. That is the main reason it is the no.1 best-selling woo-commerce theme ever. It is the most used and trusted theme for any type of woo-commerce website.
Flatsome theme claims that it is the safest platform for any WooCommerce Project.
You can use any kind of shop or catalog presentation. The theme is extremely flexible and can be used for any reason.
Built-in Elements in Flatsome Theme:
They have provided built-in elements to make it easy for the customers. You can build anything using these elements. Flatwsome WordPress theme comes with shortcode elements then you don't need any extra plugins to add shortcodes.
There is no top-level coding required for the process. You can add a section, columns, sliders, banners, images, videos, galleries, video buttons, banner grids, etc.
Flatsome Theme WPML support:
There is also WPML support in the theme. You can translate the theme into any language.
12+ languages are already translated for the Flatsome theme.
Flatsome Theme has Mobile Optimised Designs:
The design is mobile-optimized. Mobile users can use the theme very smoothly.
It will be easy and quick to navigate.
The same interface you will get with the mobile and the PC.
Flatsome Theme has Perfect header options & Drag and Drop:
The headers are essential to make any website. It will make your website look wonderful. A Flatsome WordPress theme review can't complete without sharing details about its header.
Flatsome theme provides unlimited header options. You can create the perfect header with Flatsome's built-in header builder.
Header elements include:
Menus: You can add fantastic multi-column dropdowns.
Nav icons: You can add an off-canvas menu to the header.
Search icon: You can add a search icon to the header. You can also this search icon to the mobile device header.
Mini cart: You can add a beautiful mini cart to the header.
My account: Add a header with quick access to my account pages.
Search form: You can add such an excellent search form.
Contact element: It will show email, phone number, operating times, and directions.
Wishlist: You can add a wish list header on mobile also.
Social icons: Users can add beautiful social media icons.
Shortcodes and HTML: Insert custom content into the header. It will give you unlimited options for header content.
Buttons: Insert custom buttons into the header. These can link to any page.
Newsletter: You can add a newsletter sign-up box to the header.
Built-in slider and Banner system
There are tons of built-in sliders and banner systems. It will help you to create the website content very fast.
You can create or edit the banner using the following features.
Banner focus point: You can set the focus point on the banner and the image will adjust to mobile or tablet screens. This is the perfect responsive website.
Banner editor: You can create amazing banners using a very popular drag-and-drop feature.
Built-in sliders: you can create a banner without leaving the page builder. Just use the drag-and-drop feature.
Responsive options: You can make look your content beautiful on all-size screens.
Live text editors: You can change the text on the banner and see the effects immediately.
Page presets: Create a new page by using one of Flatsome's included page layout presets.
Live options: The preview changes immediately when you change or edit the banner.
Organized way: You can organize elements very smoothly by using such a drag-and-drop feature.
User-friendly: You can also easily create new elements for the builder.
Unlimited product page layouts:
The main focus of Flatsome is WooCommerce. This is the reason behind the no.1 best-selling WooCommerce theme.
There are unlimited product layout options available in the Flatsome theme.
Live search: Your customers will find products easily using the live search option.
Product Quickview: Customers will open the products from the category grid quickly.
Custom top content: You can insert custom top content to the category pages that can be edited with a Flatsome editor.
Sale bubble option: You can add 3 types of pre-made bubble options. You can add custom bubbles too.
Quick add to cart button: There is an also option for the Quick add to cart button.
Add to wish list: There is also an option for Quick ads to Wishlist.
Category list styles: There will be an option to choose between regular grids, list view, or masonry layout options.
Several products per row: you can set products per row for each screen size.
Category layout: There will be an option to choose between no sidebar, left sidebars, right sidebars, and off-canvas filter layout
Mobile optimized design: the navigation of the product category is quick and easy on mobile screens.
Choose A Best Plan For You.
Flatsome Theme Pricing Plans
Flatsome Theme's price for a regular license costs you $59, and the extended license will cost you $2950. You can extend the support in both licenses. For that, you need to pay extra bucks.
For regular licenses, it will be an additional $17.63, and for the extended license, it will be around $881.25.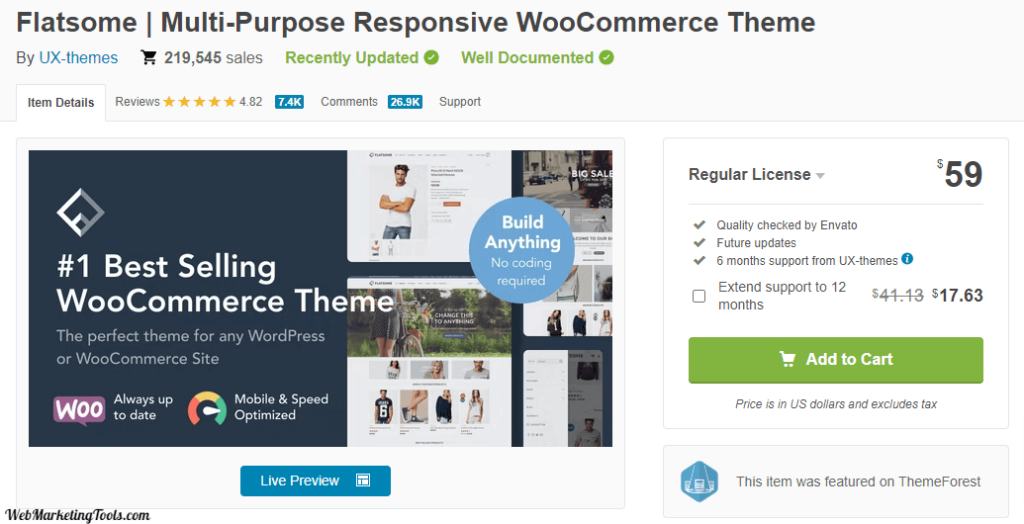 There are two main licenses, which theme can provide you as per your requirements. The first is a regular license, and the second is an extended license. Regular and extended, both licenses are usable by you or one client.
| | |
| --- | --- |
| | Flatsome Theme Pricing |
| Regular License | $59 |
| Extended License | $2950 |
| 6 Month Extended (Add-on) | $18 |
In proper licenses, end users are not charged for a single end user. In extended licenses, end users can be charged for the single end user.
The following aspects will be covered in the licenses.
Quality check by Evanto
Future updates
Theme hosting offer
6 months of support from UX- theme
The updates will be free for a lifetime if you purchase any of the licenses. The theme has been updated regularly since its release.
Reason To Choose Flatsome WordPress Theme.
ThemeForest Flatsome Theme Is Best For:
The theme is best for anyone, who wants to upload content. However, if your interest is inclined towards online selling and woo-commerce, then the theme is for you.
This theme is useful for:
Non-developers
Bloggers
WooCommerce Website
Freelancer
Entrepreneurs
Businesses
The main reason is the theme is the bestselling WooCommerce theme. There are tons of features, which any Woocommerce website requires. There are regular updates and 24/7 support of the providers.
You should consider the theme if you want to make your website look excellent, aesthetic, and professional.
Queries Related To This Post-
FAQs – Flatsome Theme Reviews
To experience Flatsome theme review, here we're sharing some more info in form of FAQs.
What is included in the Flatsome WordPress theme license?
The following factors will be covered in the licenses.
Quality check by Evanto
Future updates
Theme hosting offer
6 months of support from UX- theme
What is a Flatsome theme studio?
It is the extensive library pre-made layouts and sections ready to be added to your Flatsome site.
It includes excellent design, wireframe kit, one-click demo content, etc.
How to install a Flatsome theme through WordPress?
Download theme from ThemeForest and go to downloads and find a Flatsome and then click on the download button > Extract the zip folder and open the folder called Flatsome-tf, where you will find more folders > Locate Flatsome.zip in Flatsome-tf folder (this is the theme you want to install).
What is included in the new update of the Flatsome Theme?
Here are some features, which you will get in the new update of flat some theme.
WooCommerce Compatibility
Lots of new google fonts
Options to disable blog date
Column border options, etc.
What are the reasons to purchase the Flatsome theme?
The main reason should be your expectations to purchase it still there are some reasons such as:
You can build anything
Unlimited options
Optimized for speed
Selling design
Regular Updates
Should I Buy This Theme?
Conclusion: Flatsome WordPress Theme Review
Flatsome WordPress theme is the perfect time for your shop, company website for all your client's websites agency, or freelancer for the new line it has all the tools needed to create a super-fast responsive website with amazing User experience.
A responsive page builder gives you the ability to create anything without any coding.
We tried to cover all possible features and details in this Flatsome Theme Review. Our team has done good research before writing this.
You can choose this WordPress theme if you wanna build an online store and sell products online.
| | |
| --- | --- |
| Category | Multipurpose WooCommerce theme |
| Starting Price | $59 |
| Key Features | 300+ Layouts, Live Page Builder, Wireframe Kit |
| Verdict | Best Theme for Sell Anything Online. |