Want to improve your website speed or Looking for the best speed optimization plugin then you are at the right place for a FlyingPress review.
FlyingPress is a speed optimization plugin for WordPress and it is developed by Gijo Varghese who has developed other plugins which usually have a 5/5 star rating.
so we thought why not share his Great FlyingPress review?
The FlyingPress is an all-in-one solution for WordPress sites that can improve everything from page caching, and CDA to image optimization. it is a lightweight and easy-to-use plugin that boosts your website's core web vital in a few clicks.
Its Fewer settings to configure help speed up your website should be easy and FlyingPress is capable of all major WordPress hosting providers, themes, and plugins.
FlyingPress is a premium WordPress plugin with all the necessary features like page caching, cache preloading, preload links, optimized database, reduced layout shifts, and many more.
In this FlyingPress review article, you get:
FlyingPress plugin features
FlyingPress plugin pricing and plan
Alternatives to FlyingPress
Who Should Choose FlyingPress
Introduction-
What is FlyingPress
FlyingPress is a plugin for every WordPress blogger or user who wants to optimize their web page speed for an excellent user experience on their website because FlyingPress is the speed optimization WordPress Plugin.
| | |
| --- | --- |
| Plugin Name | FlyongPress |
| Type | WordPress Plugin |
| Starting Price | $60/year |
| FlyingCDN | It's $3 per 100 GB / site/ month |
| Money Back | 30 Days |
This easy-to-use tool helps to improve loading speeds by 300% and it really does make content load faster than ever before.
FlyingPress plugin has more unique features like lazy render HTML elements etc. and perfect integration with FlyingCDN like image compression, global file replications, custom domain & SSL, etc.
With its premium version, you can use FlyingPress with multiple features like preloading links, minify, defer script, lazy load, Optimize google fonts, and many more.
Explore the whole article because the full FlyingPress review helps you to get the right plugin for your website optimization.
Why FlyingPress?
FlyingPress Review
FlyingPress is a performance optimization plugin designed for WordPress websites. The plugin offers a range of features that can help improve website speed and performance, making it an excellent choice for high-traffic websites, online stores, and resource-intensive applications.
They also offer a user-friendly interface that makes it easy to manage website performance.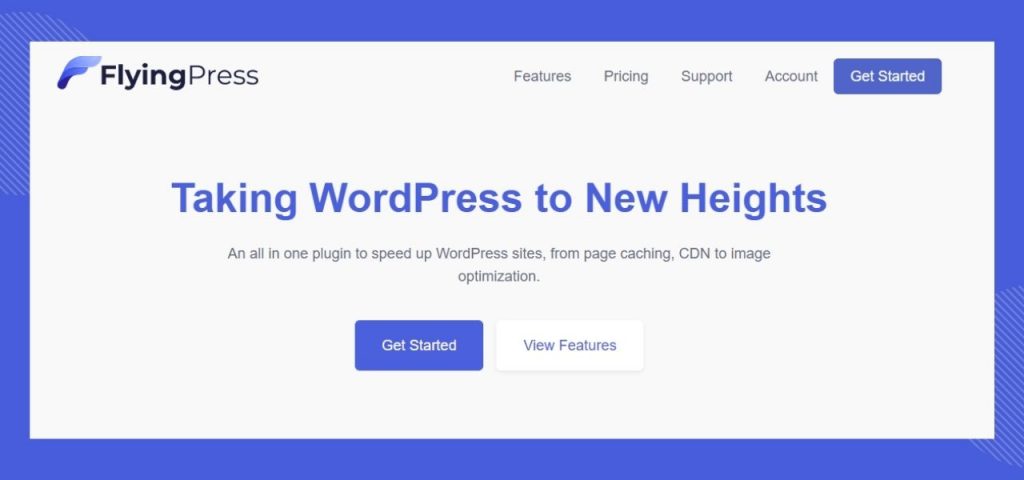 Users can view website performance metrics, such as page load times and server response times, and use the plugin's interface to enable or disable optimizations as needed.
The plugin's dashboard also provides real-time monitoring and alerts, allowing users to stay on top of their website's performance.
Provide Better Features?
FlyingPress Features Review
In the FlyingPress review article, we are sharing all its advanced features in detail.
Page caching servers them directly from your web server and generates static HTML pages. helps speed up application performance and increase efficiency which means can improve your page loading or website loading speed that you need for the best user experience.
Cache preloading can automatically generate new cache pages on your website and when you make some changes or update content on your website that changes you can easily see them on your website instantly you don't need to wait or clear the cache manually.
With this, You can remove unused CSS and generate critical CSS. CSS helps you remove unnecessary comments and spaces from your website that help you to load your website fast.
On your website something goes wrong I will recommend you disable this option and if you are using the features you have enabled the minify CSS files option.
The delay script allows you to execute and load non-critical scripts this is only for user interaction. if users' experience is not good when they scroll the page's content but the delayed script execution was a help to no longer user scrolls the page's content or clicks on a button and browser will not execute any JS scripts.
Preload link can preload a page in the browser before a user or visitor can click on it this generates the best user experience.
And this helps you to increase your website speed because the page gets reloaded automatically.
FlyingPress provide feature like database optimization that help to optimize your website database by cleaning up a database table and also setting them to autopilot mode so you don't need to set it again and again and you can easily optimize your website database.
Google Fonts can deliver the optimal variant for each platform and browser. combine, preload google font and self-host Optionally display fallback fonts.
If you want to optimize google Fonts then use the settings and then optimize the google font screen to configure the plugin.
To gain more users' attention on bloggers or any other websites FlyingPress has to add a new feature in the plugin Lazy Load that can help to lazy load images, HTML elements, videos, and iframes. this feature also helps in improving the website speed or optimizing your website.
FlyingPress adds this feature for the user's or visitor's attention and to increase the website loading time. this feature helps in attributes and missing width means you can add height attributes and missing width to reduce layout shifts caused by images.
The priorities resources feature of FlyingPress gives the first priority to critical resources just as fonts and the above-fold images, to load high priority this can improve the user's impressions.
In the FlyigPress review article, we are also FylingPressCDN to make it easy for you to grab more info about the FlyingPress cache plugin.
Global File Replication
In this File replication, FlyingCDN can copy your files across the different regions and give an unparallel performance on accessing uncached files.
Image Compression
Image compression can optimize images on the fly and easily convert them to Webp no extra disk space is used and original files are intact.
SSL & Custom Domain
In the Custom domain, they automatically provision free SSL and leverages HTTP/2. remove branding and connect your subdomain.
SSD Powerd Server
All of their CDN servers are powered by NVMe and SSD technology to ensure millisecond latencies when serving your files.
30ms Global Latency
FlyingPress FlyingCDN reached most of the areas around the world in less than 30 milliseconds and their global network of 70+ PoPs.
Value For Money?
FlyingPress Plans Review
Configurable speed optimization FlyingPrees are a premium plugin which means they do not offer a free plan to its user they offer four types of pricing and plans that are personal plan, developer plan, professional plan, and Agency.
FlyingPress Provides a yearly subscription on each plan which starts from $60/year. FlyingPress provides a discount on its renewal starting up to $42.
The only difference you can see in its pricing and plan is each plan contain a different number of website.
FlyingPress has 4 pricing plans you can choose any of it which is most suitable for you. review of FlyingPress helps you to choose the right plan for you.
FlyingPress Personal Plan
1 website
Price – $60/year
Renewal – $20
The personal plan is the very first plan offered by FlyingPress which starts at $60/year. you can save your $20 dollar on renewal.
A personal plan is good for beginners. in this plan you will get access to only 1 website. Those who work on only 1 website can purchase this plan and use FlyingPress for all optimizing features.
Personal Plan Pricing
Yearly Subscription $60/year – $42 on renewal.
FlyingPress Developer Plan
5 Websites
Price- $150/year
Renewal – $105/year
This is the second plan offered by FlyingPress which starts at $150/year. you will renew at $105 and save $45.
On purchasing a developer plan, you will get access to up to 5 websites which is more than the personal plan.
This plan is best for the freelancers who handle the 5 websites, and developers, and for a blogger who has more than 1 to 2 websites.
Developer Plan Pricing
Yearly Subscription $150 – $105 on the renewal of this plan.
FlyingPress Professional Plan
50 website
Price – $250/year
Renewal – $175
The professional plan is the third highest plan of the FlyingPress which starts at $250. you can renew at $175.
After buying a professional plan you will receive access to 50 websites that are more personal and developer plans.
Professional Plan Pricing
Yearly Subscription $250- you can renew at $175.
500 website
Price – $500/year
Renewal – $350
The agency plan is the last fourth plan offered by FlyingPress which starts at $500 this is one of the highest pricing plans of FlyingPress. you can renew this plan at $350.
On purchasing an agency plan, you will get access to 500 websites. only in this plan do you get 500 websites.
This plan is best for professionals, developers, and agencies who handle more websites.
FlyingCDN Pricing plan
FlyingPress also offers its FlyingPressCDN plan, so now in the FlyingPress review article, we'll discuss its CDN plans.
FlyingCDN is charged based on your monthly bandwidth usage.
It starts at $3 per 100GB per site. 100GB TO 200 GB for $6, and 200GB TO 300GB for $9, and goes on like that.
| Bandwidth Usage | Monthly Charge |
| --- | --- |
| 0 to 100 GB | $3 |
| 100 to 200 GB | $6 |
| 200 to 300 GB | $9 |
Support And Documentation
In the FlyingPress review post, we also cover its support/documentation. FlyingPress provide 24/7 support to their customers with very kind behavior if you are going through any query related to installation or any other they are free to ask them.
Under their help section, they provide three options for user queries that are
Documentation
Facebook Community
Contact us
Documentation – In their documentation they mentioned already writing articles about users' queries if users face any queries they go to their documentation page and find out solutions by searching in the search box.
Facebook Community – FlyingPress also Facebook community users also feel free to ask any questions about the FlyingPress Facebook group after joining.
Contact us – in their Contact us page you can send your questions, comments, and suggestions. they will get back to you as soon as possible.
For You, Or Not?
Who Should Choose FlyingPress?
FlyingPress is an advanced WordPress performance optimization plugin designed for websites with high traffic and demanding performance requirements.
Here are the key points of who should choose FlyingPress:
Website owners with high-traffic websites that need to improve website speed and performance
E-commerce stores and resource-intensive applications that require optimal website performance
Developers and agencies who need a performance optimization solution for their client's websites
Users who want a user-friendly performance optimization solution that doesn't require any technical knowledge
Those who want a plugin that can automatically optimize images, minify CSS and JavaScript and implement other server-level optimizations to improve website speed and performance
FAQs –
Queries Related To FlyingPress Review
What is the FlyingPress?
FlyingPress WordPress plugin and an all-in-one solution for slow websites because FlyingPress increases the website or page loading time with its optimizing features.
What is the FlyingCDN?
FlyingPree plugin addon the FlyingCDN which helps with image compression and custom domain &SSL.
FlyingPress is better than the Wp-Rocket?
I will suggest you try FlyingPress first then you will easily compare both plugins which one is better.
Does FlyingPress offer a free plan?
No, FlyingPress does not offer the free plan it only has the premium plan starting at $60/year.
FlyingPress has any refund policy?
Yes, FlyingPress gives a 30-day money-back guarantee to its user if any are not happy to buy this plugin.
Looking for More Option?
Alternatives of FlyingPress
We're also sharing the FlyingPress alternatives and a cache plugin if you are also looking for the competitors of FlyingPress then this post is really helpful for you.
A lot of cache plugins are available on WordPress but we are finding the best plugins like FlyingPress which Perform similarly to these plugins.
People search for Similar alternatives to a particular plugin or theme because they are not fully satisfied or happy after purchasing a particular plugin or theme or anything.
They search for better why added this by handing in the article so people can find similar alternatives to FlyingPress.
If you want to try All similar plugins like FlyingPress then you must go through these plugins.
LiteSpeed
W3 total cache
W3 Super Cache
Choose which is better for you.
Our Overview
Conclusion – FlyingPress Plugin Review 2023
In this article, we have discussed the WordPress plugin Flyingpress overview, features, FlyingCDN, pricing and plan, support/documentation, and its pro & cons you'll get the full information about the FlyingPress plugin.
This is one of the fastest WordPress plugins which is help to improve your Website speed, it is a lightweight and easy-to-use plugin that helps to boost your website's core web vital.
It offers many optimization features to optimize your website features as database optimization, lazy load, preload link, minify, reduced layout shifts, optimizes google fonts, and many more.
FlyingPress offers 4 types of different pricing and plans to its users that are personal, developer, professional, and agency. start at $60/year. each plan includes a different number of websites.
It also offers the FlyingCDN pricing starting at $3 per 100GB per site because it is charged based on your monthly bandwidth usage. FlyingPCDN includes image compression, custom domain, global file replication, and many more.
After reading the FlyingPress review article maybe you get the full overview of FlyingPress plugins. we suggest you try this plugin and optimize your WordPress website.