Compare all Top WP Rocket Alternatives and get the Best Cache Plugin. Shared 11 Best WP Rocket alternatives for WordPress Cache, Compare them by Features, Speed, Performance, Web Vitals, and their Price (Free or Paid).
This post will help you in selecting the right WordPress Cache Plugin.
WP Rocket is a premium cache plugin for WordPress. WordPress experts recognize it as the most powerful caching tool.
but, after using this plugin we did some research and found its flaws… Which we will discuss in this article.
Our WordPress Experts have listed the best WP Rocket Plugin Alternatives with all their possible information.
WP Rocket Alternatives:
| | |
| --- | --- |
| No. of WP Rocket Alternatives | 8 |
| Best WP Rocket Alternative | Autoptimize |
| WP Rocket Starting Price | $49/website |
Compare all Top Cache Plugin Speed and Optimization
Compare Cache Plugin Performance
Here we are sharing some screenshots of WP Rocket competitor's Plugin performance and their speed test + Facebook Real Users Poll.
So users can easily find out which is the best cache plugin.
Or which is the right WP Rocket Cache Plugin Alternative?
Have a look here and get a better cache plugin.
Note – LiteSpeed Cache plugin is only available for LiteSpeed Servers.
Select a better Cache Plugin.
Top WP Rocket Plugin Alternatives List
S.No.
WordPress Cache Plugin
Free
Starting Price
Active Install
Visit Plugin site
#
WP Rocket
[Best Cache Plugin]
No
$49/year
2+ Million
Visit Site
1.
W3 Total Cache
Yes
$99/year
1+ Million
Visit Site
2.
NitroPack
Yes
$21/month
100,000+
Visit Site
3.
WPoptimize
Yes
$49/year
1+ Million
Visit Site
4.
Autoptimize
Yes
€299
1+ Million
Visit Site
5.
WP Fastest Cache
Yes
–
1+ Million
Visit Site
6.
Swift Performance
No
$49.99/year
–
Visit Site
7.
WP Performance Score Booster
Yes
–
30,000+
Visit Site
8.
WP Super Cache
Yes
–
2+ Million
Visit Site
8.
Cache Enabler
Yes
–
100,000+
Visit Site
9.
SiteGround Optimizer
(With SiteGround Hosting)
Yes
–
1+ Million
Visit Site
10.
LiteSpeed Cache
(With LiteServer Hosting)
Yes
–
3+ Million
Visit Site
11.
Breeze
(With Cloudways Hosting)
Yes
–
200,000+
Visit Site
12.
NitroPack
yes
$21/year
–
Visit Site
13.
FlyingPress
No
$60/year
145,000+
Visit site
Detailed info about Cache Plugins.
10 Best WP Rocket Alternatives in 2023
W3 Total Cache
Top WP Rocket Alternative
W3 Total Cache helps improve user experience, SEO rankings, and site performance by reducing download times using a variety of features.
Though not completely user-friendly (it has over 16 pages worth of configurations to mess with), it does provide you the ability to tailor your caching needs to suit your website.
A veteran among the caching plugins and still one of the most preferred in the market
Quickly improve your SEO and user experience by installing the W3 Total Cache plugin on your WordPress website. It utilizes a combination of techniques to help speed up things, such as:
Page caching
Browser caching
Fragment caching
Database caching
Object caching
CDN
Minification
Lazy loading of media
Apart from reduced page load time, you'll potentially see a major improvement in search engine rankings and overall site performance. It also improves server performance and helps you drastically cut down on bandwidth usage, thanks to the minification of codes.
This might sound irrational but W3 Total Cache can help you up to your conversion rate as well. All of their features directly feed up your search engine presence and that logically helps you get more visitors. So, it's like an arrow that hits several targets.
I'd recommend jumping onto their free version and taking it ahead from there if it fits your requirements. Nevertheless, you're sure to be impressed by what it has to offer. And it's definitely more than what's mentioned here.
NitroPack is the one platform where you can find all the necessary features to optimize your WordPress website speed as well as also increase your conversion rate and revenue and provide a better user experience.
NitroPack is also available on the biggest platforms like WooCommerce, WordPress, and Opencart. and you get more features like an Advanced caching mechanism, Build-in global CND, CSS & JS compression, and minification
In one platform you get everything to improve your website performance like caching, image optimization, and a CDN ready-to-go out of the box. you get the instant result that saves your time and effort.
Nitropack Pricing:
Nitropack has 1 Free Plan and 3 Premium plans:
| | Free | Business | Growth | Scale |
| --- | --- | --- | --- | --- |
| Website | Shared per account | 1 | 1 | 1 |
| Page Views | 5,000/month | 50,000/month | 200,000/month | 1,000,000/month |
| CDN Traffic | 1GB/mo | 25GB/mo | 100GB/mo | 500GB/mo |
| Team Member | 1 | 3 | 10 | Unlimited |
Users can select a plan based on their website's monthly pageviews, all the Plans have some common features.
For a website beginner free plan is right if they have a monthly 5000 pageviews around. And if you have an established website then select any premium plan.
Visit using our special link and get additional discount on Nitropack plans.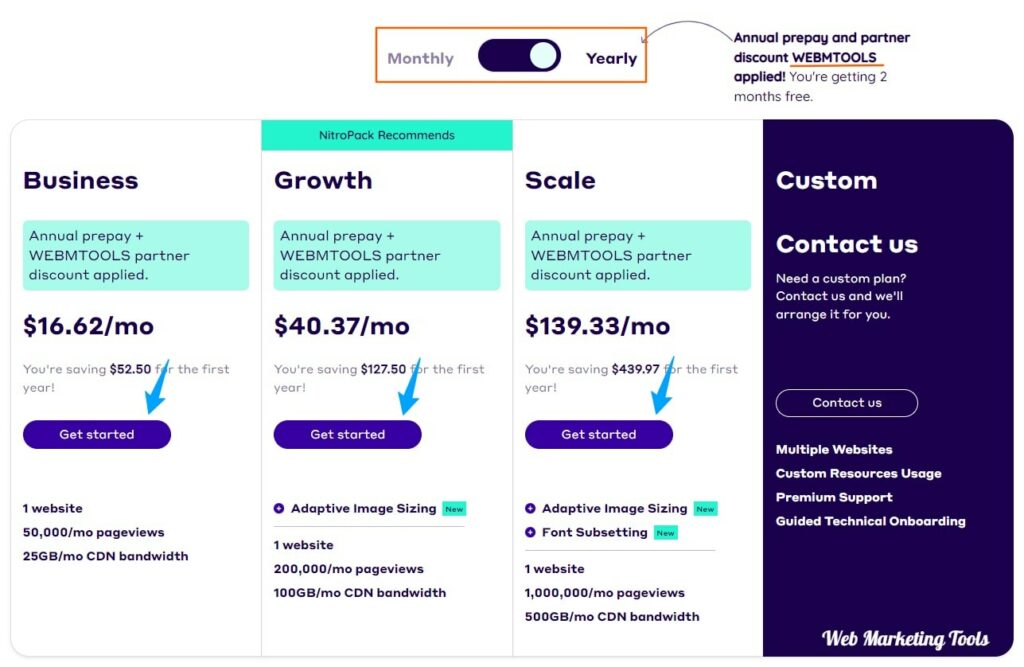 Highlights
World-class proprietary speed algorithm
Provide a better user experience
Advances caching mechanism
Image optimization stack
Everything you need for a fast website
WP Fastest Cache
Top WP Rocket Alternative
WP Fastest Cache is another configuration-free caching plugin designed to make caching and speed improvements easy for all website owners.
That's not to say it doesn't have a boatload of features, however, like mod_rewrite, automatic cache deletion upon post or page publication, and cache timeouts for specific pages.
WP Fastest Cache (WPFC) plugin optimizes your WP site by converting dynamic content to static files.
Highlights
Using mod_rewrite to serve the content
You have an option to turn off the caching for mobile devices, logged-in users, users-agents
Automatic cache purge when page or post is updated
Refresh cache periodically
WPFC is installed on more than 700,00 sites.
WP Super Cache
Top WP Rocket Alternative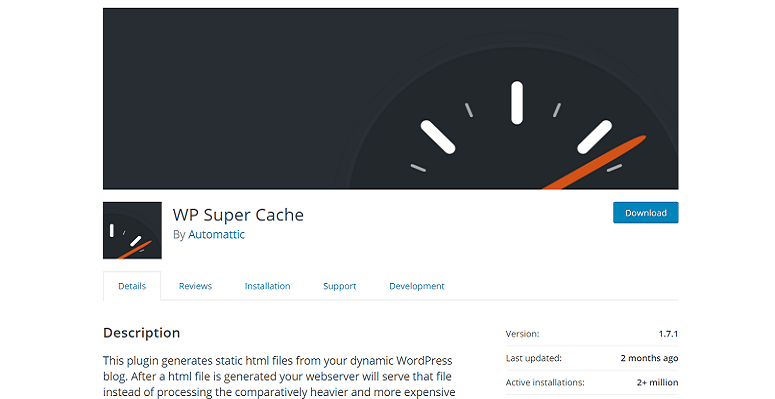 WP Super Cache is the perfect WP Rocket-free alternative. By generating static HTML files from your dynamic WordPress website files, you will always know your site visitors are receiving web content at lightning speeds.
Plus, there are very few configurations to get caught up in.
CDN support
Use mod­_rewrite to deliver static pages
Legacy caching mode to cache pages for logged-in users
Schedule cache deletions
Enable preloading for posts, categories, and tags
LiteSpeed Cache
The best alternative for LiteSpeed Server.
Right now this WordPress cache plugin is popular and working out the form for WordPress sites.
But this plugin is best when you are using a LiteSpeed Server hosting service, Like Hostinger or _.
We would recommend this plugin to WordPress experts who know about Caching and Page optimization best.
It stores a duplicate copy of every web page on your site locally and provides it whenever a request comes. Apart from the server-level cache, it also has a collection of optimization features.
Its configuration is also a little bit complicated like the W3 Total Cache. It has multiple pages to configure and lots of options.
The plugin supports WordPress multisite and is compatible with the most popular plugins such as WooCommerce, bbPress, and Yoast SEO. Plus, it offers both the General and LiteSpeed Exclusive features
Highlights:
Free QUIC.cloud CDN Cache
Object Cache (Memcached/LSMCD/Redis) Support+
Image Optimization (Lossless/Lossy)
Minify CSS, JavaScript, and HTML
Responsive image placeholders
WPOptimize
Top WP Rocket Alternative

Make your web page load faster with Autoptimize.
It's an open-source plugin and works with other caching and popular plugins.
Some of its key features are
Able to minify, aggregate, and cache scripts
Default CSS injection in the page head
Defers scripts to the footer
Minifies HTML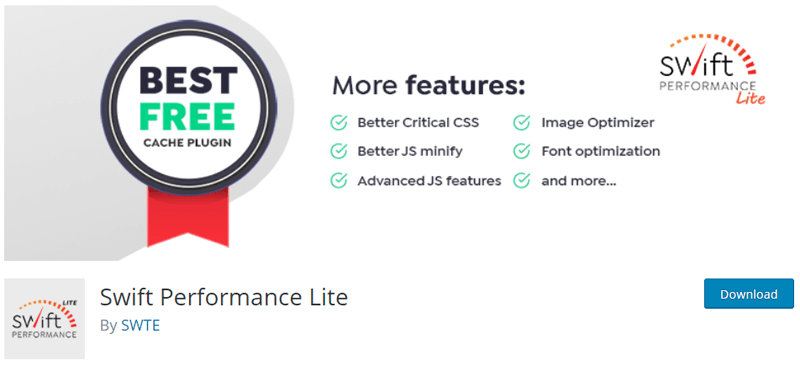 Swift Performance Lite is a free cache and performance plugin for WordPress. With the help of this freemium plugin, you can improve your site's loading speed. It offers an intelligent, modern caching system.
You can even cache AJAX requests, and dynamic pages and add exceptions. Create a better user experience with a super-fast site with Swift Performance Lite!
Cache Preloading Browser Caching CDN Support WooCommerce Friendly Database Optimizer
WP Performance Score Booster
Top WP Rocket Alternative
A little help goes a long way and that is what this tool is all about. WP Performance Score Booster does exactly what the name suggests.
It is able to help you enhance the final performance of your page. This is achieved by using an efficient caching system.
Highlights
Removes query strings
Enable GZIP compression
Leverage browser caching
Autoptimize
Top WP Rocket Alternative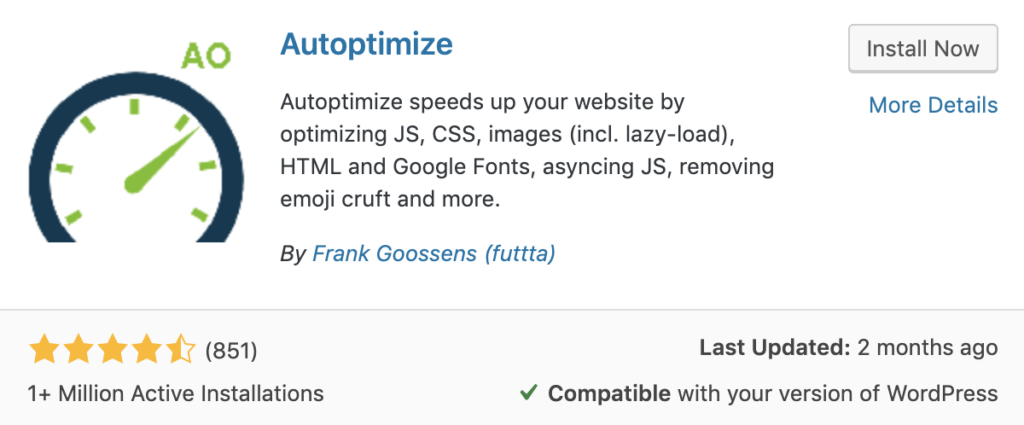 Optimize your WordPress database automatically to make it perform at optimal performance.
Highlights
Removes unnecessary data
Complete control over the area of optimization
Automate optimization by scheduling it weekly
Take a backup prior to optimization so if something goes wrong, you can roll back
Shows potential savings and database statistics
Breeze
Cloudways Integrated Cache Plugin
Breeze Plugin comes with Cloudways hosting for free. It is Integrated into their hosting dashboard. It has multi-level caching & page optimization to make your website faster.
This Plugin can be easily installed from the Cloudways Dashboard or simply installed from the WordPress directory. this plugin also has a CDN option to host your website's static files on the global servers.
It works on the principle of internal or server-side caching like Litespeed cache or SG optimizer.
Its premium feature are varnish cache, which makes your website smooth and visible your content soon as possible.
Highlights:
Simple and User-friendly
File-level Cache System
Database Cleanup
Supports
Varnish Cache
CDN Integration
Cache Enabler
Top WP Rocket Alternative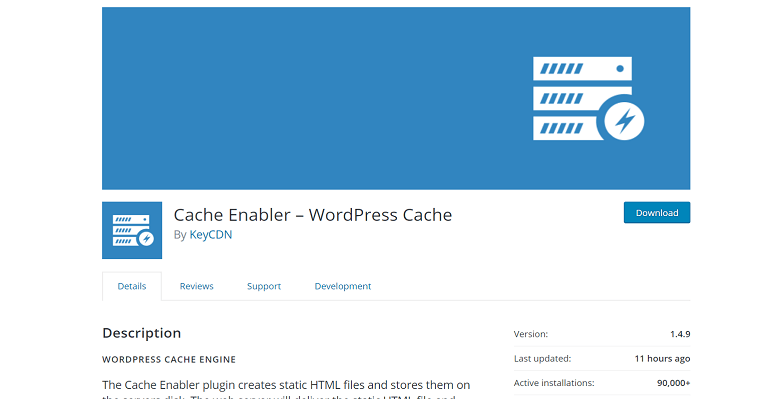 In order to increase your traffic, a reader should be able to find you with ease and access your website within seconds. The best way to do this online is by using caches.
If you are searching for a Free alternative to WP Rocket then you can go with the Cache Enabler plugin, whose free version is almost similar to WP Rocket.
Cache Enabler creates static files to serve the request faster and reduce the server load. It does HTML and inline JavaScript minification.
Highlights
The fast disk cache engine
Automatic or manual cache purge
CPT and multisite supported
FlyingPress is one of the best cache plugins that optimize your WordPress website speed and works with 100% efficiency also boosts your website's core web vitals. you don't need to install multiple plugins because FlyingPress is the all-in-one solution for your website
This is also the best alternative to WP-Rocket, FlyinPress is very easy to use by everyone and it is the best lightweight plugin for WordPress.
FlyingPress has the more amazing features that all need for a faster WordPress site like page preloading, page caching, preload links, optimizing the database, and much more.
The cache plugin also gives many add-on options that boost your website speed like image compression, custom domain, and more.
Highlights
Speed optimization plugin
It is a lightweight Plugin
Very easy use by everyone
Reduce the layout shifts
Boost website core web vitals
Should you pick another Cache plugin?
Conclusion – WP Rocket Plugin Alternatives 2023
Let's finish this post and select the right Cache Plugin for your WordPress site.
To make your selection easy, here I have shared some plugins with good features & their highlights.
This plugin will improve your performance and Coral we vitals that will help you Rank better on Google SERP.
WP Super Cache — Tick a box to enable caching. It also has a few more advanced features, but they're pretty easy to use and the plugin does a good job of marking recommended features.
WP Rocket — activates caching as soon as you activate the plugin, which is super simple. There are a lot of advanced settings in the interface, but the documentation does a really good job of explaining each feature, and you're also free to just ignore everything (you'll still get a big speed boost from just the default settings).
WP Fastest Cache — Enabling basic caching is as simple as checking a box. Looking at the full feature list, it's probably the most complicated plugin on this list. But still, it's much simpler than W3 Total Cache. That's more of a testament to the other plugins than a failure on WP Fastest Cache's part.
Cache Enabler — starts caching right away. This is the simplest, most lightweight option on this list — there are only a few different settings and it's super easy to start using.
Not found a better cache plugin
Try WP Rocket
Product
Specification
Photos
Videos
WP Rocket is a single plugin that you need to optimize your website speed, make your Technical SEO better, and Get a better score for Coral Web …
| | |
| --- | --- |
| Category | WordPress Cache Plugin |
| Starting Price | $49 for 1 Website |
| Key Features | Caching, CDN & Easy to use |
| Verdict | Best Plugin for Better WordPress Performance |
WP Rocket helps you speed up your website by enabling caching. It's a super user-friendly plugin for WordPress that can be installed and used by literally any individual without any technical skills. It launches instantly as soon as you hit the "Activate" button, with no complex settings or waiting time.
With that being said, while it is easy for everybody, there are also deep settings and options that you can choose to configure in order to achieve maximum results.
It uses page caching to speed up your loading time and cache preloading to improve the indexing of your website on search engines. Along with that, you can also make use of their static file compression which decreases the weight of your code with the help of minification.
WP Rocket Plans
Single
Plus
Infinite
Websites
1
3
Unlimited
Support & Updates
1 Year
1 Year
1 Year
Regular Price
$49
$99
$249
Best For
Bloggers
Business Site
Business-Sites
Agencies
Freelancers
Web Developers
Get Single Plan
Get Plus Plan
Get Infinite Plan
Get a best plan for your:

WP Rocket Pricing : Get The Right WP Rocket Plan
Get more ideas and clear your doubts about WP Rocket.
FAQs – WP Rocket Alternatives & Similar Plugin
Which is the Best WP Rocket Alternative?

WP Rocket is the best to cache plugin but there is also some better plugin available that we have shared in this post.

How to Pick the Right WP Rocket Plugin Alternative?

To select the right WP Rocket competitor, check their features, pricing, and configuration. Because some cache plugin has complicated configurations.

Does WP Rocket Provide any money-back guarantee?

Yes, WP Rocket provides 30 days money-back guarantee.
Product
Specification
Photos
Videos
WP Rocket is a single plugin that you need to optimize your website speed, make your Technical SEO better, and Get a better score for Coral Web …
| | |
| --- | --- |
| Category | WordPress Cache Plugin |
| Starting Price | $49 for 1 Website |
| Key Features | Caching, CDN & Easy to use |
| Verdict | Best Plugin for Better WordPress Performance |
Compare all Top WP Rocket Alternatives and get the Best Cache Plugin. Shared 11 Best WP Rocket alternatives for …
Get a complete overview of the Wp-Rocket pricing which starts from $59/year. Check out the Wp Rocket pricing plan with …
Check all the WP Rocket Plans and Pricing.