10+ Best Debutify alternatives 2023 with features, price, and store license. Compare all the Shopify Debutify theme alternatives with its competitors and select the best e-Commerce theme.
Debutify is also the fastest theme of Shopify with a lot of awesome features and Add-on options.
No doubt the Debutify Shopify theme is an all-in-one theme but every theme has some limitations just like Debutify also has a downside which impacts us to find a Debutify alternative.
In This post on Debutify Theme, We are Sharing:
List of Top Debutify Alternatives
Features & pricing of Debutify Theme Alternatives
Why People Search for Alternatives to Debutify
Debutify Post summary:
| | |
| --- | --- |
| No. of Debutify Theme Alternatives | 12 Alternatives |
| Best Debutify Theme Alternative | Debut, Turbo, and Prestige |
| Price Range of Alternatives | $19 – $400 |
| Compare Alternatives By | Price, and Features |
| Competitors Type | Free and Paid |
Top Alternatives to Debutify theme
What Are Debutify Theme Alternatives
Debutify is the free Shopify theme that is master in growing your business fast, creating an online store, increasing your conversion rate, and up your revenue.
In this article, we share all the top Debutify theme alternatives that help you to find out the best Shopify theme with advanced features like ready-to-use niche templates, provide customization options, boost your page or website speed, and also include Add-ons.
Now Let's Come To The Points, What are some best alternatives of Debutify, Here are some best themes-
Debut Theme
Turbo Theme
Prestige Theme
Why Do People Search for Debutify Competitors?
People jump to another theme because they didn't find something better in the previous theme that why people search for something better. Although Debufity Plans are affordable and value for money due to their helpful add-ons.
Debutify also has some cons. may be some others website has more awesome features and option than Debutify.
There are some Cons of Debutify:
Its free version is just fine
Its plus plans are quite expensive
It is a complicated theme for beginners
So, Just check out the best and top Alternatives of Debutify.
Compare And Choose The Better Option
Best Themes Like Debutify Theme
Sr. No.
Theme Name
Key Features
Store License
Starting Price
Get Alternatives
Debutify Theme
Easy to use
3
$49/year
Visit Site
1.
Debut Theme
Free support and theme update
1 store
Free
Visit Site
2.
Turbo Theme
two-speed settings
1 store
$400/one-time
Visit Site
3.
Prestige Themes
Easy Customize Option, unlimited free trial, and free support
1 store
$300/one-time
Visit Site
4.
Motion Theme
35+Add-Ons, and unlimited free trials
1 store
$320/one-time
Visit Site
5.
Booster Theme
Unlimited updates
1 store
$249/one-time
Visit Site
6.
Retina Theme
High-resolution photos, unlimited free trials, and free support
1 store
$240/one-time
Visit Site
7.
Ella Theme
40+ layout options, and 35+ Add-Ons
1 store
$89/one-time
Visit Site
8.
Shoptimized Themes
24/7 support, and theme updater app
1 store
$167/one-time
Visit Site
9.
EcomSoild Themes
Up to 40+ product pages, Theme templates, and 40+ Add-Ons.
1 store
$19/month
Visit Site
10.
Wokiee Theme
90+ layout options
1 store
$89/one-time
11.
Konversion Theme
free/updates/support, and 20+Add-ons
3 store
$167/year
Visit Site
12.
Warehouse Theme
35+Add-Ons, unlimited free trials, and free support
1 store
$300/one time
Visit Site
Choose the best theme for you
Best Debutify Alternatives and Competitors
Here we share the 10 best Debutify alternatives with their pricing plan and features so, you can choose the right theme for you.
Debut is the Completely free theme of Shopify, you are free to use the Debut theme for totally free.
This free theme allows you to build your online store, and professional pages, upload products and create your store ready to gain recuse through an increasing rate of conversions.
Debut can easily rearrange your store layout and you can start selling on your store right away without making a lot of customization on your theme.
It is a flexible theme that is suitable for all inventory sizes and stores. this is very easy to use.
Debut Features
Predictive search
slideshow
promotional banner
Customer testimonial
Product recommendations
Home page video
Product Filtering
Suitable for small catalogs
Turbo is not a free theme it is the premium theme of Shopify that has the potential to skyrocket your e-commerce store to the next level. this is also the best Debutify alternative.
Turbo is the most popular theme of Shopify has the best conversions and the Turbo is a perfect fit for Shopify Plus merchants. the theme comes with multiple customization options like mega menu and usage of submenu which are suitable for your business needs.
This theme includes more powerful tools like infinite scroll, Testimonials, product sliders, etc. which are all are need to grow your online business.
Turbo Theme Features
Advanced mega menu
Recently viewed product
Advanced page layout
Multi-page filter
Quick shop
Predict search
Infinite scroll
Gallery page
Interactive mini cart
And more
Advanced mega menu
Recently viewed product
Advanced page layout
Multi-page filter
Quick shop
Predict search
Infinite scroll
Gallery page
Interactive mini cart
And more
Turbo Theme pricing
Lifetime/one-time fee: $400/lifetime – 6- built-in layout styles, 10+Add-Ons, two-speed settings, and a 14-day money-back guarantee.
The prestige theme is one of the awesome Shopify themes and it offers the only paid plan or it is the premium theme with a luxurious and high-end design to highlight your products and brand.
Prestige is created or designed by the maesteooo in France. they also published other popular themes but prestige is the most popular theme among them.
This theme offers 35+ built-in Add-Ons, so you might still need to install outside apps, customizations, aesthetics, high-resolution photos, and prestige is best for the beauty and fashion industries.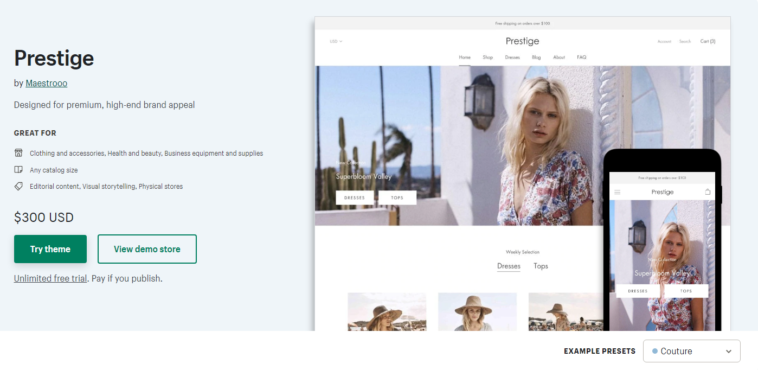 Prestige Theme Features
Cart and checkout
Cart notes
In-store pickups
Slide-out cart
Product discovery
Collection page navigation
Enhanced search
Mega menu
Product filtering and sorting
Recently viewed
Recommended products
Sticky header
Marketing and conversions
Blogs
Cross-selling
Customizable contact form
FAQ page
In-menu promos
Press coverage
Product badges
Product reviews
Promo popups
Recently viewed
Recommended products
Stock counter
Store Locator
Merchandising
Animation
Color swatches
High-resolution images
Image hotspot
Image rollover
Image zoom
Product options
Product tabs
Product videos
Size chart
Slideshow
Usage information
Prestige Theme pricing
One-time payment/Lifetime: $320/one-time – 35+Add-Ons, one store license, High-resolution photos, Unlimited free trial until you publish, and Free support and theme update.
Motion the Shopify theme with you can start your online business effortlessly, it is also the premium theme of Shopify which is more focused on Visual brandings like animations and videos.
The theme is designed and developed by Archetype with a lot of advanced features that is a fully customizable theme with 100+ templates and 50+ elements that is optimized for your store or website and business.
Motion theme is more suitable for fashion and clothing stores. There are three styles available classic style, Elegant style, and Minimal style that will bring your brand to life.
Motion Theme Features
Mobile optimized
Product Quick review
Designed by Shopify pros
Enhanced product filtering
Visual Story creating
Focused on animation and video
Motion Theme Pricing
Lifetime/One-Time payment: $350/one-time – 1-store license, 35+Add-Ons, Unlimited trials until you publish, free support, and theme update.
The Booster theme of Shopify is supported and designed by Clean Canvas with multiple features and functions with a strong focus on CRO functionalities and sale-boosting.
It is the most beautiful theme that a responsive clean layout and page design. with this theme, you can create one or two product stores as well as a mini sales funnel.
Booster theme price is affordable you save more money by don't have to add so many Shopify apps to their store.
Booster theme features
Mobile Optimization
Currency Converter
Sales notification
Upsell
Cassell
Countdown timer
Customs promotional tiles
Image Hotspot linking
Booster Theme pricing
Yearly Subscription: $248/year – 20+ Add-Ons, 1 store license, unlimited updates, and Limited support for lifetime access users.
Retina the Shopify theme is designed and supported by the sandbox team with the purpose of showcasing your product with refined styling and bold imagery and it is easy to customize the theme.
It is one of the outstanding themes which comes with a lot of outstanding features like featured promotions, logo lists, customer testimonials, full-width slideshows, and many more.
The retina is a good alternative to Debutify and it is one of the best-selling themes of Shopify with Retina you create a Shopify store within minutes.
Retina Theme Features
Special page templates
Multi-level menu
Dismissable promo banner
Customers Testimonials
Product filtering
SlidOut cart
Related product
Versatile sidebar
Google map
Retina Theme Pricing
One-time/lifetime payment of $220/one-time – one-store license. 25+ add-ons, free updates and support, and an unlimited free trial.
This Shopify theme is also a good Debutify alternative theme, Ella theme is designed by the halothane team he is a powerful Elite Author in the Envato marketplace.
Ella is the most popular theme of Shopify on ThemeForest and tops the 3 weekly best-selling e-commerce themes. this includes many awesome features that can boost your online stores such as 22+ Homepages, 12+ layouts options product pages, multiple headers, and footers.
This is also the premium theme of Shopify.
Ella Theme Features
Impressive header and footer design
Customization on all page
The cart features to boost sales
Multiple layout options
Mobile responsive
Product Countdown
Size chart option
Product custom tab
Ella Theme Pricing
One-time/Lifetime fee $79/one-time – 40+ layout options, 35+ Add-ons, 1 store license and 6 to 12-month support.
Shoptimized is one of the best alternatives to the Debutify theme. this theme is most loved by all types of owners like jewelry stores, fashion, dropshipping, print-on-demand, supplements, pets, high-ticket, CBD, outdoors, and more.
This theme is also a favorite theme of big or small eCommerce brands and It helps improve your Average Order Value, conversion rate, and SEO. That's why it's loved by brands the world over.
You can start selling today with a Shoptimized theme.
Shoptimized theme Features
Top menu navigation
Easy Customization
Social sharing icons
Shoptimized Theme Pricing
Annual License– $199/month
Lifetime License– $299/month
EcomSoild is an all-in-one design solution for online store creators, and brand developers. EcomSoild is Empowering 5000+ Shopify sellers worldwide.
Info: This Theme is no More Available.
It is very easy to customize all the elements which We want for my theme. this theme includes sales booster Add-Ons this is one of the real reasons to purchase EcomSolid.
The theme is built for global online selling and offers integrations like currency converter, email pop-ups, social proof, and more. we recommend EcomSolid for everyone who is a newbie in eCommerce
EcomSoild Theme features
Fully Customizable
Visual Editor
Sales booster Add-Ons
Seamless integrations
Gem pages page builder
Fast theme
EcomSoild Theme Pricing
Free Plan – Access all theme libraries, publish 5 pages, Email/live chat, and Add-library.
Growth Plan $19/month – published 40 pages, no watermark, Add-Ons library, and email/live chat.
Advanced Plan $39/month – Access all theme libraries, published 40 pages, no watermark, Add-Ons library, and custom task.
Wokiee is a quite fast theme and a good alternative to Debutify theme. the theme is very versatile in nature and allows you easily build multi and single-product shops.
Wokiee theme provides a lot of home page layouts and multi-header options that help you build an easy and fast eCommerce store online.
All eCommerce Apps and features are included.
Wokiee Theme Features
86+ Homepage Layouts
6 Product page variants
7 Collection page variants
Numerous header variants
Footer Combinations
Megamenu
3D, VR, Youtube video
Wokiee Theme pricing
Regular License $79 – included: Quality checked by Envato Included: Future updates Included:6 months of support from p-themes.
Konversion is the best theme of Shopify with the modern ul, user-friendly UX, and vast assortment of options and features to make a highly customizable store effortless.
It is a highly customized theme that is designed for optimized your e-commerce stores.
It helps you to increase your store Conversion rate, more user interactions, fast speed, increase your total sales, less bounce rate, and thereby increase your revenue.
Konversion Theme features
Currency Switcher.
Page Builder
Countdown Timer.
Newsletter Popup
Deal of the Day.
Uploader App Plugin
Announcement Popup.
Upsell Popup.
Konversion Theme Pricing
Single license $197 – Get 1 store license, Free updates for 1 year, Free support for 1 year, Updates & Support renewal ($99/y), and a 15-day money-back guarantee.
Buy 2 Get 1 Free $394 – Get 3 store licenses, Free updates for 1 year, Free support for 1 year, Updates & Support renewal ($99/y), and a 15-day money-back guarantee.
The Shopify theme warehouse design by maestrooo with a lot of customization options/designs. it is a more flexible theme and best suited for merchants who have large catalogs of products to display.
The warehouse has standard features like announcement bars, popups, promotion tiles, and others, to drive more conversions.
Warehouse Theme Features
High-resolution images
Color Swatches
product tab
Product options
Shipping/delivery information
Slideshow
Usage information
Warehouse Theme Pricing
One-time payment $320/one-time – 35+ Add-Ons, one store license, unlimited free trial, and free support/updates.
Our Opinion-
Conclusion – Debutify Theme Competitors 2023
Overall, in this article, we discussed all the 12 best alternatives to the Shopify Debutify theme with their overview, features, and pricing that help you to pick the right and most suitable Shopify theme for you.
All the themes we listed here are the most popular themes of Shopify that contain a lot of outstanding features, Add-Ons options, page builders, header and footer builders, and Integration with plugins, and provide tutorials that include all the necessary features that need to build your e-commerce stores.
All these Shopify themes provide 24/7 support and updates, and most of the themes provide unlimited free trials.
At the end of this post, we just want to say that we have mentioned all the detail that will help you to choose the best Debutify Alternatives.
We Recommended you try Debut, Turbo, and prestige to build your online stores in minutes.
Product
Specification
Photos
Looking for the world's smartest eCommerce theme then you are at the right place. Your time is so precious, that you don't want to spend hours …
| | |
| --- | --- |
| Category | Shopify Theme |
| Starting Price | $29/month (Monthly Subscription) |
| Key Features | For Multiple Stores and 50+ Add-Ons |
| Verdict | Amazing Theme to Boost the Shopify Store. |
Debutify is an awesome theme of Shopify most trustable by e-commerce brands, retail brands, and dropshipping brands. it is also the free theme of Shopify that is highly optimized for getting higher revenue and conversions.
This provides many fantastic features for your online stores like outstanding website design, many tutorials, a lot of conversions Add-ons, and many more. that is why this is the most selling theme of Shopify.
This theme can also be used in Shopify Free Trial, New users can try this theme to build the Shopify Store, Manage Products, and check its functions.
Debutify Theme Features
Customizable Layouts
Currency Converter
Product Slider
Customizable Slideshow
Customizable Header and Footer
Guarantee Bar
Product Displays and Descriptions
Product Testimonials
Debutify Theme Pricing
Free Plan $0 – 1 store license, and basic support.
Starter Plan $$29/month – 1 Click integrations, Advanced support, Access to

up to 5 add-ons, and 1 Store license.

Pro Plan $79/month – Everything in starter plus, one Store, license Access up to 30 ADD-ONs, Advanced support, and One-click integrations.
Enterprise Plan $149/month – Everything in pro plus, 1-click Integrations, Access to all ADD-ONs, 3 Store licenses, and VIP Support.
Which is the best Debutify alternative?

We recommended you choose Debut, Turbo, and prestige are the best alternatives to Debutify.

Why should I look for Debutify Alternatives?

To get better-optimized themes you should look for the Debutify alternatives to increase conversion rates and generate more revenue.

Is Debutify a good theme?

Yes, Debutify is the best and freemium theme of Shopify with 55 Add-Ons options that can help you to attract customers and increase sales and revenue.

How can I use Debutify is free?

Yes, you will use the Debutify theme for free because Debutify offers a Free Plan and a 14-day Free Trial for the top-tier Enterprise Plan.
Get to know more about Debutify pricing and plan 2023 and choose the right plan for you. compare each plan's features …
Avail Debutify Coupon 2023 to get a 25% Discount and Save up to $447. Latest and Working Debutify Promo Codes and …
Get a 25% Discount on Debutify and Save up to $447.
10+ Best Debutify alternatives 2023 with features, price, and store license. Compare all the Shopify Debutify theme …