Get the Top 10 ClickFunnels alternatives and some Similar platforms of 2023. In this article, we'll compare all the free and paid alternatives of ClickFunnels with their features, prices, and ease to use, so you can decide to choose the right ClickFunnels competitor.
Are you searching for ClickFunnels alternatives and competitors?
We have created a list of the top 10 tools like ClickFunnels for you, and compared all the ClickFunnels competitors with their pricing and features, we have also mentioned paid and free alternatives so you can select the right alternative.
ClickFunnels is an online platform that enables digital marketers and e-commerce to build sales funnels. It's a vital pathway to getting sales leads and selling products or services.
But some of the points this tool lacks in many ways that's why people looking for alternatives.
So, now in this post, we will share the best ClickFunnels competitors so you can choose the best all-in-one platform in 2023.
Let's Start
What are ClickFunnels Alternatives?
ClickFunnels are alternatives to those parallel or similar tools that define the same features, prices, and functionalities. ClickFunnels is an online course/Community builder, sales funnels builder, and marketing platform.
This product is owned by Etison LLC a saas company that provides digital solutions to convert into professionals. ClickFunnels have some major products like FunnelsFlix, Drag and Drop visual editor, and split testing.
ClickFunnels is a powerful and simple tool that you can build webpages online and those webpages can be anything you want. whether that's a landing page for a product a free guide or a page trying to get people to sign up for a webinar.
The best thing is that users can access this platform for free offering 14 days of the selected plan.
There is no doubt that Clickfunnels has earned great success in the digital marketing ecosystem. Below we have mentioned some of the ClickFunnels alternatives you can enable to use.
Pros of ClickFunnels:
Very intuitive and easy to use.
Automatic mobile optimization.
Sales analytics are available for making business decisions.
Cons of ClickFunnels:
Pricing Plans are quite Expensive
Email marketing is clunky and not easy to use
Customer support needs some improvement
Top Alternative List to Compare.
Best ClickFunnels Competitors & Alternatives
| | | | | |
| --- | --- | --- | --- | --- |
| Sr. No. | Top Platforms | Starting Price | Free Plan/Trial | Visit Site |
| 1 | GetResponse | $19/mo | 30-days free Plan | |
| 2 | Leadpages | $49/mo | 14-days Free Trial | |
| 3 | Unbounce | $99/mo | 14-days Free Trial | |
| 4 | ActiveCampaign | $9/mo | 14-days Free Trial | |
| 5 | GrooveFunnels | $42/mo | Free Plan | |
| 6 | Thinkific | $49/mo | Free Plan | |
| 7 | Kajabi | $149/mo | 14-days Free Trial | |
| 8 | Samcart | $59/mo | 7-days free Trial | |
| 9 | Instapage | $299/mo | 14-days Free Trial | |
| 10 | LearnWorlds | $24/mo | 30-day Free Trial | |
Choose the best option for you.
Top 10 ClickFunnels Alternatives
These are the best ClickFunnels alternatives which are the same in key features and prices.
GetResponse
Best Alternative of ClickFunnels
GetResponse is a Web-based Email Marketing Tool that helps business owner to build permission-based mailing lists, maximize conversion ratio, increase profitability and enable building customer confidence.
With this CickFunnels alternative, you can create a solid landing page and marketing automation to earn more than you ever did before.
Creating high-converting marketing campaigns can get quite stressful, from sending personalized emails, to inbound marketing generating leads.
So, getting an all-in-one marketing platform at an unbeatable price is a dream true for your business and that's exactly why you should choose this amazing tool from the list of ClickFunnels alternatives.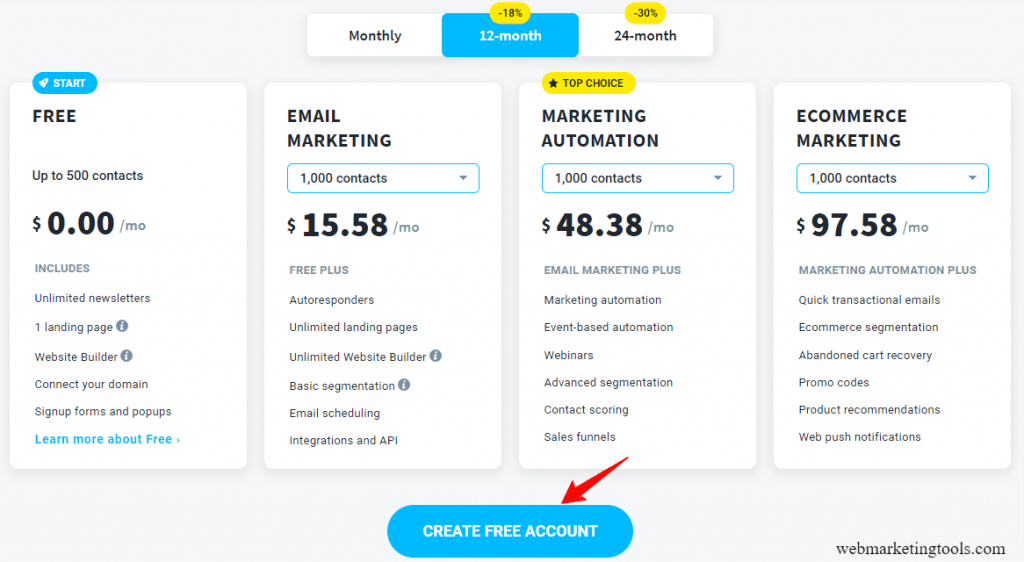 GetResponse Features
Built-in landing page builder for fast, easy website development
Complete marketing webinar software for easy set-ups
Integrated platforms (Zapier, PayPal, Shopify, etc.)
Inbuilt forms and pop-ups to create sales funnels
Marketing automation tools for upselling via shopping carts
Automated response system for fast communication
Reliable statistic system
A/B Split testing
GetResponse Pricing & Plans
This nearest ClickFunnels alternative, GetResponse comes in 3 Monthly Plans Which is:
#Essential Plan $15.58/mo: With this plan, you can access some basic features like Unlimited newsletters, Basic segmentation, and Autoresponders, you can try 30 days free.
#Pro Plan $48.38/mo: Everything you need to create targeted email campaigns with the features of Marketing automation, Event-based automation, Webinars, Advanced segmentation, Contact scoring, and much more.
#Premium Plan $97.58/mo: This plan will help to sell your products and promote them with advanced features like Quick transactional emails simple, Ecommerce segmentation, Abandoned cart recovery, Product recommendations, and Web push notifications.
Why use GetResponse as an alternative
One of the popular alternatives of ClickFunnels is a game-changer marketing platform. It comes with a cheap plan and contains all features. GetResponse definitely takes the lead as a solid ClickFunnels alternative.
This hybrid funnel builder and email marketing tool is an excellent choice if you want to automate your campaign goals from a single platform at a cheaper rate than ClickFunnels.
Leadpages
Best in Interface
Leadpage is one of the most popular and affordable landing pages out there, it makes great solutions for online businesses all over the world.
This is one of the most hybrid competitors of ClickFunnels for entrepreneurs who mainly want to create high-converting landing pages and websites, rather than a suite of sales funnel features.
Leadpages was designed to be accessible, Leadpages is too comfortable to use the tools and services.
Leadpages Features
The ability to create pop-ups and alert bars
A landing page and website builder
A library of pre-made templates
Real-time guidance and easy-to-understand analytics
More than 1,000 code-free integrations
A/B split testing
Free hosting
Device-specific previews
SSL encryption and GDPR compliance
A checkout feature that lets you sell products and services online
Free trial
Leadpages Pricing & Plans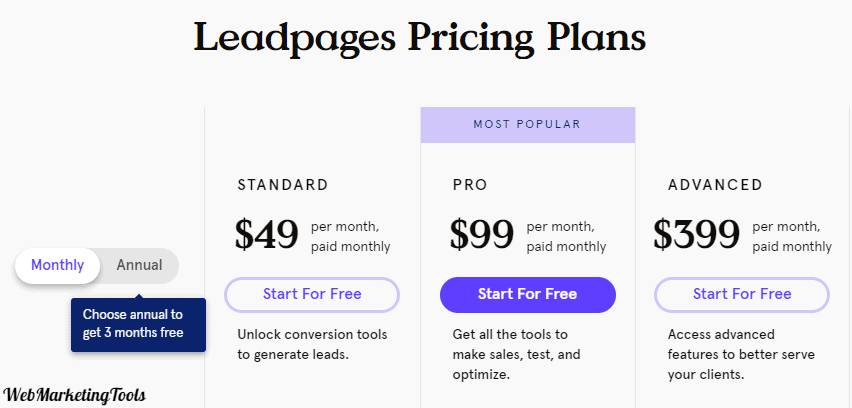 Leadpages has a free 14 days trial for new users. There are 3 types of plans available:
1. Standard Plan $37/mo: Unlock conversions to generate leads with Unlimited traffic & leads, Free Hosting.
2. Pro Plan $74/mo: Get all the tools to make sales, test, and optimize in this plan.
3. Advanced Plan $299/mo: Access the advance to better serve your clients. Priority Phone Tech Support and use all Leadpages features with full potential.
Why it is Leadpages over tools like ClickFunnels?
To be fair, each tool serves a specific purpose. both tools have differences, and there are many ways in which two of these tools overlap between many ways.
To draw a comparison, it is important to understand what each software does. We will begin with Leadpages to create amazing sales funnels and generate leads to convert them into customers.
Unbounce
Best in landing pages
Unbounce is one of the best creative landing page platforms on the market due to their proitize cutting-edge and comes with AI-powered features.
They also have an outstanding tool that users can choose between their basic marketing service or take advantage of their advanced lead generation features and complex analytics.
Unbounce an all-in-one platform, allowing businesses to create a beautiful functioning landing page that can capable to convert them. And the best thing is that you don't need to hire any developer to create them.
Unbounce Features
Drag-and-drop landing page builder
A pop-up and sticky bar creator
Landing page templates
Unlimited Users & Domains
Dynamic Text Replacement (This helps with PPC)
GDPR Compliance
SSL Encryption
Stock Photo Library from Unsplash
Mobile Optimized Landing Pages
Access to More than 100 Landing Page Templates
Unbounce Plans & Pricing
Launch Plan $90/mo: you get the mobile-responsive builder, fully customizable templates, real-time conversion analytics, and plenty of integrations.
Optimize Plan $135/mo: It also includes A/B testing, Smart Traffic, and other conversion tools.
Accelerate Plan $225/mo: Unlimited landing pages, sticky pop-ups, and Domains.
Concierge Plan $575/mo: High number of conversions, visitors, Dedicated successful team.
Why Unbounce is a better ClickFunnels alternative?
Both landing page software platforms are fairly straightforward and easy to use given drag and drop configuration.
The page editor also works in the same ways making this a close one. Both are tough competitors in the online platform.
ActiveCampaign
Best in Advance Email Marketing Automation
ActiveCampaign is an all-in-one online marketing platform, this amazing software offers users great email marketing features highly effective, sophisticated marketing, and sales automation.
This tool has some great capabilities to provide users to create mobile responsive pages, popups quizzes, forms, and no code visual editor to give an n outstanding marketing results to the users.
ActiveCampaign is a remarkable competitor from this list, Now we will discuss their features.
ActiveCampaign Features
Powerful marketing automation
A drag-and-drop email builder with a library of email templates
SMS marketing
Email list segmentation features and contact scoring
In-depth email, automation, and conversion reporting
Custom-branded forms and landing pages
Ecommerce store integrations
Facebook custom audiences
Website personalization and custom domains
ActiveCampaign Pricing & Plans
ActiveCampaign has 3 Plans which are mentioned below: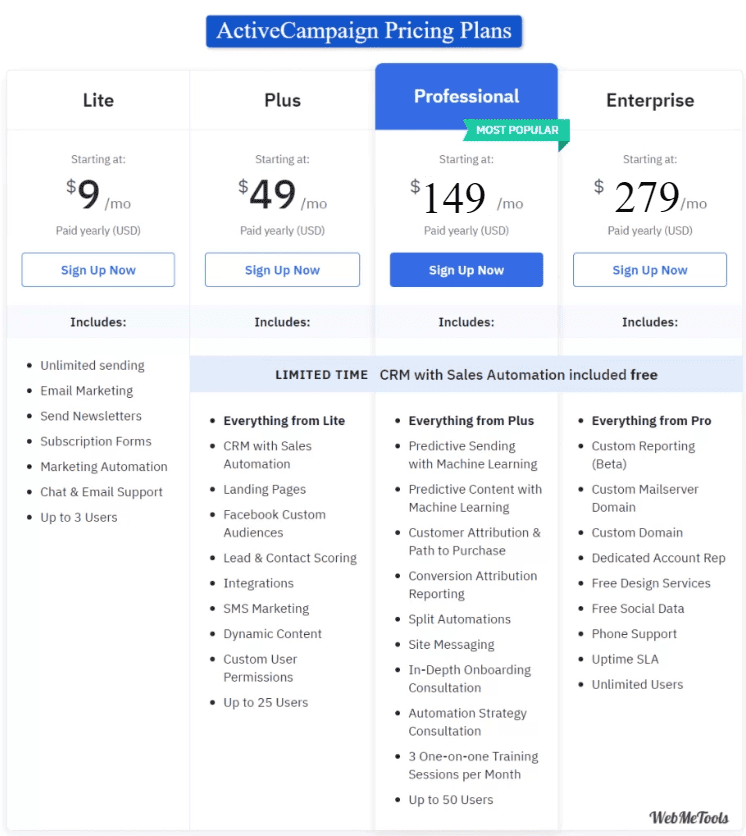 Lite Plan $29/mo: It comes with Marketing automation, unlimited email sends, and subscription forms.
Plus Plan $49/mo: You can access this features like Landing Pages, Mobile Campaigns, and SMS Marketing.
Professional plan $149/mo: Website Personalization, Predictive Sending, Split Automations.
Why is ActiveCampaign a ClickFunnels Competitor?
There are lots of similarities between these marketing platforms ActiveCampaign and ClickFunnels are more focused on the core features to provide the best services and products to the users.
Those who want a great email marketing platform with some of the most advanced marketing automation on the market.
Then this is the best one for you. AcitveCampaign covers all the technical hosting and maintenance to security and updates.
GrooveFunnels
Best in Design
GooveFunnels made it to our top free ClickFunnels alternatives for its basic plan and online selling capabilities, you have also got a landing page builder that makes it easy to create sales pages and high-converting webpages.
With GroovFunnels, you have everything you need to create high-converting marketing campaigns that help to sell your online marketing products and services.
Its digital marketing platform features a simple and efficient email marketing automation that helps you to build a relationship with the customers.
GrooveFunnels Features
High-converting landing pages and funnel software
Powerful video marketing tools
Built-in email marketing platform for automation
Automated sales process
Behavioral-based email marketing automation based on tagging
Sell products online with 1-click upsells.
Marketing automation tools
GrooveFunnels Pricing & Plans
Free Plan: Unlimited Blogs, Unlimited Pages, Unlimited Custom Domain, and much more.
Creator Plus $42/mo: 3 membership sites, 3 Automated webinars, 10000 contacts, and also included free plan features.
Premium Plus $99/mo: Automated Webinars, Unlimited Emails Sendings, Unlimited Membership Sites.
Premium Plus Lifetime $2497 (One-time payment): 40% Affiliate commission, Unlimited Webinars, unlimited email sends, and much more to access.
Why GrooveFunnels is a better alternative?
GrooveFunnels is one of the newer sales funnel builder platforms, and it has created a big buzz among sales professionals for its low price and a great number of tool collections.
GrooveFunnels takes a 360-degree view and offers video/webinar hosting, membership sites, landing pages, e-commerce websites, blogs, and marketing campaigns apart from sales funnels
Thinkific
Best in Course Builder
Thinkific is one of the most powerful platforms to transform your teaching skills into courses. Build your own content and create courses and make a schedule for sale.
While using Thinkific you can construct sight and sound courses, install live video, live stream, gamify your course, fabricate endorsements, and able to access lots of services.
Thinkific has great integration with ConvertKit for email marketing, WordPress for blogging, and leadpages for landing pages.
Thinkific Features
Drag and Drop Course Builder
Assessments & Certificates
Membership Site Builder
Cohort Based Classes
Advanced website code editing
Thinkific Academy Advanced courses
Bulk enrollments
Thinkific Priority support
Custom domains
Thinkific Pricing and Plans
Thinkific has 4 plans which are mentioned below: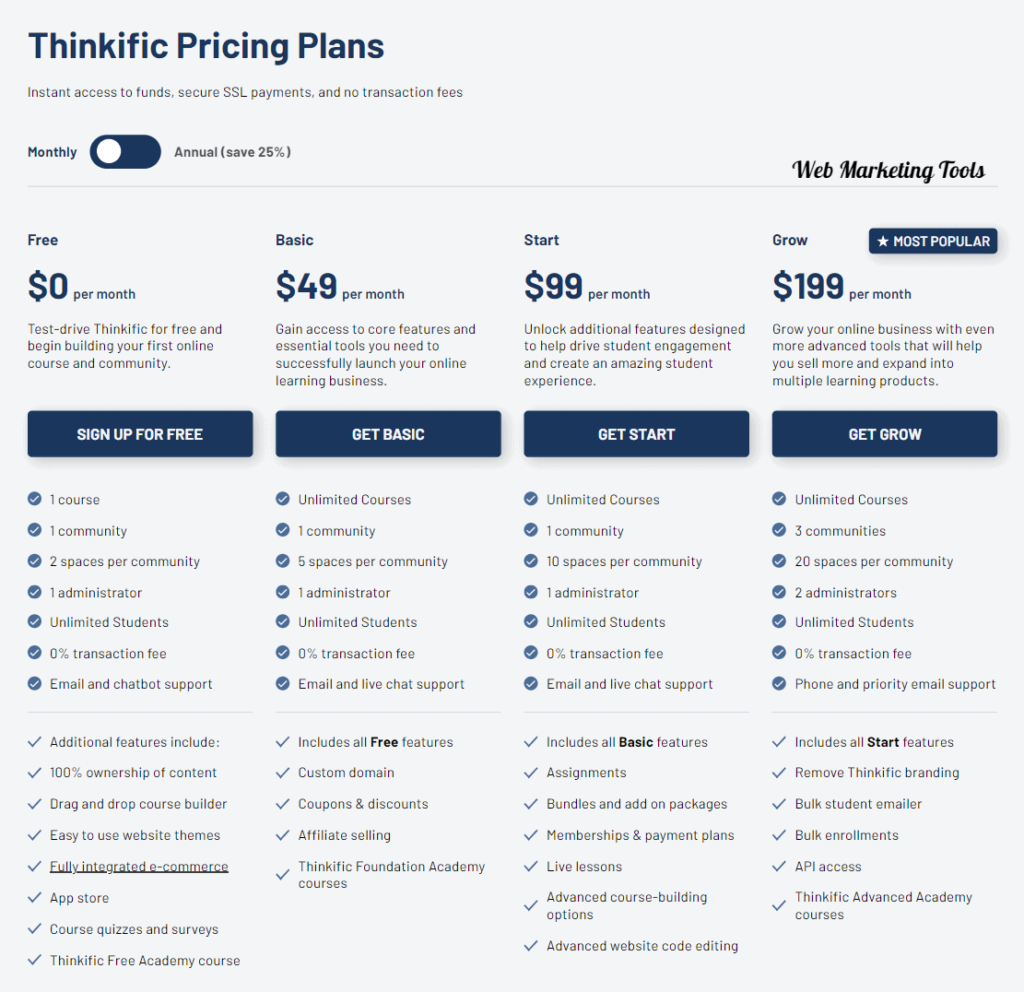 Free Plan: With basic features like – Email and chatbot support, Unlimited Students, and 1 community.
Start Plan $74/mo: Unlimited Courses, 1 administrator, Email and live chat support, 0% transaction fee.
Grow Plan $149/mo: Includes all Start features, API access, Remove Thinkific branding, and 3 communities.
Expand Plan $374/mo: Includes all Grow features, Custom SSL Certificates, and 5 administrators.
Why Thinkific is the best alternative to ClickFunnels?
No, need to mix things up between these amazing online platforms. Thinkific is best with powerful course-building, memberships, and Digital Downloads.
It's an excellent tool available for educators to consider, Moreover, entrepreneurs and coaches will also be able to use this tool easily and get the best result from it.
This tool is quite popular because of its user's friendliness to provide the best services and configurations to the users.
Kajabi
Best in Automation

Kajabi refers to itself as an in-one online course-building platform to give the best educational content to the audience, they always focus on the course and coaching program creation.
It works in the digital product realm such as Memberships, Coaching programs, e-books, and podcasts. And so on that, they have some ability to create your products and sell them on Kajabi.
It also has strong email capabilities and seamlessly integrates the third party to help you get the most out of the platform. It's an all-in-one package to serve the best online services to the users for creating and earning benefits.
Get your with amazing integrated platforms like Paypal, Stripe, and many more, from recurring to a one-time payment. Kajabi is always known for his powerful tool to give the best products and services to the audience.
Kajabi Features
100 Products
100 Funnels
Unlimited Landing Pages
Unlimited Marketing Emails
100,000 Contacts
250,000 Active Customers
3 Websites
25 Admin Users
Kajabi Pricing & Plans
Basic Plan $119/mo: Webinars & Events, Ready to Use Templates, Assessments, Automations.
Growth Plan $159/mo: Affiliate Program, 15 Funnels, 10 Admin Users, 15 Products.
Pro Plan $319/mo: Remove Kajabi Branding, Code Editor, 100 Funnels, and 3 Websites.
Why Kajabi is a good alternative to ClickFunnels?
You really are spoilt for choice these days when it comes to choosing the best sales funnel builder and email marketing automation for your online marketing business.
Kajabi such as very useful features that works all in one tool to provide all the configurations and it comes with simple and easy-to-use features to give the best performance to the users.
It comes with a drag-drop editor and also customizing options to create your own interface.
Samcart
Best for e-Commerce
Samcart is a focused e-commerce product-selling platform to consider to provide the best product and services rather than giving users the store overview.
 SamCart gives eCommerce stores the ability to create sales pages, order bumps, upsells, clean-cut checkout processes, and much more. You will love the interface, all the features are neatly arranged and updated.
You can easily get started with the platform with no prior knowledge to run the platform. Samcart is good in many ways to give the best e-commerce tools to create and maximize your business.
Samcart Features
Cart abandonment conversion
Subscription Saver (dunning)
Affiliate center
Built-in A/B testing
Automated/scheduled executive insight reports
Multiple customer payment options
Custom checkout fields
On-demand executive reports
Weekly webinars
Samcart Pricing & Plans
Samcart has three different plans which are mentioned below: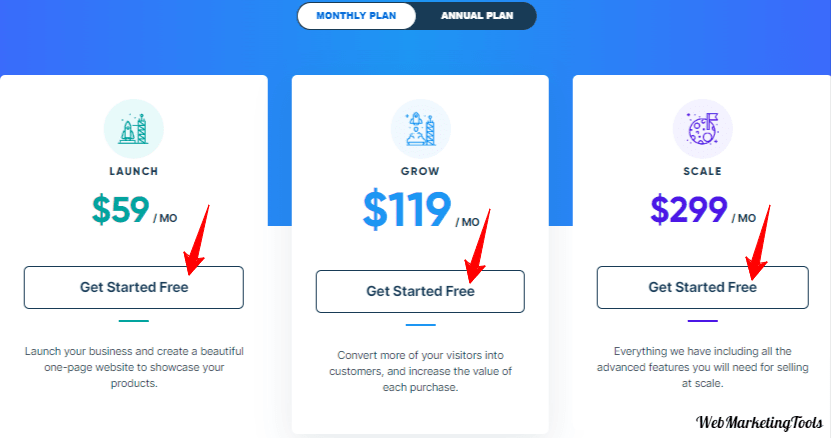 Launch $59/mo: 1 Admin User, Virtual onboarding webinars, Standard integrations, Free Preview of CreatorU.
Grow $119/mo: All Launch features, plus Enhanced integrations, 1–day email support, 3 Admin Users,
Scale $299/mo: All Grow features, 10 Admin Users, Affiliate center, Built-in A/B testing
Why Samcart is a better alternative to ClickFunnels?
Samcart is an online service specifically designed to help businesses host effective checkout pages and
While your website or sales funnel plays a critical role in converting visitors to paying customers, your checkout page is another essential element to consider. This tool is specialized high-converting checkout pages that focus on simplicity and easy to useable interface.
Lots of features are included in this multiple-service platform, you can do A/B split testing, one-click conversions, create order Bumps, and much more.
LearnWolrds
Best in Course Building

LearnWorlds is a platform for creating and selling online courses. It has a powerful sales engine and interactive student engagement features.
Apart from building courses, Learnworlds lets you create a course site and blog, indeed you can also build a membership site.
On this platform users can create their own ebook, you can add images, videos, and titles to this book with all the headings fully by LearnWorlds.
Most of the course creation on LearnWorlds is based on templates, but the main goal of this platform is to help to create the most unique and engaging courses on the internet.
LearnWorlds Features
Schedule automated reports
Advanced Affiliate Management
Integrations with API
Webhooks Integrations
Unlimited paid courses
Site Builder (3 pages)
Popup builder (2 popups)
Built-in Community
4 Payment gateway
LearnWorlds Pricing & Plan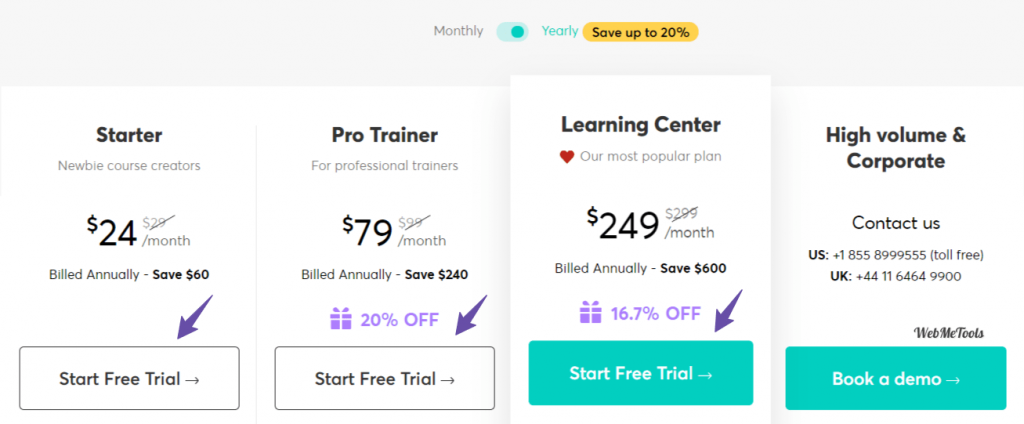 Starter Plan $24/mo: Basic Integrations, Free SSL Certificate, Drip Feed Courses, 24/5 e-mail support
Pro Trainer $79/mo: Complete Site Builder/Blog, Unlimited popups, Subscriptions & Membership.
Learning Center $249/mo: Bulk User Actions, Full White-label Options, Interactive Video.
How LearnWorlds is ClickFunnels Competitor?
At the first glance, both platforms appear to use similar features, and ended there are many similarities between both systems.
Learn Worlds is a very popular LMS that offers support from in-house experts. The best thing is that you can build your own website using this platform, the Learnwolds branding and theme editor are also useful and compatible with the users.
Instapage
Best in land page building
Instapage is about to passionate about helping business entrepreneurs make the most out of their digital marketing budget and have created tons of landing pages.
This platform is 100% focused on creating high-converting landing pages for your business. Instapaper comes with a complimentary trial which is also 14 days long for new users.
Another outstanding feature is its ability to easily integrate with all frequently used email service providers. It's easy to use without any coding knowledge.
Instapage gives you slightly more visitors per month along with team members. This platform is a great competitor in this alternative list.
Instapages Features
Bulk Lead Download
Page Migration Services
Audit Logs
Real-Time Visual Collaboration
Editable Global Blocks
Server-Side A/B Testing
No Conversion Limits
Thor Render Engine
1:1 Ad-to-Page Personalization
Multi-Step Forms
Dynamic Text Replacement
Customer Success Manager
Instapage Pricing & Plans

Building Plan $149/mo: SSL Encryption, GDPR Compliance, Google Single Sign-On (SSO).
Converting Plan $(Depend on needs): Bulk Lead Downloads, Guaranteed Uptime-Converting SLA, Custom Integrations.
Why Instapage is a better ClickFunnels alternative?
Instapage has hundreds of free and paid templates to create landing pages. You can also build your landing page from a scratch drag and-drop editor, You can create any kind of landing page using instapage.
And not indeed yet, it also allows you to create funnels, Instapage is mostly inclined towards PPC advertisers who want to create landing pages.
Our Opinion-
Conclusion – ClickFunnels Alternatives And Similiar Platform
We have provided all the major details about the ClickFunnels Competitors to help you in to choose the best platform according to your needs.
ClickFunnel is massive prowerful sales funnel builder that will be beneficial in to create pages, funnels and whole of the sales process to get more leads and convert them into customers from you website.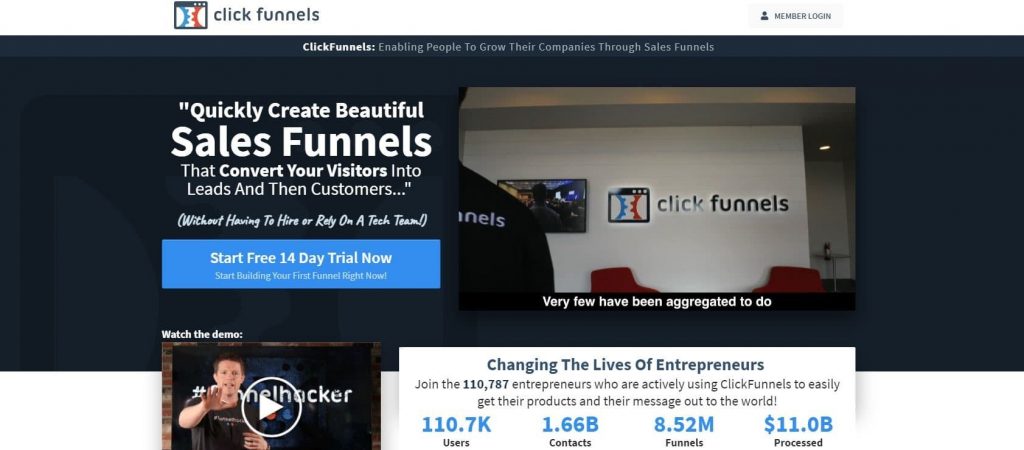 This platform is so handy to use for newbies or who aren't techy, it comes with tons of advanced feature with simple and interface to access flawlessely.
At the end of the post, we hope that this article was truely informative for you. Our goal is to provide real and latest details about marketing tools and service platforms.
So these are the aspects of Clickfunnels alternatives, now its your turn to get the right one to start funnel building.
FAQs- ClickFunnel Top Competitors in 2023
1. What are the ClickFunnel Alternatives?
We have mentioned some of the best competitors of ClickFunnels:
1. Thinkific
2. Samcart
3. Instapage
4. Unbounce
5. GrooveFunnels
2. What makes ClickFunnels Unique from the others?
ClickFunnels is all in one plaform which serves lots of tools and WP Services without switching any other software.
3. Why Should I search for ClickFunnels alternatives?
Like every tool, ClickFunnels have some flaws and one of these are its cost highl
4. Is ClickFunnel worth the money?
ClickFunnels is a complete marketing tool that lets you market and sell your products almost automatically. It has a tool and integration for nearly everything you need. Yes, it is expensive, but you get what you pay for. It is 100% worth it.