Get all the Best Clickfunnels pricing plans in 2023, also with features so you can choose the right plan according to your needs. Here you can check and compare all the ClickFunnels plans and best deals with features.
ClickFunnels is complete marketing that lets you market and sell products almost automatically. It has lots of tools and integration capability which is very useful for every business owner and entrepreneur.
This is 100% worth it for a funnel builder or a course creator to maximize your business.
In this article, we will clear your all pricing with total costs and plans doubts that help you to choose the best one for you.
ClickFunnels Pricing Plan Summary:
| | |
| --- | --- |
| ClickFunnels Total Plans | 3 Plans |
| ClickFunnels Pricing | $147/Per month |
| Pro Plan Pricing | $197/Per month |
| Funnel Hacker Pricing | $297/Per month |
| Free ClickFunnels Plan | Not available |
| Free Trial | 14days Free Trial |
| Money Back Guarantee | 30 Days |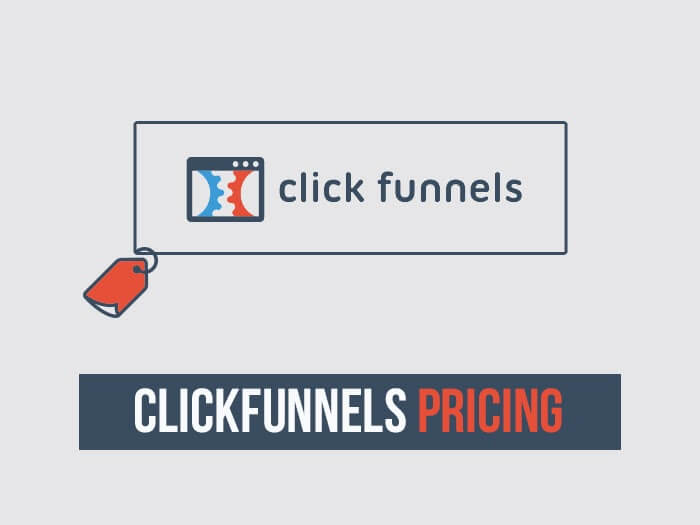 Check the overall prices
How Much Does ClickFunnels Cost?
ClickFunnels' First Plan starts at $147/per month which is the Basic Plan and the second plan's cost is $197/per month which is the Pro Plan which includes the features of the Basic Plan.
And the final plan cost is $297/per month which is the Funnel Hacker Plan that allows you to use the full potential of ClickFunnels features and services
If we compare it to the other platforms this is one of only software with multiple tools and services that many competitors never offer you.
This is the fastest-growing SaaS company out there, it is easy to promote and pays a recurring commission which takes their affiliate program to top-notch. So, now let's talk about pricing which we will mention both plans below around.
That lets you make the best choices for purchasing ClickFunnels plans. Both of them have great offers to use any plan with a start of 14-day free trial.
A Quick Comparison of the Plans
ClickFunnels Pricing and Plans
Most of the Platforms do not provide you with amazing plans and features in one single software with multiple capabilities.
This Platform has multiple features to increase functionality and also allows customization of your website. Even all of its features work together to make ClickFunnels a multipurpose digital marketing tool.
The main benefit of ClickFunnels is that it makes the process of creating and designing sales funnels easier, faster, and more effective.
So, now let's discuss the pricing plans with their features so that we can classify them with better visuals.
ClickFunnels Basic Plan: This Basic plan costs you $147/per month and provides you the specific features that are compatible with your normal uses, it comes with 1 custom domain, 1 admin user, 20 Funnels, 3 payment gateways, and FunnelFlix.
ClickFunnels Pro Plan: ClickFunnels Pro plan is the upgrade version of the basic plan, in this plan, you can access all the features at the cost of $197/per month.
For that price, it includes all the basic features, and the best thing It has some additional features such as Weekly Hackathons, 100 Funnels, 15 Courses, Backpack affiliate tools, API Access, and Follow-up funnels.
ClickFunnels Funnel Hacker Plan: ClickFunnel's Funnel Hacker Plan will provide you with the advanced level features, and services that make this massive tool from the list of funnels.
If we look into the prices, it will cost you $297/per month with advanced features that are not available in the other two plans.
In this plan, you can get unlimited funnels, advanced analytics, a CF1 maintenance mode plan, 200,000 contacts, and much more.
Now we will talk about the ClickFunnels pricing and features in-depth, so you can check and compare them to choose the best one for you.
Not feeling satisfied with this platform?

Try these best ClickFunnels Alternatives
Choose The Best Plan For ClickFunnels
ClickFunnels Plans Features and Price
ClickFunnels pricing plans start at a Basic Plan of $147/per month with limited features.
But if you upgrade to the Pro plan then you can access all the ClickFunnels features to their full potential. This Plan starts at $297/per month.
ClickFunnels has 3 different plans:
Basic Plan
Pro Plan
Funnel Hacker Plan
ClickFunnels you the first plan to test and explore with a free 14-day trial without getting paid, you can start with the Basic plan, Pro, and Funnel Hacker.
Let's have a close look into both plans pricings and their features in depth.
ClickFunnels Basic Plan
Good start for beginners
As you can see the Basic Plan comes with limitations, but most of the features are pretty useful and understandable for users which means it's easy to use and comes with a simple interface to provide the smooth experience
This plan has many features like Drag and Drops editor, Sales Funnel builder, One-Click Upsells and Downsells, and much more.
The ClickFunnels Basic Plan Will cost you $147/per month.
ClickFunnels Basic Plan Features:
20 Funnels
100 Pages
20,000 Monthly Visits
Unlimited Contacts
1 Sub User
3 Custom Domains
3 Payment Gateways
Email Support
FunnelFlix
ClickFunnels Pro Plan
For growing companies
ClickFunnels Platinum pricing plan comes with lots of advanced features such as an affiliate marketing program and integrated follow-up tools, you can have an unlimited amount of sales funnels and landing pages.
You can use full access to the ClickFunnels Platform to create funnel leads and increase customer interactions rapidly. you are also granted the choice of limitless follow-up funnels and also boundless FunnelFlix features.
The ClickFunnels Pro Plan Will cost you $197/per month.
ClickFunnels Pro Plan Features:
All the Basic Plan Features
Unlimited Funnels
Unlimited Contacts
3 Sub User
9 Payment Gateways
Priority Support
Follow-Up Funnels
Weekly Hackathons
Backpack (Affiliate Tools)
Unlimited Pages
ClickFunnels Funnel Hacker
For Big Market level Companies
In October 2022 ClickFunnels launched the 2.0 version, After the CF2.0 they added highly anticipated new and improved features that come in the funnel hacker plan.
The funnel hacker plan loads the brand new tools the original ClickFunnels didn't have which makes it the all-in-one platform.
ClickFunnels Funnel Hacker Features:
In this plan, you can get unlimited funnels, unlimited products, pages, a liquid theme editor, and much which will be mentioned below on the list.
3 Websites
15 Admin users
9 Domain
200 Courses
20,000 Students
200,000 Contacts
Unlimited Email Sequences
API Access
CF1 Maintenance Mode Plan
Unlimited Email Sequences
Get to know the Plan's Full Details
Total Cost of ClickFunnel Plans
| | | | |
| --- | --- | --- | --- |
| ClickFunnels Total Plans | ClickFunnels Basic Plan | ClickFunnels Pro Plan | ClickFunnels Funnel Hacker Plan |
| Monthly Plan | $147/per month | $197/per month | $297/per month |
| Total Cost | $1764/per year | $2364/per year | $3564/per year |
| | | | |
| Annual Plan | $127/per month | $157/per month | $208/per month |
| Total Cost | $1524/per year | $1884/per year | $2496/per year |
As we have already told you about the whole ClickFunnels Pricing and Plans. Now we will tell you about the overall Pricing of this platform so that you can choose to decide and save your money with the right plan.
If you go with the First Plan and billed annually you can save up to $240/per year. If you billed for Pro Plan annually you will save up to $480/per year and if you choose the Funnel Hacker plan annually then you can save up to $3468/per year
Get to know about this tool
ClickFunnels Overview
ClickFunnels was founded by Russell Brunson & Todd Dickerson in 2014. ClickFunnels is an all-in-one online sales and marketing solution software for entrepreneurs and business owners who want to market their services and products online.
The best advantage of ClickFunnels is that you won't have to worry about web hosting, landing pages email responses, payment process, and all other technical work.
ClickFunnels integrates with all-time best tools to help you market, sell, and deliver products with your custom domain.
Even better the Follow-up Funnel feature allows you to automate email, SMS text, and Messenger follow-up messages you can send to your customers. These can help you reach out to your customers later and generate new business.
ClickFunnels helps you to:
Easily create custom domains
Simple drag-and-drop web page editor
Mobile Optimization
API integrations
Keep track of and access real-time visitor data
Email and Facebook marketing automation
Some Points you need to know
What You Can Do With ClickFunnels?
ClickFunnels is used as a platform to sell products online, converting visitors into leads and taking them through the sales funnels until they become paying customers.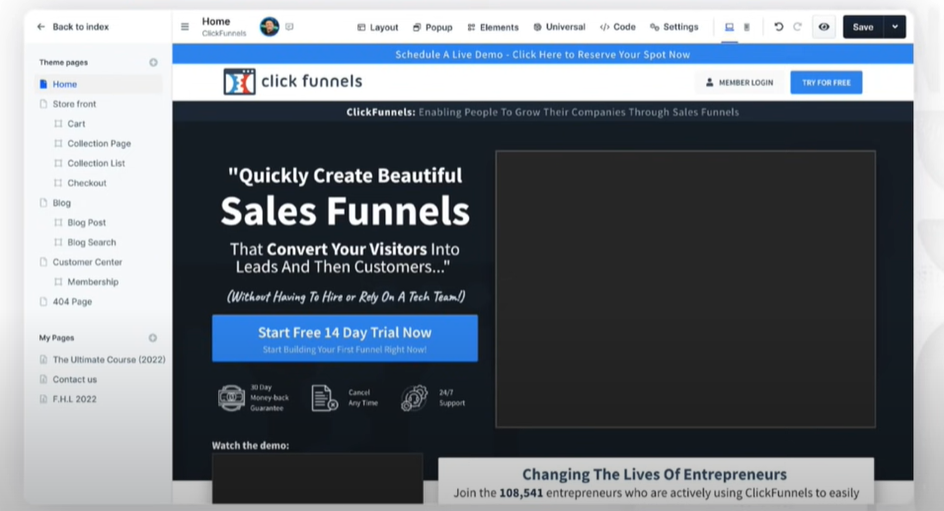 Multiple Domains: You can utilize various ClickFunnels features to leverage multiple domains.
Actionetics and Backpack Tool: Actionetics is a marketing automation software that supervises the stats of your prospects as they enter your sales funnel.
Tracking: ClickFunnels allows using its analytics tool to keep track of your funnel performance which includes conversions, click-through rate, visitors, and opt-ins. 
Email Automation: ClickFunnels has its own autoresponder, but it also works with third-party email service providers for accurate measures.
Get to know about plan features
ClickFunnels Plans Features Explained
If we talk about the interface it's extremely easy to use with simple and advanced tools and services, you will be able to build.
ClickFunnels ensures that you keep each stage of your purchasing journey under control with easy-to-use tools and templates.
By using ClickFunnels, businesses can increase their conversion rates, save time and money, and grow their business exponentially.
#1. Follow-Up Funnels:
Once someone has provided their contact information for further communication, ClickFunnels makes it easy to follow up through this feature. It's a tool that allows users to create impactful but simple follow-up funnels.
Based on the information it gathers, you can fully customize this feature to send personalized messages to individual customers.
#2. One-Click Upsells and Downsells:
To increase cart value and generate more income, ClickFunnels gives you an upsells and downsells feature option. This allows you to add additional pages before checkout that suggest add-on purchases.
When the customer doesn't find the upsell appealing, the downsells feature provides one-time discounts and offers, ultimately resulting in a higher income.
#3. A/B Split Tests:
To increase sales and conversions, you have to try new marketing techniques and strategies constantly.
ClickFunnels provides you with the A/B Split Tests tool that allows test conversions for two individual page variations.
This feature will give you a side-by-side comparison of different page layouts and sales funnels. After some running time, you can choose the best option that is better for conversions.
#4. FunnelFlix
FunnelFlix is a feature only available to ClickFunnels Pro plan members. It's a series of training videos and courses that are freely available to Pro members.
Experts and business insiders have put together useful information that you can use to scale your business.
#5. Integrations
To optimize your site and your business, ClickFunnels makes it possible to connect to other applications seamlessly.
Here is a list of some of the integrations available to integrate into the platform:
Actionetics
Aweber
GetResponse
ConvertKit
Facebook
HubSpot
HTML Form
GVO PureLeverage
Infusionsoft
Interspire
Mailchimp
Our Opinion-
Conclusion- ClickFunnels Pricing Plans 2023
We have provided all the major details about the ClickFunnels pricing and plans features which will help you to define the right plan for your needs.
The results from researching Clickfunnels show that they designed it for specific people, such as marketers, funnel builders, and entrepreneurs, who want to grow their businesses using a sales funnel.
Generating leads, selling products and services, membership sites, etc. is pretty good. It has all the features to build a sales funnel and landing pages.
After spending hours finding different landing page software, our suggestions determined that Clickfunnels is worth the price, but it may not be for beginners who are just starting.
So, now if you are looking for a plan, ClickFunnels allows you to save $240/per year if billed Annually in the Basic plan and $480/per year if billed annually from the Pro Plan.
At the end of the post, we hope that this article was informative for you, our goal was to provide people with the legit and latest information through words.
< class="mt0 mb10 font200" style="color:#111;"> FAQs – ClickFunnels Pricing and Plan Features >
Is there a Free ClickFunnels Plan?

No, but they have a 14-day free trial so you can give it a try with full functionality.

Do I have to pay for updates?

No! We give constant updates to our software, add new templates and you get it all for FREE! Because ClickFunnels is on the cloud, when we make an update or add new features, they automatically show up in your account!

Does ClickFunnels have a refund policy?

Of course yes, ClickFunnels Provide you 30 Days Money Back Guarantee to refund your full amount.

What if I don't like ClickFunnels, can I cancel?

Yes. After registering, you can cancel your membership with a few clicks if you don't like the site.
You can delete your credit card information by clicking on the account billing in the account settings. Hence, building your first sales funnel to sell your products online is risk-free.

What are the total plans in Clickfunnels?

There 3 pricing Plans that avail ClickFunnels which is:
1. Basic Plan
2. Pro Plan
3. Funnel Hacker Plan
Sign up for 30 Days Clickfunnels Free Trial.