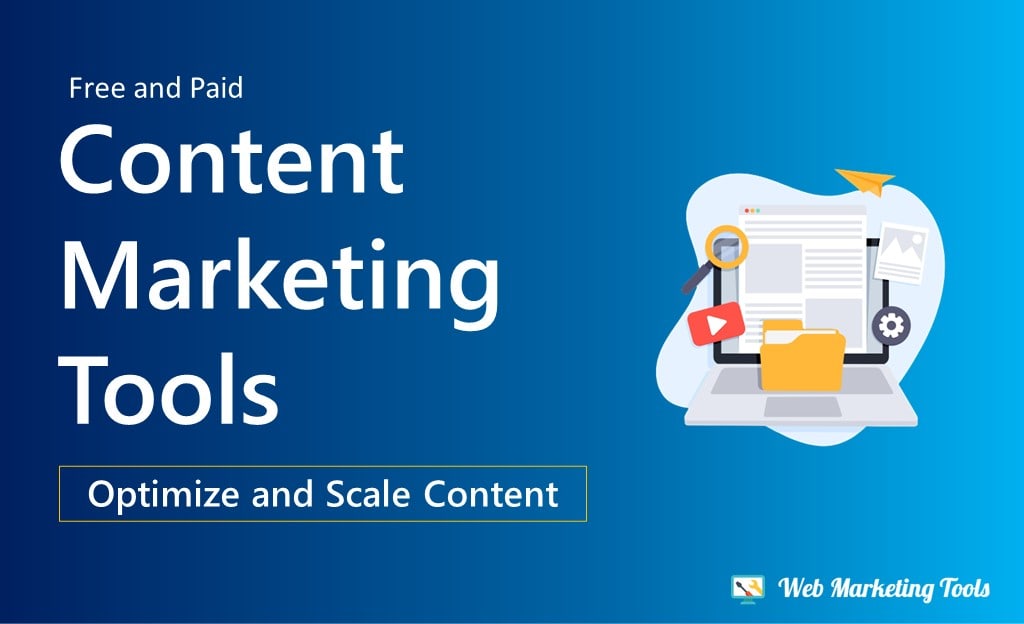 Get the top 20 Content marketing tools and platforms in 2023, Here you see the list of best Content marketing tools that help you to get the right one according to your need.
Content marketing is one of the most lucrative long-term marketing strategies that companies employ today.
It has a considerably smaller investment (62% less) compared to a traditional marketing campaign and it yields almost three times as much profit.
That is an astounding figure and it definitely highlights why the world is going crazy over content marketing.
Content writing is now a large industry in that anyone with good proficiency in language can tip their toes. Some people treat it like a full-time job while others treat it as a side gig to earn more money.
Regardless content marketing is considered important. But it does beg the question, how can a small business do its own content marketing?
In this article…
We are going to show you the 20 best tools that can be used for content marketing in 2023.
Choose The Best Tools For You-
20 Content Marketing Tools in 2023
Here we have shared the top content marketing tools lists where you can compare and choose the best one for you.
Ahrefs
All in one platform
Ahrefs is a paid all-in-one marketing solution. It is one of the best tools available in the market right now and for good reason. Let's take a look at what Ahrefs brings to the table.
First off there are five major tools that are provided by Ahrefs. They are called:
Site Explorer
Keywords Explorer
Site Audit
Rank Tracker
Content Explorer
Between these five tools, Ahrefs encompasses all facets of SEO to an astonishing degree. You can make projects and track their metric in a dashboard and use these tools to enhance their performance.
With Site Explorer, you can research what keywords your competitors rank for and which pages get them the most traffic, their backlinks, and any paid traffic they are getting.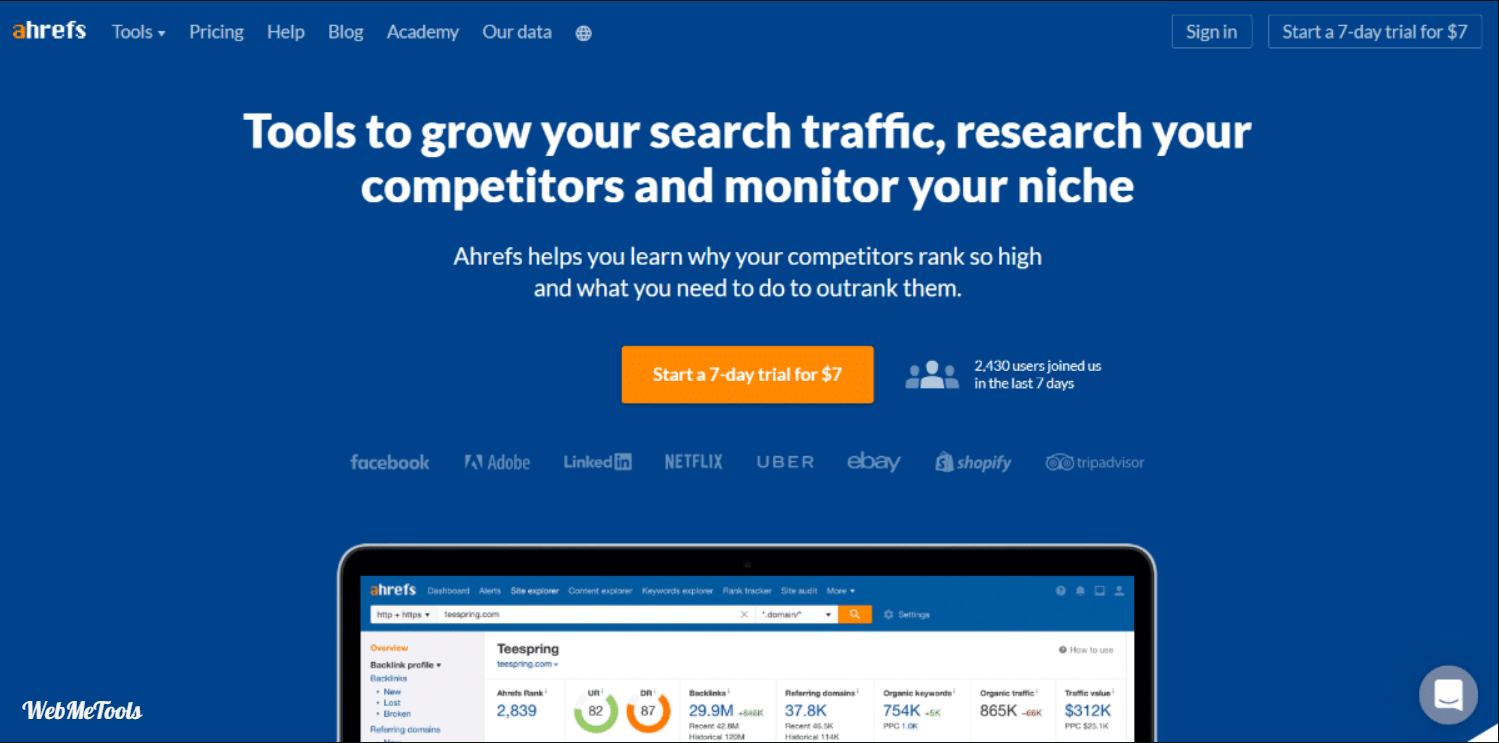 Keywords Explorer lets you see the search volume, ranking difficulty, and more suggestions for lower-difficulty keywords.
With the Site Audit tool, you can check your website for any SEO issues it might have such as broken links, missing pages, missing tags, issues with images, and many more issues.
With the Rank tracker, you can check your rank on both PC and mobile, while with the Content Explorer, you can research more topics and link opportunities.
Prepostseo
Best in SEO tools
Prepostseo is another toolkit that provides various tools for content marketing, but in this article, we are going to take a look at their article rewriter tool.
This is a great tool for content writing as it allows content creators to reuse old stuff and make it relevant and unique again.
The article rewriter comes with four modes of rewriting. They are called:
Simple
Advanced
Fluency
Creative (Premium only)
With the Simple mode, users can rewrite any article they wish by replacing words in the text with their synonyms.
In the Advanced mode, larger changes are made, such as replacing entire phrases instead of just words. The output of both of these modes can be edited by clicking on the bold and underlined text and choosing a suitable replacement from a list.
Fluency mode makes the text more readable by changing sentence structure, words, and phrases. However, it does not allow editing of the output. Creative mode is basically the
Fluency mode but on steroids.
The best thing about this tool is that it is free and does not require registration. You can also choose to upgrade it by paying which removes all ads, and captcha requirements, and unlocks the Creative mode.
HubSpot
Best for Powerful CRM and inbound marketing tools
HubSpot is an all-in-one marketing solution that aims to make the lives of its users much easier with regard to marketing.
While it does offer most of its features for a price, users can use the platform for free as well (with some limitations of course).
There are four main features that have further subsections on offer. They are called:
Email Marketing
Online Marketing
Lead Management
Reporting and Analytics
Email marketing by HubSpot allows users to create and personalize emails according to their target audience. It helps them to send high-quality outbound emails, manage their delivery, and set up automated responses to emails.
The Online marketing feature lets users create attractive and optimized landing pages and forms. It also enables users to place dynamic content on those pages.
Mobile optimization is a big SEO factor and fortunately, HubSpot online marketing also lets users do that.
Lead management lets users set up a lead database and segment it by various criteria. It also allows users to track the online behavior of clients, so that data for targeted marketing can be collected.
Finally reporting and analytics lets users track their performance and get reports about whether their strategies are getting more leads or not.
Paraphraser.io
Best for quality
The paraphrasing tool by Paraphraser.io is a great tool for content marketing. That's because, in content marketing, uniqueness, and readability are very important.
If the content is difficult to read, people can't understand it leaves. This is against the principles of marketing.
With the paraphrasing tool content writers can make sure that their write-up is easy to understand.
There are four modes available in this tool. Two of them are free, while two are premium only. Their names are as follows:
Fluency mode
Standard mode
Creative mode (premium)
Smarter mode (premium)
The tool offers both free and paid options, the free options can be utilized even without an account.
When it comes to content marketing, the Fluency mode is the most relevant mode in the tool. It paraphrases the text while making it more readable.
To do that, it replaces and changes words, phrases, and even sentence structure. The output is a very smooth and flowy text that is easily read by most people.
The Standard mode on the other hand only changes words with their synonyms and is good for removing repetition from content.
There are only a few annoying things in this tool and those are the number of ads on the page and the small 500-word limit.
SEMrush
Best in performance
SEMrush is a marketing toolkit much like Ahrefs. It provides multiple tools that can be used for the purposes of optimizing both content and websites for SEO. SEMrush is not a purely premium tool unlike Ahrefs and can be used for free.
It offers multiple tools for the purposes of:
SEO
Content Marketing
Market Research
Advertising
And other features. With their SEO tools, users can conduct keyword research, run site audits to find SEO issues, and track their SERP positions daily. 
While the Content Marketing tool lets users do topic research, audit, improve content based on real-time metrics, and track where and how many times the user brand has been mentioned.
With the Market Research tool, users can check the traffic on any website, find out the keyword and backlink gap, and explore new ideas for growing the market share.
Hence, SEMrush is definitely one of the best options for improving a brand's content marketing potential.
Read the full article here:

Checkout the hidden details of Semrush
Frase
Best in content writing tools
Frase.io is a great SEO writing tool which obviously means that is good for content marketing. Frase.io provides two main features that make it excellent for content marketing. They are:
SEO-optimized writing
AI-generated content.
With AI-generated content, users can fight their writer's block or get new ideas for writing content. The AI generator has two modes, they are called:
Listicle generator
Blog introduction
With the Listicle generator, a user can create a list of headings for any listicle article along with some content. In the example below, it can be seen that the title "5 Ways to Get CPU Parts for Cheap" has five online stores listed.
These can serve as a great starting point for writers as usually the hardest part about writing is knowing what to write about.
With the Blog generator, users can get introductory paragraphs for a title that they provide to the tool. In the following example, a great intro paragraph can be seen for the title "5 Ways to Get Computer Parts for Cheap".
In the SEO-optimized writing tool, Frase.io lets users enter their article/blog post into a text box. The article is then analyzed and various issues such as the number of words, headers, links, and images are shown.
They are compared to the highest SERP-ranking articles on the internet. Users can see if their word count is too low, the number of links and images is too high or low, etc., etc.
Various suggestions and statistics are provided that can help content writers make their content as optimized as possible for SEO.
Editpad
Best online text editor
Editpad.org is a completely free online toolkit that provides various content optimization tools as well as miscellaneous tools.
In this article, we will check out their text summarizer which is another useful tool for content writing and by extension content marketing.
The text summarizer can be used by content writers to create a good conclusion to their articles. It can also be used to create a shortened version of an article that was too long and probably went over the limit of some websites' guidelines.
The summarizing tool is also great for conducting research. Content writers can simply take an entire article and run it through the summarizer. Then they can read the main points in the article in a much shorter amount of time.
The tool itself allows file uploading, copy-pasting, and direct writing for inputting text. It also supports multiple languages apart from English such as Spanish, Italian, Portuguese, and many more.
The output can be shown in the form of paragraphs or bullets and can be copied or downloaded by shortcuts present in the interface.
Integration with other content optimization tools on the same platform is another feature that is very welcome.
Rytr
Best AI Writing Assistant
Rytr is an excellent writing assistant tool. It utilizes the power of machine learning to create very human-like content that is also SEO optimized as well.
And the best part of this is that it is free to use. The only limitation is that users get monthly credits to use and if they run out then they have to buy more.
The free version has the least credits, but they are still enough to get adequate use out of the tool. It has many options for content writers. Some of the types of content it can help users create is:
Blog idea and outline
Blog section writing
Brand name
Business idea pitch
Call to action
Copywriting framework AIDA
Users need to create an account before they can start using the tool, but they do not need to provide their credit card info for using the free version. This is very welcome, as too many "free" tools ask for credit card info, which is very anti-consumer.
Content writers can use this tool to create great outlines and if they are unable to find content for the outlines, they can generate AI-written content for them as well. This helps content writers combat writer's block as well as get new ideas that can be written upon.
BuzzSumo
Best cloud-based platform
BuzzSumo is an online toolkit that can be used to do a lot of stuff such as:
Competitor analysis
Find content ideas
Discover patterns and trends
Discover opportunities for publicity
Backlink analysis
And many other things. As such it is a great tool for content marketing.
With the content analyzer users can find out about the highest-ranking headlines over a period of days, weeks, months, and years.
The topic analyzer lets people see new and engaging topic ideas and with the Keyword tool they can be checked to see how well they perform.
BuzzSumo also allows users to track specific websites, what this entails is that every time a new post is made in that domain, the user gets alerted.
Similarly, the number of backlinks and which websites those links are from are also included in the alert.
The tool is paid, but there is a free 30-day trial available as well.
AlsoAsked
Best free keyword research tool
AlsoAsked is a revolutionary tool that uses graphs to let users explore keywords and topic ideas. It is technically not a free tool, because a standard user only gets three free tries a day.
Subsequent tries cost credits which are bought with real money.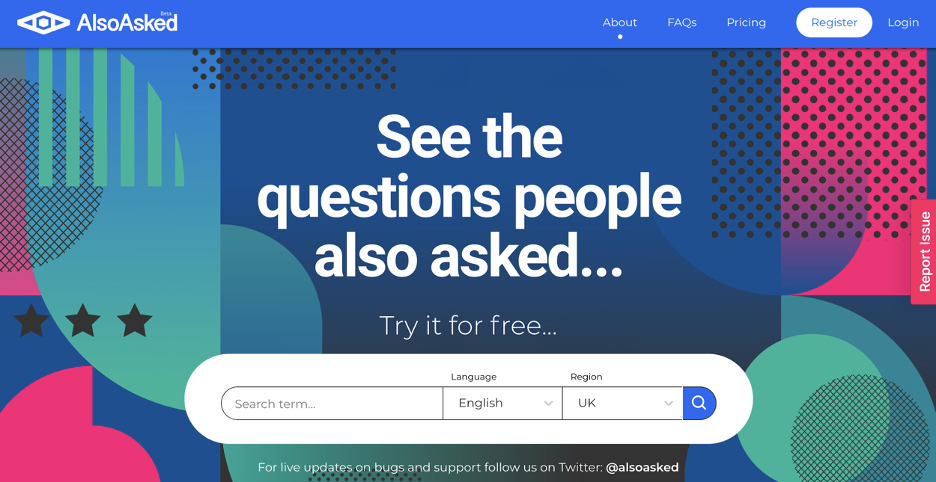 The tool is very simple to use, there is a search bar in which the user adds their keywords. The tool generates a graph that shows multiple blog post ideas related to those words.
Below the search bar, there are three buttons, they are for:
Language
Region
Search Depth
Language lets users select from 10+ languages to search in, while region lets them choose the country. Search depth is for getting more ideas or fewer ideas. More ideas cost credits.
Once the parameters have been set, a tree diagram is created using them. In the example below, it can be seen how related ideas can stem from a keyword.
Clicking on the plus sign generates another tree for that keyword. In this way, content creators can find new topics related to their niche. Ultimately this helps in content marketing as the topics are divided according to regions.
Hemingway Editor
Best powerful writing tool
Hemingway Editor is an online writing assistant tool. It is a free tool, which can be used without registration. There is a desktop version available as well which is premium only.
It gives various suggestions that when applied, improve the readability of the text. As we already know that the readability of content in marketing is an important factor.
The suggestions range from highlighting which sentences are difficult to read, to highlighting instances of passive voice and adverbs that weaken the text.
The highlights are color-coded and are as follows:
Red signifies the sentence is too hard to read,
Yellow means that the sentence is hard to read,
Purple shows that a simpler synonym for the word exists,
Green shows passive voice usage
Blue highlights adverb usage.
A readability score is always present on the right-side panel, it updates in real-time. So, content writers can edit their work in the Hemingway editor itself and get feedback instantly.
The color-coded highlights, as well as instant feedback, make this a useful tool for content writers.
Grammarly
Best for a writing tool
Grammarly is an online proofreading tool where content writers can get assistance to improve their write-ups. There are two versions of the tool, one is free and the other is paid.
Both versions require a free account, so registration is mandatory.
The free version only offers suggestions and corrections about spelling mistakes, tense discrepancies, and punctuation errors. There is also a minor rephrasing ability that is used to increase the clarity of the sentences.
In the paid version there is plagiarism checking, delivery improvement, tone improvement, and other similar stuff that can greatly improve the quality of one's writing.
There are also three ways in which the tool can be utilized. The first method is to simply use the online version of the tool by going to the Grammarly webpage.
The second method is to use the browser extension which helps in checking any content written in a browser in real-time.
The final method is to download Grammarly for either Windows or Microsoft Word. In the case of Word, it acts like an extension and only works inside the word processor.
But in the case of Windows, it can act globally and check any content written in any tool, or software in real-time.
Copy.ai
Best AI-powered copywriter
Copy.ai is a tool similar to Rytr. It is an AI content generator that can be used by content writers and marketers to get new content in a few seconds.
We already know that writer's block and content saturation on similar topics are very real issues.
The saturation of content means that it is difficult to come up with new content about overused topics. With Copy.ai though, such worries can be eased. With its advanced AI content generation, engaging content can be easily created.
There are six categories of content that can be created, and most of them are related to copywriting. The categories are as follows:
Blog content
Digital Ad copy
eCommerce copy
Sales copy
website copy
When the user has selected which kind of content they want to create, then the next step involves providing data to the tool.
The tool asks for the project name, and description, and asks the user to select a tone. And that's it, the rest is done by the tool itself. Users can simply sit back and relax until a great copy is created for them.
The tool can be used for free with a free account.
Constant Contact
Best Email marketing software
This is a platform geared toward email marketing, it is not free except for the first month, afterwards, users have to pay a subscription fee. 
Constant Contact allows users to create targeted emails using templates and a simple, intuitive drag-and-drop designing tool.
It allows users to create a contacts list, advertise to them, write targeted emails, and move people through the sales funnel.
There is also a live chat service included, which allows users to contact their clients in another way (apart from emails).
Finally, all the related metrics such as email opening rate, click-through rate, bounces, number of new clients, etc., etc. are all monitored and presented in one simple interface.
This feature lets the users see which of their efforts and campaigns are successful and which aren't so that they can identify their strengths and weaknesses for future endeavors.
Why it is the best email marketing tool:

Constant Contact Review 2023
Start First Free Trial Now:

Constant Contact Free Trial: Start 30 or 60 Days Constant Contact Trial
Jasper.ai
Fastest AI copywriter
Formerly known as Jarvis.ai this is another AI content generation and writing assistant tool that works much like Rytr and Copy.ai.
The major difference between Jasper.ai and the other two is that Jasper.ai is not free, and it has more options available.
Jasper.ai has many templates available, users can choose from:
Long-Form Assistant
AIDA Framework
Email subject lines
PAS Framework
Content Improver
Product Description
And many others. Just like Copy.ai the user simply needs to add a product/project name, then a description, and select a tone.
The rest is done by the tool itself. What is extra here though, is that users need to provide keywords that the generated content will target.
Another great feature of Jasper.ai is that users who are unable to write in specific tones such as formal ones can write their content in one tone, and the tool changes it to another.
All the content is SEO-optimized and plagiarism-free, so writers can use it for content marketing pretty handily.
Experience the features for free in trial period:

Jasper FREE Trial or Jasper Trial – Get 10,000 FREE Words Credit
Parse.ly
Best content optimization platform
Parse.ly is an online platform that provides a number of useful tools for content marketers.
The main purpose of Parse.ly is to provide content analysis and make decisions based on that analysis. Using Pares.ly marketers can see which of their content is performing the best through metrics such as:
Page views
Conversions from that page
How did people arrive on that page
Where did people go after that page?
Those last two questions might not seem very important, but if we delve deeper into psychology, we find out that they are very important to answer.
If a particular page is performing really well in regards to page views and conversions, then knowing where the visitors arrived will tell you how they found that page.
The previous page might have also set their expectations really well so that the intended page performed admirably.
Thus, users can optimize all their content and websites so that they can drive the largest number of conversions possible.
Clickfunnels
Best sales funnel tool
ClickFunnels is an all-in-one website builder and marketing tool. In the platform's own words, it makes the process of building sales funnel much easier. 
In the simplest terms, this platform builds upon an existing marketing campaign by letting the users create effective landing pages, shopping pages, and follow-up pages.
These pages let you collect data that can later be used for targeted marketing.
This platform allows users to create beautiful and attractive pages using a convenient drag-and-drop editor.
Email marketing is also included in the bundle, which can be used for both following up on existing leads and creating new ones.
Users can manage everything through a single dashboard. There is a free 14-day trial, afterward, users need to pay a subscription fee.
Test and Explore The Features For Free:

ClickFunnels Free Trial – Start your 30-Day Risk Free Trial
Checkout the pricing plans:

Get the overall details of ClickFunnels Pricing
Canva
Best infographic tool
Canva is an online digital designing tool that can be used for free. It requires a free account to use and there are plenty of features that are available only to premium users.
However, it is good enough for people who are just trying to dip their toes into graphic design.
Canva has many templates for designing:
Posters
Certificates
Flyers
Presentations
Whiteboard
A4 Document
Logo
And others. Users can find tons of copyright-free images, icons, and drawings that they can use in their designs.
Designing is an integral part of marketing. In content marketing, adding images to articles and blog posts makes them more attractive and readable.
Adding images to CTAs (calls to action) makes them more enticing. So, Canva is a great marketing tool.
Create a Great Design With Canva:

Try Out Canva For Free in 2023
Check-Plagiarism
Best Plagiarism Checkers
In content marketing, the uniqueness of the content is a really crucial factor. It is of such paramount importance that content writers are fired for not being able to create sufficiently unique content.
The obvious reason is that content that is not unique is naturally plagiarized/duplicated. Such type of content cannot perform well on the SERPs (Search Engine Results Pages).
This is mainly due to the fact that search engines can detect plagiarized content and they punish the website hosting it by either:
Lowering the SERPs ranking,
Completely removing it from their index, thus making it impossible to be found organically.
And this is where the plagiarism checker by Check-plagiarism comes in. It is a tool that can accurately detect all instances of duplication in a write-up by comparing it to billions of online sources.
Using this tool content writers can make sure that there is no accidental plagiarism in their work that might throw a monkey wrench in the content marketing strategy.
QuestionDB
Best keyword research tool
QuestionDB is an idea generation tool that can be used to find out what kind of topics related to a specific keyword is trending currently.
It is quite a simple tool that is free to use and does not require registration either. It has a simple interface with a search bar occupying most of the screen.
Users just have to input up to three keywords in the bar and click on "Search". The tool then generates a list of questions that are currently being asked by people on the internet related to those words.
A small list of related topics that are touched upon in those questions is also given. The list of questions can be downloaded so that users can read it at their leisure.
Points To Keep In Mind-
How To Choose The Right Marketing Tools?
Choosing the right marketing tools for your business can be overwhelming with the plethora of options available in the market.
Here are some steps to help you make an informed decision:
1. Define your Marketing Goals:
Start by identifying your marketing goals and objectives. What are you trying to achieve with your marketing efforts?
Are you looking to increase website traffic, generate leads, improve social media engagement, or automate your email marketing?
Clearly defining your marketing goals will help you narrow down the list of marketing tools that align with your specific needs.
2. Assess Your Budget:
Consider your budget for marketing tools. Marketing tools come in various price ranges, from free to premium, and it's important to choose tools that fit within your budget.
Keep in mind that some tools may have additional costs such as monthly subscriptions, usage fees, or setup fees, so factor those into your budget as well.
3. Research and Compare Options:
Once you have a clear understanding of your marketing goals and budget, research and compare different marketing tools that are available in the market.
Look for tools that are reputable, have positive reviews, and are known for their reliability and customer support.
Consider factors such as features, ease of use, scalability, integrations with other tools, and pricing models.
4. Consider your Team's Expertise:
Evaluate your team's level of expertise and technical skills. Some marketing tools may require advanced technical knowledge, while others are more user-friendly and suitable for marketers with varying skill levels. Consider the learning curve and training requirements for your team when choosing marketing tools.
5. Test the tools:
Many marketing tools offer free trials or demos, so take advantage of these opportunities to test the tools before making a decision.
Use the trial period to explore the features, functionalities, and ease of use of the tool, and determine if it meets your requirements and aligns with your workflow.
6. Check for Scalability and Flexibility:
Consider the scalability and flexibility of the marketing tools. Will the tool be able to grow with your business and accommodate your changing marketing needs in the future?
Does it integrate well with other tools you currently use or plan to use? Ensure that the marketing tools you choose are flexible and adaptable to your evolving marketing strategies.
7. Consider Customer Support:
Good customer support is crucial for any marketing tool you choose. Check the availability and responsiveness of customer support channels such as email, chat, or phone.
Look for tools that offer regular updates, documentation, tutorials, and a strong community of users to help you troubleshoot issues and get the most out of the tool.
8. Read reviews and seek recommendations:
Read reviews and testimonials from other users to get insights into their experiences with the marketing tools you are considering. Look for feedback on ease of use, customer support, features, and overall satisfaction.
You can also seek recommendations from industry peers, colleagues, or online communities for their suggestions and experiences with different marketing tools.
9. Consider Data Privacy and Security:
Marketing tools often handle sensitive data such as customer information, so it's important to consider data privacy and security.
Look for tools that have robust security measures in place, such as data encryption, regular backups, and strict access controls.
Review the tool's privacy policy and terms of service to ensure they align with your organization's data protection requirements.
10. Evaluate Return on Investment (ROI):
Finally, consider the potential return on investment (ROI) of the marketing tools. Will the tool help you achieve your marketing goals and generate measurable results?
Assess the cost-benefit ratio of the tool and consider the long-term value it can provide to your marketing efforts.
By following these steps and thoroughly evaluating different marketing tools based on your specific needs and requirements, you can choose the right marketing tools that will help you achieve your marketing goals and drive success for your business.
Conclusion:-
Which Content Marketing Tools Are Best For Me??
We have provided all the major details about the Best content marketing tools and software, that can help you to choose the right one according to your needs.
These were twenty content marketing tools that can be used in 2023. These tools ranged from complete solutions to individual tools. The list was also a healthy mix of both free and paid tools.
The trend we noticed, is that complete solutions such as Ahrefs only offer free trials for a few days, and then users have to pay to use the platform.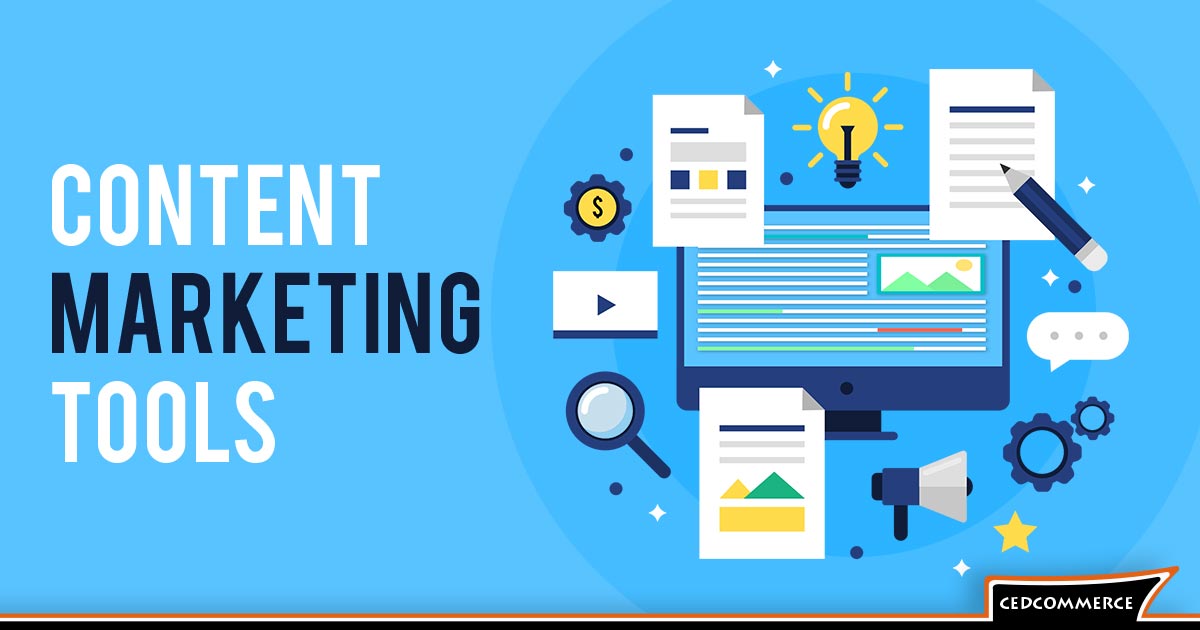 Hiring a full team of experts is expensive and usually, the budget is too small to accommodate them.
The answer is content marketing tools. These are online tools that have both free and paid variants and with just a little bit of research, they enable anyone able to do their own content marketing.
Tools that only offered one kind of service were mostly free but had some features locked behind a paywall.
Users can use any of the tools from the list according to their needs and willingness to pay.
At the end of the post, we hope that this article was informative for you. we just want to say that we have mentioned each and every aspect of content marketing tools.
Skyrocket your business with these tools:

SEO Tools Free Trials: 8 Best SEO Software Trial 2023
FAQs- Best Content Marketing Tools in 2023
Here we have added some frequently asked questions related to the Content marketing tools.
Why content marketing tools are important?
They will offer you a new topic to write about and get visitors to engage with your content. Your mastery of these content marketing tools goes a long way to determining your success.
What are the most powerful content marketing tools?
1. Semrush
2. Hubspot
3. Ahrefs
4. BuzzSumo
5. Grammarly
How effective is content marketing?
Content marketing produces 3X more leads per dollar spent. Content marketing costs 62% less than traditional marketing.
What skills do you need for content marketing?
The 9 most important content marketing skills you need for:
1. Content creation skills
2. Editing Skills
3. Research skills
4. Planning skills
5. SEO skills
6. Content promotion skills
7. Data analysis skills
8. Techincal skills
9. Deep understanding of sales funnels
What is the main role of content marketing?
Content marketing is the strategy used to attract, engage, and retain an audience by creating relevant articles, videos, podcasts, and other media.