Here are the Top WordPress LMS Plugins 2023 to start a Course or Digital Products WordPress Website. Compare all the Best LMS WordPress plugins and select the right one for your site.
Schools and Universities, Billion dollar enterprises companies – in current times almost every organization either already has or is about to get a Learning Management system.
If you've never heard about LMS, you might be wondering what it is. why businesses and educators are using it.
Well after reading this article you will get all the informative details about LMS. The world's first LMS platform, called First Class was introduced in 1990 by Soft Arc. This action changes the entire educational system.
Learning is the core of delivering any education or training to enhance your ability or skills through individual programs.
Management is the stability of the learning program which manages all the schedules for each and every individual.
The system is the path to delivering your learning programs through the e-platform.
Get the full Info.
What is the WordPress LMS Plugins?
LMS is a platform for digital learning systems that allows you to store and create online courses, provide learner access to the content, and helps you evaluate results.
Online training has now gained popularity, especially in times when connecting online is easier than meeting a person. This platform changes the learning perspective of every individual across the globe.
It becomes handy in identifying the communication gap between the instructor and the learner by checking each individual's progress on quizzes and assessments.
How To Choose The Best LMS Plugin?
In order to provide the best training sessions and education through online sources to build a better business case within your organization, it is important to come prepared when sourcing the best LMS vendors.
That includes a good understanding of your company's training goals and how you can help achieve them.
So now we will show you the major LMS features below-
LMS (Learning Management System) core Features
LMS Integrations – Having an LMS seamlessly integrates with other systems like Talent management systems, and association management software, enabling L&D pros to supply learner information with important course data.
Data Tracking – This feature allows L&D pros to better track and design their learning programs. It has the ability to recognize where learners need to build their skills or where they are excelling helps speed along the training process.
Automated alerts and notifications – In order to ensure trainers and managers are aware of how their learners have been engaging and completing the course material, automated alerts and notifications are a necessary LMS feature.
Assessments tools – LMS reports and analytics can help to learn professionals track their learner's engagement.
Test-out Options – At the same time, getting new employees up to speed as efficiently as possible helps them add value to the organization faster. So that's why offering learners the ability to test out of training modules can reduce their time spent on training and give learning professionals a better understanding of where individual learners are in their journey.
Roles and permission – As with any aspect of your company, first you have to keep yourself protected, with configurable permission, you can create different roles, for administrators, learners, instructors, and managers based on their needs and responsibilities.
So these are some major LMS features required for your learning or creating in the specific online educational platform.
Most of the cases, LMS platforms are complicated to use their features. But don't worry we are here to show you the best Learning Management System platforms that make your choices for the better one.
Must-Have Features of LMS Plugins
The perfect LMS supports distraction-free and self-paced learning. Build the learning experiences that employees will love and guide them through their entire training.
So the point is the platform has to be user-friendly and less difficult to serve the best tools and features to the audience or users.
Combine the different media in your course.
Add exams and assessments
Generate automatic certificates
Set a timer on a course slide
SSO (Single Sign-on) – Learners can get quick convenient and secure access to learning management software. A single sign-on LMS is truly easy for your LMS platform.
Automations – Automations will make your work easier for training administrators to streamline processes to achieve efficiencies that never gained on their own.
Seamlessly switchable – In LMS you can easily switch your roles effortlessly. As quick as two clicks, it will save you time and energy.
Maximum Support – An LMS is easy to use and comes with support that's easy to find and use. The support you get from your vendor should leave you feeling like you are in secure hands.
Branches into different user segments – Branching has the key to the LMS user's experience. It will improve learners' user experience because they get to follow a learning path tailored to their needs.
Some minor points in the LMS Platforms that make true value for money on every activity which is mentioned here
Specific business needs
Improves resource allocation across the board
Increases employee management and motivation
Strikes a balance between usability and functionality
10 Best LMS WordPress Plugin
| | | | | |
| --- | --- | --- | --- | --- |
| Sr.no | Platforms | Starting Price | Free Plan | Visit Site |
| 1 | LearnDash | $199/year | Not Available | |
| 2 | Thinkific | $74/month | Available | |
| 3 | Teachable | $29/month | Available | |
| 4 | LearnWorlds | $24/month | Available | |
| 5 | FreshLearn | $25/month | Available | |
| 6 | LifterLMS | $149/year | Not Available | |
Choose your desired Platform
Top WordPress LMS Plugins 2023
LearnDash is one of the most famous and trusted LMS platforms for WordPress. It helps you to create impressive courses and gives a deep learning experience through online virtual content like videos, Pdf, quizzes, etc.
With help of this software, you can easily convert a WordPress site into an LMS website.
Create and host courses on your website and visitors purchase, make payments and become your student on the same platform.
LearnDash Key Features
Focus mode on the course screen
Drag & Drop Course Builder
Advance Quizzing
Dynamic Content Delivery
Flexible Prerequisites
Integrations
Badges and Certificates
LearnDash Pricing Plans
WordPress Plugin Plans:
WordPress Plugin Plan 1 site – $199/year
WordPress Plugin Plan 10 site – $399/year
WordPress Plugin Plan unlimited site – $799/year
LearnDash Cloud Plan:
Monthly Plan – $29/month
Annual Plan – $299/month
LifterLMS is an amazing WordPress Plugin that is built to create online courses and eLearning websites. This Platform has various robust features that allow users to deliver online courses and training programs efficiently.
This one comes with packed of numerous features essential for any LMS plug-in to help to build courses and create eLearning platforms without any hassles.
LifterLMS Key Features
Multimedia Lessons
Quizzes and assignments
Drip Content
Course Tracker
Prerequisites
Course Import
LifterLMS Pricing & Plans
Earth Bundle – $149/year
Universe bundle – $360/year
Infinity Bundle – $1200/year
LearnPress is one of the most popular WordPress plugins that allows you to create online courses. It has an outstanding interface to look attractive and helps to build interactive courses and curricula with lessons, quizzes, assessments, and much more.
This is the best for educators and tutors who want to sell their courses and generate money source out of them. You can build your creations without facing any coding obstacles or difficulties in this easy-to-use LMS.
LearnPress Features:
Affiliate Program Support
Membership Support
Prebuilt Layouts
Student dashboard
Reporting and statistics
Student Management
LearnPress Add-ons
Sell and monetization options
LearnPress free plugin
Drag and Drop editor
LearnPress Pricing
Free Plan for $0/month – This Plan is fair enough to allow every user to build their courses. Comes with Free add-ons, a 1site license, free timely updates, and much more.
Theme Bundle Plan for $49 one-time payment – Offline payment, free unlimited courses, Multiple payment options.
Pro Bundle Plan for $249 in discount (original price$499) – Automatic email system, free add-ons, 3 licenses.
TutorLMS is a great online course creation and selling platform that you can teach anyone anything from anywhere with your learning course.
The TutorLMS Plugin works with all WordPress themes, helps create mobile responsive content, and enables to security control over the content. The design is centered around enhancing your experience.
TutorLMS Features
A drag-and-drop course builder.
Content restriction.
Quizzes and a quiz creator.
Special integration for videos in courses.
Course certifications.
Integrated monetization via WooCommerce or Easy Digital Downloads
Multiple Payment Gateways
TutorLMS Pricing
Basic Plan for $0 – free license, free version updates, community support.
Individual Plan for $119.40/year – 1 site license, updates for 1 year, priority email support, 1 free installation service.
Business Plan for $239.40/year – 10 site licenses, 2 free installation services, priority email support
Agency Plan for $479.40/year – Unlimited licenses, updates for 1 year, priority email support.
Fresh LMS is a no-code platform that lets you take your training online. Build your eLearning website, and create courses with different types of multimedia content like videos, audio, presentations, documents, downloadables, and more. You can also embed the content from anywhere.
What Shopify is for e-commerce, Fresh LMS is for Knowledge Commerce.
Fresh LMS Features
Create courses with modules and chapters in just a few clicks
Build an Online eLearning website and store with zero code
Bring your payment gateway – 0% commissions
Single-Use and Multi-Use Coupon Codes
Affiliate Marketing – Lets your students refer and Earn money.
Drip – Unlock content based on the actions or days of enrolment
Quizzes & Assessments
Customized Course Completion Certificates
Memberships
Covert to the Language of Your Choice
Dashboards and Reporting
Custom Themes
Bring Content from Anywhere
Sell Bundled Courses together
Custom Domain & SSL Certificate
Fresh LMS Pricing:
Always Free for $0/month – Start your journey in the knowledge commerce industry with our generous always-for-free plan.
Starter for $29/month – Grow your business and audience with features like affiliates, course completion certificates, and more.
No Brainer for $59/month – Scale your business to new heights with white-label features like Custom Domain
Other Fully Hosted Course Platforms
Thinkific is one of the most promising and trusted online course-selling platforms among creators. This Platform has powerful customization and various useful tools.
Technically Thinkific is an online course platform but in the reality, this is much more than that. It essentially allows anyone to turn their expertise and passion into a sustainable business that makes difference. The features that their course software offers certainly back this up.
Thinkific Key Features
Drag & Drop Editor
Course Payment option
Generate income by selling
Student Management
Customer Support
Affiliate Reporting
Onboarding Package
Thinkific Pricing & Plans
Start Plan – $99/month
Grow Plan – $199/month
Expand Plan – $499/month
Teachable is a simple and easy-to-use online course creation platform. That provides you with the best tools to build an amazing interface and is easy to useable.
This platform is very intuitive to use. The program utilizes Drag and Drop technologies to simplify your course creation process.
This platform stands in a user-friendly interface that makes it easy to use for every person who desires to create a course, whether you are an expert or not yet in this field.
Teachable doesn't require any kind of knowledge in HTML or CSS coding language even a website to teach.
Teachable Key Features
Custom Branding
Drag & Drop Builder
Affiliate Marketing System
Ios Support
Course Reporting
Video Import Capability
Sales Tracker
Teachable Customer Support
Teachable Pricing Plans
Basic Plan – $39/month
Pro Plan – $119/month
Business – $299/month
With LearnWorlds you can do authoring and sell courses in the breeze. With just a few clicks you are all set to provide the best learning course material to serve online.
This platform is cloud-based and fully accessible on desktop and mobile devices. The best thing is that all updates, fixes, and releases are instantly available on the cloud with no system downtime.
LearnWorlds Key Features
Sale Pipeline Manager
Customized course player
Support social media
Learner engagement insights
Ecommerce functionality
Site Builder
Dedicated customer support
LearnWorlds Pricing & Plans
Starter Plan – $24/month
Pro trainer – $79/month
Learning center – $249/month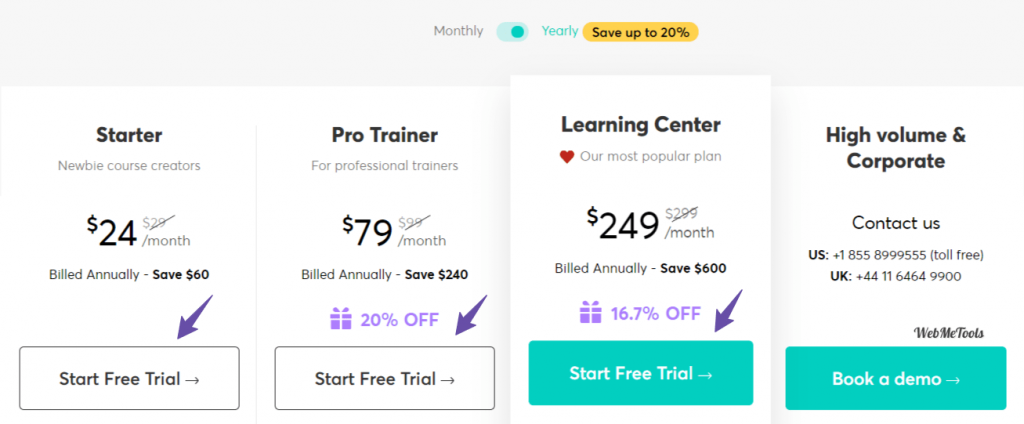 FreshLearn is a course creator platform that enables you to utilize your knowledge in a profitable company by enabling you to develop and sell courses online.
This Platform allows you total control over how you customize your user's experiences, encouraging learners to return for more.
FreshLearn provides you with everything you need, from course development to a payment page. It's a complete system with easy to use as click and add.
FreshLearn Key Features
App Integration
All-in-one no-coding platform
Collaboration tools
Affiliate network
Cohort courses
Learner analytics
Sales page builder
FreshLearn Pricing & Plans
Pro Plan – $29/month
No Brainer Plan – $59/month
Conclusion – Learning Management System Plugins
LMS or Learning Management System is renowned software that provides the unique and best platform to manage learning resources and content.
It helps the organization, teachers, and students to collab and handles all the resources used in the learning process.
So, the main thing is to choose wisely the best one for your next educational content journey.
It helps them to create, deliver, and track several training contents. An LMS may also provide additional advanced features including the capability to manage payments, custom branding, and conferencing, this is the future of training.
With LMS being a strategic growth partner in the e-Learning space, corporate/organizations, educational institutions, and government entities across the world are making the best out of it and meeting the training needs of their employees and customers.
With its simplicity to use, ability to integrate with other platforms, and incredible features and tools to create the best content.
FAQs – About LMS WP Plugins
Why should I use LMS?
The LMS offers a consolidated platform that benefits employee career development.
What types of training materials are included in LMS?
Usually, LMS features will include compatible materials. They basically have Quizzes, assignments, and challenging exams that help in their performance.
Is there a time limit for an activity in the LMS system?
Yes, after 15 minutes of inactivity, you will automatically log off. You will have to log on again to continue your activity.
 Can you use company branding on LMS software?
 It depends on the software that you are using, but most of the platforms allow customization of content and the look, or feel of the software.