Themeisle is a premium WordPress theme provider and a product of CodeInWP. When you create a new WordPress blog, one of the most challenging choices you have to perform is which theme to use.
Thankfully, There are amazing high-quality theme providers who can work for you when you begin your search. Themeisle is one of those providers that gives many high-quality themes and plugins.
With Our Themeisle review, you'll get to know
Should you choose Themeisle Theme or Plugins for your business yes or not.
In this Themeisle theme review, We are Going To Describe:
Themeisle Pros & Cons
What is Themeisle Theme
Themeisle Theme tutorials
Reasons to Choose Themeisle Theme
The themes of Themeisle are sold individually in either a yearly subscription or an unlimited lifetime option. They managed to have a "club membership" model that provides access to all their themes and plugins, but now you only get the items you need to use. We will give you a full overview of the Themeisle.
Introduction- What Is Themeisle
Founder – Ionut Neagu
Founded Year – 2013
Headquarters – European Union (EU)
Contact – friends@themeisle.com
Themeisle is an organization that sells WordPress themes and plugins. Founded in September 2013, the online store has intended to assist the WordPress community.
The company also provided the opportunity of free downloads for specific themes. Yet, they needed to do more and presented CodeinWP plugins at no cost.
Also, they fixed up a blog on CodeinWP where users can get valuable materials on how to build user-friendly interfaces, web design, WordPress explanations and examples, and other related posts. It was committed to increasing its popularity.
Does It Worth It?
Themeforest's Themeisle Theme Review
Themeisle gives a bunch of professional pixel-perfect themes.
The Themeisle team includes web developers, web designers, consumer-care experts, and project administrators. The company's purpose is to build top-quality themes for websites, which can be handled pretty quickly by a non-experienced user.
The store partners began their business with a plan of giving useful WordPress themes, collectively with professional design services.
Thus, Themeisle buyers will drop their support and training costs on WordPress functioning. After only six months of exercise, the number of customers of the store doubled, which previously had more than 150 consumers only.
By the end of the year, this number increased by five times.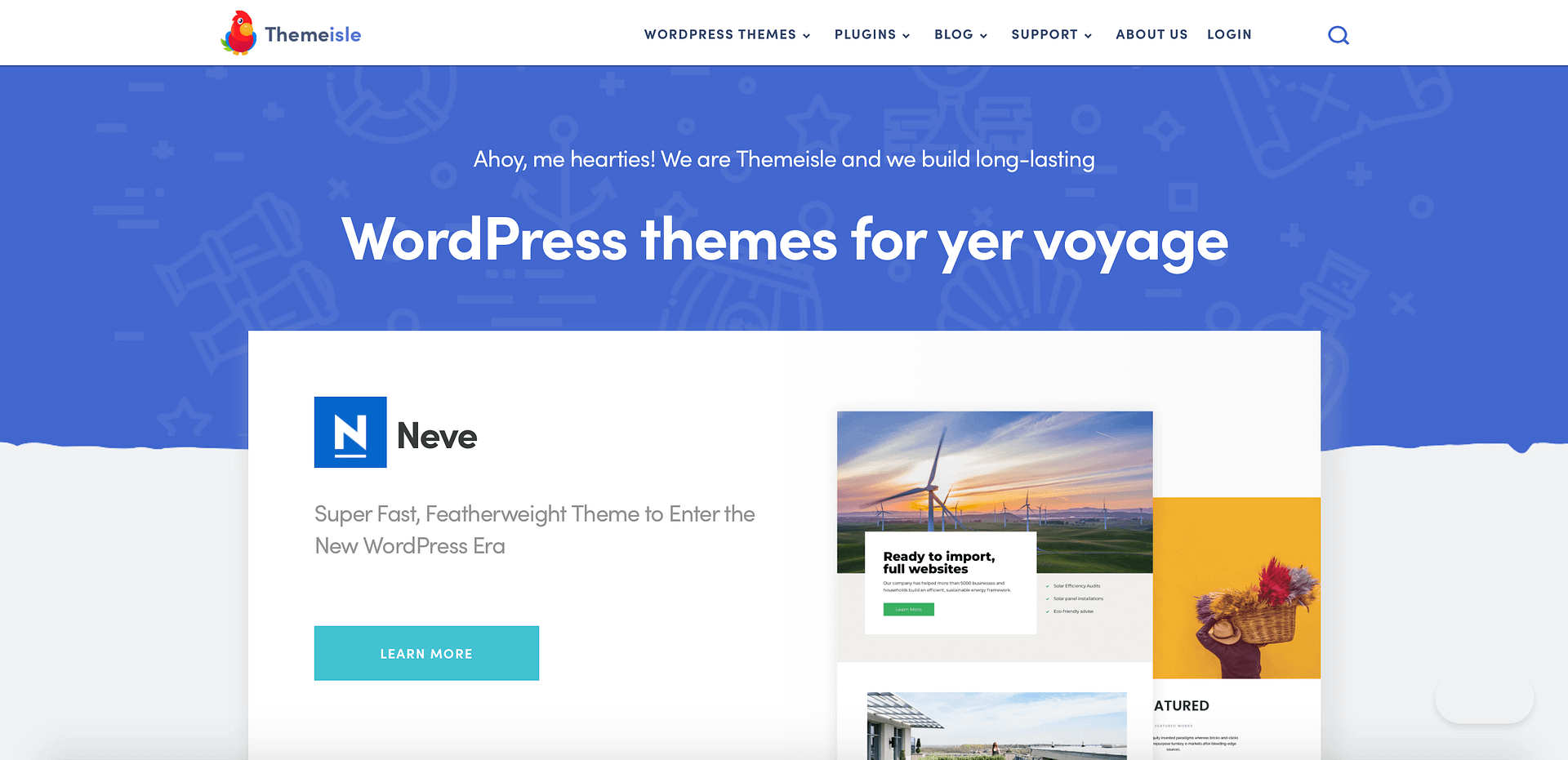 Although the level of consumers was in constant change, by March 2015, the organization touched almost 600 in number.
Themeisle Features
Here are the key features of Themeisle:
3 Premium Themes
3+ Pro Plugins for Extra Functionality
Regular Updates
30 days money-back guarantee
24/7 customer support
300+ Product Docs
1-Year of support
Mobile Responsive Themes
Ease of Use
Full Demo Versions of Themes
Large Collection of FREE WP Themes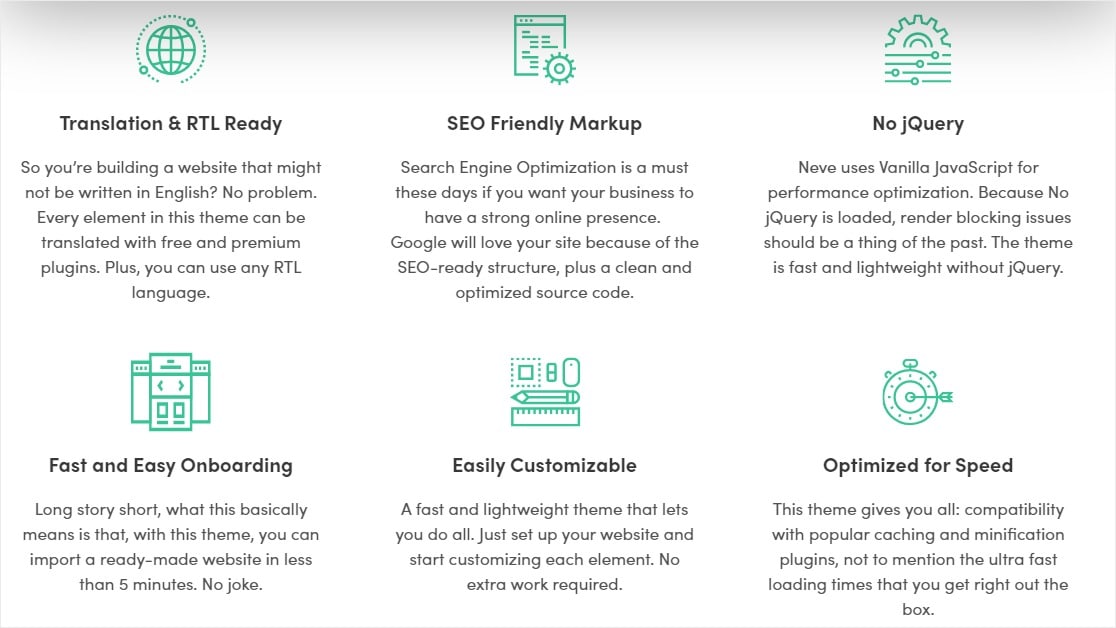 Themeisle Review – Features Highlight
Themeisle is famously known for its amazing themes and reliable plugins, as it is a firm well recognized for the quality of its products.
We took a close review of Themeisle and found 6 points that will aid you in knowing the working of this tool, and if it is ideal for you?
Massive Variety of Themes
Themeisle currently gives a variety of themes that target a particular goal. Need a one-page book theme, an eatery theme, a law office theme, a melody theme, ideas for online stores, for articles, for your blog or your company?
They have you covered for all of that. There are 30+ themes in their collection.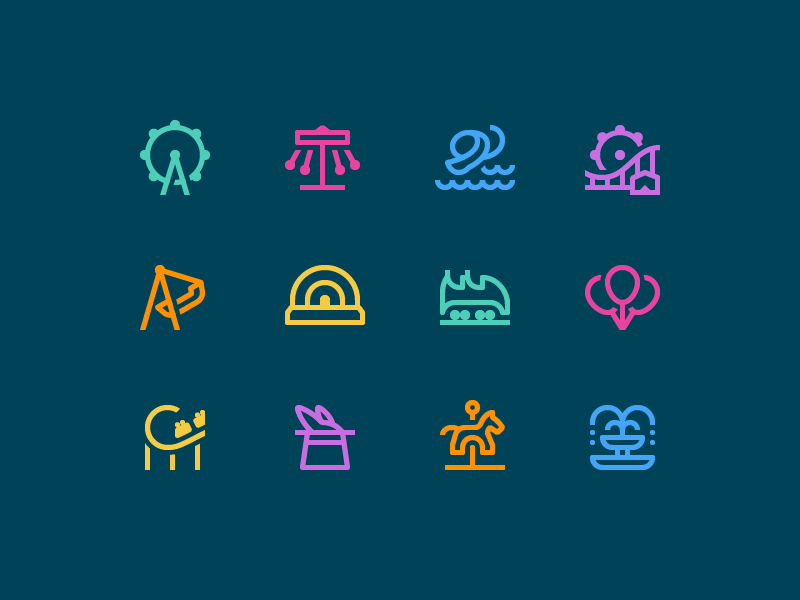 Some of their themes have a home page section that you can edit in the Customizer. It provides you the capability to add parts, such as for a team, portfolio, or newsletter without managing a page builder. They use the path that you should append special features using plugins.
Using plugins presents your content more compactly. For instance, say you were writing reviews with good ratings.
If the review characteristics have developed into the theme and you choose to change items in the future, then you would re-enter all your scores. If you manage a plugin, then those ratings are accessible no matter what theme you use.
A WordPress theme couldn't possibly be encountered in today's business if it wasn't user-friendly and straightforward to customize, and all the Themeisle themes tick that box too.
What's uniquely fabulous about the store here, though, is that the free themes are just as accurate as of the premium ones. They all provide you with a stable, simple-to-use admin panel where you can configure your site down to the utmost detail with just some clicks of a button—no coding required.
User-Friendly Configuration Options
Most free themes don't provide you full configuration options. That's not the problem with Themeisle. Yet, for their free ideas, you get a detailed, user-friendly admin panel to configure everything of your theme.
You can go through everything and see your modifications in real-time thanks to the WordPress Customizer. For instance, if you need to add social icons to your website, all you need to do is drive to that section and insert the links to your social profiles.
These menu options have many standards for premium themes but are not very familiar with free ideas.
That's what makes Themeisle's free themes unique. These complete customization options also drop the requirement for a set of plugins. Rather than installing a plugin to append a particular feature, you may be ready to do it from the theme's customization options.
For instance, the Pro version of Zerif allows you to build attractive pricing tables without any external pricing plugins. These benefits block your site from getting cluttered with useless plugins.
Themeisle Provides Regular Updates
Another standout characteristic of Themeisle is their regular, daily updates to both premium and free themes alike. WordPress also continuously improves and updates itself.
That's why you must need a theme publisher who retains their themes up to date. You don't require any vulnerabilities that provide hackers a way to your site. ThemeIsle consistently keeps their ideas updated – even the free ones.
It indicates that the code will always be fit and optimized for the newest versions of WordPress. Themeisle also adds enhancements, so your theme may even get more beneficial over time.
So owning a theme developer that refreshes their ideas just as regularly is essential if you require a website that keeps operating smoothly and securely with the newest version.
They have a wide range of plugins and its something that deserves a good remark. These remarks are intended to complement any one of their themes and improve their functionality.
While they're no WooCommerce or Yoast, they're a great place to begin developing the area of your website.
They also give you more functionality, including custom logins, interactive sliders, social media combinations, ratings, and reviews, custom posts, RSS feed aggregation, and morIt operates 10 WordPresstop-selling plugins.
WP Product Review Plugin is the best selling product among them. This plugin generates Ratings, Pros, and Cons inside the article and also creates rich snippets on search engines that convert visitors into leads.
Demo versions and Mobile Responsive Themes
Every theme also has a great demo. It provides you with the choice to play around with both the front end and the back end. You can preview not merely how it seems and feels, yet also how it operates.
It's a mere feature, but this benefit makes it a little bit more comfortable for users to select which theme is best for them—and anything that gives the experience more satisfying for the user is the best thing about the company.
The demo also lets you preview each theme in a variety of screen sizes (both portrait and landscape), so you can view how it presents across many devices.
No current website can achieve anything today if it's not mobile responsive and doesn't build a seamless viewing experience over desktop, tablet, and mobile—something every ThemeIsle theme does. It assures that any idea you prefer will automatically work beautifully over all devices without any effort.
Choose A Best Plan For You.
Themeisle Plans and Pricing
Themeisle has three plans, and they are Essential, Business, and VIP. The Essential plan is best for single websites, the Business plan is suitable for growing businesses, and the VIP plan is best suited for multiple sites.
But for a developer, there are lots of helpful tools to design websites using themes and plugins.
Themeisle Pricing starts from $65.18/year in its Essential plan. The rest of the pricing starts from $94.45/year and $247.40/year for Business and VIP plans. But there are no monthly plans.
| | | | |
| --- | --- | --- | --- |
| Themeisle Pricing Plans compared | Essential | Business | VIP |
| Total yearly price | $65.18 | $94.45 | $247.40 |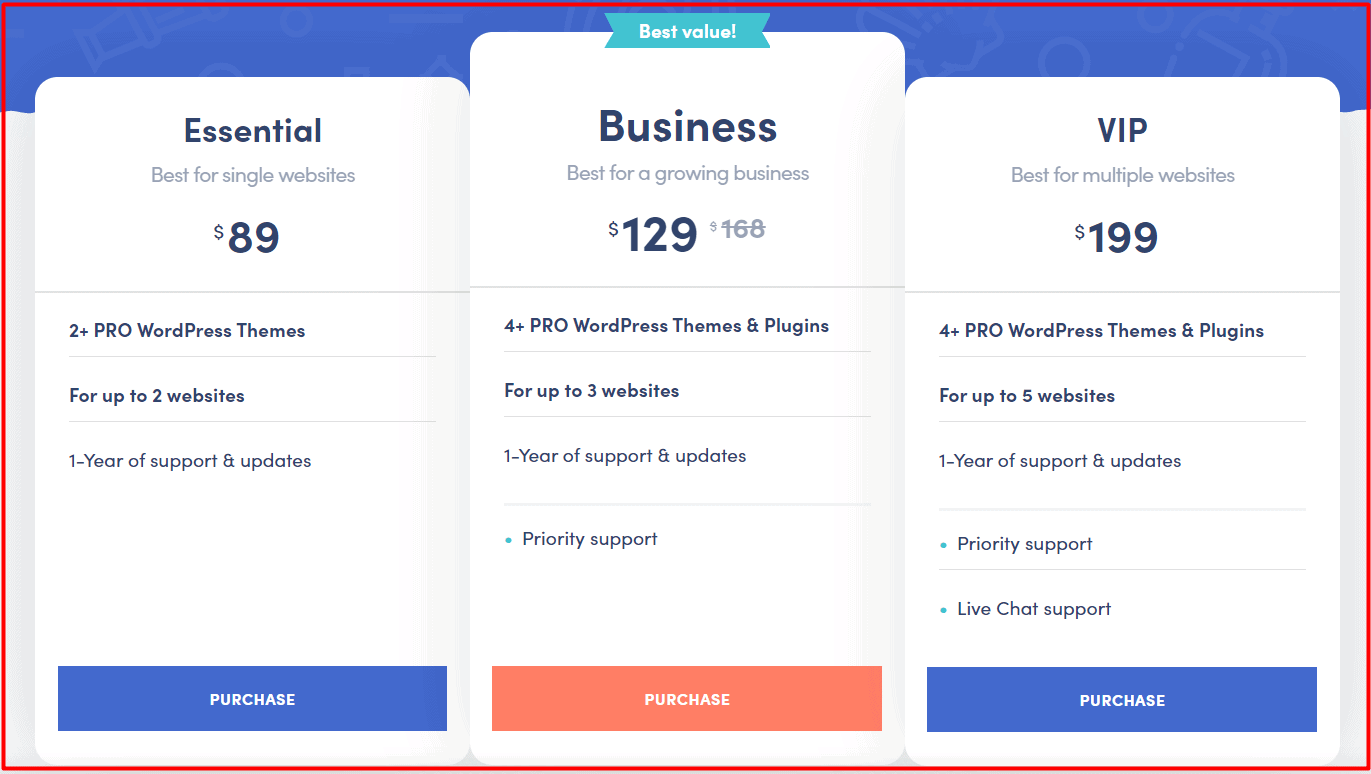 All the above Themeisle prices are without any Coupon or Special Offer. The best part of using Themeisle is they offer a 30-day money-back guarantee, so after using it if you don't like their platform, you can simply apply for a refund policy.
ThemeForest Coupon & ThemeForest Promo Code: Get Up to 65% OFF

Looking For Discounts on Themes??
Some Queries Related To This Post-
FAQs: Themeisle WordPress Theme
If still, you've some doubts about Themeisle and want to know more. Here we've added the most asked questions that will give you more ideas about Themeisle.
Do you offer any refund policy?

We offer a full refund for the first 30 days after purchase.

How many websites can I use?

You can use them on any number of websites. It doesn't matter if it's controlled by you or not. Remember that you will only get updates, support, and new features just for the websites with an active license.

Will, you help us to customize our website?

We do propose a collection of specific documentation and more than 200 Custom Code articles with examples on how you can further customize your website.

Can I get support for free products?

No. We can't offer support for our free products.

How long will I get updates for themes and plugins?

With the annual subscription, you will receive updates until the end of the subscription, and for a lifetime subscription, you will get updates for a lifetime.
Should I Choose This Theme?
Conclusion: Themeisle Review 2023
ThemeIsle themes and plugins are an excellent match for people who are new to WordPress or who don't need to dig into layers of customization, but who favor placing their energy into their content and business.
One feature of their multiple themes and plugins is that they appear in a Lite version, so you can "try before you get," or the Lite variant will have all the characteristics you need.
This theme is useful for:
Non-developers
Bloggers
WooCommerce Website
Freelancer
Entrepreneurs
Businesses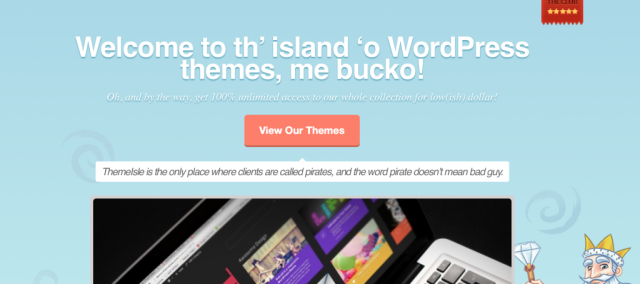 We have an excellent feel for ThemeIsle and its products after passing through the "deep dive" process. We revealed a few issues, but for the most significant part, everything went as it should.
While "beautiful" is subjective, We felt that some of the themes stood out from the pack. This tool is best for entrepreneurs, small business owners, freelancers, and marketers.
| | |
| --- | --- |
| Category | WordPress Theme & Plugin Provider |
| Starting Price | $59 |
| Key Features | Simple, Quick and Responsive SEO Themes |
| Verdict | Quality Free WordPress Theme + Premium Products |