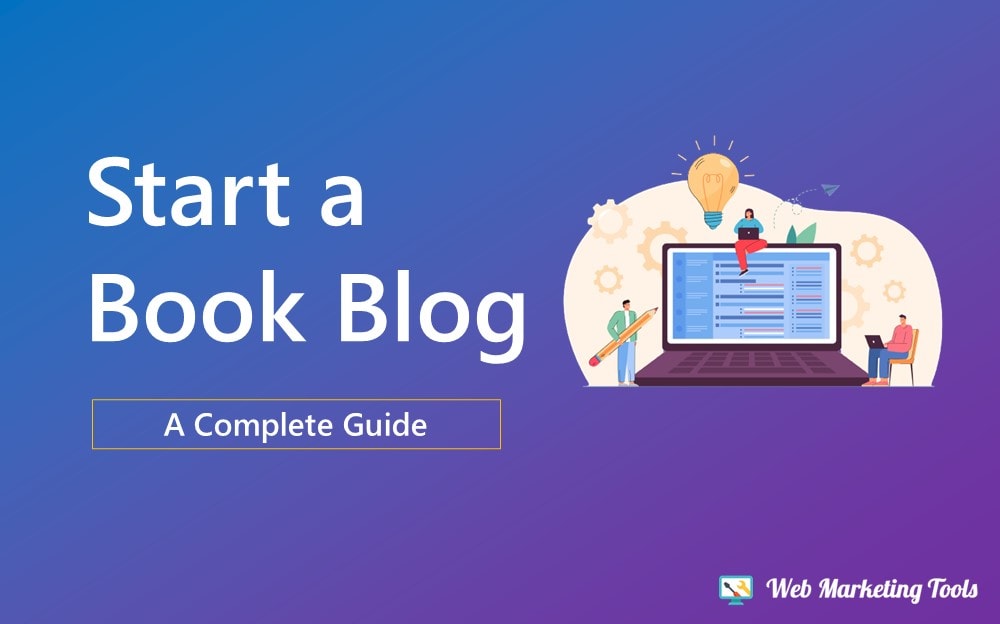 Complete the guide to start a Book Blog step by step from the beginning and make your first $1000 from blogging. Create a Book Blog on the Books, Novels, and Stories niche to easily earn money.
Book blogging is a type of blogging about books. Book bloggers review books, share news about the publishing industry, connect readers to new books and authors, and provide a space for book-related discussions.
Here we have shared a complete guide on how to start a book blog on WordPress and make money.
This step-by-step guide will start your blog with all essential WordPress Plugins, Themes, and Other Blogging Tools like a PRO blogger.
Right Web Hosting
Top WordPress Plugins
Best WordPress Themes
FREE Blogging Tools
Promotion Methods
How to Make Money
Let's start your book blogger journey with some introduction and then step by step guide to starting a blog from scratch.
Our team has their best to make it easy for you, so we have shared complete steps & a detailed guide to kicking a blogging journey.
Let's Start!!
What is Blogging & How Does It Work?
In a world where everyone thinks that their voices cannot be heard, blogging proves them wrong. Blogging is a way of conveying your thoughts, opinions, and facts over the internet in written form.
While there are different methods of conveying this information, a blog still stays on top of everything. It is because people tend to believe a written piece of information more than a video or audio.
So, if you have decided to start a book blog, then you are at the right place. There is enough competition over the web in any category(niche). So, it becomes important for you to write a blog that can compete with others.
Why should you Start a Book Blog?
Books are a man's best friend. If you start a blog on books then your audience will turn into your best friends as well. The Niche of book blogging is still growing. It has not realized its full potential yet.
Yes, you can argue that "there is competition everywhere, How will I gain a good audience on my blog?" Yes, you are right.
There is competition but very low when compared to other niches. So  Starting a book blog will get your foot down.
Benefits of Starting a Book Review Blog
Being a low-competition niche, Book Blogs have resulted to earn good revenue. There are a lot of readers out there who want to get insights into some works, want to know about writers' backstories, or just want others' opinions on something.
The purpose of a blog is to provide content on your website that answers your prospective Audience' questions and helps them learn about your knowledge about your niche.
It expands your brand's visibility by giving Google and other search engine content to index and serves up in search results.
Making a book blog will give tremendous benefits like:
A good earning source
Expressing your opinion on different books
You can get free copies of books to review(you would love it if you admire books).
Getting recognition over the web.
Find Some Better Ways-
Get Ideas For Books Niche Topics
When it comes to starting a book blog, people seem to think that a book blog means reviewing books. There is a lot more to starting a book blog.
To help you in creating your book blog, Web Marketing Tools Team has shared some Niches related to Books and Novels, that you cover in your upcoming blog.
You can start a book blog on a single niche or pick a different niche as you want.
Some of the ideas are listed below:
Book reviews: the most common type of category where you can review books that you have read.
Book recommendation: book maniacs are always looking for new books to read and get through the day, you can suggest some books for every mood, and you can always refresh your content.
News on upcoming books: writers are publishing their work all the time. You can be the source of finding what work of which writer is coming, and when. You can be the Sherlock Holmes of book blogs.
The predictor: there are fan theories made everywhere. How about making your own? In these types of blogs, you can put out an individual ending for people, or even change the plot of the book and make it even more interesting.
The Debate Starter: If you read a book and you get a great idea or a great question, then you can put it in your blogs. People love to know what others are thinking about their favorite books and let's be honest, it never kills to be curious.
List maker: You can write blog posts recommending people "my top 5 books" or you can recommend people books for different occasions like, "books to read on a vacation" and "books when you feel low". 
The Backstory Provider:  Sequels and prequels are being made every day, being a bookworm, if you know what is the link between the plots, you can surely share it with your audience.
We Hope, These topics give you lots of ideas about blog writing.
Do You Need Help For Your Niche Research??

25 Niche Research Tools – Select a Proftbale & Low Competition Niche
Follow These Steps, and You Are Done!!
Steps to Start A Book Blog
Here we have shared all the points that you have to consider while starting your tech blog:
Create A Website– The first step to start your blog is to create a website, and creating a website is not a tough task, but it is time to consuming because you have to choose a better layout that is suited to your niche and find a better hosting.
Do Topic Research- Once you create the website, then start doing your keyword or topic research, because this is a crucial part of your blog here you have to find topics that people are interested in and are less competitive. For this, you can use tools like SEmrush and Ahrefs.
Create Content- After finding some interesting topics, you have to start creating content around your topic, while writing content there are lots of things you have to understand while writing content, and there are lots of blogs and videos that will help you to create better content.
Do SEO- At this point, you have completed 80% of your work, now you have to optimize your content for Google, so you have to do SEO on your website and pages to find your blog helpful. there are also many ways available for promoting your content, but this one is the better option because it is free & effective.
Stay Updated- Starting a tech blog may sound easy but it is not, because you have to keep researching your topics and create content around it and make it much better as possible so people find these topics interesting.
Tip- If you feel like you have to add some more other topics then you have also start your journey as an amateur blogger.
Some Tools That Will Boost Your Book Blog Work-
Tools You Need For Your Book Blog
After successfully starting a book blog, you also need some web marketing tools. On this website, we have listed 100+ Top Digital Marketing & Blogging tools.
But in the beginning, you just need a few essential blogging tools, that will grow your blog fast and make it a profitable business soon. These tools will help you with Content, SEO, Marketing, Social and Make Money.
1. SEO Tools
SEO tools provide data and alerts about the overall health and success of your website. They help uncover areas of opportunity and identify weaknesses or issues that may prevent you from ranking and earning visibility in the SERPs
Looking For Better SEO Tools?

20 Best SEO Tools for Blogger & Digital Marketers
2. Email Marketing Tools
Email marketing tools are tools marketers use to create, send, test, optimize, and report on their email campaigns. One of the most common email marketing tools is an email service provider, or ESP, like Campaign Monitor.
Looking For Better Email Marketing Tools?

Email Marketing Free Trial – Start Free Email Marketing Service
3. Social Media Tools
Social media tools help isolate not just the trends, but also key demographics relevant to your business and learn more about their interests.
It also helps brands discern if 'vanity metrics'—likes, shares, and re-tweets that look good on the page—are adding the right value to your business.
Recommended Social Media Tools:
4. Content Creation Tools
These tools can save you time and money by streamlining the way you create your content and improving the quality of what you produce. They can offer new topics to write about, and show you how to get website visitors to engage with those topics.
5. Chrome Extensions
Google Chrome extensions are programs that can be installed into Chrome in order to change the browser's functionality. This includes adding new features to Chrome or modifying the existing behavior of the program itself to make it more convenient for the user.
Bit.ly.com: Bit.ly allows you to edit your links and instantly share and save content straight from your browser into your bit.ly account.
Buffer: Buffer's Chrome extension is the easiest way for you to share content to your Following as you peruse sites throughout the day.
Awesome Screenshot: Awesome Screenshot App is an annotation tool for your screenshot and picture. The app works for Chrome 36 and later versions.
SEO Quake: SEOquake is a free extension that provides you with key SEO metrics, along with other useful tools such as SEO Audit and many others.
Evernote: With Evernote you can work offline, taking notes, and collecting web articles or photos in one organized space.
Can't Find A Better Niche?

100+ Profitable Blog Niche Ideas & Topics For Blogging in 2022
Our Opinion –
Conclusion – Does It Worth To Start a Book or Novel Blog?
On this page, the WMT team has shared a complete guide to starting a blog on a book or novel niche. It is very easy to start without any kind of technical knowledge.
To sum up, if you are one of the people who love to read books then go start a Book blog. There are a lot of Potterheads and Jon Snow fans out there who want to listen to you.
Will JRR Martin release his book this year?
Will there be another edition of Percy Jackson?
Will there be another movie on Fantastic Beasts?
These are some of the questions you can answer.
Blogging is a good way to share your thoughts, and earn some income. Starting a blog has become a definition of making your passion into a profession.
Look around you, these yellow pages of the books will get you to the path of success. But, this can happen only when you hustle more every day and follow the right path.
Is it worth to start a book blog?
Yes, it is completely worth it to start a book blog as there are a lot of discoveries yet to be done in the niche.
Is a book blog profitable?
Every blog is profitable only if you can scale it. For scaling it you have to be consistent and follow the guidelines given to you, like proper research and SEO.
How do you monetize a book blog?
There are several ways like Adsense and affiliate programs that can help you make some money.
How much time will it take to achieve good viewership?
It is a relative number. It can either take you days or even months to make a good profit out of your blogs. To speed up the process you have to follow certain protocols and strategies.
Can I get Free books from book blogs?
Yes, if your blog becomes popular then you might get contacted with some of the authors (usually of an anthology) to review their creations on your blogs.