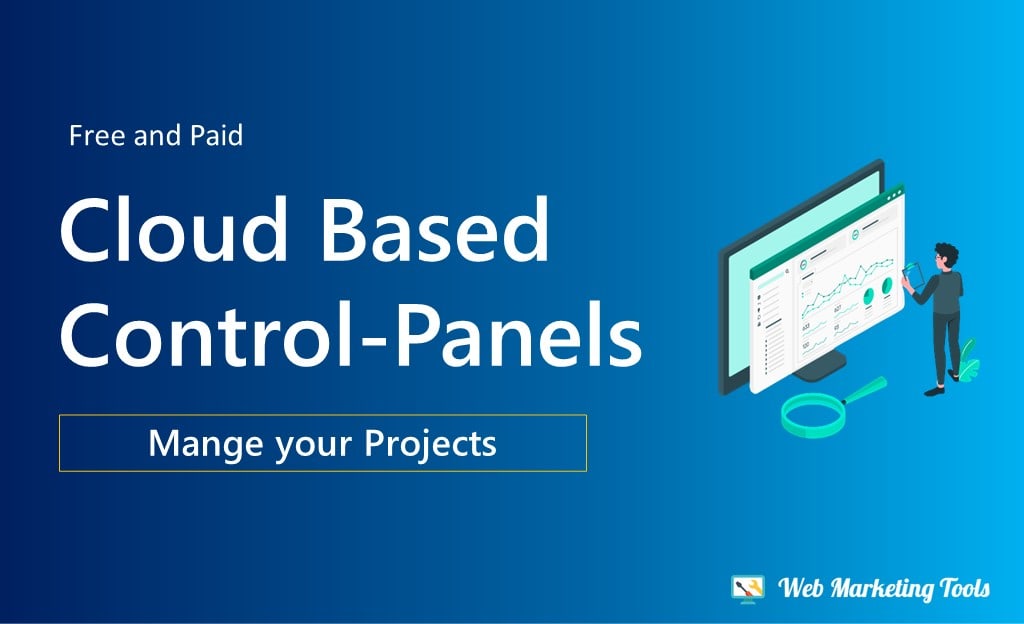 You just bought a brand-new cloud server from your chosen cloud infrastructure supplier. Now begins the difficult task: setting up programs and services, handling security-related issues, creating backups, etc.
You must pick a cloud-based management panel that allows you to build, administer, and manage servers without getting too technical.
Luckily, you have a wide range of fantastic options to choose from. Thanks to their management panels and tools, the most popular cloud providers allow you to run a cloud-based infrastructure from the convenience of your sofa.
| | |
| --- | --- |
| Control Panel Type | Web Hosting Management Panels |
| Listing Based on | Free & Paid Both |
| Trial Account | Yes Provides a Free Trial |
| Money Back Guarantee | Up to 60 Days |
What is a Cloud Control Panel?
Any provider of cloud services has a "Control Panel" as its external appearance. This is what enables the "as a service" provision of cloud-based applications, including infrastructure as a service and software as a service.
Control Panels provide APIs for each of these "Control Actions." In addition to the APIs, they frequently include GUIs or graphical user interfaces. Because they provide a 360-degree picture of all control operations taking place within the apps, they are often referred to as "A Single Control Pane."
What functions may a control panel perform?
Because its main objective is to save you time and effort, a smart management control panel should make complicated processes simple, automate tedious chores, and only draw your attention when it is absolutely necessary.
The creation and configuration of servers are among the most complicated tasks that need simplicity. The management panel should be positioned between you and the cloud infrastructure provider in order to conceal all the unseen (but important) elements that must be handled during server installation and configuration.
Right now, cloud servers are preferred by users due to their low cost and fast performance. Here is the best cloud hosting the free trial for up to 60 days to test, create and check the functionality of the cloud server.
The software stack installation comes next. Even if you're unsure of what to install on your new server, the control panel can help you decide what you want to do with your website.
Once your server is running, you may begin performing routine tasks like monitoring, backing up, limiting access, and so forth.
If you don't plan to do the task yourself or hire an expert to do it, you need a tool that performs all these procedures automatically.
You'll also need to be informed when something happens that needs your help. In a reliable management solution, critical notifications should be given over many channels including email, phone calls, and instant messaging.
Let's look at some of the most essential control panels you should consider if you're comfortable with the idea of handing up control of your servers.
Choose the best one-
Best Control Panels for Cloud Servers 2023
CyberPanel
Optimized LiteSpeed Control Panel.
CyberPanel is the name of an improved OpenLiteSpeed web server control panel. New domains and virtual hosts may easily manage SSL with CyberPanel.
Additionally, the lscache module is by default activated, enabling users to use it to cache their pages.
In addition, CyberPanel offers a one-click install for WordPress and Joomla. When the WordPress installation turns on the LiteSpeed Cache plugin, you are now ready to go.
CyberPanel includes OpenLiteSpeed and LiteSpeed Enterprise, two control panels that were designed with speed in mind, in contrast to other control panels that come with Apache or NGINX.
CyberPanel Features:
Single-click SSL
Simple SSL Mod Security
Single Click LiteSpeed Cache and WordPress Installation
Power DNS
DNS Power FTP Server
PHPMyAdmin
Different User Levels
Server for email (Rainloop)
Managed Files
Firewall
The Git Manager Firewall
1 click Backup and restoration
CSF
MailScanner
Stage Your Website
cPanel
Leading Control Panel
To make administering servers and websites easier, a control panel called cPanel, an online graphical user interface (GUI), is employed.
With cPanel, you may publish websites, administer domains, organize web files, set up email accounts, and do other things.
cPanel is one of the most popular control panels in the US. Customers of several web hosting companies receive cPanel as part of their subscription to hosting.
The Web Host Manager server administration interface and the cPanel user interface are the two interfaces in cPanel (WHM).
Users may manage their websites thanks to this combination, which also provides hosting firms with the tools they need to manage the server.
cPanel Pricing Plans:
Solo (1 Account) – $15.99/month
Admin (5 Accounts) – $24.99/month
Pro (30 Accounts) – $35.99/month
Premier (100 Accounts) – $53.99/month
cPanel Features:
File management.
Features for simple email.
Control a reliable database.
built-in integration with third parties.
Easy to Install
Domain management.
dependability as well as portability
Plesk provides a powerful control panel to make administering your apps and websites easier. It provides an easy-to-use interface with all the features required to complete even the trickier website maintenance tasks.
Furthermore, a built-in code editor allows for instant file change.
Along with Plesk, Vultr offers a user-friendly control panel that makes it simple to swiftly deploy new instances, choose the server OS from a choice of Linux distributions, specify the server's location, and perform other tasks.
Plesk Pricing Plans:
Web Admin ($9.90/mo) – 10 Domains, WP Toolkit SE
Web Pro ($15.26/mo) – 30 Domains, WP Toolkit, Subscription Management
Web Host ($25.16/mo) – Unlimited Domains, Reseller Management
Partners (custom) – 10 Domains, WP Toolkit SE
plesk Features:
Toolkit SE for WordPress
Management of subscriptions.
CMS Assistance
File Management.
Hosting of email.
Database Support.
Integration of a control panel.
Integration of e-commerce.
Tools for security
An easy-to-use but effective control interface is used by the software-as-a-service platform CloudPages to manage cloud servers.
CloudPages is a SaaS-based website management system. You may administer any PHP-based website using CloudPages, despite the fact that it is primarily designed for WordPress-based websites.
Simple enough to use for someone without technical knowledge. Using this management panel, you can easily install and maintain your web applications.
CloudPages Features:
WordPress Manager
Bubblewrap.
reCaptcha.
Mod Security
Firewall.
Git Manager.
a number of PHPs.
Staging with one click.
One-click SSL is free.
File Manager.
Manage PHP.
Team Management.
server load is reported
Organizations can manage websites and apps built with the PHP frameworks Laravel, Code Ignitor, WordPress, and other frameworks with the use of a web-based server management solution called RunCloud.
Among the features are atomic deployment, activity logging, site login, password management, and IP whitelisting.
SSH configuration, name or provider addition, server relocation, and IP address configuration are all tasks that network engineers can perform.
Using RunCloud's integrated file management module, employees may add, delete, rename, and modify file or folder permissions.
RunCloud Features:
Atomic deployment of Git.
Check the server's health.
WordPress Installation.
staging for WordPress sites.
server load is reported.
several PHP.
Backups.
single-click SSL
Manage files.
Cron tasks.
Version CLI.
Moss is more than just an admin tool or control panel; it is a virtual friend for web development pros. Its goal is to help in whatever way it can managing the server and website and collaborating with the software development team.
Moss takes care of managing your servers and web-based programs so you can concentrate on developing new ones and managing your business.
Moss will be there to assist you when it's time to set up, manage, or keep a check on your servers and websites.
Moss Features:
Visibility right away.
Consider security when designing.
integration of a third party.
deploys with no interruptions.
notifications and monitoring with no configuration.
team assistance.
Vesta offers a simple, lightweight control interface that puts performance ahead of more complicated capabilities like multi-server configurations.
With its Nginx-based web panel interface, users, websites, DNS, mail accounts/servers, databases, cron tasks, backups, IP addresses, and other things can all be simply controlled.
To help you track the effectiveness of your website, detailed graphs and statistics are also shown in the panel.
Bash is the recommended native programming language for Linux server managers, and the Vesta core is open-source and includes bash.
The console's command list now has 381 commands. Because of bash and GPL, Vesta can create new features and fix problems quickly.
Vesta Features:
Computerized High Performance (HPC).
Firewall.
DNS assistance
support for web servers
Email assistance.
FTP
Database, and traffic management
FAQs – Cloud Control Panels
What are Cloud Server Control Panels?
To manage your cloud server-hosted application, users need a control panel. That comes with many different features to easily operate that application.
Why do I need a control panel?
To make management easy, and get more features and specifications, users need a control panel.
which is better Plesk or cPanel?
Both control panels have good features but cPanel has some better UX and features. While Plesk also offers a free control panel for up to 3 sites.
How to install a control panel?
Right now most of the cloud servers like Linode, Vultr, or DigitalOcean provide all these applications in the marketplace. It is just one clicked installation for any app. Although users can also install using the console.
Our Opinion-
Conclusion – Cloud-Based Control Panel
A solid control panel could make your team member's time more efficient and productive, even if they are an expert in operating servers and websites.
You can also start your website on an expired domain name, which also has some benefits.
Consider all the savings you'll experience, including those in terms of time and money, and those associated with fewer troubles and larger websites, while assessing the cost of such a product.