30+ Top Inbound Marketing Tools including SEO, Email, Blogging & Other Inbound Marketing Software of 2023. Explore all the Best tools of Inbound Marketing category-wise, price, and their use in marketing.
Before we jump into the list of these tools, let's start with the who, what, and how for the marketers climbing out.
First, when we are dealing with something, then to sell our products we have to do its marketing so that consumers know about our products.
We can do marketing by using one out of two strategies: Inbound marketing and Outbound marketing.
Creating Inbound marketing content for a while or are just going to start, it's always helpful to see how businesses like yours are crushing their inbound marketing game.
Today, in this article, we are diving into some of the inbound marketing software.
If you are also looking for inbound marketing, you read this excellent article. To know this, you have to read our article till the end.
Let's Start!!
What is Inbound Marketing?
Inbound marketing is the practice of attracting customers by offering quality resources and content, driving customers or clients to you with various methods.
Inbound marketing is a marketing strategy by which you add or tell your product by website rather than outwardly advertising your products or services.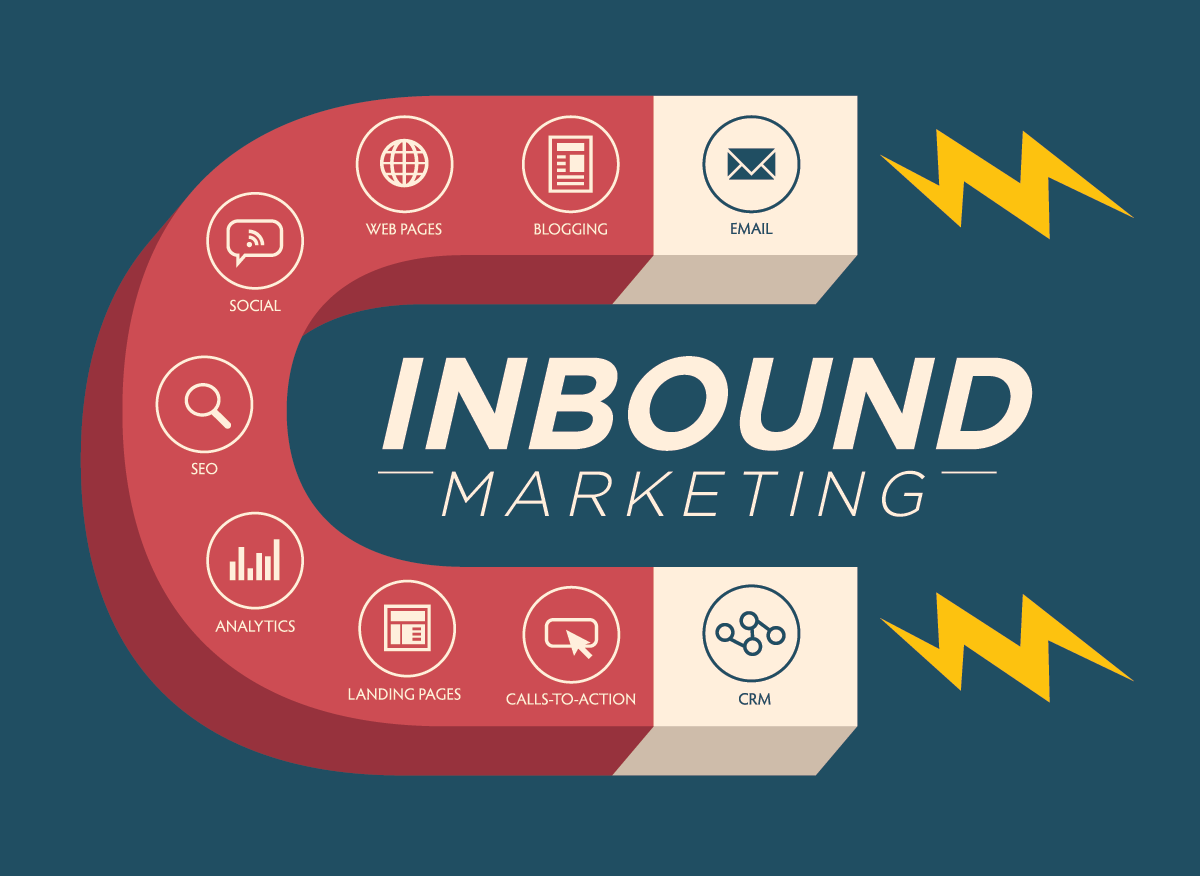 Using this idea, you can bring potential customers to your website and familiarize them with your brand and offerings.
Hence, you'll make a good impression—thus, consumers come to know about it by using their mobile, laptop, or iPad only.
On the other hand, Outbound marketing refers to the marketing strategy behind traditional paid media – TV ads, billboards, and those insane Vitamin Water posters that make your morning commute worthwhile.
Whether you've been creating inbound marketing content for a while or are just going to start, it's always helpful to see how businesses like yours are crushing their inbound marketing game.
Choose the best option for you.
 Types of Inbound Marketing Tools
We have put together a list of some of the top tools to help you out in the following inbound marketing areas:
Inbound marketing is a methodology that focuses on attracting customers through valuable content, interactions, and experiences. There are several tools available to implement an inbound marketing strategy effectively. Some of the most common types of inbound marketing tools include:
Content creation tools: These tools help to create high-quality content that is informative, educational, and engaging. Examples include blogging platforms, video creation tools, and graphic design software.
SEO tools: Search engine optimization (SEO) is an essential component of inbound marketing. SEO tools help to optimize website content, conduct keyword research, and analyze website performance.
Social media management tools: Social media platforms are an essential part of an inbound marketing strategy. Social media management tools help to schedule posts, monitor engagement, and track performance across different platforms.
Email marketing tools: Email marketing is a powerful way to reach and engage with potential customers. Email marketing tools help to create and send newsletters, automated emails, and targeted campaigns.
Analytics tools: Analytics tools are used to track and analyze website traffic, social media engagement, and other key performance metrics. This information can help to refine inbound marketing strategies and improve results.
Customer relationship management (CRM) tools: CRM tools help to manage customer interactions and data. This information can be used to personalize marketing efforts and improve customer retention.
These are just a few examples of the many inbound marketing tools available. The right combination of tools will depend on your specific goals and strategy.
Some advantages you should need to know.
Benefits of Inbound Marketing Software:
Inbound marketing software enables marketers to attract and convert leads from the web. These tools include social media, SEO (search engine optimization), and content marketing. Inbound marketing tools can be used to build relationships and drive traffic to your website.
By attracting new leads through social media, SEO, or content marketing, you can increase your brand awareness and create a buzz.
At the same time, you can reduce your marketing costs because you are no longer spending on advertisements.
To make the most of these tools, you need to know which one is best suited for your business, You also need to know which platform works best for you and how to optimize your profile so that it gets more attention. Inbound marketing tools are a crucial part of modern marketing.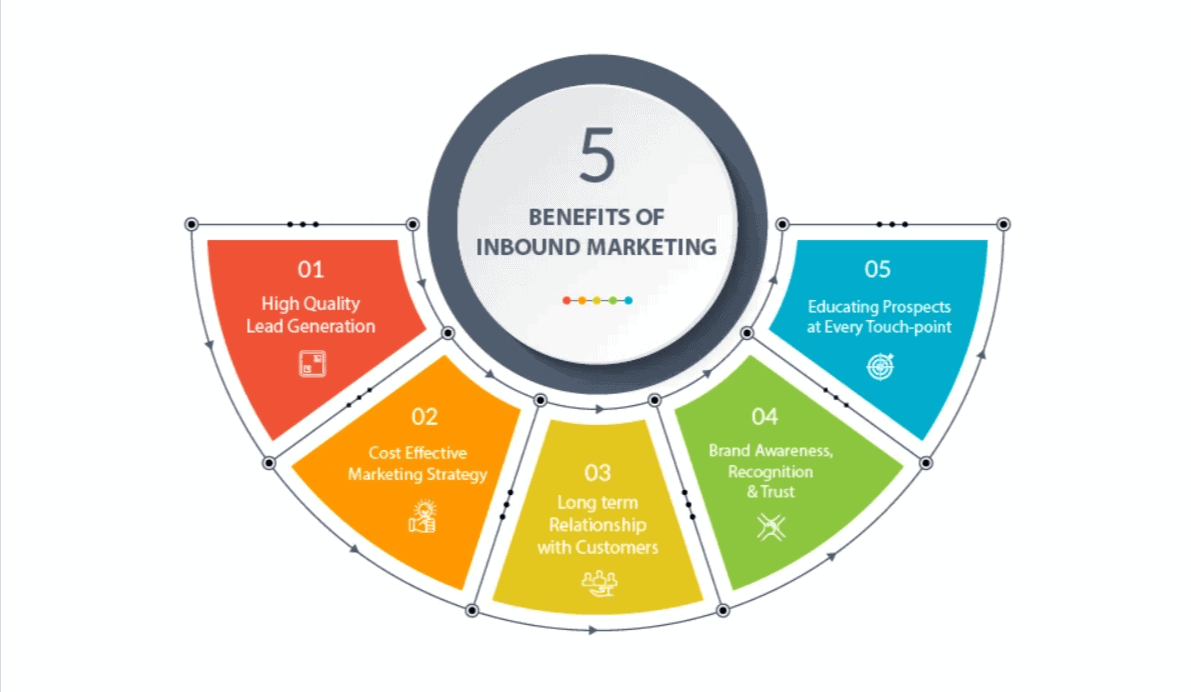 They allow businesses to connect with their target audience online in a way that was not possible before.
Inbound marketing tools offer many benefits that can help businesses to attract, engage, and retain customers. Some of the key benefits of inbound marketing tools include:
Cost-effective: Inbound marketing is generally more cost-effective than traditional outbound marketing methods, such as print or TV advertising. Inbound marketing tools like content creation, SEO, and social media management can be implemented with minimal cost.
Targeted: Inbound marketing tools allow businesses to target specific audiences with personalized content and messaging. This can help to attract high-quality leads who are more likely to convert into customers.
Measurable: Inbound marketing tools provide metrics and analytics that can be used to track and measure the effectiveness of marketing efforts. This information can be used to refine strategies and improve results over time.
Builds brand awareness: By creating valuable and engaging content, inbound marketing tools can help businesses to build their brand and establish themselves as thought leaders in their industry.
Improves customer engagement: Inbound marketing tools like social media management and email marketing can be used to engage with customers and build relationships over time. This can lead to increased loyalty and repeat business.
Supports lead generation and conversion: By attracting high-quality leads with targeted content and nurturing them over time, inbound marketing tools can help businesses to generate more leads and convert them into customers.
Pick The Best Tools For You!!
Top Inbound Marketing Tools 2023
Landing Page and Website Builders Tools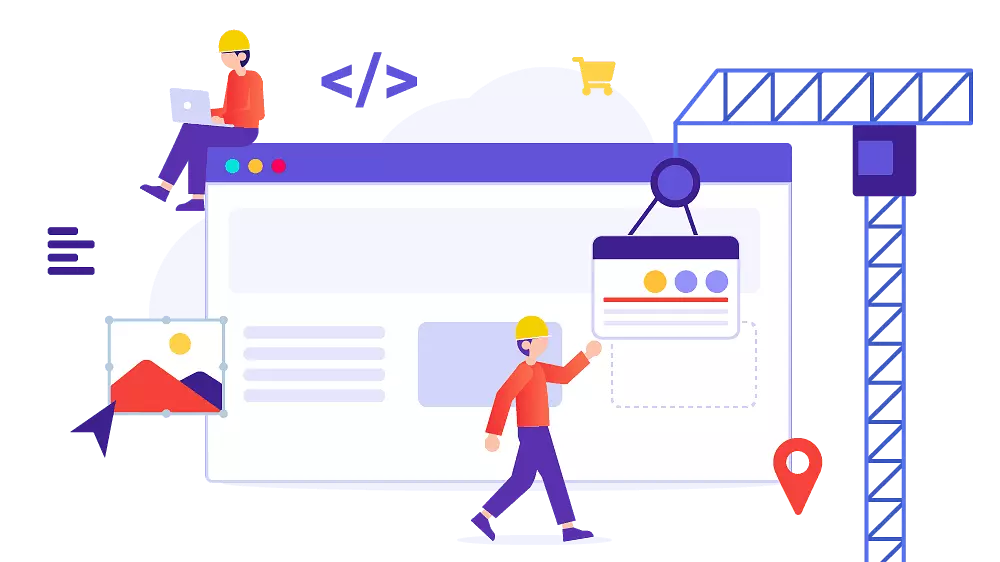 1. Beaver Builder
The next and most useful name on our list is – Beaver Builder, which offers an intuitive drag-and-drop system so you can create beautiful WordPress websites without having any website coder.
Another benefit to Beaver Builder is that it's built with on-site SEO.
Cost: Plans start at $99/month.
2. Unbounce
The next name in our tools list is – Unbounce, which focuses on the landing page, popup, and sticky bar optimization.
This tool is user-friendly, and no coding knowledge is required to set up and run A/B tests. In addition, a robust set of built-in conversion tools ensures that your landing page will convert better than it did before.
Cost: Plans start at $79/month.
3. JotForm
The next name in our list is JotForm, which gives you the ability to create custom forms from their website interface quickly.
By using the drag-and-drop editor, you can create visually-pleasing forms and integrate them into a wide variety of applications without ever writing a single line of code!
Cost: Free to try; paid plans start at $19/month.
4. Optimizely
Optimizely is another A/B testing program that focuses on uncovering hidden customer insights and improving the UX of any website.
The real benefit of this is that no coding knowledge is required to create and perform real-time A/B experiments.
Its website even has a free educational section with documentation and courses on performing experiments for the best results.
Cost: Plans start at $89/month.
5. VWO – Visual Website Optimizer (Conversion Optimization)
Now we come to our next tool -Visual Website Optimizer or VWO, another all-in-one conversion optimization tool. It features live video recording, conversion optimization tools, and robust reporting.
The user recording feature is very helpful for determining the cause of high bounce rates on a landing page. This allows you to view your visitors' actions in a real-time recorded video.
Cost: Plans start at $299/month.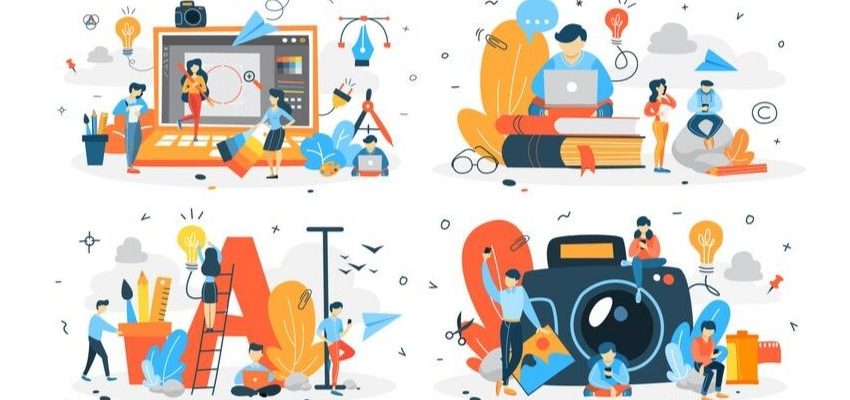 Content Creation Softwares are very helpful Inbound Marketing Tool because Inbound marketing is around content. And with good tools, you can create fresh, updated, and engaging content.
6. BuzzSumo
You can take your content game to the next level with BuzzSumo. This gives you fresh new ideas that can help you create engaging content that will serve as the engine of your inbound marketing efforts.
Cost: Plans start at $99/monthly, or $79/month if paid annually.
7. Grammarly
Everyone needs help; even the best writers need a second set of eyes to help with the editing process. If you don't have an editor at your disposal, Grammarly is the next best thing.
Just cut and paste your content into the editor, and it will flag spelling and grammar errors. This even makes suggestions regarding word usage.
Cost: Free and paid versions are available.
8. Hemingway
The Hemingway Editor allows anybody to create easy-to-understand content. Copy and paste your content into the app, which will make suggestions on improving the quality and clarity. Much like its namesake, Hemingway will help you become a much better writer through its suggestions.
Cost: Free and paid versions are available.
Graphic and Video Designs Tools
This kind of Inbound Marketing tool is very essential, Graphics are too engaging to a user. Companies can create lots of helpful infographics with these tools and share them.
9. Beacon. By – Eguide Design
This gives you powerful drag-and-drop editors, which can be used to create effective and impactful lead-generation magnets.
It eliminates the need to hire a graphic designer and can even take an existing blog post and automatically turn it into a great lead magnet.
In addition, professional-looking eBooks, checklists, workbooks, resource guides, and video lookbooks can all be created with the help of Beacon. By.
Cost: Free to try; paid plans start at $49/month.
10. Wistia – Video Marketing
The Wistia allows you to use your computer webcam to create very professional-looking videos with powerful editing software. Wistia also seamlessly integrates with HubSpot, Google Analytics, and many more productivity tools.
Cost: Free to try; paid plans start at $99/month.
11. SnapApp
This very interactive content helps generate leads and interest. SnapApp gives you the ability to quickly and easily create content that can fit anywhere into your funnel. You will not need to hire an expensive graphic designer to create visually stunning content with SnapApp.
Cost: Plans start at $499/month.
12. Invideo
Invideo is an online video editing platform to create creative videos for social platforms and other channels. This platform comes with hundreds of layouts, effects, stock images, and videos.
The benefits of this platform are users can direct share and publish their videos on social platforms directly.
Check the Invideo Coupon code here, to avail of up to a 30% discount on this amazing video editing and creation tool.
12. MailChimp – Email Marketing
Mailchimp is the go-to email platform for many businesses. It has evolved into an all-in-one marketing platform that gives you the ability to not only design and send email campaigns but create Facebook, Instagram, and Google retargeting ads.
Cost: Free to try; paid plans start at $10/month.
13. Survey Monkey
Surveying your customers is a perfect way to get data that can be used to make business decisions. Survey Monkey enables you to gather intelligence and analyze it using some built-in powerful data analysis tools.
Cost: Plans start at $37/month.
14. Typeform
The next name on our list is Typeform. Many businesses use Typeform as a content generator to attract and qualify inbound leads.
In addition, surveys and questionnaires are very easy to create and upload to your website without any coding knowledge required.
Cost: Free with plans starting at $69/month (billed annually).
SEO Tools are the backbone of Inbound Marketing, especially if you are selecting content marketing.
15. SEMRush
SEMrush allows you to view backlinks, track keyword rankings, and view historical data they've collected over the years.
One of the more powerful features is the ability to view new backlinks. This can give you a clue about how your organic SEO efforts are faring.
Cost: Plans start at $99/month.
16. Ahrefs
Now we come to another name from our list, which is Ahrefs. One of the best ways to increase the inbound traffic to your website is to start optimizing for SEO.
You can also analyze the backlinks coming into your competitor's website and get an idea of what it will take to outrank them.
Cost: Plans start at $99/month.
17. Moz
This Moz SEO gives you the ability to view current and new inbound links. In addition, Moz SEO offers a 30-day free trial, which automatically converts to the lowest plan at $199/month once it's over.
Cost: Free 30-day trial, with plans starting at $199/month.
18. Majestic
The next name on our list is – Majestic SEO, which claims to have the largest link index database. It means a bigger data set to pull from and a more accurate picture of your backlinks.
One of the best features of Majestic is its trust, which can be used to gauge the power of a website when you're actively trying to build new inbound links into yours.
Cost: Plans start at $49.99/month.
19. Hootsuite
One of the biggest challenges of social media and content marketing is curating, creating, and sharing engaging content.
This not only allows you to manage all of your social media in one place, but it also has a content curation tool, which can help you find and share compelling content in a matter of minutes. In addition, the free and paid versions of this tool offer an excellent set of reporting and analytics tools.
Cost: Free and paid versions are available.
20. Buffer
The buffer lets you schedule your social media posts in advance. By doing so, you will be able to get a jump on your social media efforts without having to worry about what you're going to post today.
In addition, by scheduling ahead, you can stick to a consistent schedule, so followers come to know when to expect your posts.
Cost: Free with various plans available up to $399/month.
Analytics Tools
Create and execute analytic processes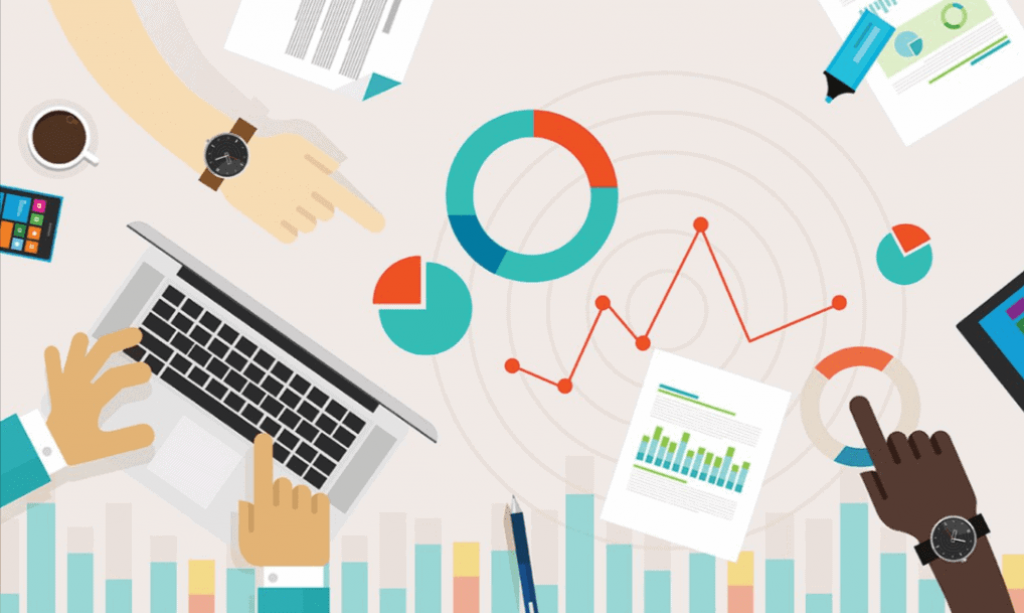 21. Leadfeeder
The first tool on our list is Leadfeeder. This tells you who's visiting your website by installing the Leadfeeder Tracker script and connecting to Google Analytics to help in identifying the companies from your anonymous website visitors.
Then it enriches this data to provide contact information for key prospects at those companies and allows you to sync your leads to several CRM and automation tools. You can start it with a free 14-day trial today.
Cost – Plans start at $55/month.
22. Google Analytics
Google Analytics or GA is one of the most widely used website analytics platforms. Here you can find hidden data and gems that can help guide you to make more intelligent business decisions.
Cost: Free.
Customer Management Tools
Track communication and nurture relationship easily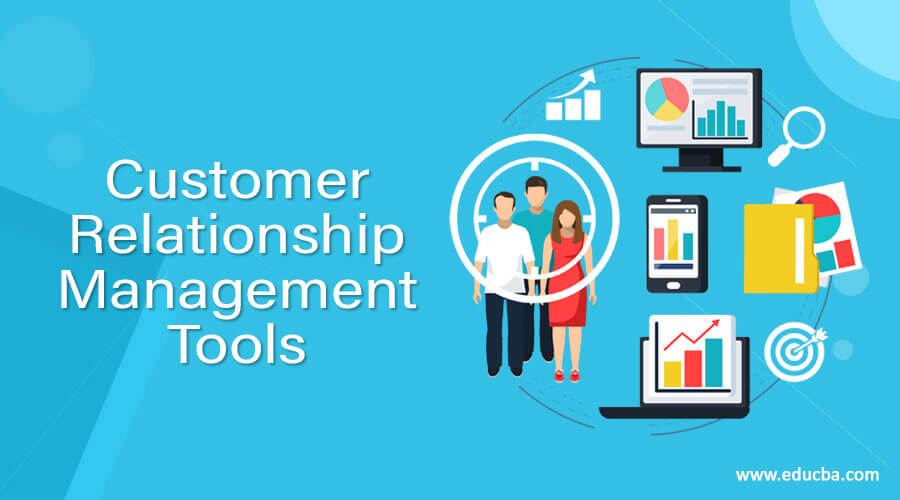 23. Speechpad – Call Transcription
Last but not least, our list of tools is –SpeechPad. This is much more than a transcription service, it can be used to create content from videos that can be repurposed via email or other marketing campaigns.
A wide range of transcription services is offered here, including standard and premium captions as well as foreign language services.
Cost: Transcription starts at $1 per minute.
24. Talkwalker
An important part of inbound marketing is to manage your online reputation. Just a few negative reviews or angry customers can leave a serious negative impact on you, which can take time and money to overcome.
Talkwalker monitors the internet (social media and websites) for mentions of your brand name and gives you powerful analytic tools to manage your reputation and discover new potential business opportunities proactively.
Cost: Plans start at $9,600/year.
25. Slack – Communication
Whether it's used as an internal or external communication platform, this is one of the most powerful chat applications out there. It can even be connected to CRM products like Salesforce.
Cost: Free to try; paid plans start at $6.67/month per person.
26. Drift – Live Chat
The second name on our list is Drift. This takes on-site customer interactions to the next level using live chat boxes and intelligent bots.
Cost is free for individual users, $50/month for a standard plan, and $500/month for an enterprise account.
Cost: Free with plans to $500/month.
Other Inbound Marketing Tools
Options to choose the right one
27. Zapier
Having an efficient workflow is essential to getting more done. Zapier allows you to create more functionality by connecting two different web services. For example, you can use it to trigger when a lead matching your criteria visits your website again.
Cost: Free to try; paid plans start at $20/month.
28. GrowthHub
The next name on our list is – GrowthHub. Marketing grows at the speed of light, and there's no better way to stay on top of the latest and greatest than GrowthHub.
It curates very popular content across many industries, such as growth hacking, SEO, and content marketing.
Cost: Free.
29. Hotjar
This gives you the ability to perform in-depth A/B tests on any page of your website. Here, you can create heatmaps, perform live visitor recordings, create conversion funnels, perform form analysis, run feedback polls, and launch surveys.
Cost: Plans start at $89/month.
30. Xtensio
A key component of any inbound marketing campaign is continually putting out valuable content that is persuasive and engaging.
This allows you to create highly customized living documents or folios that will result in a much higher user engagement than standard print and image content.
Cost: Free; business plans for $20/month.
31. Quora
Quora is a question-and-answer website. Think about "Yahoo! Answers," but without the trolls, fake experts, and spam.
While there is an SEO benefit to using Quora, most people value establishing themselves as thought leaders in their particular field or niche.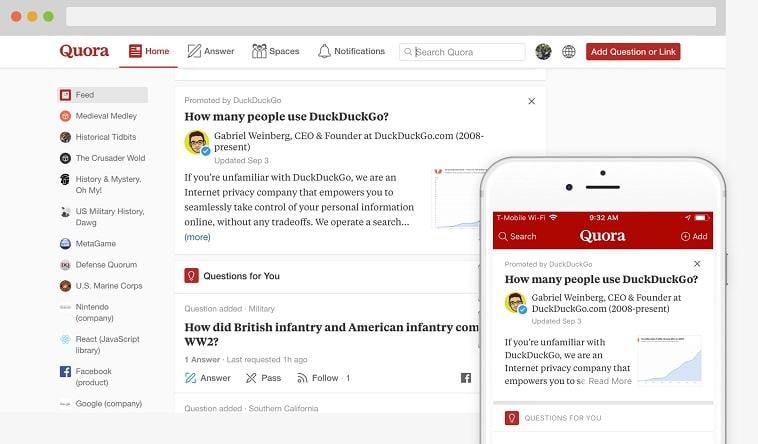 The outcome can drive traffic when someone views your Quora profile and sees a link back to your website.
Cost: Free.
32. CoSchedule
The next tool, CoSchedule, enables you and your team to get on the same page when it comes time to manage various social media accounts.
The strongest feature of this is the calendar functionality, enabling you to get a bird's-eye-view of what's in the social media pipeline.
CoSchedule also comes with a suite of software tools, such as email marketing, analytics, and project workflow management.
Finally, for those struggling with posting valuable content to social media, CoSchedule allows you to get all of your social marketing organized under one roof.
Cost: Plans start at $60/month.
33. HubSpot – Marketing Automation
The third name is – HubSpot, one of the leaders in inbound marketing tools. Their all-in-one suite of inbound marketing software will enable a single person to perform all the work of an entire marketing team.
Cost: Free with plans starting at $50/month.
34. ClickMeeting
There's no better way to connect to your audience than via a video. This allows you to host webinars, perform live onboarding, interact with people on a one-to-one basis, and many more. But, of course, its plans vary on the number of attendees you need to accommodate.
Cost: Plans start at $25/month.
35. ProProfs Survey Maker
This is a great tool to complement your inbound marketing strategy. This tool allows you to create customizable popup forms to turn website visitors into leads and lots of surveys to gather specific information about your potential customers. A free trial is available here for 15 days.
Cost: 15 days free trial with paid plans starting at $7/month.
36. Rebrandly
Rebrandly giving you links to a particular page on your website can result in a very long and unsightly URL. The result is a much shorter, "prettier" link that not only looks good but is very easy to remember.
Cost: Free with plans starting at $29/month.
37. AdRoll
This simplifies retargeting and gives you a powerful suite of tools and services to ensure you're getting the right ad in front of the right person. While AdRoll is targeted at eCommerce stores, this can be used by any business in any industry.
Cost: Cost is based on ad spend.
38. Facebook Groups
You can create a community through FB or Facebook groups, and nurturing leads via curated content is a great way to jumpstart your inbound marketing.
This gives you a platform and set of tools to do just that. Its cost is free, and Facebook is currently testing "subscription groups," The Admin can charge a set monthly fee for admission.
Cost: Free.
Some Queries Related To This Post.
Now we are telling some frequently asked questions about this topic.
How Does Inbound Marketing Work?
This is achieved by utilizing SEO, creating and publishing amazing content, social media platforms, call-to-actions and landing pages, and email list segmentation.
What is an Inbound Marketing tool?
Inbound marketing is a strategy that utilizes many forms of pull marketing—content marketing, blogs, events, search engine optimization (SEO), social media, and more—to create brand awareness and attract new business.
Is SEO Inbound Marketing?
SEO is a form of inbound marketing. SEO or "search engine optimization" focuses specifically on improving organic traffic from search engine results.
What are the five inbound principles?
The Five Principles of Inbound Marketing:
(SCOPE)
1. Standardize
2. Contextualize
3. Optimize
4. Personalize
5. Empathize
What are the advantages of inbound marketing?
1. It organically generates leads for your company.
2. You become a thought leader and authority.
3. It's more budget-friendly than outbound.
4. It aligns with current consumer behavior.
5. It takes a long time to produce an ROI.
6. It would help if you had a wide range of skills or team members.
What are some most useful inbound marketing software?
For inbound marketing, you need more than one software because it includes lots of work, SEO, Ads Graphics design, and many more.
Which Tools Should I Choose?
Conclusion – Best Inbound Marketing Software 2023
We have provided all the major details about the best inbound marketing tools so you can get the right tools for your marketing.
Inbound marketing is one of the most powerful ways to drive new leads, sales, and conversions. Using some of the tools written above, you can increase productivity, drive more traffic through engaging content, and capture your data points via analytics that can make intelligent business decisions.
When you are using traditional outbound marketing, you're going to your prospects with an offer. And in contrast, with inbound marketing, your prospects are coming to you and looking at the offer you have on display.
At the end of this post, we just want to say that, we have mentioned all the amazing inbound marketing tools, these tools will surely increase your work efficiency and save you time, so you can choose any of these tools according to your need.
Get more information & guide about marketing.
Explore 17 Best Inbound Marketing Strategies, Check Definition, Benefits & Meaning. Easy to implement Strategy for …
20+ Inbound Marketing Examples and Ideas for Blogging, SEO, and Businesses in 2023. Shared Examples of Inbound …