MemberPress Pricing Plans 2023: Choose The Right Plan

MemberPress Pricing Plans 2023: Choose The Right Plan
Get a complete overview of the Memberpress Pricing Plans and Memberpress costs. So that you will get an idea of the Memberpress total cost and choose the Best Memberpress Plan.
MemberPress is a WordPress premium, subscription, and learning management system (LMS) plugin.
Do you thinking about buying a Memberpress??
Discover affordable and flexible pricing options for MemberPress, the powerful membership plugin for WordPress. Choose a plan that fits your needs and budget
So if you want to buy any member press plan then so this article is gonna help you.
In this post…
We are sharing all the details you need to know about Memberpress Pricing with all the plans and their Features.
Let's Start!!
How Much Does Memberpress Cost?
There are three distinct pricing options for the plugin. There is no free trial period, but there is a 2-week money-back promise.
The basic plan for MemberPress starts at $ 179.50 per year. It also provides a plus package plan as well as a pro package plan for $299.50 and $399.50 per year, respectively. It also offers a 2-week money-back guarantee, as well as a $40 special offer discount on all of the plans that we will discuss.
Memberpress also provides its users with three different package options:
Basic package plan
Plus package plan
Pro package plan
Basic
Plus
Pro
Sites
1
2
5
Unlimited Members
Yes
Yes
Yes
Unlimited Courses
Yes
Yes
Yes
Key Features
No Fees
Major Integration
Advanced Marketing Integration
Developers Tools
Sell Corporate Accounts
Sell Gifted Membership
Price
$179.50/year
$299.50
$399.50
Get Basic Plan
Get Plus Plan
Get Pro Plan
Choose The Right Plan For You!!
MemberPress Pricing Plans in 2023
As previously stated, Memberpress
As previously stated, Memberpress has three distinct plans for its use: the basic plan, the plus plan, and the pro plan.
The above plans offer a wide variety of characteristics and pricing that are entirely dependent on your customers' needs. They also assist you in launching your first online course and launching an online course creation business.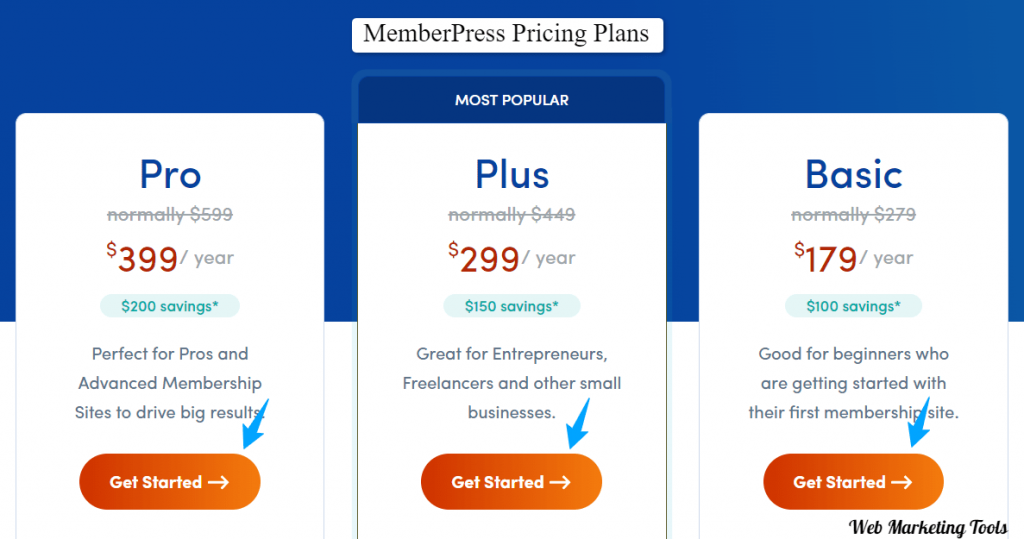 The greatest feature of Memberpress pricing plans would be that they provide a 2-week money-back assurance, which means that if you're not satisfied with something, you could get your cashback without even any extra penalties or service charges without any kind of questions asked.
MemberPress Basic Plan
Right Plan for Beginners.
Memberpress has a basic plan that includes everything you need to get started, including unlimited courses, certificates, and rewards, as well as all of the essential features.
The basic plan costs $179.50 per year, but you can get a $180 discount for a limited time. After that, the price will be changed to $359 per year, and you can use most of the basic package plan's features.
Use only on a single website.
Create as many memberships and content as you want.
Paypal and Stripe are both supported.
Online classes are leaking content.
Over 10 add-ons, as well as implementations, are available.
All of the essential features
Unlimited Courses
2-week money-back guarantee
MemberPress Plus Plan
Best Plan for Entrepreneurs and Smal Businesses.
Here we come to the second Memberpress plan, the plus package plan, I'll inform you about its cost structure. This plan provides various features, including all of the basic plan's features, as well as additional features.
You can get this plan at $299.50 per year, so you can get a $300 discount for just a limited amount of time. after that price will change to $599 and you can use all of the basic package plan's characteristics.
It also has a lot of advanced characteristics, and the plus package plan is perhaps the most famous one at Member Press. It's preferred for professional people who would like to grow quickly at a low cost. You could also begin selling online courses.
Use on two different websites
included with the world wide web
Memberships for corporations can be created and sold.
10 additional integrations and add-ons
Advanced Customization
Zapier integration services that are unique to you
All of the essential features
2-week money-back guarantee
The MemberPress pro package plan includes several innovative and maximum benefits that aid in the creation of web pages as well as the sale of online classes.
The pro plan is best for experienced users, large organizations, or large academic institutions who want to take their classes online to the next stage and would like to try out the best of Memberpress and all of its characteristics without even any constraints.
The pro plan costs $399.50 per year, but for a limited period, you could get a $400 discount for a limited time. after that you will get this plan at $799 per year, so you can use most of the features of the basic package plan and also the plus package plan.
Use on five different websites
Affiliate Royale is included in the package.
Memberships for corporations can be created and sold.
Pro-only add-ons and implementations
All of the essential features
2-week money-back guarantee
Try For Free??
Start Your MemberPress Free Trial
MemberPress does not provide a free trial period. However, you can request a full refund before the end of your first 14 days if you discover that the plugin does not suit your needs. You may try out the plugin during the 14-day money-back guarantee period.
as well as a two-week 100 % satisfaction, which allows you to easily prefer a refund if you are not satisfied with the services provided. It will also offer a $40 discount as a bonus.
So you can use that method as a trial option, and after that, you can buy a plan, the Memberpress offers three levels of pricing plans for different types of users.
All three plans provide a yearly license. The most basic plan, named 'Basic', costs $179 per year and you can use this license for only one site.
Get More Detail…
About Memberpress Plugin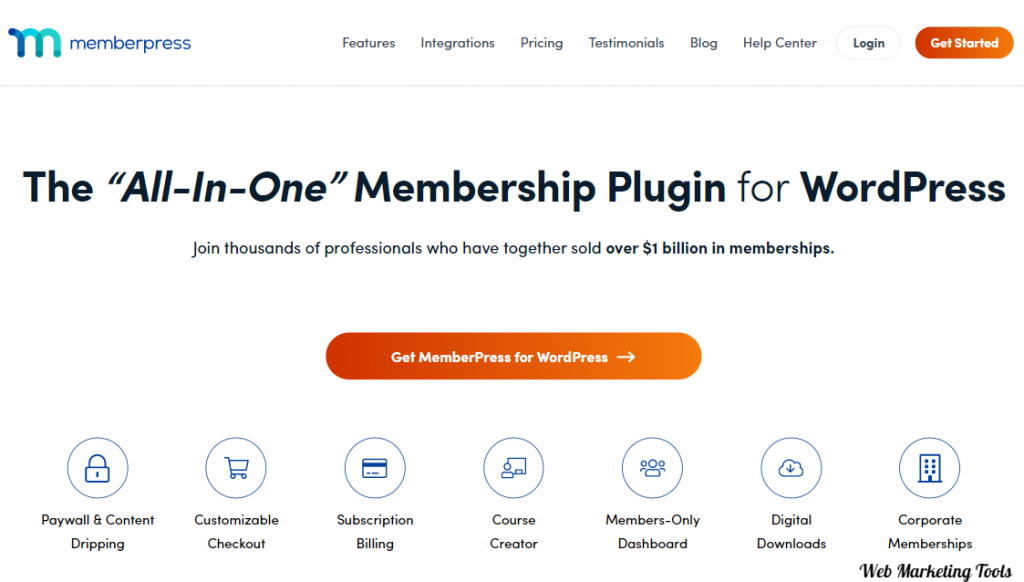 Memberpress allows you to turn your website into a membership website where users can sign up for a membership on your website. The various options Memberpress offers to make it a good addition to your website
WordPress LMS and membership site plugin that makes it easy to create/sell online courses and protect content, including pages, communities, files, videos, and more. Free 3rd-party integrations. Secure payment gateways. Integrates with any WordPress site.
Memberpress Basic Features
The setup is simple.
Levels of membership are limitless.
Creating paid content subscriptions is possible.
Access regulations for all kinds of content are fully customizable, as are the pricing pages.
Coupons that can be customized
Leaking content
Users' membership management options
Payment gateway Standard, Payment Express Checkout, and Stripe are easily accessible.
Trying to report in great detail
An excellent user guide and an electronic mail course are included in the complete documentation.
Enjoy All The Benefits!!
Why choose MemberPress Plan
While searching for such membership, there are a few ways to think about it:
MemberPress is a versatile platform
Despite its simplicity, MemberPress also has many advanced features, including automated valuation page formation, comprehensive filesystem-level safeguards for free downloads, and Amazon Web Services incorporation.
It also comes with MemberPress Courses, a created curriculum founder that allows anyone to create and sell online courses using WordPress.
We established MemberPress intending to allow anyone to use it. And our efforts were rewarded. Our customers tell us that MemberPress is the most user-friendly membership software they've always used.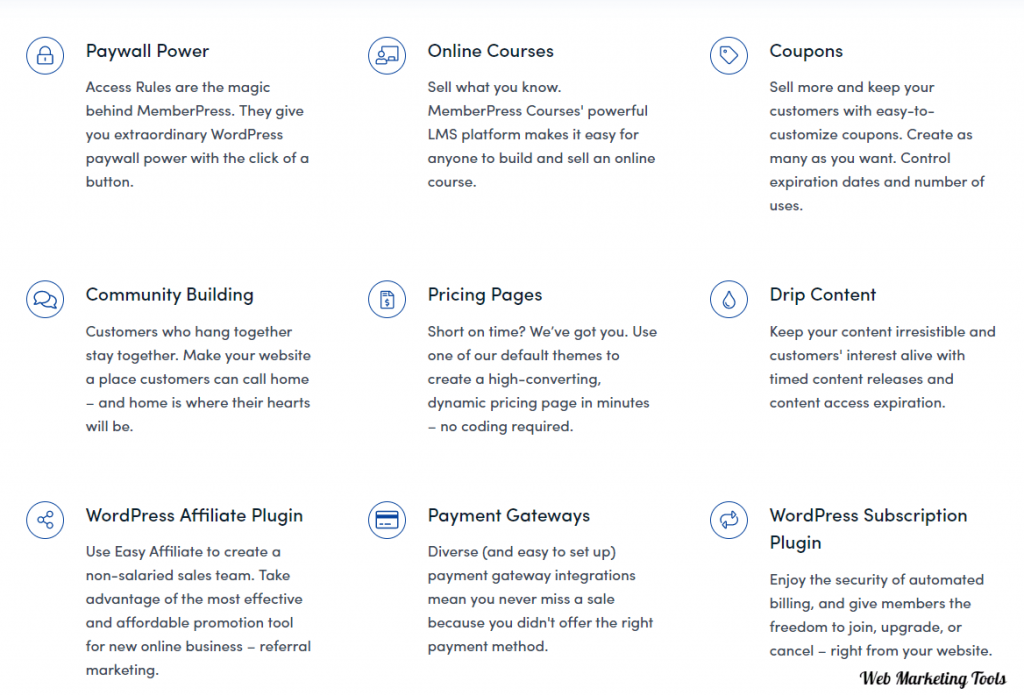 Turning your membership site into a community has become one of the most significant ways of getting people interested in it. Some membership plugins include built-in community features like forums, while others integrate with third-party forum plugins.
Options for payment processing include:
Some plugins only work with PayPal, while others use Authorize.net or Stripe to accept credit card payments. Look for a plugin that enables consumers to choose their preferred payment method like Paytm, Debit, and Credit Card to maximize their revenue potential.
Connectivity with e-commerce:
Take a glance for just a plugin that can integrate with Bigcommerce or another eCommerce plugin if you want to sell locked material as products shortly.
Better Customer Experience
We designed the entire customer experience to be as simple as possible. And we're not finished yet. Our product team is constantly working to improve, refine, and simplify the MemberPress expertise in the field.
This is the technique of delivering content to members at predetermined intervals throughout time, for example, a program that sends components out once in a while via email. This is a popular function in membership plugins. However, some of them are only capable of creating locked web content.
Documentation and support: 
When you don't know what to do, you should have an easy time finding answers, so the membership plugin you choose should have comprehensive tutorials available.
On top of that, you can submit a ticket to the MemberPress team if you can't find an answer to your problem. Another support option is hiring a MemberPress expert from Codeable which comes recommended by the MemberPress team themselves.
FAQs: Memberpress Plugin Pricing Plan
Here we are sharing some common related Memberpress pricing plans:
Is MemberPress Plan available for the free version?
MemberPress is a paid plugin that does not have a free version. The plugin has three price tiers for various categories of users. Each of the three programs includes an annual license. The most basic package, dubbed 'Basic,' costs $129 per year and is limited to one site.
What am I able to accomplish with the MemberPress plan?
You can easily design dynamic, appealing price pages for your membership items with MemberPress. Sort your things, modify the text, the style and feel, and more. Your price page will look excellent right out of the box since you can access various pricing page templates. No CSS or HTML coding is necessary.
What is Memberpress pricing for beginners?
If you just want to start with the Memberpress plan, you can choose its basic plans which will cost you $210 for a year.
What is the best Memberpress plan?
If you are looking for some advanced features then we will recommend you to choose its pro plan, which comes with advanced features.
What is Memberpress plugin pricing?
You don't have to pay any extra money for the Memberpress plugin, simply you have too buy any plan and you will get all the features including the plugin.
Does Memberpress pricing include any lifetime deal?
It's up to you how much money the user will be charged for this subscription. You can put in any amount here. There is a One-Time billing type. The type of access you want people to have based on how much they pay is in this drop-down.
Does It Worth Buy?
Conclusion: MemberPress Pro Cost in 2023
MemberPress allows users to create powerful and effective WordPress membership sites that take advantage of every one of WordPress's unique features and WordPress plugins and other third-party services like content delivery, message boards, and virtual communities.
Memberpress pricing plan will work brilliantly for any small, mid-sized, or large business that would like to roll out a Membership or eLearning site for their customers.
Unlike most other membership site alternatives, MemberPress works seamlessly with your existing WordPress website and is robust and user-friendly. So, if you're wondering where to get started with your membership. There's no need to wait; you've arrived at the correct location.
In addition, the plugin allows you and your clients to manage their account information in terms of usability. so as we have mentioned all the details related to the Memberpress pricing plan, you choose any of them according to your neEd!
At the end of this post, we just want to say that we have mentioned all the details that will help you to choose the best plan for you so you can choose the best option for you.
Get more details about this WP Plugin.
MemberPress is a powerful membership plugin that integrates seamlessly with WordPress, allowing you to take advantage of the best of both worlds.
Get a complete overview of the Memberpress Pricing Plans and Memberpress costs. So that you will get an …
Compare all MemberPress Plans, Price, Features and Total Cost.
Get the Latest and Working Memberpress Coupons to avail 65% Discount and Save up to $399 on its plans. Avail of …
Get up to a 65% discount or Save up to $649 on MemberPress Pricing Plans.
15+ Best Alternatives to Memberpress and Memberpress Competitors. Compare all Plugins like Memberpress with their …
Choose a Right Elementor Plan & Check Elementor Pro Cost.
Compare all MemberPress Plans, Price, Features and Total Cost.
Compare all the Braver Builder Plans and Get the Best Plan.