Latest and active Brevo (Formerly Sendinblue) Coupon Code 2023, to get maximum discount on Brevo plans. Avail of the Best Deals and Discount offers with Brevo Promo codes.
Brevo is an all-in-one email marketing service that's capable of taking care of the entirety of your email marketing needs.
Are Looking for A Discount on your favorite Email Marketing Tools?
On this page…
We have shared Brevo Coupon and Discount Deals, So you can get the right Seninblue plan at the possible lowest cost.
Post Summary:
| | |
| --- | --- |
| No. Of Coupons | 3 |
| Maximum Discounts | – |
| Total Saving | Up to $100 |
| Free Plans | Yes |
Latest And Active –
Brevo Coupon Codes 2023

Send up to 300 emails daily and manage an unlimited contact list with this free plan.

Unlimited Contact List, No Daily Sending Limit, and A/B Teasing + All Essential Email Marketing Features.
Perfect for new marketers

Perform Email Marketing with Advanced Features like Marketing Automation, Facebook Ads, Landing Pages, Multi-User access, and Telephone support.
The best solution for marketing pros.

Perform Email Marketing with Advanced Features like Marketing Automation, Facebook Ads, Landing Pages, Multi-User access, and Telephone support.
The best solution for marketing pros.
Choose The Best Plan For You!!
Brevo Pricing Plans
Its pricing starts from $0/mo where you can send MAX 300 emails/day and can manage up to 2000 members.
Where Brevo paid plan to start from $25/mo with no daily sending limit and range of emails.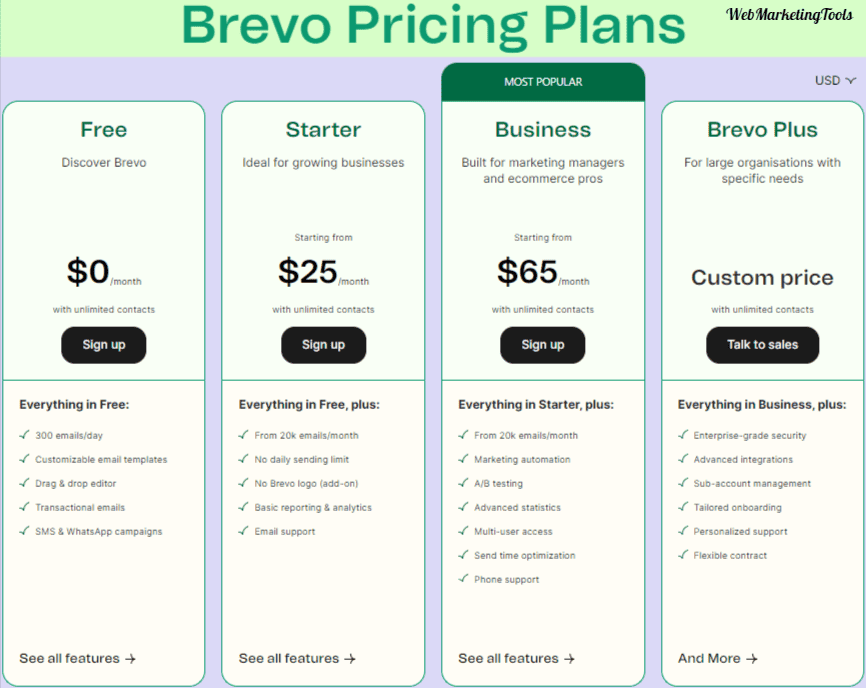 According to the customer need it also provides Enterprise plans which you can customize according to needs.
Brevo also has a free plan where you can send up to 300 emails per day and can manage unlimited contacts. It has all basic features like a library, A/B testing, sign-up forms, and real-time reporting.
This plan is best for a Free Trial of Brevo or if you need to send a few emails daily. It becomes the right plan for New Bloggers and Marketers who have less audience and are in the beginning stage.
Price: $0/mo
Free Plan Features:
Unlimited Contacts
300 Emails per day
Email Template Library
SMS Marketing

Customizable signup form

Transactional email and SMS sending
Lite Plan is Brevo's first paid plan which costs $25/mo if we pay monthly and $22.50/mo if we choose an annual payment method. It has no daily sending limit but you can send only 40,000 emails in a month.
To understand how many emails you can send weekly in Lite Plan with a different number of email lists let's take a look at the below table:
In respect of the above numbers and our experience, this plan seems best for Intermediate Bloggers and New marketers.
Starting Price: $25/month
Starting Monthly Mails: 20,000
Starter Plan Features:
All Free Features
No Dialy Sending Limit
A/B Testing
Remove Brevo Logo
Advanced Statics
This plan is made for a growing business who have a large email list, grows with good speed, and has a budget to expense mail marketing.
This plan has some advanced reporting features like a heat map that shows where users click more, geography, and device reports.
For Marketing Masters and Professional Bloggers who manage a huge list, send thousands of emails/per week, and convert leads into actions, a Business Plan is for them.
Using this plan a user can also manage his/her Facebook Ads, Install Chat Window on websites, Get a Landing Page Builder, and Retargeting Ads.
Starting Price: $65/mo
Starting Monthly Mais: 20,000
Business Plan Features
All Starter Plan Features
Facebook Ads
Landing Page
Marketing Automation
Multi-User Acess
Heat map reporting
Geography & device reporting
Advanced open & click stats
Chat, Phone Support
Brevo Starter vs Business Plan Pricing
| | | |
| --- | --- | --- |
| | Starter Plan | Business Plan |
| 20,000 Emails | $25/mo | $65/mo |
| 40,000 Emails | $32/mo | $79/mo |
| 60,000 Emails | $45/mo | $94/mo |
| 100,000 Emails | $65/mo | $124/mo |
Enterprise Plan
Customize Plans for Big Brands.
Need Something More?
The enterprise plan is for those, who are looking for a complete email marketing solution for their brand or any business, This plan has additional features and builds for white-labeling email marketing.
Let's Introduce us Brevo Enterprise Plan, which has extra features and can subscribe only on user demand.
Enterprise Plan Features:
ALL Premium Plan Features
Priority Sending
20+ Landing Pages
Access for 10+ Users
SSO (SMAIL)
Dedicated Infrastructure
Dedicated Account Manager
Managed Setup and Priority Support
Quick Overview –
About Brevo
Product
Specification
Photos
Videos
Brevo is one of the best marketing tools for your Emails, SMSs, and Live Chat Campaigns. This Web Me Tool comes with powerful email editor tools, …
| | |
| --- | --- |
| Starting Price | Free |
| Free Trial | 300emails/day, unlimited contacts |
| Payment Option | Credit Card, Paypal |
| Expert | Great Features & Automation |
Brevo was founded in 2007 by Armand Theberge and Kapil Sharma. Its headquarters is in Paris, France. As of 2020, Brevo sends about a 100million emails each day worldwide.
Email, SMS, Facebook, Chat, CRM, and more, all in one platform to help you grow your business through building stronger customer relationships.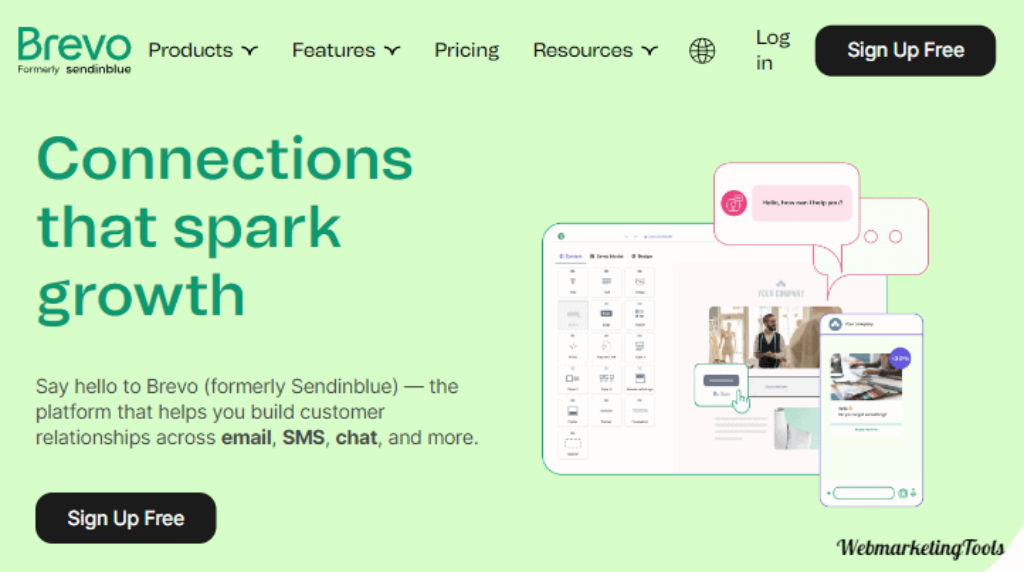 Brevo provides digital marketing tools, emails, and other services to over 80,000 growing companies and their most popular services are email marketing solutions.
This firm provides ways to communicate with new visitors, get leads, and drive your audience into customers.
Using its advanced features like marketing automation, segmentation, customer interaction, and all essential options deliver high CTR emails that are optimized for calls to action into the inbox.
Brevo Features:
Email, SMS, and Chat Solution
A/B Testing and Reports
Customize Sing forms
Email Heat Map
Real-Time Mail Statics
Ready to use the Landing Page
Personalized Audience and Mails
Send Time Optimization
API Integration & Plugins
Setup and Optimize Facebook Ads
Let's Start!!
Reason to choose Brevo Coupon
What are you expecting when you sign up with Brevo for the very first time?
Brevo is distinct from other software for marketing via email. Most businesses would prefer using this application to send marketing emails as well as planned newsletters to their clients.
There's more the software can offer users, including automating trigger campaigns as well as welcome emails to new customers.
Here are some reasons and features, that will help will help you avail of the Brevo Coupon promo code.
1. Landing Pages Builder
Of the best email marketing programs you've heard of, Brevo offers one of the top landing page features.
The software can be used to speed up processes such as advertising content, launching social media campaigns, and making pages that focus on your product.
Brevo provides landing page features when you sign up for the Premium plans. It also includes pre-built landing page templates that you can make high-converting landing pages. You can also design your own landing pages by using the program.
2. Registrations and Email Opt-In
Another feature that I find the most appealing about Brevo is analytics and reporting. The software keeps track of all the important email metrics that are essential to your company.
It is able to track the most important parameters like the outcomes of A/B testing and unsubscribe rates, sends and clicks, open rates, clicks, and automated campaigns.
Through Brevo, you will also gain an understanding of aspects like geo-tracking, click maps in your mailer, Google Analytics integration, and the rates of engagement of the email list you have created. This allows you to discern if your marketing strategy produces any results or not.
3. API and Integration
Another feature to be looking forward to in any software for marketing emails is Integration and API. How does the program integrate with third-party apps such as Zapier or MailChimp?
The best part is that Brevo can be found within the Zapier library and allows you to connect the software to hundreds of other email marketing software.
It is possible to think of CMS and e-commerce as well as events management LMS platforms and even analytics.
You can do all of these using its own integrations. Brevo is compatible with Shopify, WordPress, SalesForce, Drupal, Wix, and many other apps.
4. Marketing Automation
What separates Brevo from other providers is its capability to provide the ability to automate emails across all platforms. Business, Starter, and Free plan subscribers can only utilize this feature for up to 2,000 subscribers.
Marketing automation will only become an issue for your campaign based on the number of emails you send out.
The automation function on Brevo is much more sophisticated and robust than MailChimp. It lets you send various response emails to different events and actions.
Utilizing the automation builder function of Brevo, it is possible to easily design custom automation.
For instance, you could send out emails to customers who are new with coupons to motivate them to purchase again at your shop.
It is also possible to add customers who have returned to your marketing list, and then begin to target them with messages of loyalty.
5. Sales CRM
Brevo has a highly effective sales CRM. It is of major importance to your company when you do not have a CRM system for your customers. Through this, you'll be able to keep valuable information regarding your clients and conduct regular follow-ups.
The tasks that you can accomplish using this CRM include calling as well as sending emails and creating a timeframe to reach out to your clients.
6. Deliverability Rate
The most efficient marketing software for email should guarantee the highest level of deliverability rates for emails.
Nothing is more frustrating than spending your time writing emails and sending them to thousands of clients only to discover in the future that just half your contacts are receiving your emails.
The majority of email marketers are faced with the issue of making sure their emails don't get into the spam folders of customers.
To ensure that your customers get your messages in their inboxes you must use the most effective email marketing tool such as Brevo. The platform has been designed to guarantee the best possible delivery of emails.
FAQs – Brevo Coupon Code and Deal
Here we have added some frequently asked questions with answers that help you provide the right information to get this Coupon.
Q1. What is the Brevo discount code?
Brevo discount code is a set of coupon codes that can be used to get discounts on Brevo pricing plans.
Q2. How to apply the Brevo coupon?
Right now, Brevo has flat pricing plans that change according to the number of emails, so we can't use the Brevo coupon on the checkout page.
Q3. Does Brevo provide a free trial?
Brevo doesn't provide any free trial but Brevo has a free plan, where users can send up to 300 emails per day and manage unlimited contacts.
Q4. How Long I can use these promo codes?
Most of the coupons are available for a very limited time, mainly for 7 days, and some last for a month.
Which Deals Is Best For Me??
Conclusion – Brevo Discount Codes and Coupon 2023
On this page, we have shared the Latest Brevo discount offers and their pricing plans. Right now, Brevois not offering any discount on annual or monthly plans like other top email marketing tools.
But here you can select the right Brevo offer plan and start email marketing like a pro.
The Brevo software suite includes modules dedicated to relationship marketing: it provides marketing campaigns, Transactional, automation, Facebook ads, retargeting ads, landing pages, etc.
Go ahead, and purchase a Brevo plan according to the number of emails that you want to send. It has only 2 Plans with different features that make your selection process very easy.
Get More Details about this Marketing Tool.
Product
Specification
Photos
Videos
Brevo is one of the best marketing tools for your Emails, SMSs, and Live Chat Campaigns. This Web Me Tool comes with powerful email editor tools, …
| | |
| --- | --- |
| Starting Price | Free |
| Free Trial | 300emails/day, unlimited contacts |
| Payment Option | Credit Card, Paypal |
| Expert | Great Features & Automation |
Avail maximum discount on Sendinblue Plans.

Brevo Coupon and Promo Code 2023, Upto 55% OFF