Ahrefs Pricing Plans 2023- Get The Best Plan and Check Total Cost
Get to know about ahrefs pricing plans, Check the features & Prices of Ahrefs Plans, Get the Ahrefs Total Cost and compare all the Ahrefs prices and choose the best plan for you.
We have to say that Ahrefs is the closest you can get to an 'essential' tool if you are a serious content marketer or SEO.
It will give you tons of insight into your competitors and you will make much better marketing decisions.
So, if you are someone who wants to buy Ahrefs and looking for Ahrefs pricing plans, then we can say…
This article is made for you!!
We are going to explain you the in-depth features offered by Ahrefs and also review its pricing plans.
Ahrefs Pricing Plans Post Summary:
| | |
| --- | --- |
| Ahrefs Starting Price | $99.00/month |
| No. of Ahrefs Plans | 4 Plans |
| Ahrefs Trial | $7 for 7 days |
| Total Cost (Annually) | $990 – $9,990 |
| Latest Offer of Ahrefs | 20% Discount (annual billing) |
| Maximum Saving | $1,998 a year |
| Ahrefs Subscription Duration | Monthly or Annually |
| Payment Option | Paypal or Credit card |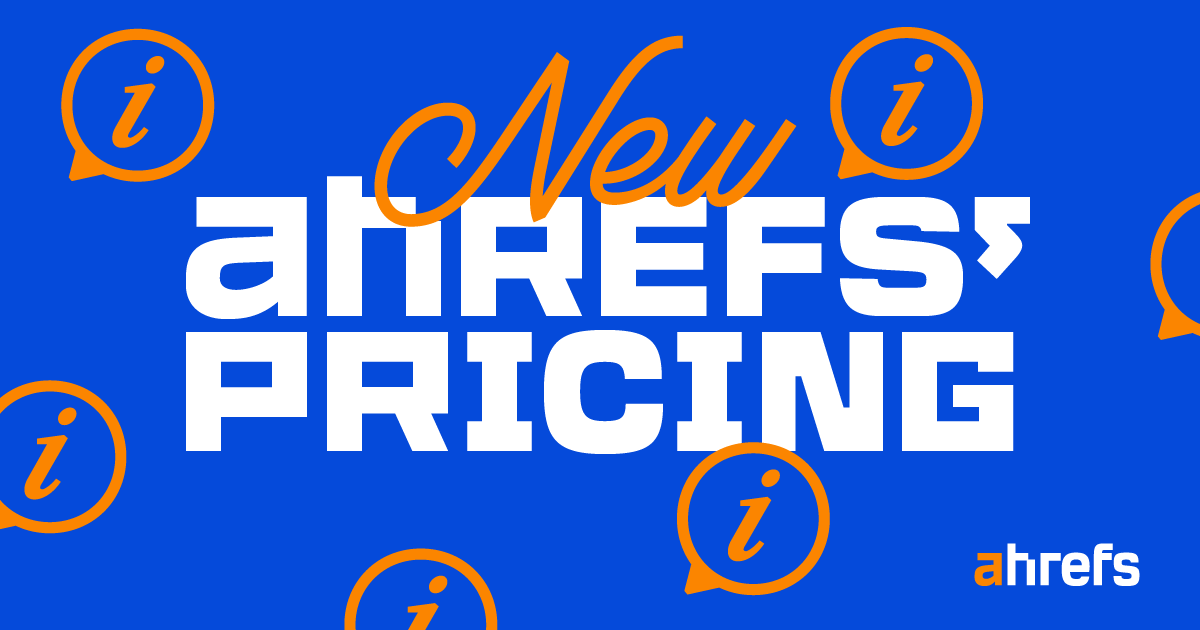 Semrush is Ahrefs's Top competitor with more SEO features and marketing tools. Also, check the Semrush Plans before selecting an Ahref Plan.
An Overview of Semrush Pricing and Semrush Plans. Check the Total Semrush Cost of all its Subscription Plans. And …
Let's Start!!
How Much Does Ahrefs Cost?
Ahref offers 4 different plans. Lite Plan costs $99 per month, Standard Plan costs $199 per month, Advanced Plan costs $399 per month, and Enterprise Plan costs $999 per month.
Ahrefs provide you with a package of search engine optimization tools for optimizing your site or your own client sites you may use.
| | | | | |
| --- | --- | --- | --- | --- |
| | Lite | Standard | Advance | Enterprise |
| Unverified Projects | 5 | 20 | 50 | 100 |
| Total Tracked keywords | 750 | 2,000 | 5,000 | 10,000 |
| Max Page Crawled/mo | 100,000 | 500000 | 1.5 Million | 5Million |
| Keywords lists | 5 | 50 | 100 | 250 |
| | | | | |
| Monthly Price | $99/mo | $199/mo | $399/mo | $999/mo |
| Annually Price[2 Months Free] | $83/mo | $166/mo | $333/mo | $833/mo |
Ahrefs could be your competition analysis and search engine optimization tool it's possible to become. It's got the meta index indicator compared to every additional software.
Using this program, you also may spy on the competition's search engine optimization plans, keywords, your own web pages, and additional facets.
Ahrefs Plans cost is higher and they don't offer any kind of offers. But before making purchasing any plan, users must check the Ahrefs coupon code on this page to get the lowest price.
It will reunite you with the Twitter those who've tweeted those articles. This is going to be useful in constructing connections and dealing with knowing more about networking influencers.
Ahrefs blog audit programs ask that you put in a site, plus your site is crawled by it like Google doesn't provide hints you are able to employ to increase the entire search engine optimization of your site.
Choose The Best Plans For You!!
Ahrefs Pricing Plans 2023
Ahrefs offers 4 plans to their customers, you can choose the one as per your need.
This Amazing and Powerful SEO Tool provides Keyword Research, Backlink Analysis, Content Explorer, Track Keywords Rank, and monitoring of all site specialty backlink services.
Using this tool we can also spy on a third site and get all important ideas and data from there.
Ahrefs is very popular among advertising pros that are online. This provides you with the data that is vital, that a backlink identification tool substantially has.
Ahrefs Lite Plan
Best Plan for Single Website and Bloggers.
It is the cheapest starting plan offered by Ahrefs. The price of the plan is $99 per month. This plan is best for freelancers and beginners in digital marketing.
In this plan, you will get access to many great features, which the help of which you can improve the SEO efforts of your project.
With Ahref's Lite plan, you can look for 750 tracked keywords, 100,000 crawl credits per month, 3 months of data retention, a Rank Tracker, and alerts.
Ahrefs Lite Plan Features
5 Unverified projects
5 Keywords lists
2,500 Sites rows per report
500,000 Data export Rows
Live index
750 Tracked keywords
Ahrefs Lite Plan Pricing
The Price of the Ahrefs lite Plan is-
Monthly Price – $99 per month
Annual Price – $83 per month
Ahrefs Lite Plan Is Best For
Due to its Price and features, this plan seems to be best for:
Newbies
Beginners
Freelancers
Individuals
Ahrefs Standard Plan
Right, Plan for Business and Freelancers.
It is the 2nd plan offered by Ahrefs. The price of the plan is $199 per month. This plan is best for brands, businesses, and marketing agencies.
In this plan, you will get access to many features which are the same as its lite plan. Including some advanced features like – Recent index, historical index, broken pages, and weekly alerts.
With Ahrefs standard plan, you can look for 2000 tracked keywords, 500000 crawl credits per month, 3 months of data retention, site explorer of 700 domains per week, Batch Analysis, Report sharing, etc.
Ahrefs Standard Plan Features
20 Unverified projects
50 Keywords lists
30,000 Sites rows per report
1.5Million Data export Rows
6 months of history
Live index
Recent index
Historical index
Ahrefs Standard Plan Pricing
The Pricing of the standard Plan is-
Monthly Price – $199 per month
Annual Price – $149 per month
Ahrefs Standard Plan Is Best For
Due to its Price and features, this plan seems to be best for:
Ahrefs Advanced Plan
Best Plan for Agencies and Brands.
It is the highest plan offered by Ahrefs. The price of the plan is $399 per month. This plan is best for SEO specialists and professionals in digital marketing.
In this plan, you will get access to many features which are the same as its standard plan. Including some advanced features like – mobile ranking, recent index, historical index, broken pages, daily alerts and etc.
With Ahrefs advanced plan, you can look for 5000 tracked keywords, 1.5 million crawl credits per month, 6 months of data retention, a site explorer of 1750 domains per week, Dashboard folders, and 2 Years of history.
Ahrefs Advanced Plan Features
50 Unverified projects
100 Keywords lists
75,000 Sites rows per report
4 Million Data export Rows
Live index
Recent index
Google Data Studio
JavaScript rendering
Ahrefs Advanced Plan Pricing
The Pricing of the advanced Plan is-
Monthly Price – $399 per month
Annual Price – $332 per month
Ahrefs Advanced Plan Is Best For
Due to its Price and features, this plan seems to be best for:
Seo Specialists
Professional Digital Marketers
If you are an agency and handling a large number of accounts for SEO, then we recommend you to choose an enterprise plan of ahrefs, where you do not just get simple features and also get a large number of data.
this plan is mainly made for enterprises that want to grow their business to a large level, so if you are looking for a pack for your big business then we can go with the enterprise plan
With Ahrefs enterprise plan, you can look for 10,000 tracked keywords, 5 million crawl credits per month, Unlimited History, Directory listing, Pay by invoice, Dashboard folders, etc.
Ahrefs Enterprise Plan Features
100 Unverified projects
250 Keywords lists
150,000 Sites rows per report
10 Million Data export Rows
Live index
Recent index
Google Data Studio
JavaScript rendering
Audit log(soon)
Ahrefs Enterprise Plan Pricing
The Pricing of the advanced Plan is-
Monthly Price – $999 per month
Annual Price – $833 per month
Ahrefs Enterprise Plan Is Best For
Due to its Price and features, this plan seems to be best for:
Large Businesses & Agencies
A quick comparison of Plans.
Ahrefs Plans Features Explained
Ahrefs is also a crucial tool to help you bring in high-converting visitors and find highly superior backlinks and keywords your site can rank for.
This application is fairly famous among advertising online professionals. Ahrefs will display the backlinks along with traffic graphs of their material since you can see them from the screenshot.
Ahrefs now offers a Firefox and also Chrome toolbar which allows you to see search engine optimization metrics that are essential.
Ahrefs is one of many common advertisement analysis software used for preparing investigation accounts, backlink investigation ranks, competitive examinations, and a lot more. It truly is utilized commonly for search engine optimization investigation.
Ahrefs has its own named Ahrefs ranking which is based upon the durability of the site search-engine account. Alongside Ahrefs ranking, you might view domain name rating and URL evaluation of almost any domain name.
Additionally, there are separate tabs for you to explore back-links, speaking anchors domain names, and also keywords for that outcome.
Start Your Free Trial Now!!
Ahrefs Trial Plan
You can get a trial account that will give you access to the standard plans or the lite plans. There are no limitations to it. If you're looking for a discount offer or promo, you won't get the availability for the same.
However, the seven days trial is enough for exploration of all the amazing features and comfort of using it. You can also continue using it for the website or the website of your clients.
Start Ahrefs Trial for 7 Days for just $7 with all Ahrefs Pro Features.
There will not be a refund or a money-back guarantee if the subscription is canceled anytime before the end of the trial or after the trial. However, should there be any technical issues with your trial subscription, feel free to contact our Support team at our live chat or at support@ahrefs.com.
In India country, Ahrefs subscription pricing is the same. Ahrefs accept payments by Credit Card, so when an Indian user purchases an Ahrefs Plan they paid in USD dollars but their bank card makes payments in INR.
So In India, Ahrefs Lite Plan Will Cost You around 8,000INR per month
We also found this query on google.
Ahrefs SEO price is the same as their regular plans. Ahrefs doesn't provide any service to users so we can say Ahrefs SEO pricing. They have a subscription plan in which users get all SEO tools to perform website SEO self.
Ahrefs Pricing Summary
A quick overview of Ahrefs pricing.
Lite plan: 5 unverified projects, 750 tracked keywords, 5 Keyword lists -$99/month.
Standard plan: 20 unverified projects, 2000 tracked keywords, 50 Keyword lists-$199/month.
Agency plan: 50 unverified projects, 5,000 tracked keywords, 100 Keyword lists-$399/month.
Total Ahrefs Cost
Ahrefs has already been adding plenty of characteristics that are new as well you can get a lot of attributes within the forthcoming days as their growth cycle is quick.
Ahrefs will not offer you an endeavor that is a normal clinic within the search engine marketing software market. Even though, you can decide to try their application 7 times by spending $7.
| | | | |
| --- | --- | --- | --- |
| | Lite | Standard | Advanced |
| Monthly Costs | $99/month | $199/month | $399/month |
| Annually Costs | $83/month | $166/month | $333/month |
Quick Review-
About Ahrefs – SEO Tool
Ahrefs organization is founded in 2020 by Dmitry Gerasimenko and right now Its headquarter is established in Singapore. It provides SEO and Marketing solutions to websites, advertisers, and blogs.
They show the most current statistics. It provides you with all of the vital details like the overall number of backlinks, number of do-follow or no-follow back-links along with much additional text.
Being a Keyword research tool among advertising professionals that are internet. Ahref is a must-buy application from an SEO perspective. They have an immense database and also show the most current data.
Ahrefs causes it to be simple to discover hyperlinks. This gives a listing of all the domain links for your requirements personally.
We all understand Ahrefs have a database, they prefer to upgrade on a daily basis. Thus, you shouldn't fret about what they provide.
Ahref Features
Position tracking
Keyword Research
Backlink analysis
Competitive analysis
Technical SEO
On-page optimization
Content planning (Ideation)
Link building
Organic traffic analysis
Related Articles to Ahrefs:
Why Ahrefs?
Reasons To Choose Ahrefs Subscription
These features were selected by comparing Ahrefs to other similarly priced all-in-one SEO tools. It's quite possible that some of the lesser-known, more specialized SEO tools have one or more of these features.
Click Ration and Keywords Search Volume
Ahrefs Plan also comes with Keyword Research, where users can also search for new keywords and get real-time data about the keyword, clicks, related keywords, and questions.
Keywords Explorer is the only keyword research tool on the market to go beyond search volumes and shows the estimated number of clicks on search results. This is useful for assessing whether or not a keyword is actually worth targeting.
For example, take the query, "Donald Trump age":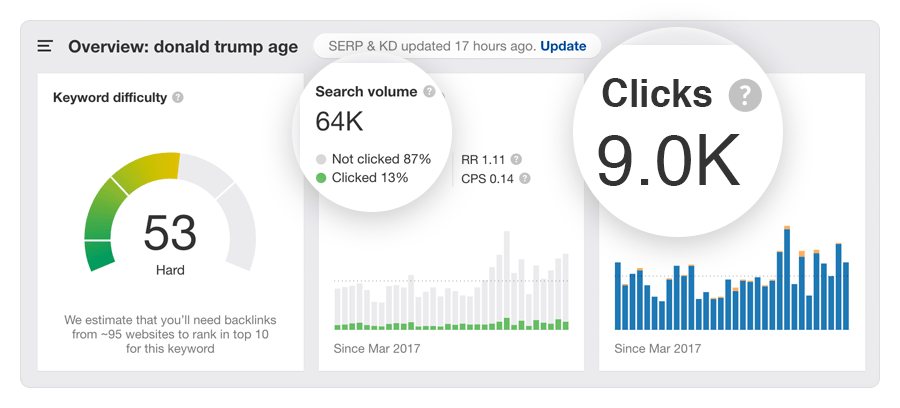 There are an estimated 64,000 monthly searches for this term, but because Google shows an instant answer, there are only 9,000 clicks.SIDENOTE. We calculate these numbers using clickstream data from our partners.
For some keywords, we see the opposite.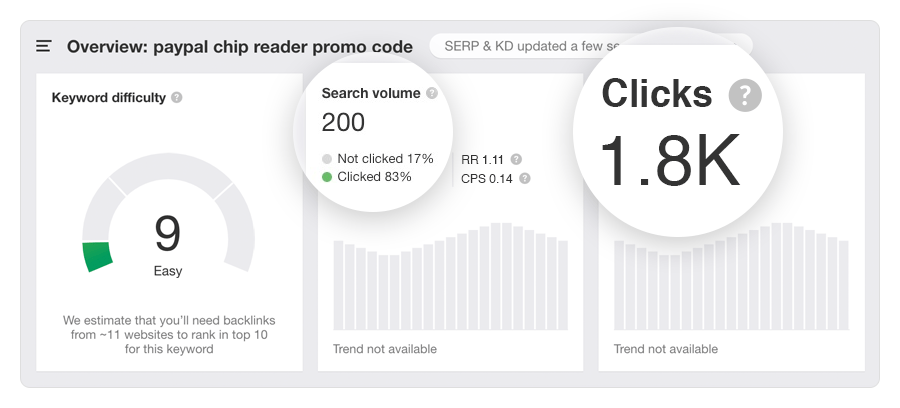 Here, there are 1,800 monthly clicks despite a search volume of just 200. This means that the average search sees almost ten clicks. In this case, that probably happens because searchers are looking for a working promo code, so keep clicking results until they find one.
Always target keywords that get clicks over those that don't.
In-depth data on Backlinks
Thanks to our continued investment in web crawling technology and infrastructure, Ahrefs is the only tool to update backlink graphs daily.
Here's what it looks like for the Ahrefs blog:
One glance tells us that our blog's link profile grew by around 1,500 referring domains in 2018. And in 2019, it's on track to increase by more than 5,000.
This level of granularity allows you to accurately compare your own link acquisition pace with that of your competitors to see if you're on track to catch up.
Organic Keywords and Search Traffic
To check your website's Organic Traffic and Organic Keywords, you must get Ahrefs Pricing Plans. Users can also check their Keywords moment daily and check new or lost keywords.
This is a wonderful feature for finding out who is ranking and for which keywords. It works for nearly all domains and provides you with the exact list of terms that they rank for.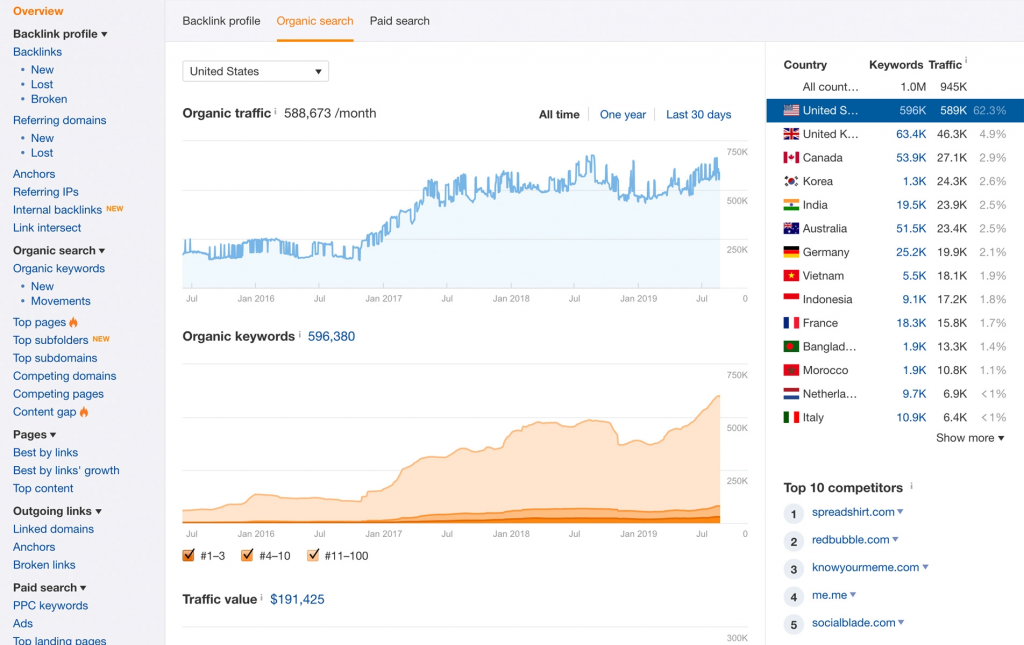 You can get a fair idea of what competitors are up to and how your site is faring in comparison. The real value of this feature comes from the list of keywords it provides for what your competitors are ranking for and gives you an accurate idea of how much traffic they are generating from each term.
Analyze Internal Backlinks of Websites
Struggling to push an important page higher in the search results? We are sure you already know how many external backlinks it has, but what about internal backlinks?
Head to the "Best by links" report in the Site Explorer, and switch to the "Internal" tab. This shows the number of internal links to each page on the website.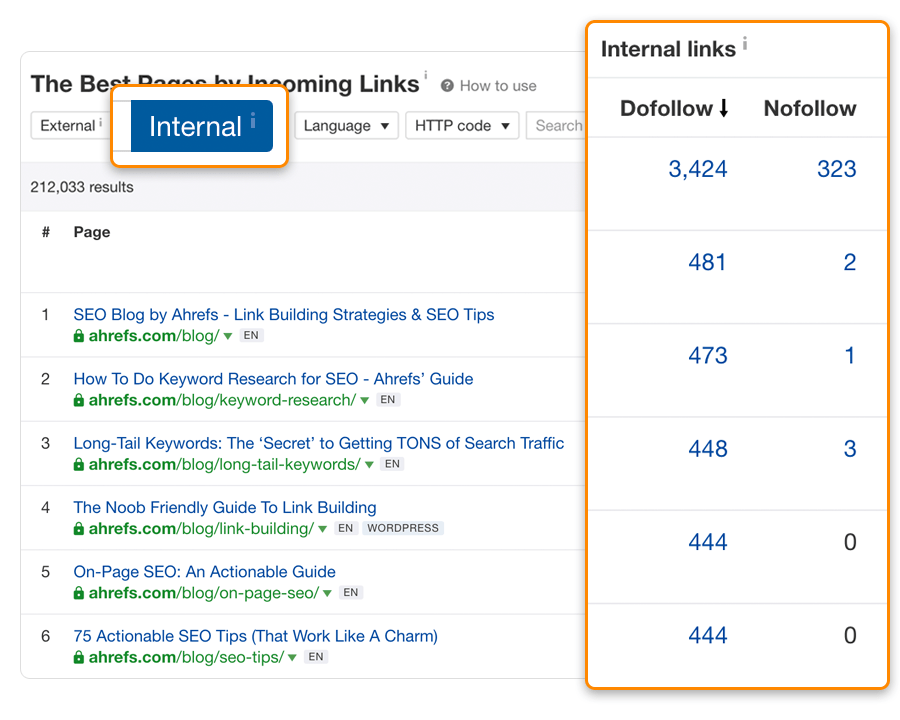 Click on the blue numbers to see the actual linking URLs and the linking anchor texts. This is a handy way to run a quick internal links audit and decide if anything needs adjusting.
While internal backlinks carry disproportionately less weight than external ones, don't underestimate how much value you can pass to a page via internal linking. A few strategic internal links might be enough to boost your page by a few positions.
Every week, Ahrefs sends me an email report with all the keywords our website has started ranking for in positions 1–3.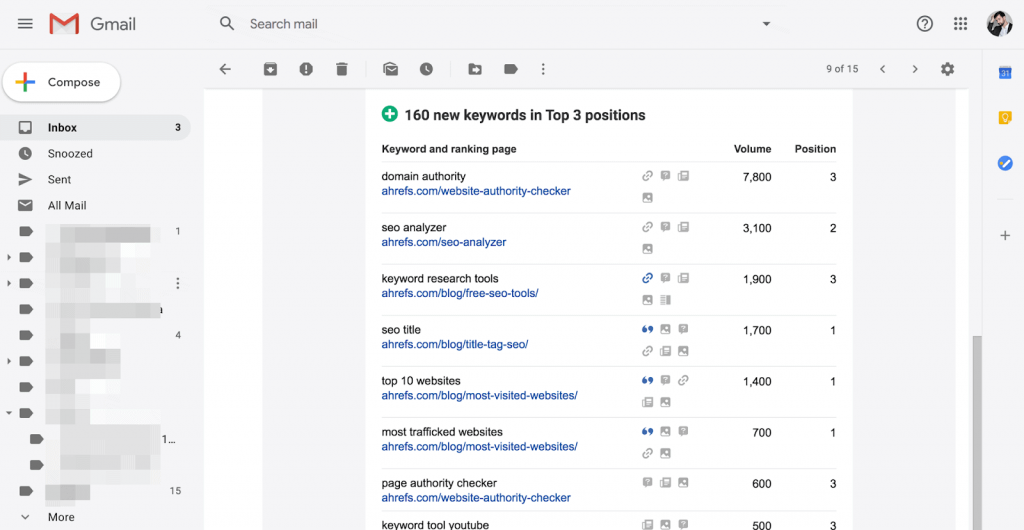 Think of this as rank tracking on steroids. With rank-tracking tools, you have to specify keywords to monitor before you see updates. Because Ahrefs already tracks rankings for 500 million keywords, we're able to tell you when you start ranking for any of them.
To set up a new keyword alert, go to:
Alerts > New keywords > New alert > enter the domain, subsection, or URL > choose settings and frequency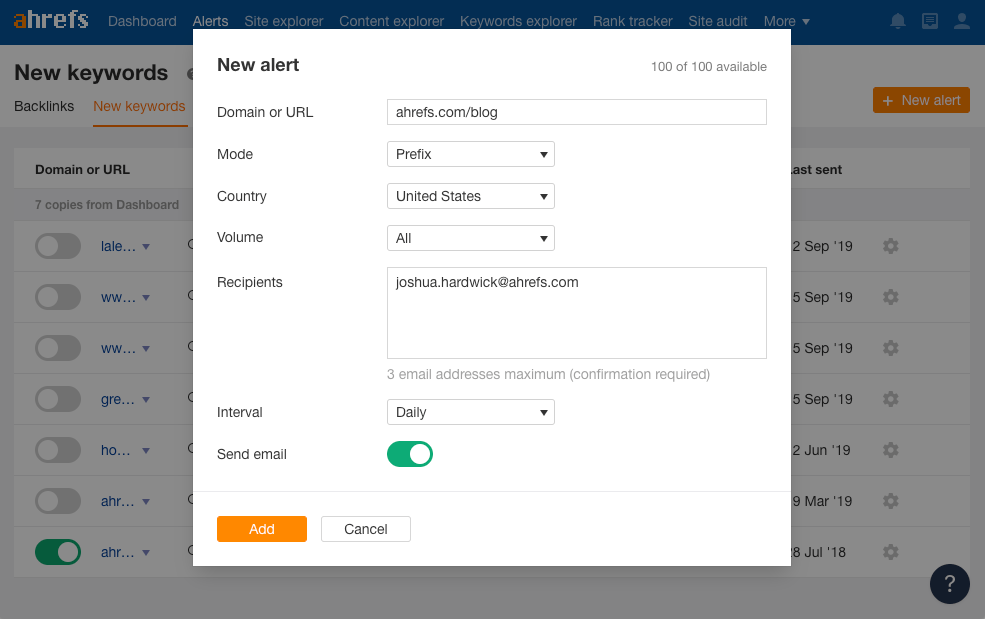 This is a great way to track your website's ranking progress and monitor competing websites on autopilot.
Do keyword Research For 10 Search Engines
Most keyword tools only show data and metrics for Google. That makes sense given their near-monopoly of the search engine market, but it's important to remember that you can also get traffic from other search engines.
Here are the supported search engines in Ahrefs' Keywords Explorer:
Google;
YouTube;
Amazon;
Bing;
Yahoo;
Yandex (Russia);
Baidu (China);
Daum & Naver (South Korea);
Seznam (Czech Republic)
Just toggle between each of them to see respective monthly search volumes for any keyword.
Whether or not you care about search engines in Russia, China, South Korea, or the Czech Republic, or sell products on Amazon, you should consider your company's presence on YouTube.
Ahrefs YouTube channel is pulling nearly 300k views per month, with 91% of these views coming from "Keyword Targeted" videos.
Traffic Value of any Website
The traffic value feature shows the value of all the traffic a website derives from a specific search. A high number denotes a greater value.
This is an important feature as it connects value to the quality of traffic and not mere numbers. When the traffic value number is on an upward trend, it indicates a higher quality of search traffic which is a desirable metric for any website.
Here We are sharing All the Queries Related To Ahrefs Plans:
What are Ahrefs prices?

Monthly subscriptions start at $99/month (personal) and $999/month (agency). Annual subscriptions start at $82/month (personal) and $832/month (agency).

What Are Ahrefs Plans??

Full access subscription plans are divided into Lite, Standard, Advanced, and Agency.

What Plan Is Best For Beginners?

The interface of Ahrefs is very user-friendly, so there is no issue with which plans you are choosing as a beginner.

What Ahrefs Plan best for any SEO Expert?

Ahrefs all Plans are best, if you are Looking For some Advanced Features, we prefer to choose you Advanced features where you will find lots of benefits and Features,

What Is Ahrefs Price For Trial?

Ahrefs provide a trial where Ahrefs provide all the features, the pricing of Ahref's free trial is 7$ for 7 days.
Our Opinion-
Conclusion: Does Ahrefs Worth To Buy in 2023?
Ahrefs offers one of the most comprehensive ranges of tools that can be used for deep and accurate research of various elements associated with marketing.
The site has an updated backlink database that is way ahead of other similar tools in terms of utility and value.
When working in Ahrefs, it's possible to just click on a question mark icon observable at the bottom-right corner of the screen — to chat with a support team member.
Ahrefs is somewhat easier to work with than SEMrush, and gives more digestible to you,' At A Glance' information.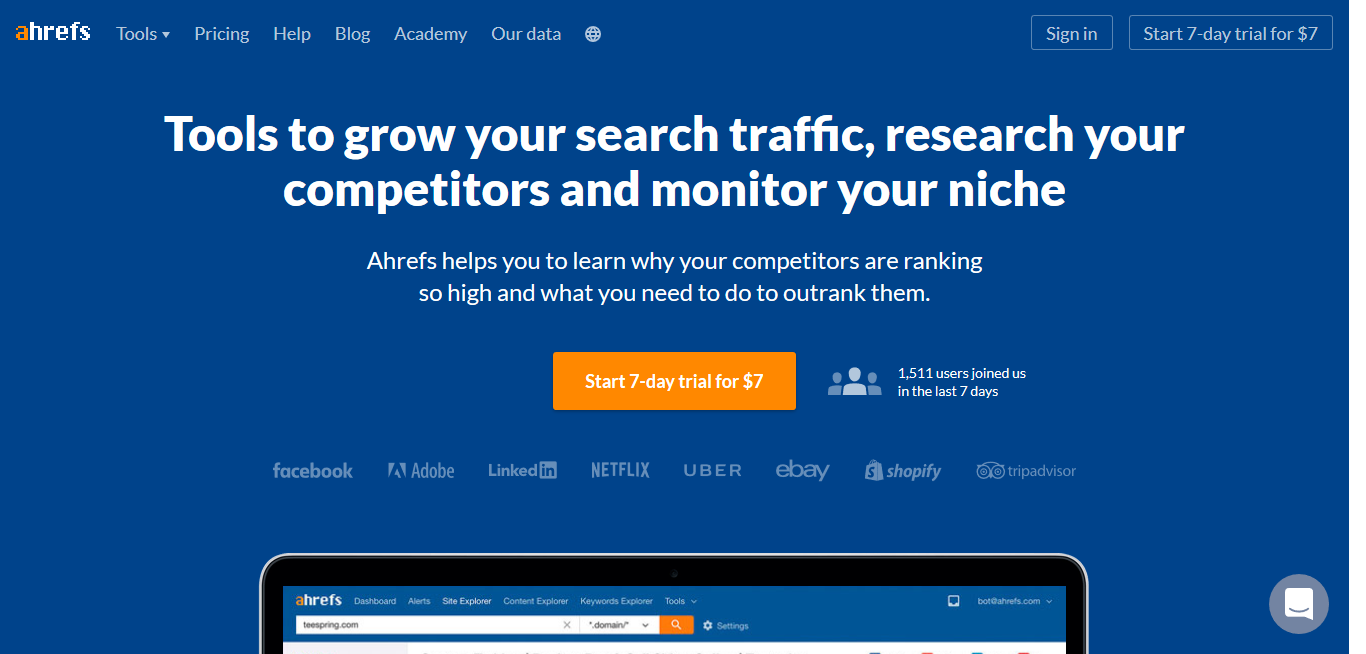 With Ahrefs, you get a quick A Glance' knowledge of search engine optimization advice — whereas using SEM Rush, you need to do further digging or click around the area, to get.
Ahrefs causes it to be super easy to discover broken links. This gives a set of all that domain's broken links to you.
At the end of this post, we just want to say that Ahrefs is such an awesome tool that provides a lot of features that require you in your SEO journey.
So if you are looking for a Complete SEO Tool then you can go with an Ahrefs Plan.
Get more information about this.
Get 2 Months Free or Save up to $1998.
Other – SEO Tools Pricing info:
Check SEO Tools Pricing, Plans, and Features.
An Overview of Semrush Pricing and Semrush Plans. Check the Total Semrush Cost of all its Subscription Plans. And …
Get to know about ahrefs pricing plans, Check the features & Prices of Ahrefs Plans, Get the Ahrefs Total Cost and …
Get SE Ranking Pricing Plans 2022, Check SE Ranking total Cost & Summary, and Get to know about SE Ranking Plans …
Compare All SE Ranking Plans, Check Total Cost, and Avail up to 60% Discount.