Get Know Shopify Pricing and Shopify Plans of 2020. Check Shopify Total Cost and Get a Right Plan to make Sells Online Fast.
This article have every single details that will help in you choosing Shopify for online stores.
Are you searching for a platform for your eCommerce store?
If yes, then absolutely you are in the right place, please read this article till the end, and hope you find it useful.
Hi today I will tell you about Shopify if you are thinking to launch a great platform for your E-Commerce or you want to start your dropshipping business today let's I will tell you about Shopify more and also it will be a right choice for your business
so in this post I will share you more about Shopify pricing plans features and also I will tell you which plan is best for you and also I will compare all the plants and in last I will tell you the final conclusion
By the end of this article you will get to know about the best online e commerce store builder spotify and also you can find out the best plan for your business
Let's go!
Now, being a professional blogger, and knowing the importance of your time, so without wasting it, let's begin with the article.
What is Shopify Pricing?
Shopify pricing starts from $9/mo where you can add unlimited products and get all essential online store features. The rest of 4 plans cost, Shopify Basic Plan for $29/mo, Shopify plan for $79/Mo, Advanced Shopify plan for $299/mo, And Shopify Plus Plan Start At $2000/Mo
Shopify has 5 price plans and its price is so attractive affordable.
Shopify Pricing Summary
There are five Shopify plans pricing available:
Shopify Lite Plan $9/mo – Add Buy Buttons, CMS Integrations
Basic Shopify Plan $29/mo – Unlimited Products, 2 Users, 2% Additional Fee
Shopify Plan $79/mo – Unlimited Products, 5 Users, 1% Additional Fee
Advanced Shopify Plan $299/mo – Unlimited Products, 15 Users, 0.5% Additional Fee
Shopify Plus Plan Start with $2000/mo – 18% Higher Conversion, Start Selling in 3-4 Months
Shopify Plans Pricing – Choose a Right Plan
1.'Basic Shopify' pricing
As basic Shopify is also a very popular Shopify plan which gives you full functionality and a fully functional online E-Commerce store at $29/mo only and this plan is also very affordable.
Basic Shopify Plan Features:
Fully functional online store
You can able to sell unlimited products
You can create two staff accounts
Free SSL certificates
Abandoned cart recovery
Discount Codes And gift cards
24 x 7 support
Manual order creation
As in basic Shopify at $29/mo you get all the basic features to start a new business online and also it will offer you to make a fully functional eCommerce store with you can sale unlimited product and also Shopify provide you 24 x 7 support and also you will get sales channel and there are so many features and the transaction fees that Shopify charge is 2%.
Basic Shopify Plan Best For:
Basic Shopify Plan Price is $29/mo with All Basics Features
Basic Shopify Plan Best For:
New Dropshippers
New Small Business
2.'Shopify' pricing
Now the next plan is end this plan is also very popular plan which give you each and everything which you need to grow your online business as this plan is Shopify and this plan will cost you $79.00 for month
The key additions that the 'Shopify' plan brings over 'Shopify Basic'.Shopify Plan Features:
Lower transaction and credit card fees
5 staff accounts
Professional reports
Unlimited product
24 x 7 support
Sales channel
Manual order creation
Free SSL certificates
Abandoned Cart Recovery
Advanced Shopify Plan Cost:
Advanced Shopify Plan Price is $79/mo with POS + Reports
Price – $79/mo
Advanced Shopify Plan Best For:
Established Small Business
Mediator Dropshipper
Manufactures
Wholesalers
3. Advanced Shopify Plan
As it is a advanced Shopify plan which is best for big businesses for in this plan you will get advanced features for scaling your business to a new height you will get many advanced features like advanced report building and also real-time careers shipping is it help to track real-time carrier shipping means that you are able to know the exact shipping rates that carrier charge and it will automatically calculated at the time of checkout for any product you order
Now on this advanced Shopify plan you will get lower credit card rates and lower transaction fees if you are using third party payment gateway
The 'Advanced Shopify' plan gives you all advanced feature for scaling your business Advanced Shopify ($299/month)
Features of Advanced Shopify plan
Free SSL certificate
15 staff accounts
0.5% lower transaction fees
Advanced report builder
Gift card
Abandoned cart recovery
Sales channel
24 x 7 support
Unlimited products
Advanced Shopify Plan Price:
Advanced Shopify Plan cost $299/mo where you got POST + Advanced Reports as additional features.
Price: $299/mo
Advanced Shopify Plan Best For:
Mid-Cap Business
Pro Dropshipper
Manufactures
Wholesalers
4. Shopify Lite' pricing
At $9/mo, 'Shopify Lite'
Now I will tell you about Shopify lite at $9/mo and also it is one of the cheapest and the the best plan in Shopify if you are beginner and want to to launch your on E-Commerce store you can start with this plan as it will offer you fully functional online store but there will be many limitations as it is Shopify lite plan
Shopify lite allows you to
Add And Sale product to any site or blog
Add embedded product to your site
Build a custom shopping experience anywhere
Accepts credit cards anywhere
Create invoice get paid
Sale on Facebook
As this is a very popular plan in Shopify in which you can embed your product on your website or on your blog with the help of Shopify lite plan.
You can turn your blog or your any website into a money making online store in just few second with Shopify buy buttons whether you use wordpress or any CMS you can turn your normal website in online store.
In Shopify you can also accept payment through credit card debit card or PayPal Shopify makes everything very easy and you can create invoice for your customer and accept payment and get paid.
Shopify Lite Plan Cost:
Shopify lite plan price is $9/mo, All lite features.
Price – $9/mo
Shopify Lite Best For:
For Beginners
For Bloggers
5. 'Shopify Plus' Plan
Finally, there's the 'Shopify Plus' plan to consider. Unlike the plans discussed above, this is aimed not at SMEs, but at big businesses. now I will tell you about Shopify Plus plan as it is a enterprise grade solution for your high-volume merchants and for large businesses
In Shopify Plus account you will get all features of Advanced Shopify plan and also there are many benefits in Shopify Plus plan as Shopify Plus is start from $2,000/mo.
Get up to 18% more conversion with shop pay and also 60% faster checkout
Future proof with build in AR technology VIDEO AND 3D MEDIA ON PRODUCT PAGES
NEVER LOSS OF SALE WITH UNLIMITED TRANSACTIONS PRODUCTS AND 99.99% UPTIME
Customise your checkout and offer advanced is discount and shipping rates
Save time and money by automating complex processes campaigns and discounts
Reduce the cost of doing your taxes and charge up-to-date rates
Migrate your customer product and order data in your Shopify store
Manage all your stores staff accounts and automated workflow from one place in your Shopify admin dashboard
Shopify Plus Plan Cost:
Shopify Plus Plan Price is $2,000/mo.
Price: $2000/mo
Shopify Plus Plan Best For:
For enterprise-level businesses
For high volume merchants
For large businesses
How much does Shopify Plus cost Any Why Shopify Plus?
Now I will tell you Shopify Plus plan pricing it will cost you $2,000/mo
As in Shopify Plus includes automatic multi currency selling and Shopify Plus plan help you automatically detect what are country user is browsing on your store and it will update product price in the appropriate local currency
As this is a really very useful feature and you have to not depend on any third party plans such as bold multi currency and also it will cost you in higher prices.
Review of Shopify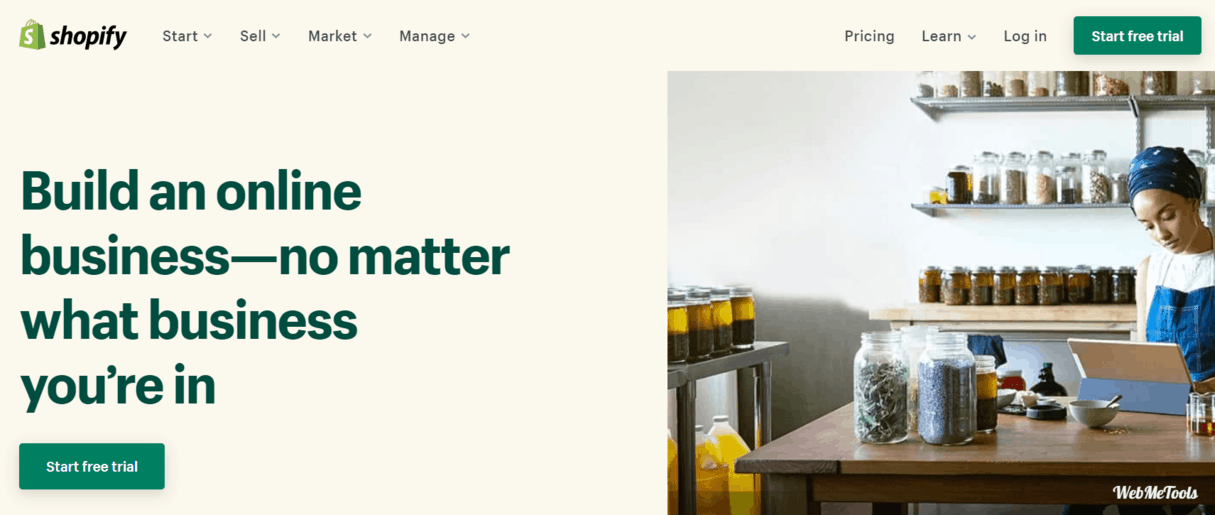 Founded: 2004
Founder: Tobias Lütke, Daniel Weinand, Scott Lake
HQ: Ottawa, Canada
Now Shopify is an amazing and application that help you to build a E-Commerce or your own online store in just few clicks.it's runs on web browser or you can say you have to access it through website you can use the platform from anywhere
In other words,  You don't need to install any software or any application or you don't need to purchase any hosting as Shopify has a solution of hosting and you do not need to worry about web hosting
Shopify will provide you so many things which help you to build a beautiful online store for your business. Shopify offer five types of plan in which you can sell your products and also you can sale unlimited number of products whether they are are digital or physical and also you can choose theme template aur you can design your website easily it will give you many features that help you to build your online store
And Shopify is a software are you can say a service tool (Saas)that means you do not have to on a copy of the software you just have to pay a monthly fee to use it for example you rented a house For your living and you pay monthly rent as same in Shopify you are building your own shop on online with the help of Shopify and you will pay a monthly fee as you are using Shopify services
Shopify is also very popular among building E-Commerce platform and also for dropshipping business it is very affordable and also it will offer you so many features and Shopify also offer you for 3 days free trial plan in which you can open your own online store for free Shopify also allow check performance of your store conversion and so many things you can track with the help of Shopify Amazing dashboard.
Shopify Unique Features
70+ Profesional Themes
100 external payment gateways
Automatic shipping rates
Customer Profile & Grouping
Dropshipping business.
Automated store emails with the design
SEO Optimized & Sitemap
Discount & Gift Cards
Inventory Management
Products Variation & Organization
Unlimited Hosting & Free SSL
Outstanding Reports & Analytics
Dedicated 24/7 Support
Shopify Plans Total Cost
Using this amazing platform we're also going to make money so it deserves a good price along with its genuine and quality features.
Here is Shopify Plans with their Monthly and Total Annually Price.
| | | |
| --- | --- | --- |
| Shopify Plans | Monthly Price | Total Annually Price |
| Shopify Lite | $9/mo | $108 |
| Basic Shopify | $29/mo | $348 |
| Shopify | $79/mo | $948 |
| Advanced Shopify | $299/mo | $3588 |
| Shopify Plus | $2000/mo | $24000 |
For Small Business and Entrepreneurs Shopify is budget-friendly and we can use it to grow our products. As same for Dropshippers it's really a cool platform that deserves this price.
Shopify is Best For
Shopify is the best tool for Manufactures, Small Businesses and Entrepreneurs who want to Sell, Sell and Sell.
Yes, increasing the reach of your products all around the web and selling them in this digital era is really simple and quick with Shopify. This platform allows you to create an Elegant, Fast, Optimized website after this promotes your store on Social Media, Search Ads and Directory sites and Sell Products theirs with no worry about shipping.
So here is our suggestion about Shopify plans based on its review, price and features.
Shopify Pricing Plans FAQs
Here we've shared some common questions which are mostly asked.
Is there a setup fee?
No.
There are no setup fees on any of our plan
Do I need to enter my payment details while signing up?
No.
You could sign up and use Shopify for 90 days without getting into your payment details. at the end of your trial, or when you make a decision to launch your keep, you'll need to select a plan and enter your payment information.
Can I change my plan later?
absolutely! You can upgrade or downgrade your plan at any time
Are there any transaction fees?
If you use Shopify Payments gateway then there is no transaction fee. If you choose an external payment gateway, there will be additional fees of 2%, 1% or 0.5% and 0% for our Basic Shopify, Shopify,Advanced Shopify plans,Shopify Plus Plans respective.
What is Dropshipping? How Can I Start Dropshipping with Shopify?
Dropshipping Business is one where we sell other manufacturer's products yourself. In simple words, we have a list of other products or we purchase items directly from a wholesaler or manufacturer, then we promote and share these products on the internet and sell them. In some cases, if we don't own any inventory, the wholesaler may also ship your products to buyers.
Shopify is known and master for Dropshipping, It's Oberlo App makes it the next level Drop Shipping solution for entrepreneurs. It has all the essential tools that you need for Dropshipping biz.
Where Can We Sell with Shopify?
Shopify allows us to sell our products all around the web. Using this store we can sell our products on websites, online marketplace, social media and apps.
What is a merchant account?
A Shopify Merchant account where your money is deposited when a customer pays for items, then when order successfully happened and delivered this amount authorized and processed.
Do we Need Ship Items ourselves?
No
You don't need to ship items yourself, Instead of this you can use third-party fulfillment service which will deliver your items to the customer on their given address.