15+ Best Shopify Alternatives in 2023 for Store Building & Creating Online Store. Know Competitors are Cheap, Free, and Websites like Shopify.
Get the Best Alternatives to Build Online Stores with their Price, Features, and Plans. And Choose a Better Similar Software to Shopify at the cheapest cost.
Shopify is a complete eCommerce platform that helps small businesses to build their online store and sell products all around the web. A Biz owner can easily start their online store, grow it using Shopify tools, and manage it.
But Shopify has also its limitations and cons, which influence us to search for Shopify Alternatives.
So in this article, We've shared 15+ Best Shopify Similar Store Builder Tools.
Shopify is an amazing application that helps you to build an eCommerce or your own online store in just a few clicks. It runs on a web browser or you can say you have to access it through the website you can use the platform from anywhere.
In this article we have included:
Best Shopify Alternatives for Store Building
Free & Cheap Alternatives of Shopify
Top Shopify Competitors
Websites like Shopify
However, there are some disadvantages of using Shopify to be aware of too which we will discuss in this article. And look for other Store Builder Alternatives.
Here in this article, we have also included Cheap & Free Shopify Alternatives.
Why Do People Search for Alternatives of Shopify?
Shopify is an obvious choice for eCommerce, but you might outgrow it at some point, or simply need a more flexible solution.
Cons of Shopify:
There are transaction fees for those using a third-party payment gateway. Some of its competitors don't charge any transaction fees at all, regardless of the payment gateway used.
Product images have to be uploaded with the same aspect ratio to display properly.
There are only 71 themes in the official theme Store. This means that your store could be using the same theme which means your customers won't be able to tell your store apart from your competitors. In the long run, you will have a harder time building brand recognition.
The abandoned cart saver only allows you to send one automated follow-up email.
If you possess a look at some other Store Builder Alternatives, they're wonderful and professional and cheaper than Shopify.
Here we have mentioned the top best alternatives to Shopify with their pricing plans and features so that you can read and compare Shopify to other tools and see which tool would be best for you.
Here are the best alternatives to Shopify with their plans, features, and pricing to use over the Shopify store builder.
BigCommerce is the All-In-One online store builder & management solution for retailers & enterprises. BigCommerce is the strongest Shopify competitor for growing start-ups.
This Web Me Tool has all the essential eCommerce configuration and features to sell anything online with complete store solutions, and promote products on different platforms directly from BigCommerce.
BigCommerce Features:
15+ Free templates to use
100+ eCommerce app collections
80+ paid templates available
More than 600+ product variants
No Additional Transaction Fees
SEO optimized
24/7 support
BigCommerce Plans and Pricing:
It has four plans and has a variety of features:
Plan-1: Standard plan for $29.95. In this plan, you will get features of unlimited Products, file storage, and bandwidth, a Responsive website, Coupons, discounts and gift cards, and much more.
Plan-2: Plus plan for $79.95. You will get a Responsive website, Real-time shipping quotes, and many more.
Plan-3: Pro plan for $299.95. It consists of features with Google reviews integration and product filtering.
Plan-4: Enterprise plan for a Custom Quote. A BigCommerce marketer will support you with your store.
Why use BigCommerce instead of Shopify Online Store Builder?
If you need a smooth, no-sweat experience and the versatility of a drag-and-drop editor, BigCommerce may be simply the ideal tool. It's a reputable provider allowing you a full-cycle solution for your website.
Its themes are absolutely stunning, also be available to pay out for premium themes if you need more than the free minimum.
Advanced content-marketing characteristics let you promote your product on the web and improve conversion rates. At the identical time, hundreds of built-in points indicate you won't have to pay nearly as much money in the app store as you would with Shopify.
Multi-channel selling is streamlined with BigCommerce as you can maintain your stores on Amazon, and Pinterest from BigCommerce. Your inventory syncs crossed the shops so that you never oversell. And it works well for Most Business Models.
ShopBase platform provides solutions for dropshipping on print-demand products and you can also sell your own products online it has affordable pricing plans and here you can sell unlimited products for drop shippers.
It is also connected with aliexpress, a Pal Singh tracking feature, and other drop shippers supplier Marketplace.
You can also sell print-on-demand products using ShopBase it has some good high-quality and low-cost suppliers which build printing print on the products and build your products as your customers wish.
ShopBase Features:
Free SSL certificate
Discount codes
10+ apps included
15+ store templates to use
Built-in Facebook & Google feed builder
Fraud analysis
Abandoned cart recovery
14-days free trial
24/7 customer support
Storefront Builder
ShopBase Plans and Pricing:
ShopBase has three plans and they are Basic Base, Standard Base, and Pro Base. Where you can add unlimited products and get all online store features.
Plan-1: Basic Base plan for $19/mo. You can start selling your products online with a secure, beautiful store with unlimited products.
Plan-2: Standard Base plan for $59/mo. This Plan is best for growing businesses with more team members and large transactions.
Plan-3: Pro Base plan for $249/mo. The Pro Base plan will help you to level up with the enterprise base for high-volume sellers.
Why ShopBase is a Competitor of Shopify?
ShopBase integrates email and SMS abandoned cart recovery solutions to help you boost sales up to 15%. There's no need to install third-party apps. But in Shopify, there is a need to install email and SMS abandoned cart tools from their third-party partners.
They are still on the way to expanding its position in the eCommerce world. It is designed to fit the needs of all types of people– from local mom-and-pop shops to tech startups and global multi-million dollar businesses.
Another exclusive platform to build an Online store & run an eCommerce startup. PinnacleCart is expensive but it is all one solution for everything.
It has special in-built features to increase conversions, traffic, and sales also. From the 1st day, you're ready to sell products in this online world.
PinnacleCart Features:
12+ Free Templates
10+ Apps included
Fully Customizable
SEO Optimized
Reporting & Business Analytics
24/7 support available
Easy Set-up tools
PinnacleCart Plans and Pricing:
It has three plans with a variety of features:
Plan-1: Standard plan for $79.95. You will get the features of 5 Administrative Accounts, Online Store, Over 400 Features, and much more.
Plan-2: Advanced plan for $199.95. It includes Unlimited Administrative Accounts, No Transaction Fees, and many more.
Plan-3: The enterprise plan will be based on your call for high-volume plans and services.
Why use PinnacleCart as an alternative to Shopify?
Pinnacle Cart is an engaging, fully-customizable eCommerce solution that differentiates itself from various solutions by letting extra services like digital marketing, development, and more to their customers.
It's these contributions the make PinnacleCart a truly "complete service" solution for expanding businesses.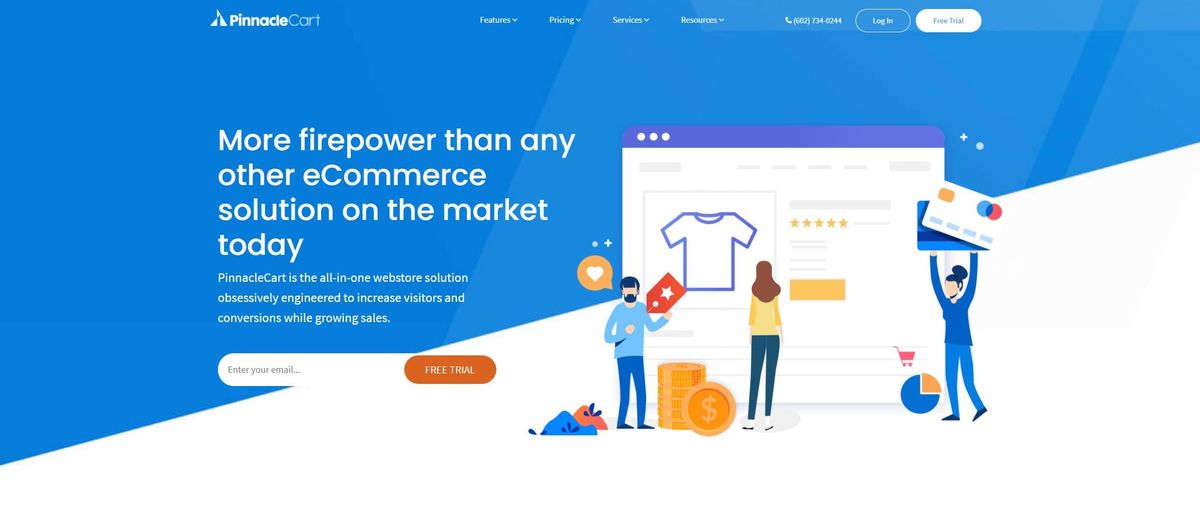 Pinnacle Cart has been in the industry for adjacent than 15 years and concentrates on the marketing aspect of eCommerce.
The characteristics and tools they develop are focused on getting more visitors to your store and turning those visitors into buyers. These are some of the features which are missing in Shopify.
Squarespace is perfect for building professional websites.
It has the most reliable quality designs and features in the store, and while it can catch a little getting used to, the last results are worth your patience.
Beautiful templates, excellent customization, and quality features are solely at your fingertips.
Squarespace Features:
100+ free templates to use
Drag and Drop management
40M+ images available
1000+ content items included
30k+ icons to choose from
SEO optimized
24/7 support available
Squarespace Plans and Pricing:
It has four plans with a wide range of features. Let us discuss it below.
Plan-1: Personal plan for $16/month. It includes the features of a Free Custom Domain, SSL Security, Unlimited Bandwidth and Storage, and much more.
Plan-2: Business plan for $18/month. It has the features of SEO Features for Site Visibility, Templates to Fit Every Need from Blogs to Portfolios, Contributors, and many more.
Plan-3: Basic Commerce plan for $27/month. It consists of the features of Mobile-Optimized Websites, 24/7 Customer Support, Basic Website Metrics, and much more.
Plan-4: Advanced Commerce plan for $49/month. It has the features of Professional Email from Google, Premium Integrations and Blocks, Fully Integrated E-Commerce, and many more.
Why Squarespace is similar to Shopify?
Squarespace is gradually developing a firm reputation for loyalty and great customer support, and many analysts prefer it to Shopify. Plus, if the appearance of your website is important to you then Squarespace templates are considerably better than Shopify has to offer.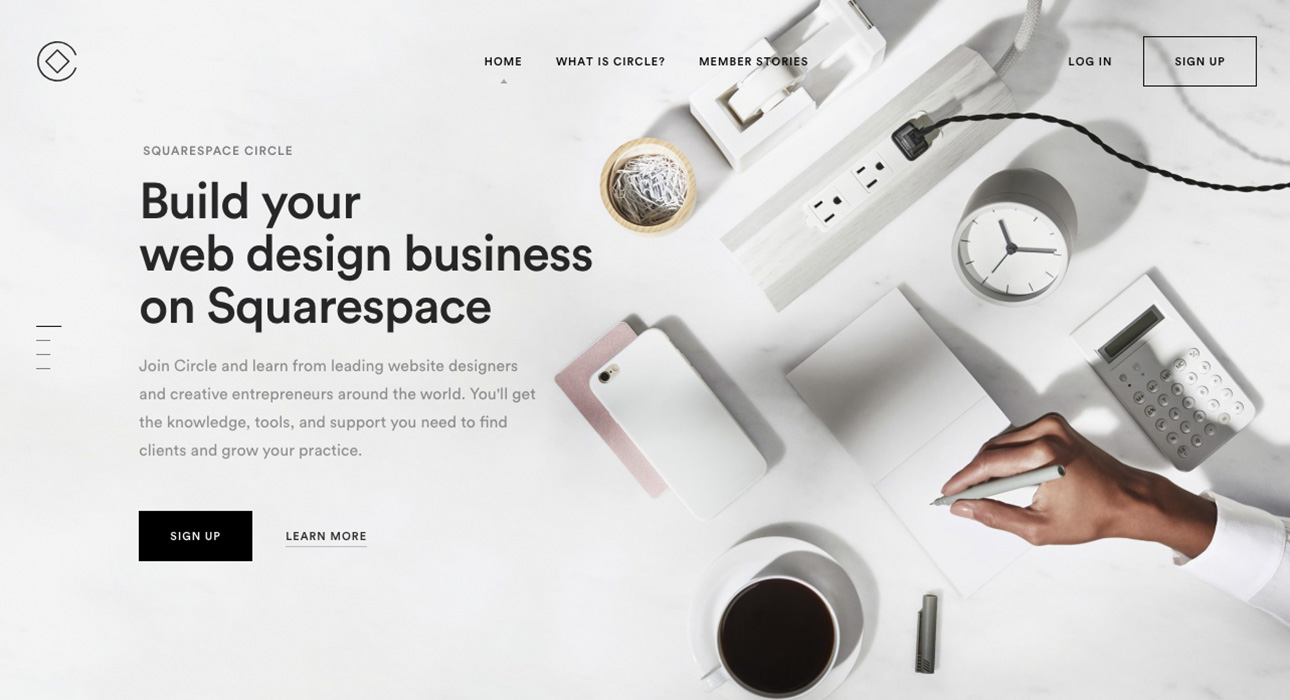 While Shopify's security isn't offensive, this is simply one of the items that Squarespace does quite better than Shopify. Squarespace's pricing is not much reasonable. There's no free plan, but there is a 14-day free trial, and the features likely present Squarespace with great value overall.
Volusion is also a Cloud-Based ECommerce platform established n Austin, Texas. It is empowering local businesses to move online and increase their biz range.
It has all features to run, manage, and build an online store from scratch as well as amazing powerful options to run an online store like a pro ECommerce site.
Volusion Features:
Unlimited products
10+ free themes available
30+ premium themes
24/7 customer support
Rich Content Editor
Multiple Payment Processors
14-days free trial
Volusion Plans and Pricing:
It has four plans and varied features. Let us discuss it below.
Plan-1: Personal plan for $35/month. You will get features of unlimited bandwidth, 0% transaction fees, up to 100 products, and much more.
Plan-2: Professional plan for $79/month. It consists of five staff accounts, 5000 products available, phone and online support, and many more.
Plan-3: Business plan for $299/month. You will have the features of priority support, secure checkout, built-in SEO tools, etc.
Plan-4: Prime plan as a custom. It consists of all the above features with VIP support.
Why use Volusion as a Shopify Competitor?
The British-bred Volusion is a good alternative to Shopify Online Store Builder assisting over 200,000 companies. It's a cloud-based shopping cart successful between small-sized companies and solopreneurs with entry-level tech skills.
With Volusion, you don't need to bother about hosting or integrating important applications.
Volusion plans are based on the number of add-ons and plugins you can relate to your online store. It also hits Shopify in extra transaction fees because it charges none.
The features add a one-page checkout and an installed eBay integration accessible as a standalone bonus addon.
3dcart Review
Another best alternative to Shopify, 3dCart. A simple and budget online store builder tool with 200+ features & ready to use store designs.
Right now, It has 23,000 live stores on its platform running globally and a wide range of plans that are affordable with quality store configuration.
3dcart Features:
50+ Free Themes
200+ Built-in Features
100+ Supported Payment processors
60+ Design Templates included
No Transaction Fees
24/7/365 Phone Support
15-days free trial
3dcart Plans and Pricing:
It has five plans with a variety of Features:
Plan-1: Startup store plan for $17.10. You will have the features of Domain Registration, a Shopping Cart, No Transaction Fees, and much more.
Plan-2: Basic store plan for $26.10. It consists of the features of 24×7 Tech Support, Unlimited Orders, and many more.
Plan-3: Plus store plan for $71.10. It has features of 5 Staff Users, Unlimited Products, and much more.
Plan-4: Power store for $116.10. It includes Secure Web Hosting, Built-in Blog, and much more.
Plan-5: Pro store for $206.10. It consists of the features of the Built-in Blog, Unlimited Bandwidth, 15 Staff Users, etc.
3dcart Pricing Plans: Get a Right Plan
3dcart Free Trial: Start Free 3dcart Trial Now
Why 3dCart is the Best Shopify Store Alternative?
3dcart is a cloud-hosted shopping cart program that attains jam-packed with strong features matched with flexible prices. The platform presents an extensive product storage option, which presents it with an extremely scalable platform for developing businesses. And safety is rock-solid, too.
If you're simply getting started, you'll like 3dcart's versatile functionality and the in-house web design assistance that will tailor your shop's UI, UX, and SSL certificates for a moderate fee.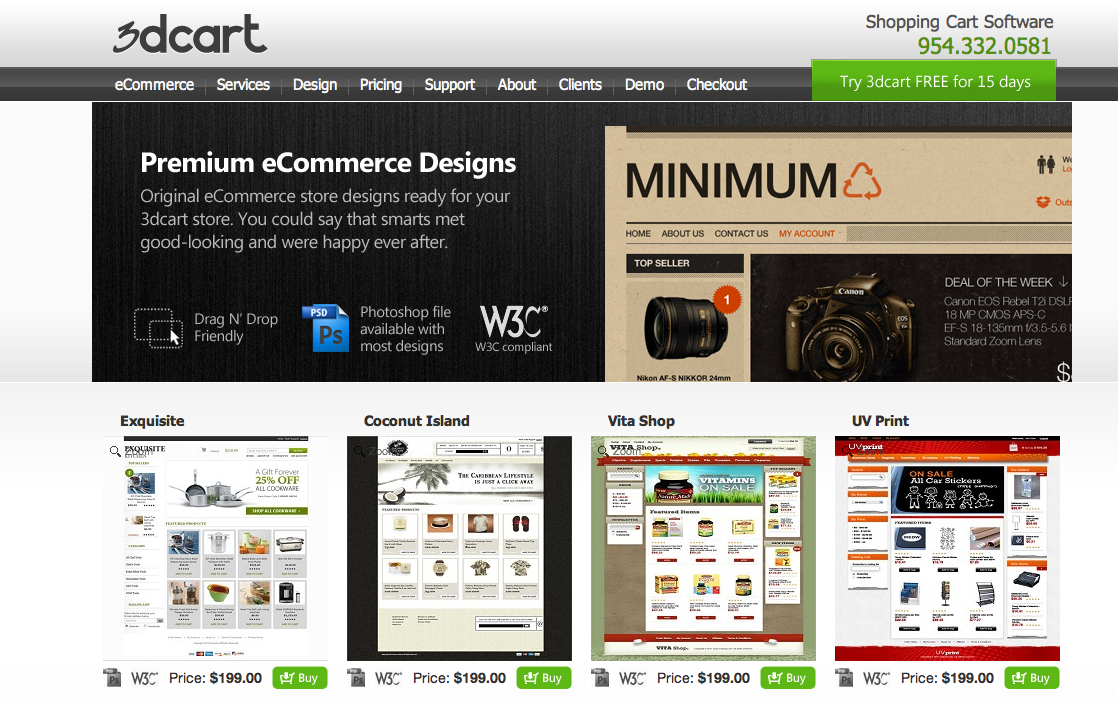 On the other hand, you should examine 3dcart for its affordable Startup Store price plan and the capacity to customize with 1000+ apps. And sure, it's not for everyone, but if you require a great platform.
Wix is a Website Builder Tool and a Complete solution for an Online Store. It is one of the best platforms for selling online. Specially designed templates and tons of sales tools make it a great choice for a small store.
They offer an excellent drag-and-drop site builder to create small websites. There are 100s of free templates available. It also provides its own web hosting as well as domain names (free and paid). The App Market makes it easy to add extra functionality such as photo galleries or eCommerce.
Wix Features:
Domain and Free SSL
Free Hosting Space
Social Tools
500 Pre-made Templates
Open Dev Site Platform
Wix ADI for Quick Site
In-Built Email Marketing
Wix Team Support
Wix Plans and Pricing:
Wix has 4 pricing plans which make flexibility for users to choose the right plan according to their needs are:
Plan-1: Combo plan for $16/mo. You can use all the essential features of Wix. It is for the personal use of clients.
Plan-2: Unlimited plan for $22/mo. This plan is the best to use for Entrepreneurs & Freelancers.
Plan-3: Pro plan for $27/mo. You have access to the entire Combo and Unlimited pricing plan features plus some other advanced features also in combination.
Plan-4: VIP plan for $45/mo. This is a plan of first-priority support.
Why Wix is the best Shopify Alternative?
With Wix, you can start with a stunning template and customize it, or get a personalized website made just for you. When you choose Wix, you don't just get a drag-and-drop website builder. You get the whole package.
Free reliable web hosting, top security, the best SEO, and a dedicated support team to help you along the way.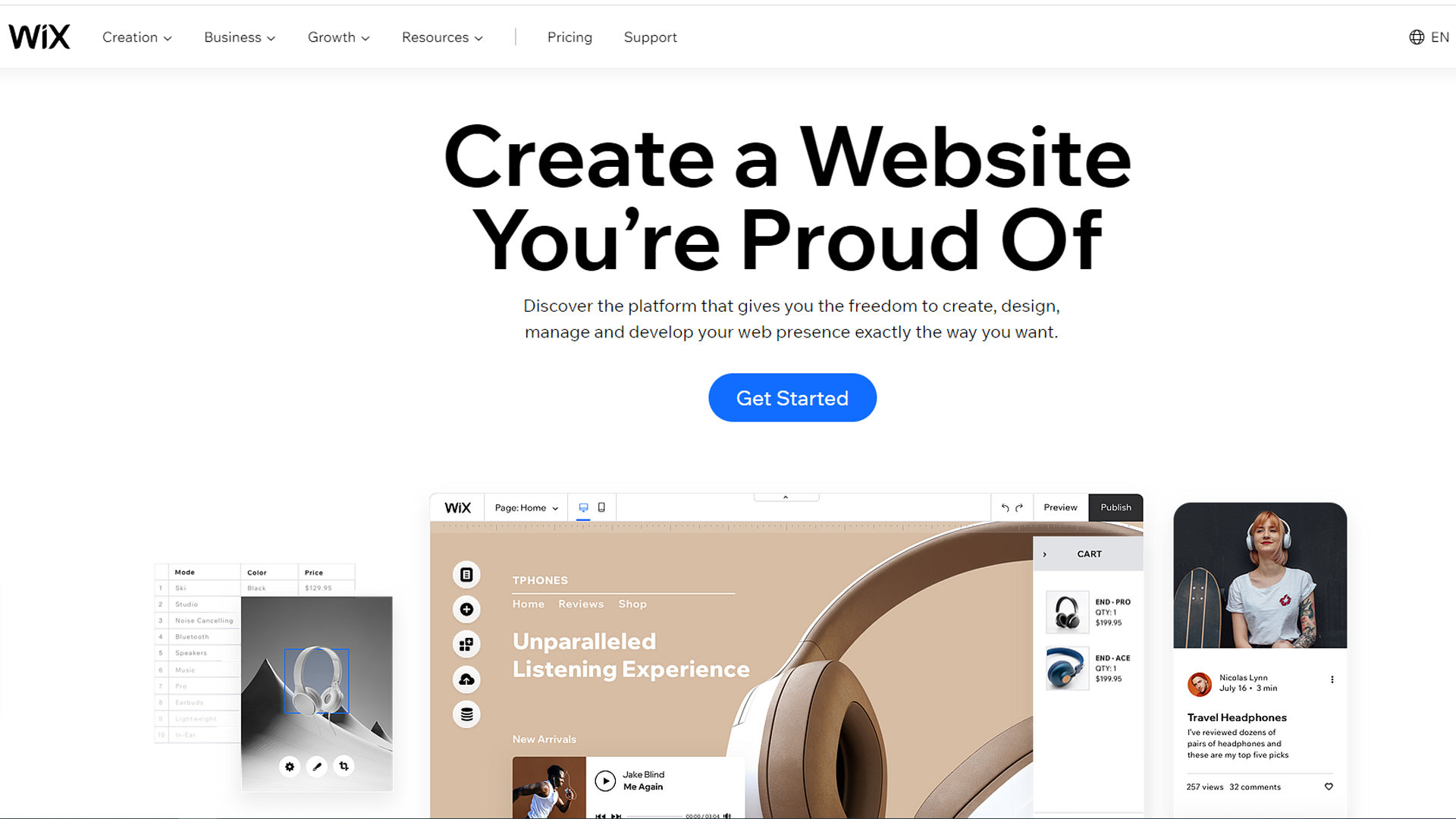 Wix is a better tool for creating a 'general-purpose' website. It's easier to add features like galleries, forms, and events to a Wix site than it is with Shopify. It's generally cheaper to use than Shopify. There are no transaction fees to worry about in Wix if you use a third-party payment gateway.
Best Shopify Alternatives & Shopify Similar Software. Cheap & Free Shopify Alternatives are also Included.
In this article, we shared the top Shopify Alternatives, to build an online store or website from scratch without any coding skills. We hope you got your best alternative to Shopify in this article.
20 Best Shopify Alternatives with their quick review, features, pricing plans, and the reason why you should use them over the Shopify builder.
Here are some more Shopify Alternatives:
WooCommerce
LemonStand
BigCartel
Magento
X-Cart
Square Online Store
Big Cartel
Weebly
Shopify is the best choice for business owners due to its easy-to-use functionality. With Shopify, you can easily manage and control your store and all your entire data without the need for any technical knowledge or skills.
We have shared the best alternatives of Shopify so you can find out better alternatives for your business.
Here you can compare all the best online store builder alternatives with their pricing plans and features so that you can easily choose the best tool according to your budget and the features you need in your business.
Shopify is a Canadian multinational e-commerce company headquartered in Ottawa, Ontario. It is also the name of its proprietary e-commerce platform for online stores and retail point-of-sale systems.
It was founded in 2009 by Tobias Lütke, Daniel Weinand, and Scott Lakeland. It makes online selling and Dropshipping easy with its powerful platform, In-built Marketing tools, and amazing dashboard to manage everything hassle-free.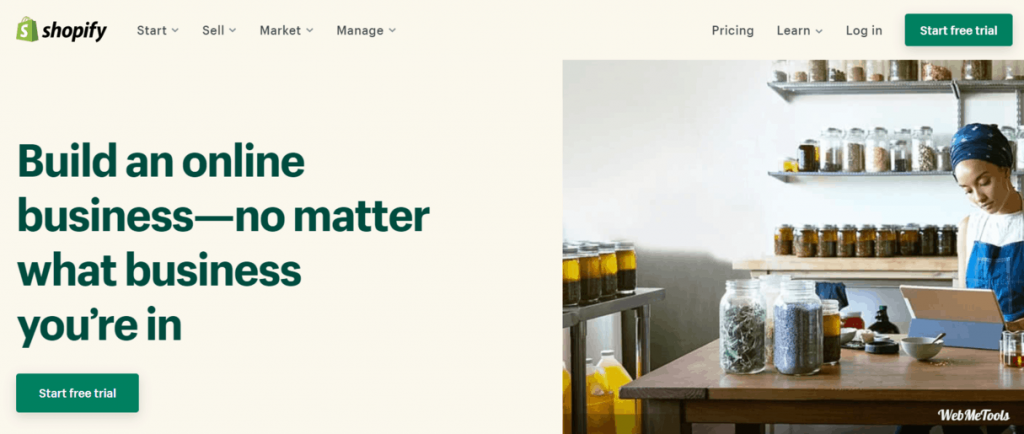 Shopify is also known for its best Dropshipping services, Even we should say Shopify made Dropshipping easy and simple for everyone who wants to do this.
It has its own Oberlo App, which helps a user in finding the best products for promotion add products to the Shopify store, and ship products directly from the warehouse to the customer.
This platform allows you to create an Elegant, Fast, and Optimized website after this promote your store on Social Media, Search Ads, and Directory sites and Sell Products with no worry about shipping.
Shopify Features:
Free SSL certificate
15 staff accounts
0.5% lower transaction fees
Advanced report builder
Gift card
Abandoned cart recovery
Sales channel
24 x 7 support
Unlimited products
Other Store Builder Alternatives: