FlyWheel Hosting Pricing Plans 2023 – Get The Best Plan For You

FlyWheel Hosting Pricing Plans 2023 – Get The Best Plan For You
Check the Flywheel Hosting Pricing and Flywheel Plans for WordPress Managed Hosting. Shared all the Flywheel Pricing Plans with Features & Suggestions and check getflywheel.com Total Cost so you can choose the right plans.
Searching 🔎 for the Best Flywheel Pricing plan in 2023 For You??
Flywheel managed to raise WordPress hosting to another level, creating an easy-to-use interface with a wide variety of useful features.
🌟 This post will help you in selecting the right Flywheel Plan.
In This Article, We are sharing all the details you need to know about FlyWheel Pricing with its all the plans and their Features.
FlyWheel Pricing Plans Post Summary:
| | |
| --- | --- |
| Staring price of FlyWheel | $15/month |
| No. of FlyWheel plans | 4 Plans |
| Type of Hosting Plans | Managed Hosting |
| Maximum Saving | $570 on Annual Billing |
| Free Trial | Available for 14 Days |
| Flywheel Subscription Option | Monthly or Yearly |
Get Your Price…
How Much Does FlyWheel Cost?
FlyWheel Hosting offers 4 different plans. Tiny Plan costs $15/month, Starter Plan costs $30/month, Freelancer Plan costs $115/month, and Agency Plan costs $290/month.
Flywheel makes it really easy to produce private demonstration sites where your clients can preview the design and development work you've done for them — a notably eye-catching feature.
Flywheel Local is a completely free tool that can allow you to develop local WordPress websites. After downloading the software and installing it on your Mac or Windows computer, you'll have local WordPress environment to utilize.
Flywheel's plans offer varying amounts of disc space, which is the limit regarding the number of files you can upload. Apparently, the most expensive plans give the most storage space.
Flywheel Plans With Prices
All the Flywheel Pricing Plan comes with Some Amazing Feature, the first plans start with the cheapest Price which cost only $13/month which is named as Tiny Plan, Second Plan is Starter Plan, the Third is Freelance Plan and the Last one is Agency Plan.
| | | |
| --- | --- | --- |
| Name of Plans | Monthly Subscription | Annually Subscription (2 Months FREE) |
| Tiny | $13/month | $15/month |
| Starter | $25/month | $30/month |
| Freelance | $96/month | $115/month |
| Agency | $242/month | $290/month |
Flywheel Plans Overview.
FlyWheel Price, Features & Plans
A complete mix of brains and beauty, Flywheel's graphical user interface has been engineered with developers and designers in mind. Flywheel employs numerous Happiness Engineers and Client Success Experts to guarantee happy hosting adventures.
Flywheel did not experience any problems when up to 250 virtual users were getting it at exactly the same moment. It primarily bills its customers on a regular monthly base for the majority of plans and offers discounts for paying a year up-front.
Some hosting plans incorporate many features at no cost while others bill extra.
Flywheel offers 24/7/365 emergency service as well as standard support during ordinary business hours, Monday through Friday. Customers can find out assistance by sending an email, talking over the telephone, or live communicating with service specialists.
Flywheel's backup feature eliminates the requirement to configure and install plugins. Also, the corporation's automated backups are stored off-site on Amazon to ensure the copy's integrity.
It deploys each customer on its own built-in cloud platform, meaning each person receives considerable calculating resources, stability, and security. Together with instant, automatic scalability, the firm's infrastructure is never overcrowded or overtaxed.
It has flexible in terms of payment methods and takes PayPal and most major credit cards. The company also takes personal checks for yearly invoices.
Choose the Best Plan For You!!
Flywheel Hosting Pricing Plans in 2023
This hosting offers managed WordPress hosting plans. Here is an overview of their plans and current price list. For the latest and most up-to-date prices on Flywheel's website.
Flywheel staging provides you the ability to push only the database changes, just the document both or changes, which means that you obtain yourself a fantastic amount of control over how you can use this feature.

Here we are sharing detailed features of the Flywheel Pricing Plan:
Flywheel Tiny Plan
Right Plan for 1 Website.
This Flywheel Plan starts with the price of $13/month in the cheapest plan of Flywheel, if you are beginner, and looking for a better option, we can prefer you this plan, it comes with the features of PHP 7.4 Ready, FlyCache, CDN (powered by Fastly), Simple SSL Certificates & 10 StudioPress Themes.
Flywheel Tiny Plan Features:
1 WordPress Website
5000 Monthly Visits
5 GB of Storage
20 GB Bandwidth
Nightly backups
All-in-One SFTP
SSH Gateway
Site Cloning
Flywheel Starter Plan
For 1 Website with more Resources.
Flywheel Starter Plan is a good plan if you are looking for some good features for your hosting it comes with the price of $25/month, In the starter Plan, you will get Blueprints, Billing Transfer, Local Development Environment, Staging Sites & Free Demo Site etc.
Flywheel Starter Plan Features:
1 WordPress Website
25000 Monthly Visits
10 GB of Storage
50 GB Bandwidth
Global availability
Auto-Healing Technology
Third-Party SSL Certificates
Multisite
Flywheel Freelance Plan
Up to 10 Websites.
The name of this Pricing plan can guess for which person is this plan made, usually, this plan is used by a freelancer, if you are the same who want to Manage any website, then you should definitely choose this plan because with this plan you can manage up to 10 websites at one place.
This Plan Starts with $96/month of pricing.
Flywheel Freelance Plan Features:
Up To 10 WordPress Websites
100,000 Monthly Visits
20 GB of Storage
200 GB Bandwidth
Staging Sites
Free Demo Site
Collaborators
Nightly backups
All-in-One SFTP
SSH Gateway
Flywheel Agency Plan
For up to 30 Websites.
If You have a big organization and want to manage lots of websites with a team, this agency plan can help you to manage up to 30 websites, at the same time you can enjoy all the features that Flywheel provides. You will get Additional add-ons like Managed Plugin Updates & Performance Insights.
In Agency Plan you will get some extra support of Flywheel Team like Migration Dashboard, Phone Support & Dedicated Account Manager at the price of $242/month.
Flywheel Agency Plan Features:
Up To 30 WordPress Website
400,000 Monthly Visits
50 GB of Storage
500 GB Bandwidth
Performance Insights
Phone Support
Workflow Tools
Auto-Healing Technology
FlyWheel Pro Pricing Summary
A quick overview of FlyWheel pricing.
Tiny plan: 5,000 monthly visits, 5 GB disk, 20 GB bandwidth -$13/month.
Starter plan: 25,000 monthly visits, 10 GB disk, 50 GB bandwidth -$25/month.
Freelance plan: 100,000 monthly visits, 20 GB disk, 200 GB bandwidth -$96/month.
Agency plan: 400,000 monthly visits, 50 GB disk, 500 GB bandwidth -$242/month.
Know your managed WordPress hosting provider.
About FlyWheel- Quick Review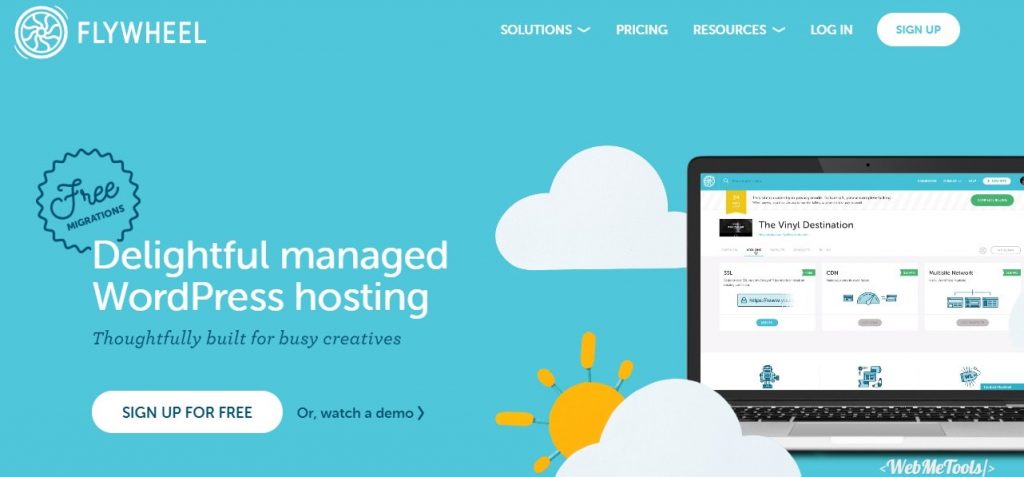 Flywheel provides its users with over 100 articles covering all from WordPress-specific issues to billing questions. It is likely that you'll find what you'll need in there without having to speak to a specialist. But in case you really don't, use their 24/7 global, in-app service in no time.
It supplies the fast speeds, solid overall performance, and service required to maintain your WordPress site functioning smoothly. it is popularly known for its extensive suite of tools for freelancers, designers, programmers and agencies.
Flywheel supplies a well-managed hosting experience at near-budget rates. You'll find cheaper alternatives on the market, but few can match Flywheel as it comes to the general calibre of service.
If you'd like your site to perform at top shape at all times and may cover the service, then you should definitely consider Flywheel.
Flywheel remains a respectable handled WordPress hosting company that's used and loved by most companies. An enormous part of Flywheel's success needed to do the corporation's wide variety of features made to execute all of the website-related tasks.
Although Flywheel doesn't provide you with any form of uptime warranty as with other website hosting services, this web host's operation is just one of the very best in the business.
Flywheel Hosting Features:
Although not as well-known as many of its counterparts, Flywheel is still a reputable managed WordPress hosting company that's used and loved by many businesses.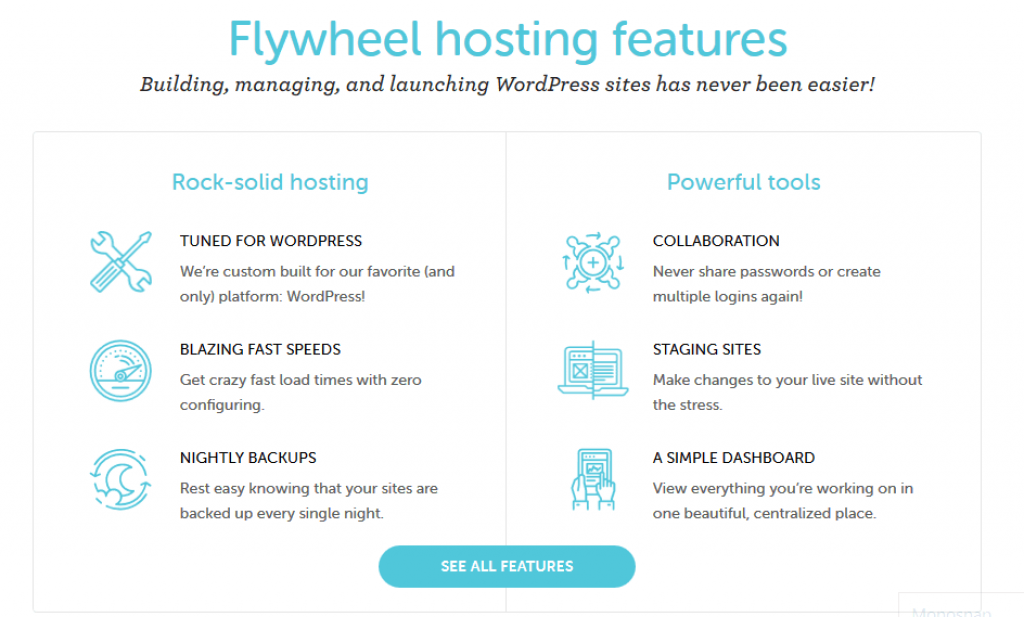 A huge part of Flywheel's success has to do with the company's wide range of features designed to perform all website-related tasks. These range from building and launching your site to managing and re-designing it.
FREE SSL and CDN
Daily Auto Backups
Staging features
Cloud Managed Hosting
Free Site Migration
built-in caching system
Malware Cleaner & Scanner
99.9% Server Uptime
Collaboration tools(Easily manage multiple users)
Does Flywheel Worth Buy?
Conclusion: Flywheel Hosting Plans & Cost
Flywheel has a passionate team of experts who offer customer support through phone, email, and live chat, along with service tickets. You may also send a tweet for help when you want it. Hence, you will receive quick access to the customer care team during odd hours.
They have upgraded their hosting infrastructure and partnered together using the Google Cloud Platform to turn into a true cloud hosting company.
Before Buying Flywheel Hosting Pricing Plan, they provide totally free demo websites to individuals looking to figure out if handled WordPress hosting is really just a good fit.
With the demo support, you also can create several evaluation sites and try the various options that Flywheel sets at your disposal.
At The end of this post, We just want to say that Flywheel is a great choice for hosting, they are providing crazy features, and you have seen many hosting prices, as compared to others, Flywheel pricing plans are affordable.
Get More Ideas About Flywheel
FAQs: FlyWheel Plans & Their Features
Here We are sharing all the Queries related to Flywheel Plans and their Pricing, and you get some basic idea about its features.
What is Starting Pricing of FlyWheel Hosting?

The flywheel starting plan is a Tiny Plan which starts with the price of $15/month. If you are and want to use Flywheel managed, then we can Prefer you This starting plan of Flywheel.

How much Does FlyWheel Cost?

Flywheel has four plans they all have different Cost like Tiny plan has $15/month, the starter plan has $30/month, the Freelance plan comes with $115/month and the Agency Plan price is 290/month

Which FlyWheel Plan is Best for Beginners?

As a beginner you can choose the $15/month plan which is Tiny Plan, you will get all the features you need like 1 WordPress Website, 5000 Monthly Visits, 5 GB of Storage, 20 GB Bandwidth and more

What are FlyWheel Pricing Plans?

Flywheel has four pricing plans which are Tiny, Stater, Freelance and Agency, and all have their own prices.
Tiny- $15/moth
Starter- $30/month
Freelance- $115/month
Agency- $290/month

Does FlyWheel provide any free trial?

Yes, you can enjoy Flywheel for 14 days free, In the trial session. You have no need to pay any extra charges, and also get all the features you want.
Check the Flywheel Hosting Pricing and Flywheel Plans for WordPress Managed Hosting. Shared all the Flywheel Pricing …
Check Flywheel Total Cost, Compare all Plans and their Features.
Latest FlyWheel Coupon and FlyWheel Hosting Promo Code to get up to maximum Discount. Best Flywheel Discount …
Our Other Pricing Posts…
Other Articles On Hosting Pricing
WP Engine Plans & Total Cost with 2 Free Months.
Compare all the Kinsta Plans with Features and Costs.
Compare all the WPX Plans and Select the Right Plan for your website.
Host your Web Applications with $20 Credit or up to 2 Months Free.
Check Flywheel Total Cost, Compare all Plans and their Features.