LearnDash is one of the most popular LMS platforms that help users to create and build courses to sell online. It is used by both major educational institutions and enterprises, and also can start with small websites and instructors.
Everything is hosted in the LearnDash cloud server and you have the option to choose the best available templates and plugins to customize your website.
This is one of the best alternative LearnDash Self-hosted platforms for instructors and coaches who desire to focus on creating and marketing content rather than managing the technicality of the whole website.
Let's Start!!
What is LearnDash Cloud?
LearnDash Cloud is the newest managed solution by the platform. This is an amazing plugin for anyone who wants to start selling courses online. In this cloud version, you don't have to worry about hosting and stressful tasks like daily maintenance.
Everything is hosted on the LearnDash Cloud server. You have options to choose the best available templates to customize the website.
This new LearnDash hosting has simplified the process of publishing courses online. The prospect of secure hosting, purchasing a domain, and installing WordPress is a challenging task for many small business owners and creators.
For this reason, LearnDash launched the cloud server solution for all users. It is much easy to focus on selling your courses and LearnDash will take off other activities.
Get To Know About-
LearnDash Cloud Features
1. Advanced Layout:
Course creators have some ways can control how learners navigate through their websites. You can navigate free form or linear form. Set the quizzes for users to tackle to measure their learning progression. The free form has no limitations for course structure creation.
2. Drag and Drop Builder:
Get the most flexible design and interface with easy-to-drag-and-drag features such as tons of custom fonts, colors, and logos that help to customize and create or build the best course content to provide the best education platform for your audience.
3. Get Paid Fast:
Use the best secure and simple payment gateways to connect your courses to WooCommerce for quick and easy payments. The best thing is that LearnDash never charges any kind of payment.
4. Team Support:
LearnDash has quick and responsive VIP team support 24/7 to assist you and help to solve your every kind of doubt and query.
5. Community Interactions:
Online learning can be boring for many reasons because of the lack of human interaction. LearnDash LMS offers various platforms for community forums where students can engage and feel part of a learning community.
These engagement tools are available to members who have subscribed to LearnDash.
Webinars
Tutorial sessions
General forums
Coaching calls
Gamification in quizzes
6. Drag & Drop Course Builder mode
Create your lessons easily by using the drag & drop course builder feature from LearnDash.Pick and choose from templates to create the perfect lesson for your students.
7. Tons of Addons and Extensions:
To extend the functionality of your learning management system. LearnDash comes with loads of free and premium native as well as 3rd party extensions that can be integrated very easily for new features.
8. Bulk Orders:
LearnDash also provides access for team leaders to check the progress and performance of all kinds of stuff that you are undertaking in your courses.
This feature requires a group registration premium add-on to function. The premium add-on requires third-party payments as they are not a feature offered by LearnDash.
9. Some Other LearnDash Cloud Features
Various Work modes: There are some amazing mods in LearnDash that you can work for.
Creator Mode– LearnDash allows for a flexible creator mode, allowing various options to create the exact lesson you want.
LearnDash Focus mode– Provides a gateway to all your content through one portal. You can customize and edit the portal to suit your brand image.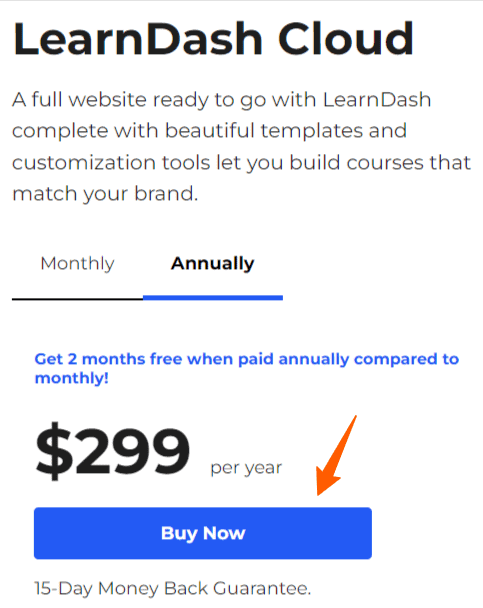 This option is great for those who are lacking in a WordPress website. LearnDash will provide a fully optimized website for e-learning and competitive features and advantages.
A fully accessible featured website that is ready to go with LearnDash complete with beautiful templates to customization tools that let you build courses to sell online.
If you want to use all-in-one LearnDash Cloud Services, then this plan is very useful for you which is mentioned below.
This LearnDash cloud server will cost you $29/per month, and if billed annually it comes with an amazing offer that you can get 2 months free with the yearly cost of $299/per year.
That $29/per month fee includes:
Built-in Hosting
15+ pre-built templates
All LearnDash features, Including the Pro panel
LearnDash Pricing Plans:
Monthly – $29/per month
Annually – $299/per year (2 months free)
The best thing about this platform, if you are not interested in your current plan you will easily be refunded within under 15 days. The LearnDash policy of 15 Days, Money Back Guarantee both monthly and annual plan.
Get More Info.
About LearnDash
LearnDash is a powerful tool and has the flexibility to manage your course all by Yourself. with ease. LearnDash is integrated with many apps so that …
As we know about that LearnDash is a WordPress plugin. This amazing platform was established in 2013 which makes it the first LMS plugin for WordPress.
With LearnDash you can access all the tools to build engaging online courses through videos, Quizzes, FAQs, challenge exams, etc.
It will provide all the latest features that the LMS plugin should have. You can also install other extensions as LearnDash integrates well with the other tools.
And now, LMS is starting a new journey with its cloud-hosting solutions and also joining the league of other LMS which are cloud version-only.
Conclusion – LearnDash Cloud Review
LearnDash is a great WordPress LMS plugin online platform for instructors and course creators to build a robust site that could help their e-learning business.
The best part of LearnDash is Drag & Drop creator feature that allows users to visualize and customize their course layout to provide the best interface for the audience.
Another amazing feature of this platform is called video progression which allows users to insert automatic video running on auto-play into their courses.
And now at the end, the drip feature allows students to take a break in between lessons or lectures to avoid binge learning all day long.
Users can manage their curriculum throughout the week and set their schedule. LearnDash also automates engagement triggers for specific functions and events when students complete their tasks such as quizzes, upload assignments, and complete set lessons. 
The LearnDash cloud is an amazing inclusion and you will be excited about the future of LMS. The new LearnDash hosting will truly be a game changer for certain users.
Even though LearnDash cloud won't add any new feature to the existing plugin, it does however comes with all the managed hosting benefits.
Why should I choose LearnDash Cloud?
LearnDash Cloud can be a great option for beginners who don't feel comfortable creating and maintaining their WordPress site.
What are the Plans for LearnDash Cloud?
This Platform has two cloud plans:
Monthly Plan  – $29/per month
Annual Plan – $299/per year (2 months free)
Is LearnDash Cloud Hosted?
It depends on which version you are using. If you purchase the plugin and install it on your own self-hosted WordPress site. That means it's not cloud-hosted and everything stays on your own hosting server. 
But If you install the LearnDash cloud services then your site will live on LearnDash's server. So it is more of a Cloud Hosted service.
Does LearnDash Cloud Provide a money-back guarantee?
Yes, LearnDash provides 15 Days Money Back Guarantee in both Cloud Plans.
Get more information about LearnDash.
Start your LearnDash Free Trial or Try LearnDash Online Demo Free Now in 2023. Here are the Steps to Activate your …
Check LearnDash Demo or Try it 15 Days Risk-Free.
New and Tested LearnDash Coupon Code 2023 to get a Discount on every LearnDash plan. Added New Plans with the Updated …
2023 Live Sale – 30% OFF on all LearnDash Plans and Add-ons.
Top Alternatives to LearnDash and LearnDash Competitors in 2023. Compare all Free & Paid Best LearnDash …