Get to Know about Constant Contact Pricing Plans 2023 and Best Constant Plan for you. Check $ Total Constant Contact Cost and Price of all Plans with Features so you can get the Right Constant Contact Email Marketing tool at the right price.
Are you planning to buy Constant Contact?
Or, looking for a Constant Contact Pricing Plan?
Constant Contact provides a solution for Email marketing and advertising, social media marketing marketing, website building, and all of the basic essential resources to grow a web business.
In this article…
We have mentioned Constant Contact Plans & It's Amazing Features,
Constant Contact Pricing Post Summary:
| | |
| --- | --- |
| Constant Contact Starting Price | $9.99/month |
| No. of Constant Conatact Plans | 2 |
| Constant Contact Free Plan | Yes, for 30 days |
| Latest Offer of Constant Contact | 15% OFF on Annual |
| NonProfit Discount | Save up to 30% |
| Constant Contact Subscription Duration | Monthly or Annually |
| Payment Option | Accept Online Payments |
Let's Start
How Much Does Constant Contact Plan Cost?
Constant Contact pricing is monthly and based on the number of contacts in users' email lists or databases. Core: from $9.99/month Email Plus: from $45/month.
It is a good value email marketing platform that scored 4.4/5 stars in our research – our users especially liked its helpful "Check for errors" tool in testing.
They also provide website builders using this you can easily build your custom-designed website in no time. You can even create your own online store or fully-fledged eCommerce website just for $10/month. You can have your own domain name. 
Constant Contact Overview.
Constant Contact Pricing & Features
Constant Contact Pricing has two plans to offer Core and Plus. You get almost every feature you need in the Email Plan but some are exclusive to Email Plus only like additional list growth tools (Google ads integrated, text message sign-up, lookalike ad targeting), Automated email Behavioral series, Conversion and sales reporting, etc.
The price for the Core plan starts at $9.99/month accessible to 5 users with unlimited emails to your contacts. List segmentation, branded and industrial templates, tracking, and reporting, App integrations, etc.
Whereas, the Plus Plan comes with unlimited user access and other features exclusive to the plus plan Starting at $45/month.

You can create surveys and organize polls and events, create coupons, ask for online donations, and many more things that you will not get in any other tool.
Here We have tabled the Features of Email and exclusive Features of Email Plus.
| | |
| --- | --- |
| Lookalike Facebook ad targeting | Google ads integrated |
| Text message sign-up | Advanced Ecommerce Marketing |
| Advanced Tracking & Reporting | Dynamic content |
| Automated Email Resend to Non-openers | Automated Email Welcome and Behavioral Series |
| Conversions and sales | Google ads performance |
| Auto-generated engagement segments | Segmentation using best, recent, one-time, lapsed, or repeat customers |
| Personalized kickoff call | Coupons and Online Donations |
| 2 GB storage Image Storage | Surveys |
Choose The Right Plan for you!!
Constant Contact Plans Details-
Constant Contact pricing tiers vary by the number of contacts in your email list or database. This makes the platform's pricing pretty varied but it allows for good customization for your needs.
They offer two different types of plans. First is the basic Core Constant Contact plan, and Second is the Constant Contact Plus Plan.
The basic plans fall under two categories, Core and Plus. Constant Contact offers a Plus plan as well. This upper tier offers marketing automation and analytics tools that go beyond simple email marketing.
Core Plan
Reach the right prospects, build your customer list, and keep customers engaged.
The Core plan starts at $9.99/month which is based on the number of contacts Under this Core plan, small businesses can create not only professional emails but also build strong customer relationships which is crucial in today's scenario.
Email Plan Features:
5 Members Access
Unlimited email marketing sends
Hundreds of email templates
Customer list growth tools
Real-time reporting
Social posting
Live phone & chat support
Plus Plan
Take your growth to the next level by attracting and converting more customers.
In the list of Constant Plans, the Plus plan includes all the basics of the Core plan, plus some extras that can take your email marketing up a notch. With Email Plus, your emails can include surveys, polls, RSVPs, coupons, and personalized content.
With Plus Plan, you will get advanced tools like Personalized kickoff calls which are Guidance from one of our in-house marketing experts who will help you get the most out of our tools and faster results.
Advanced Features of Plus Plan:
Lookalike Facebook ad targeting- Reach the right prospects by targeting people who look like your current customers or a specific segment.
Google Ads Integration- It is a streamlined experience that automates ad setup and management so you get the most clicks for the lowest cost.
Products synced from Shopify, eBay, and Etsy- Create emails faster with direct integrations that put your online store's content at your fingertips like product images, descriptions, and prices.
Dynamic content- Personalize your emails by having parts of your content vary based on a contact's city, state, job title, or any data point you collect.
Surveys- Get instant feedback from your contacts so you know more about who they are and what they want to increase engagement.
Text message sign-up- Make it easy for people to join your email list by sending a text message.
What's Your Reason?
Why Choose Constant Contact Plans?
1. Report And Analytics
Constant Contact has an easy-to-read graph of your results and includes vital statistics such as click rate and open rates.
If you decide to integrate Google Analytics, more information will be available. Aside from single campaign results, you can also match your results across various campaigns.
2. Features We need
Constant Contact has some interesting niche features such as the ability to sell digital products, schedule your social media posts and create your logo. They also let you take payments for events (with some additional feeds applied, of course)
3. Amazing Automation
Automation in constant contact is based on user engagement. And this is the feature that is extensively helpful in saving your time and increasing your sales there.
This has a different way of automating your emails, and you can create them with very little time. Before it was been called an autoresponder.
4. Contact Management
Like most email marketing services, Constant Contact's list management interface allows you to segment users into categories based on certain criteria.
You can also assign tags to contacts. For example, you can tag contacts that have been signed up to your list the longest, and then send those contacts special coupons.
Use tags to track loyalty, response rate, or any other relevant metric.
5. Email Campaigns
Email campaigns are kept relatively simple, and honestly a little bit limited. The Email plan allows you to send emails to up to 10,000 contacts, and the Email Plus plan will let you send emails to 50,000.
And there doesn't seem to be an option for anyone with a bigger contact list.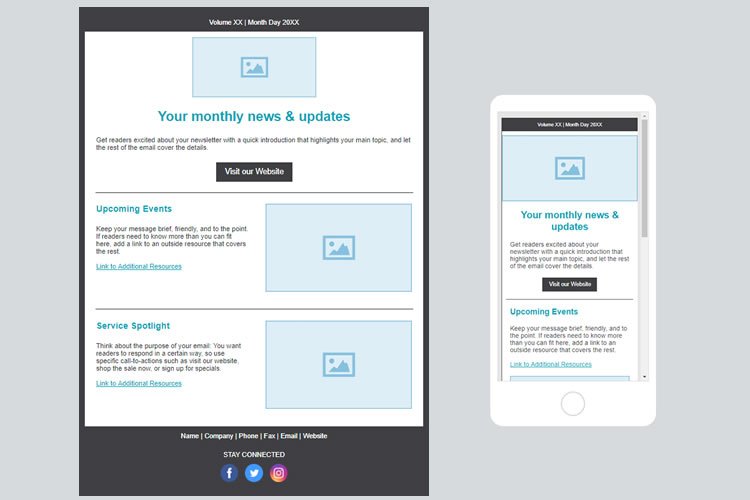 6. Security
For those concerned about the security of their contact lists or private information, Constant Contact has plenty of measures to keep your data secure.
The security measures include restricted access to Constant Contact's physical servers, firewalls, user data encryption including credit card numbers, and third-party security reviews of its internally developed software.
7. Support & Community
With Constant Contact, you will have access to an abundance of information. There is a lot of information on their website with many video tutorials. Also, you can contact them through live chat and phone. There is also a community present.
Some details About Constant Contact.
Constant Contact Overview
Product
Specification
Photos
Videos
Constant Contact provides a solution for Email Marketing, Social Media marketing, website building, and all basic essential tools to grow an online …
| | |
| --- | --- |
| Starting Price | $5/mo |
| Free Trial | No |
| Payment Option | Credit Card |
| Expert | A Simple tool |
Constant Contact began from a cramped attic in 1995, founded by Randy Parker when Constant Contact founders envisioned an online marketing tool that would help small businesses level the playing field against their larger, more established rivals.
Since then it has served over 5 million small businesses, nonprofits, and individuals worldwide.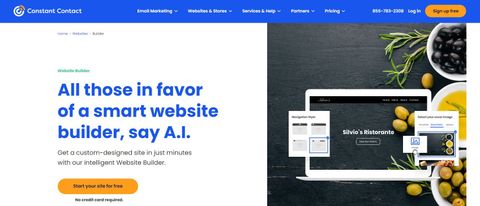 Constant Contact believes in evolution, they do not just email marketers, they are more than that. They make websites, create landing pages, help in custom design and automating your business, and many more helpful features.
They help you in growing your business and they keep guiding you till you reach your destination.
Their surveys and polls help you in making a decision based on the reports and you gain valuable feedback from email and social media. Create, promote, and manage events easily and effectively with our Eventbrite integration.
Key Features:
Automation Email Marketing
Ecommerce Ready
Drag and Drop Editor
Real-time tracking
Create Survey and Polls
Form Triggers
Manage Contact Easily
Dynamic sign-up forms
Why Constant Contact?
Constant Contact is a pack of Advanced features, like contact management functionalities and reporting. and at the same time, it is easy to use.
If you are a beginner in Email Marketing Field, you will be able to quickly understand this email marketing software and start your campaign.
Constant Contact is an automated email marketing solution, with the help of this tool many businesses (and some individuals) extend their reach.
This tool is full of features, with anything you would ever need, from creating your outreach content to analyzing results.
FAQs – Constant Contact Pricing, Cost & Plans
Here are some frequently asked questions that will surely clear doubts and queries related to Constant Contact Plans and Subscriptions.
What is constant contact Pricing?

Constant Contact offers two pricing plans: Email (starting at $20/month), and Email Plus (starting at $45/month). Pricing variations are based on the account's number of email contacts.

What are the features of Constant Contact plans?

Constant Contact helps you spread the word through email, social media, SEO, and other forms of online marketing⁠—all from one place. A few features are mentioned below:
1. Email Marketing Automation
2. E-commerce
3. Scheduling, and Analytics
4. Contact List Management
5. Surveys and Polls

What can Constant Contact do?

Constant Contact is an online marketing company established in 1995 that caters mainly to small businesses. Its platform enables business owners to launch and monitor email marketing efforts, build websites and online stores, and utilize social media, among other services.

Is Constant Contact legit?

Constant Contact is an email marketing tool that is a perfect solution for small businesses' needs. The platform helps new businesses in marketing automation and building a brand presence.

Why have Constant Contact Prices increased??

Constant Contact is required to collect and remit sales tax from its customers in states where software delivered as a service is taxable and where Constant Contact maintains a physical presence. If you reside in one of those states, your charge includes sales tax.
Does it worth your money?
Conclusion – Constant Contact Plans 2023
Constant Contact is a convenient system for sending one-time marketing messages or simple email sequences; this may be enough for a small brick-and-mortar business.
The key features that set this system apart from others will be useful for event planners and non-profit companies.
With a number of amazing features and affordable prices, Constant Contact has helped businesses to reach out to their audiences in the most innovative manner.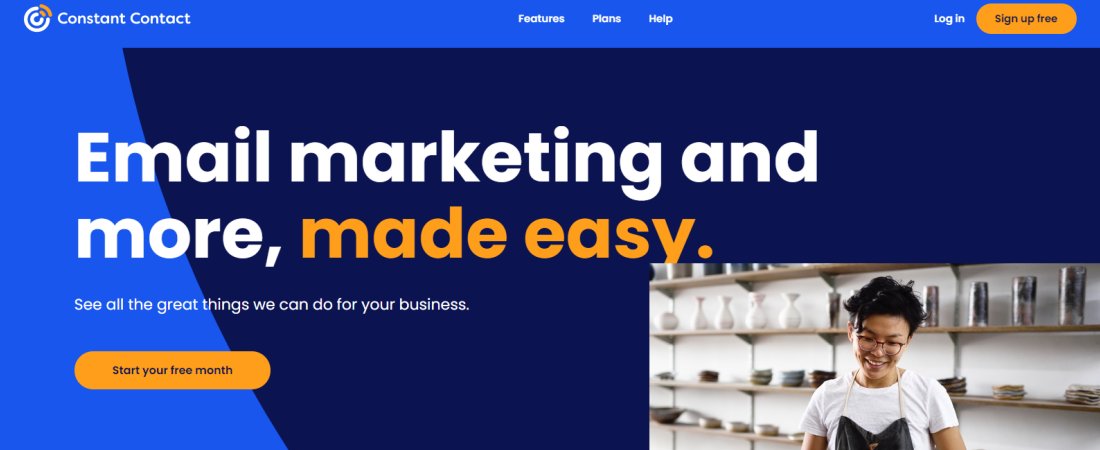 Constant Contact provides solutions such as email/event marketing, survey management, reporting, and social campaigns.
The marketing tools provided by Constant Contact are inclusive of advanced features like integrations, email marketing automation, and reporting tools as well.
We can say at this price range, Constant Contact's pricing Plus Plan is worth it because you will get various advanced levels features and we have to say after trying this you will not feel any disappointment.