Start a CactusVPN Free Trial for 3 or 30 days and access all the features and services for free. Get a 3-day CactusVPN trial without a credit card required.
Go through the simple and easy steps to activate your CactusVPN free trial account in 2023. Get a protective and secure online browsing experience with massive capabilities to provide the best services to the users.
Let's try a free CactusVPN trial to get to know about its features and services and what it can do for you.
In this post, we will cover:
CactusVPN Total Trial Days
Features of Free CactusVPN Trial
Benefits of using CactusVPN
After reading this article, you will have all the major information about CactusVPN's features, and benefits.
CactusVPN Free Trial Post Summary:
Free 30-day trial of CactusVPN (Virtual Private Network).
| | |
| --- | --- |
| CactusVPN Trial Duration | Upto 30 Days |
| Credit Card | No Needed in 3 days trial |
| Access All features and services | Yes |
| Money Bacl Guarantee | Within 30 Days |
Start your account now-
CactusVPN Free Trial 2023
CactusVPN offers two types of free trials where you can access the features and services without getting paid. We have mentioned both methods you can activate your CactusVPN free account now.
CactusVPN Free Plan
Without Credit Card
CactusVPN is special because they let you try their service for free, without asking for your credit card information. You only have to sign up with your email address to activate the free trial.
During the 3-day trial, you can test their VPN and Smart DNS without any restrictions. It's just like having a paid subscription. This is great because you can see if their service works well for you before deciding to pay.
CactusVPN helps you access content from different regions and keeps your online activities private and secure. Their free trial is a risk-free way to try out their service and see if it's right for you.
CactusVPN 30 Days Risk-Free Trial
Get the benefits of the Money Back Policy
If it is not enough for you and you want to explore more on this platform, CactusVPN offers a 30-day risk-free trial where you can choose any plan and access all the features and services for free.
In between if you are not interested in continuing with it. You can cancel it, CactusVPN believes in its product and that's why they don't hesitate to give a refund policy.
With the policy of a 30-day money-back guarantee, you can easily cancel the subscription and get a 100% refund within 30 days.
Info- CactusVPN provides a money-back guarantee in every plan
Step By Step Guide-
How to Start a CactusVPN Free Trial Account?
Here in the section, we will show you the simple and easy methods to activate your free trial in a few steps.
3-Day Free Trial
Experience the services and features
To start your CactusVPN 3-day free trial:
Step 1: You first need to visit the official website of CactusVPN and follow the simple steps. After visiting the platform, scroll down below to the footer and click on the free trial option. or it will automatically redirect you to the 3-day trial page.
Step 2: After clicking the free trial option, enter your email address to sign up. Then Check the box for terms of services and also agree that you are not a robot.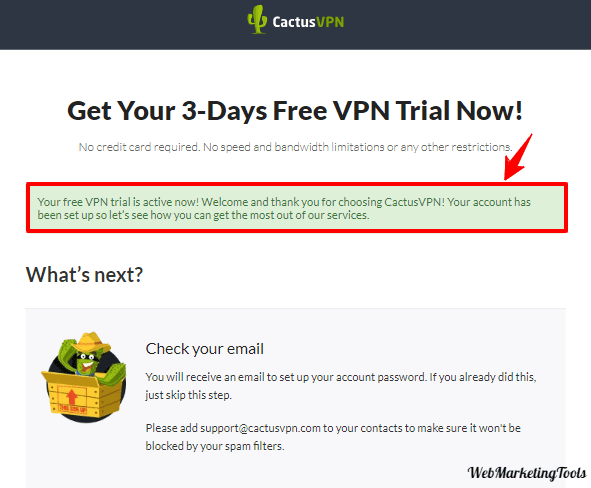 Step 3: Now click the submit button and you will receive a confirmation for your trial account enter your new password.
Step 4: Bingo!! your 3-day trial is activated, and now you can access the services and features for free.
30-Day Trial (Risk-Free)
Money Back Guarantee
To activate your 30-day free trial you need to pay the price of the plan that you select. Try for the next 30 days risk-free If you don't like the plan you can cancel it in 30 days to get your full refund.
To start your risk-free trial you need first visit the CactusVPN official website click on the Get CactusVPN button and select a plan.
After this, enter your personal details such as residence, email address, and payment method to make a payment. For more details follow the steps mentioned below.
Step 1: Visit the official website of CactusVPN and click on the Button Get CactucVPN.
Step 2: Now you can see the 4 plan options with different prices and plan duration. Choose the desired plan you want and click on Get Started.
Step 3: After selecting the plan, it will take you to the payments and account section. In Create Account section, select your country and enter your email address.
Step 4: Below it will show some payment mode options such as PayPal, Credit Card, CryptoCurrancy, and others.
Step 5: Choose the payment method that you like to make a payment and solve the captcha verification that you are not a robot Also check the terms of the service box.
Step 6: Click on the payment button and make your payment. Now follow CactusVPN's how-to-start instructions download the app on your compatible device install it, set up your trial account and you are all set to access all the services and features.
Note: If you purchase a subscription using cryptocurrency, CactusVPN will not honor the 30-day money-back guarantee. Therefore, if you choose to pay with cryptocurrency, it is crucial to be aware that you will not be eligible for a refund.
Know about more-
Overview of CactusVPN

CactusVPN was founded in late 2011 by three friends with a background in e-commerce. Their initial vision for CactusVPN was to create a personal and friendly experience, similar to a family-run restaurant, where both staff and clients would know each other and receive personalized attention.
By 2013, CactusVPN experienced significant growth that surpassed its expectations. In order to maintain a high level of service, they decided to expand their team and hire additional staff members.
CactusVPN's commitment to providing a personal and dedicated experience to its customers, along with its refusal to compromise its family business values, sets it apart and reinforces its goal of becoming a highly trusted provider in the VPN industry.
Key Features of CactusVPN:
Wide server network: CactusVPN operates servers in multiple countries, allowing users to access content from different locations and bypass geo-restrictions.
Multiple VPN protocols: CactusVPN supports various VPN protocols, including OpenVPN, IKEv2/IPsec, L2TP/IPsec, and WireGuard, ensuring secure and encrypted connections.
Privacy and security: CactusVPN prioritizes user privacy by encrypting internet traffic and protecting sensitive data from potential threats.
Access to restricted content: Users can bypass geo-restrictions and access content that is typically limited to specific regions or countries.
P2P file sharing support: CactusVPN provides optimized servers for secure and anonymous peer-to-peer file sharing.
Smart DNS service: In addition to VPN, CactusVPN offers a Smart DNS feature, which allows users to access geo-restricted content without encryption.
User-friendly applications: CactusVPN offers easy-to-use applications for various platforms, including Windows, macOS, iOS, Android, and routers.
Let's discuss more CactusVPN features in-depth to get some ideas.
Know Its features with detailed
Features of CactusVPN Free Trial
We have shared some major features of CactusVPN where you can get more details about this platform.
1. End-to-End Encryption:
End-to-end encryption is an important feature provided by CactusVPN. It means that when you use CactusVPN's services, your data is encrypted from your device all the way to the destination server.
This encryption ensures that your internet traffic is secure and protected from any unauthorized access or surveillance. It acts like a secure tunnel, shielding your sensitive information, such as passwords, financial details, or personal messages, from potential threats.
With end-to-end encryption, you can browse the internet with peace of mind, knowing that your data is kept private and secure throughout your online activities.
2. Multiple VPN Protocols:
CactusVPN offers a variety of VPN protocols to ensure secure and reliable connections. VPN protocols are like different sets of rules that determine how your data is encrypted and transmitted over the internet.
CactusVPN supports 7 different protocols:
OpenVPN
IKEv2/IPsec
L2TP/IPsec
WireGuard
SSTP
SoftEther
PPTP
Each protocol has its own strengths and characteristics, such as speed, security, or compatibility with different devices.
3. No Logs Guaranteed:
CactusVPN assures users that they follow a strict "no logs" policy. This means that when you use their VPN service, they do not collect or store any logs of your online activities or connection details.
They prioritize your privacy and understand the importance of keeping your browsing history and personal information confidential.
With CactusVPN, you can browse the internet with peace of mind, knowing that your online activities are not being recorded or monitored.
4. VPN Server Locations:
CactusVPN has a wide range of server locations available for users to choose from. They have 36 servers located in 22 countries around the world, including the United States, the United Kingdom, Canada, Australia, Germany, and more.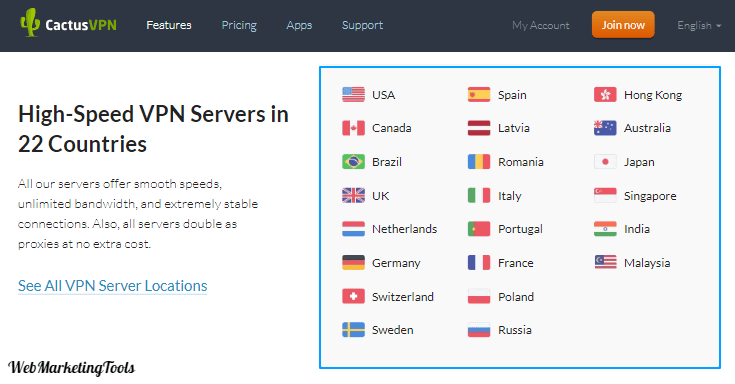 These server locations allow you to connect to different regions and access content that may be restricted in your own location. Whether you want to stream your favorite shows from another country or access region-specific websites.
5. Customer Support:
CactusVPN offers reliable customer support to assist users with any inquiries or issues they may have. They have a dedicated support team that is available to help via live chat and email.
Whether you need assistance with setting up the VPN on your device, troubleshooting connection problems, or have general questions about their services, CactusVPN's customer support is there to provide prompt and helpful assistance.
Know about advantages
Benefits of Using CactusVPN Free Trial
Here are the advantages of the CactusVPN free trial:
Risk-free evaluation: The free trial allows you to test CactusVPN's services without any financial commitment.
Access to full features: During the trial period, you have access to all the features and functionalities of CactusVPN that are available with a paid subscription.
Testing compatibility: The free trial gives you the opportunity to check if CactusVPN is compatible with your devices and operating systems.
Testing geo-restriction bypass: The free trial allows you to test CactusVPN's ability to bypass geo-restrictions and access content from different regions.
Speed and performance: You can assess the speed and performance of CactusVPN's servers during the trial.
Our Opinion-
Conclusion: CactusVPN Risk-Free Trial
We have provided all the important details that will help to claim the CactusVPN free 3 or 30 days trial. With access to all the features and functionalities, you can test compatibility, assess speed and performance, and verify the ability to bypass geo-restrictions.
With the benefits of the free trial, you can make an informed decision about whether CactusVPN is the right VPN provider for your needs, ensuring a confident and satisfied VPN experience.
If you are not happy with its interface or other reason, you can cancel the subscription and get a full refund within 30 days. CactusVPN offers users with 100% money-back guarantee where you can use this platform with no risk.
At the end of the post, we hope that this article was informative for you. We just want to say that we have mentioned all the major details about CactusVPN Free Trial.
FAQs- CactusVPN Free Account
Here we have added some frequently asked questions about CactusVPN free trial so you can get more ideas and answer from it.
How long is the CactusVPN free trial?
The CactusVPN free trial lasts for a full 3 days, giving you ample time to test their VPN and Smart DNS services.
Do I need to provide my credit card details for the free trial?
No, CactusVPN does not require you to provide your credit card details for the free trial. It is truly risk-free and does not involve any financial commitments.
Can I cancel the free trial at any time?
Yes, you can cancel the free trial at any time during the trial period. If you decide not to continue with the service, simply let CactusVPN know before the trial ends.
What happens after the free trial ends?
Once the free trial ends, you have the option to subscribe to one of CactusVPN's paid plans if you wish to continue using their services. If you choose not to subscribe, your access will be discontinued.
Does CactusVPN offer a money-back guarantee?
Yes, CactusVPN provides 30 days money-back guarantee and a 100% money refund within 30 days.