Get a new Divi Discount Code and Elegant Themes Coupon in 2023. To get up to 50% Discount on Elegant Themes Products and Save $50 on the Divi Summer Sale.
Get all the Elegant Themes Products at a Discount or Possibly the Lowest Price.
We have also included some exclusive deals for our visitors.
It all comes in a bundle plan where users have the option to purchase a yearly or lifetime subscription.
Use the shared Elegant Themes Coupon 2023 for maximum discounts and the best deals.
This Page will help you in:
Verified Elegant Themes Deals
Get product at the Lowest Price
Select a Right Subscription Plan
Why Select the Elegant Themes
Elegant Themes & Divi Builder is made for fast frontend creative design that makes web development easy for developers.
Instead of writing thousands of codes, a developer can use a frontend drag-and-drop page builder with many features that we skip in designing.
Elegant Themes Offers Summary:
Want to grab the best discount on Elegant Themes, Here we are sharing all the steps to get your discount and save money on this amazing WordPress product.
Step:1 – Visit this Divi Special Discount Page
Step 2 – It will redirect you to the below page(/discount/today).
Here you can see a 24-hour timer, which means you have to avail of this discount within 24 Hours otherwise it will redirect you to its normal pricing page automatically.
Step 3 – Select a plan among Yearly or Lifetime.
According to our research – We found Lifetime Access Plan is the most selling of Divi.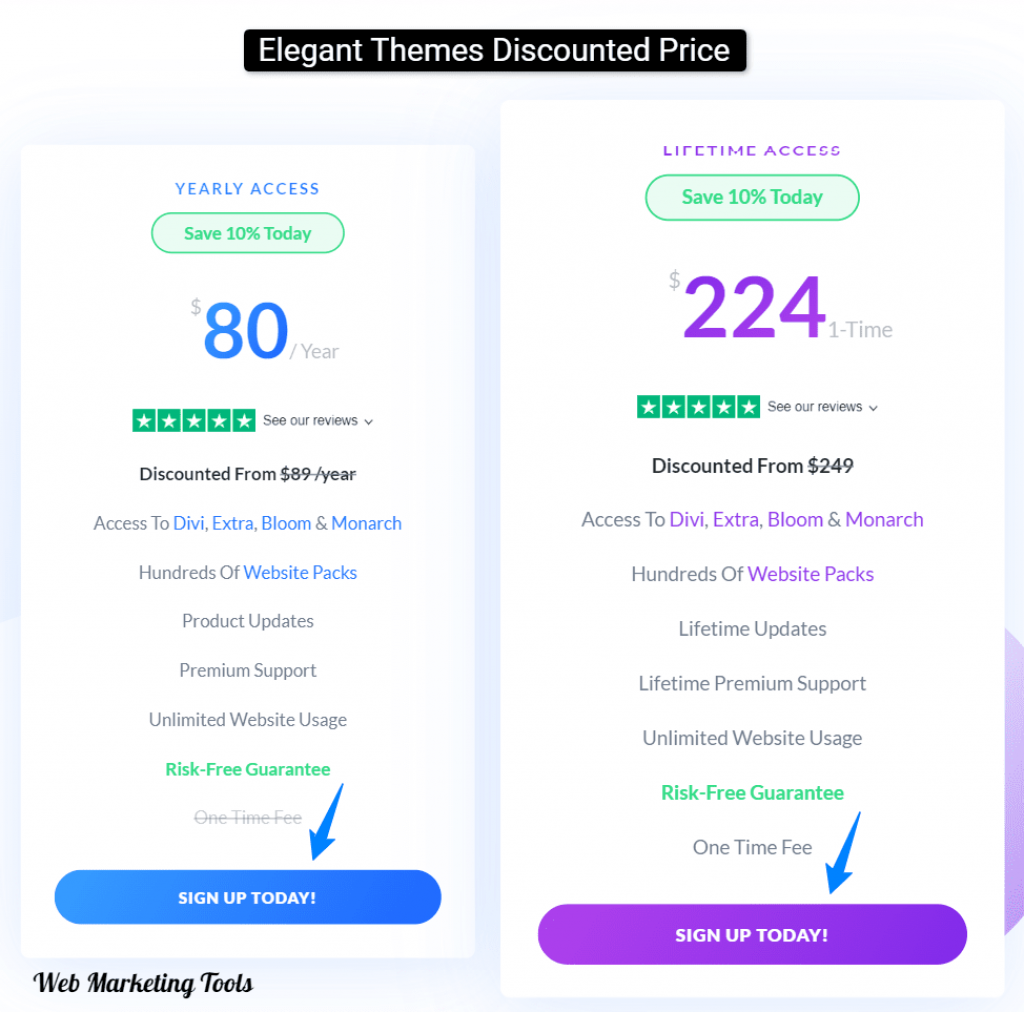 Step:4 – Now enter your account details.
Step:5 – Make your purchase complete.
Elegant Themes Free Trial
Currently, Elegant Themes does not provide any free trial but it offers a 30-day, no-questions-asked refund. You can purchase the theme and spend an entire month testing it out before deciding whether you want to pay for it or not.
Divi Coupon Codes and Offers Summary
A Quick Summary of Elegant Themes Coupons, Promo Codes, and Discount Offers.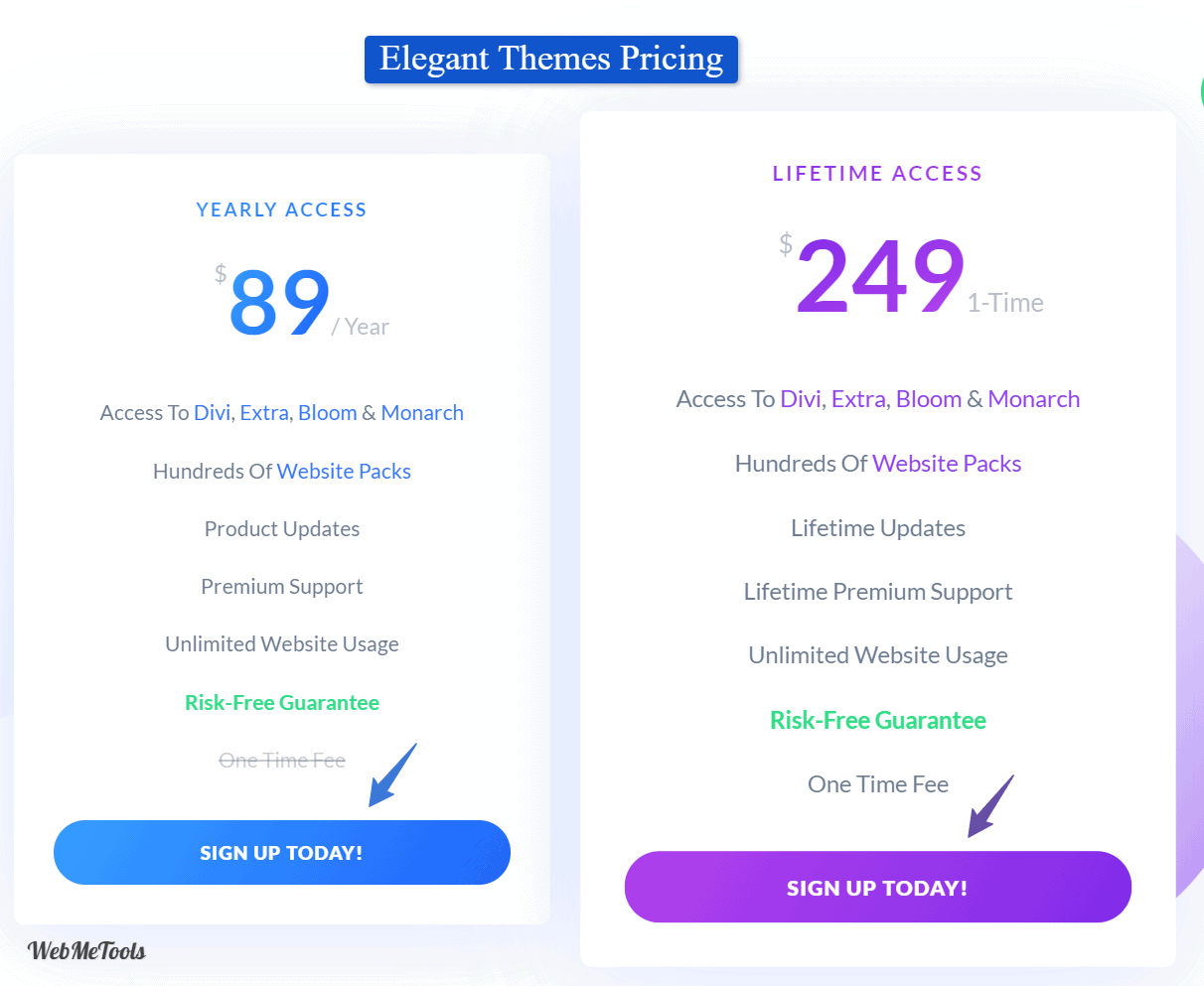 As we already know Elegant Themes offers two membership plans for their users and they are:
Yearly Access Plan
Lifetime Access Plan
Elegant Themes Plan with Discount:
Let's have a detailed discussion on each membership of Elegant Themes with their pricing and features.
Elegant Theme offers a lifetime plan for a regular price of $249 in which users have to pay only once and can access all the products or plugins with regular updates and support lifetime.
Its lifetime plan also comes with unlimited websites hundreds of website packs and all 4 Elegant Themes Products(Divi, Bloom, Monarch, & Extra).
Lifetime Access Plan Features:
Here are the key features of the Lifetime Access Plan:
All Yearly Access Plan Features
Hundreds Of Website Packs
Lifetime Updates
Lifetime Premium Support
Risk-Free Guarantee
One-Time Fee
Lifetime Access Plan Price – Its normal price is $249 but in this special deal lifetime plan cost $224.
Its yearly plan is also best for web designers, but in this, they have to renew the plan after 1 year to get new updates and support.
The yearly plan cost $89/year with the same features and unlimited website usage.
This plan is best if you have a tight budget and just want to use Elegant theme products for just 1-2 years. If you want to continue using their products for more than 3 years, then I would like to recommend you choose the Lifetime Access Plan.
The lifetime access plan costs almost 3x of the yearly access plan, so for the long term selecting the lifetime plan is the right decision.
Yearly Access Plan Features:
Here are the key features of the Yearly Access Plan:
Access To Divi, Extra, Bloom & Monarch
Hundreds Of Website Packs
Product Updates
Premium Support
Unlimited Website Usage
Risk-Free Guarantee
Note: You can cancel your membership or upgrade to a different package at any time after signing up.
They are providing a complete suite to build thousands of websites.
It is a Theme and a Plugin also.
The Divi Theme – an All-in-one theme that includes the Divi Builder
The Divi Plugin – Standard page builder plugin for any WordPress Theme
Divi Builder Theme Features:
Inline text editing
Drag and Drop Page Builder
Custom Live CSS option
Save and manage your design
Global element and style
40+ Website elements
100+ Ready to use website
Powerful contact block
Advance designing features
WooBuilder for ECommerce
24/7 Customer Support
Want to grow your list and convert your email listing users into fans use Bloom Plugin.
This plugin is very easy to use, easily customizable, already build 100 templates, and advanced trigger options, and checks your smart work states.
This plugin is designed for working mail lists, generating more business leads, and creating new engagement with your visitors. So they keep visiting your site and your mission got accomplished.
Bloom Plugin Feature:
100 Amazing Templates
Frontend customization option
Fly-in and Pop-up triggers
A/B test option for better result
Target-specific posts categorized
Conversion and Email List statics
Extra Magzine is a Divi builder WordPress theme with a ready-to-use demo, an advanced customization option, and easy to create a blog. It is responsive, and elegantly designed, with a Review option and 24/7 customer support.
This theme is best for bloggers who need a simple blogging theme + Divi Builder to create some great landing pages that can be designed for conversion.
It is free with Elegant theme purchase.
Extra Theme Features:
Powered by Divi builder
Rating and Review Tools
Ready for an eCommerce site
Regular updates
Advance customization option
Support for Customer
Monarch plugin is developed by Elegant Themes which are lighter, faster, feature-loaded, and easily customizable WordPress plugins.
This plugin can be used to increase social media sharing and create new social fans. Its advanced pop-up and fly feature makes this plugin outstanding from other social media sharing plugins.
Monarch Plugin Feature:
Faster and Elegant buttons
Supported over 20 social network
6 Automatic Pop-up & Fly
Easily customizable
Check your stats
It is a Theme and a Plugin also.
Yes and now if you buy Elegant products you'll get both the theme and page builder plugin.
Right now Elegant Themes Divi is the most popular WordPress Theme Builder among Developers, Freelancers, and Agencies.
It is a drag-and-drop builder that has 40+ Powerful Elements, Frond End Design Options, Responsive layouts, Ready-to-use templates and everything that you need to build an Elegant and Powerful Website.
For Web Designers, Divi is a Big Boon. Now without sucking in codes, They can design a better website, in less time using extraordinary features. It is also budget-friendly and saves time on selecting different tools. Al the things that we need to build a website get there.
Elegant Theme's most selling and hit product is its Divi visual builder which is an extra-level page builder with SOOOOOOO many features, content blog, and customization options.
Divi Theme and Page Builder also come with Elegant Themes Plugins which also add extra functionality to your WordPress site. Elegant theme support is also here to help you. It has a simple pricing structure and just 2 plans with a fair price.
Elegant Themes provides Divi the visual builder, Extra WordPress Magazine theme, Bloom Email capture tool, and Monarch social media plugin. All these 4 tools come in a package where you have 2 options to buy them, lifetime or yearly plan.
Now Elegant theme is a package of 4 different tools. Early they provided multiple tools and different home layouts. But nowhere only 4 products and 2 price plans.
Elegant Themes Features:
Let's know about Elegant Themes highlights and benefits so you can easily avail this offer.
1. Unlimited Site License
The best part of the Elegant Themes is that it provides an unlimited site usage license. That makes the Elegant Tthmes the best choice for developers and freelancers.
As they can use it on multiple client websites and here they also offer a lifetime access plan.
2. 200+ Ready to use Sites
The elegant Themes plan comes with 200+ Layout Packs.
Each Layout pack also contains multiple ready-to-use pages, that you can use on making the site.
With only these Layout packs, Web Developers can make thousands of websites for their clients.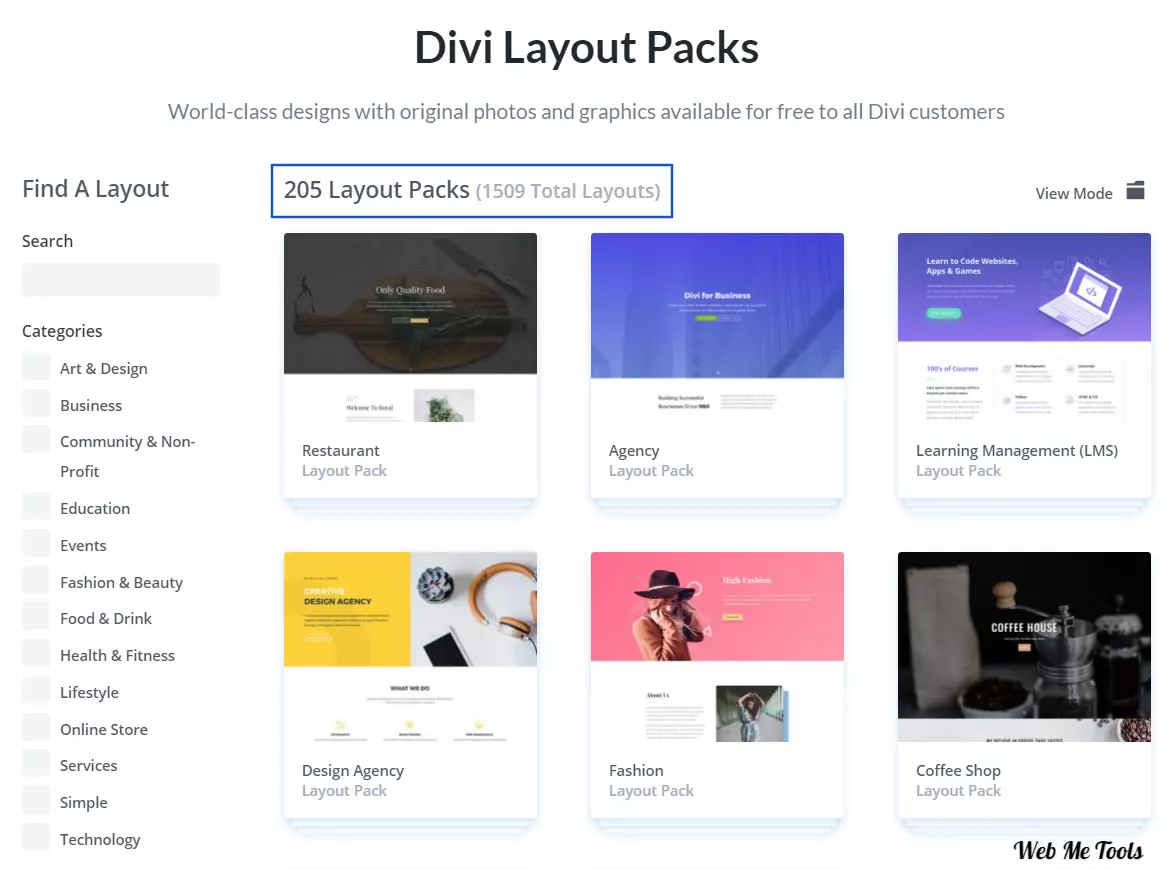 3. Build Unlimited Websites With a Single License
A single subscription gets you unlimited use of our themes and plugins. Install them on as many websites as you like using a single license.
With Every Plan, Whether it is Yearly or Lifetime, You can use Its products on multiple websites. That makes this theme best for web developers and agencies.
Web Designers can use Divi Theme on multiple client websites, using the same theme can save you lots of time and money.
4. Elegant Simple Pricing
One subscription, one fee, no strings attached. Get everything in our single membership. Power your entire team and use Elegant Themes and plugins on unlimited websites.
Elegant Themes or Divi Subscription is very simple and clear.
They have 2 Plans:
Annual – $89/year
Lifetime – $249/year
Both plans have the same features and tools.
According to our web expert, Its Lifetime plan is best for everyone.
5. Clean and Secure Codes
Elegant Themes Plugins and Themes are always secure to use.
You can use it to make a business site or a client's multiple projects.
We take security seriously when developing our products. Rest easy knowing that we have your back. Don't trust your client's websites with any old theme or plugin.
6. Constant Updates
When you use our products, you can rest easy knowing that we are always working hard to keep them updated, secure, and compatible with the latest version of WordPress.
7. Products You Can Trust
Your website and your client's websites are precious. You need to trust in the products that power them. Elegant Themes provides a level of support and product quality that is unmatched.
But still, if you want to make sure and check other real users' reviews, you must have a look at the Elegant Themes Review on TrustPilot, where thousands of users rated them as the best WordPress Theme Solution.
Now this many people can't be wrong!
8. Active Community
You aren't just purchasing software when you join Elegant Themes. You are becoming part of an amazing community filled with wonderful and passionate people!
9. Unlimited Use
A single subscription gets you unlimited use of Elegant Themes and plugins. Install them on as many websites as you like using a single license. Use them on unlimited client websites too.
10. Money-Back Guarantee
Elegant Themes have 30 Days Money Back Policy on all Plans.
Users can try this amazing theme and builder for 30 days risk-free.
During this, You can build a site, experience its features, and find out how many possibilities Divi Theme or Builder has. If you aren't satisfied with your membership, don't worry. They will send you a refund with no questions asked.
They take great pride in the level of support, They provide to our customers. Elegant typically respond in less than an hour and are often available for instant live chat.
Also, they take security seriously when developing their products. Rest easy knowing that they have your back. Don't trust your client's websites with any old theme or plugin.
According to Elegant Themes, Divi is a game-changer for Web designers due to its visual builder which has hundreds of Blocks or Elements. Without knowing any single line of Website coding we can design a professional-level site using Divi page builder.
Here we've shared Latest Divi Theme Deals and Discount, so a user can get this amazing product at a great price. Both Elegant Themes Yearly or Lifetime Plans are available at a Maximum discount.
Elegant Themes Divi Builder is faster, lightweight, and with so many creative designs that make it easy to work for the designer, and its extra tools give your website more power in social media, engagement, and building your mail list.
Try 30 Days Risk-Free Divi and Extra theme using the above Elegant Theme Discount 2023 and Save your valuable money up to $25. This offer is also available on Divi Theme Discount if you just want a Theme and Page Builder.
To get more ideas, info, and deep details about Divi Theme or Elegant Theme products here we've added some mostly-asked questions.