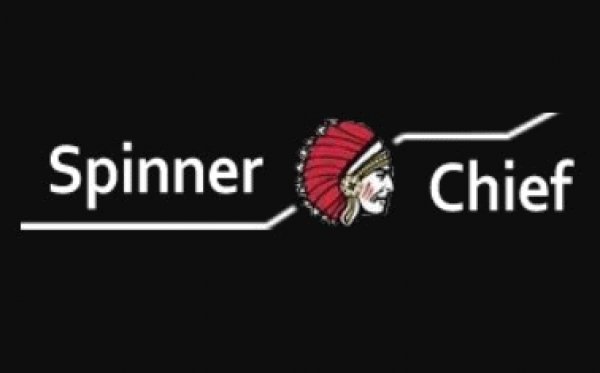 Spinner Chief is an article rewriter tool that uses AI and natural language technology to create human-readable and unique content. Based on keywords & categories it also generates new content.
PROS:
Grammar correction
Video Scraper
Copyscape plugin
Translation Spin
Free updates
Flexible Pricing
Free Version
Do you have a website or blog?
Are you finding it challenging to write articles for blogs?
Don't bother, here we have come up with a tool that helps you generate unique articles for your blogs and websites. The name of the tool is Spinner chief, and it is one of the best tools for spinning articles that helps you publish the articles on your blogs directly.
So in this, Spinner Chief Review article we get to know about its Features, Highlights, Price, and what makes it the best content rewriter tool.
[wpsm_toplist]
Most of the time will go into writing articles for the blogs. As such, it is essential to write regularly to rank your blog in the search engines.
Companies will hire an article writer to write articles for their sites to save time, but the individuals have to write the content on their own. For this spinners will help them to save time and costs too.
Let's start the Spinner Chief Review and know the features & highlights of this tool.
Get up to 55% Additional Discount on all plans of SpinnerChief.
This is the Best Offer for Limited Time.
What is Spinner Chief?
Spinner Chief is a powerful spinning tool that helps you to generate articles for your website. Thousands of articles were generated with the help of this tool in a single click. If you require a lot of content for your site, then you must use this software to publish the articles on your blog daily.
Know your article-spinning tool.
About Spinner Chief Tool
Spinner Chief tool comes with an algorithm that can easily understand phrases or sentences. Firstly, it will understand the whole article, and then it changes the recommended synonyms such that the article should be readable and unique, plus, it also passes from a plagiarism checker.
It is one of the best tools in the market for Content Creation or Spinner Tools.
Quick Review of Spinner Chief
Founded – 2013
Tool Category – Article Rewriter
Starting Price – $92/year
Free Trial – Yes
Current Version – 6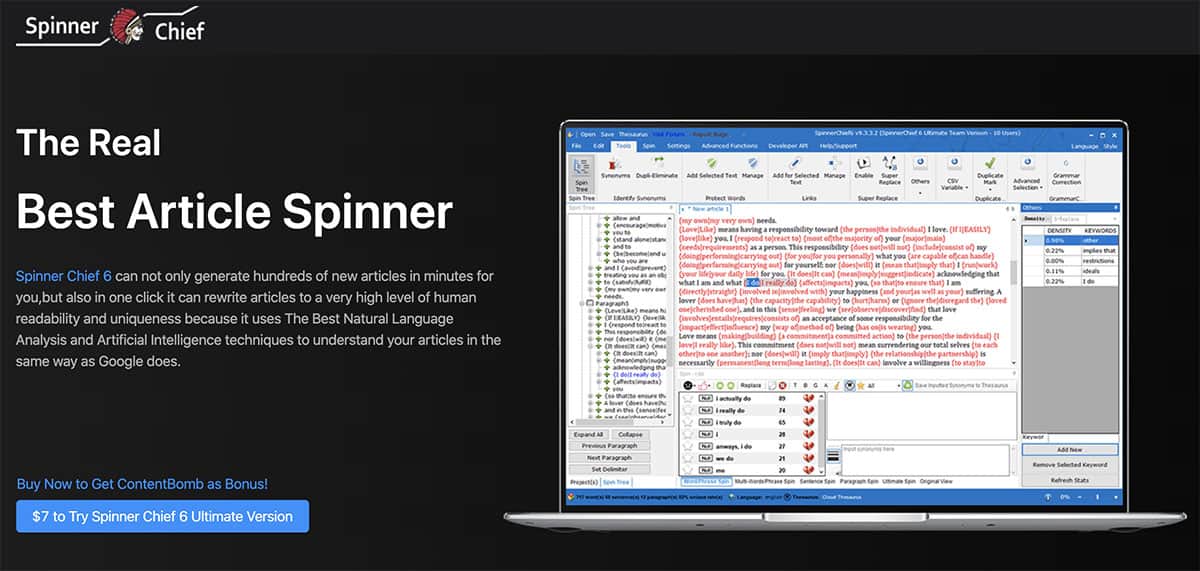 Don't bother about the niche; this tool can help you write articles on the particular topic you require to send the articles to your clients within the delivery time. Most of us may think that if the articles are produced by the software, then they will have readability issues.
If the user wants a unique and quality article, you can simply copy the article from other sources and paste them into the spinning tool text box.
Then the article spinner will try to find the synonyms of words and replace them with unique ones as such the article should be free from plagiarism.
Spinner Chief Features
Spinner Chief Article Rewriter Tool Key Features:
Free updates
Grammar correction
Paragraph spin automatically
Translation Spin
Video Scraper
Copyscape plugin
Html Spin
Spinner Chief Review and Highlights
Spinner Chief is a tool used to create unique articles for blogs or websites. It is easy to use and has excellent features that help you publish articles on your sites.
It spins every word and makes sure that the content passes the Copyscape plagiarism checker. Without any delay let's see Spinner Chief Review Highlights.
#1. Paragraph creation and swapping
This tool helps you to swap the paragraphs during the article spinning process and also helps to generate unique content with a single click.
The algorithm of this tool is designed to understand the meaning of the word, and then it changes the synonyms of the particular word based on the intention of the users.
After changing the entire words, it becomes a meaningful paragraph for the users to understand and the content is generated based on the search engines' conditions. And when you compare the paragraph with that of an original one, you will notice the complete uniqueness in the article.
#2. Various Niches applicable
It is not merely that this tool can accept only a particular niche and does not generate articles of multiple niches. If you need a larger number of articles in a single niche, this tool is for you.
For instance, a health blogger needs articles related to the type of health. So he wants to generate more articles in a single niche as such to improve the rankings of the blog and also to attract the audience looking for health-related issues.
You need to add the related keywords of your niche; then, the tool may find out the content around the web for a similar niche and then spin the article; plus, it presents the generated article in front of you. You can publish the same article on your blogs or websites for higher rankings in search engines.
#3. Simple to Use
In this Spinner Chief 6 Review, we'd like to info you that this tool is very easy to use.
This tool is straightforward to use. You can install the tool on your desktop, or you can simply browse it online. It will be based on your requirements, and if you want to work online, you should have stable net connectivity.
Don't worry about the updates; the company has already stated that it will provide free updates based on your purchase plan.
The company has hired professional developers to design this website uniquely and also based on the user intentions the website has developed. So, the users should not find any issues while browsing the site and should be comfortable using it.
It is simple as such you have to insert the content in the text box in the tool, and the software will provide you unique and quality content.
#4. Batch Spinning
Batch spinning simply means that you can generate several articles in a single click. As such, people do not have time to produce one article and wait for the other to create one.
After writing content, the users may work on different strategies on search engine optimization to improve the rankings of their website. The best point of Spinner Chief review is batch spinning, it creates multiple posts, just from one.
This tool helps users to create an article within seconds. As such, it saves them the time and effort of the users. The articles generated by this software are unique, and it also passes the Copyscape plagiarism tool.
#5. Comparison
Comparison is another point of this Spinner Chief Review post.
It also points out that if you notice the original article you have copied from the source and that of the article generated by this tool, you can observe a bright and unique article. As such, the paragraphs' entire words will get changed to synonyms saved in the database, and the readability of the article generated is excellent.
The tool has been developed based on an algorithm that understands human readability and generates an article that will be easily readable to the users. You can later publish those articles in your blogs or websites to attract visitors.
#6. Video Tutorials
Spinner Chief is one of the best tools in the market, which helps you generate articles in seconds and can post the articles on your websites or blogs.
The company has also got video tutorials to get you to know all the functionalities of the tool. Many users in the market are looking for a spinning tool, but they do not know how to use it.
Due to this reason, Spinner Chief has released video tutorials for beginners to get a clear understanding of the tool and use the tool for the benefit of a website. Not only are the video tutorials, but also provide articles so that you can read and understand the overall tool in detail.
Like the same this detailed Spinner Chief review article, you also get multiple video tutorials from Spinner Chief.
#7. Free Updates
The company also stated that users would get free updates. Some tools in the market also charge to get the necessary updates in the software. But this Spinner Chief is a bit different to help the users and keep them updated with the latest technologies; it offers you free updates when you purchase the software.
Newly updated software helps you to work much more comfortably than the previous one. As all the bugs have been fixed and the performance of the software will also get improved.
#8. Improves rankings of blogs
Many users try to write articles daily because it improves their rankings in search engines. Companies decide to hire a writer as it might help them to get unique articles regularly.
But the problem is for the individual ones as they cannot write more articles in a single day. So this Spinner Chief Review may help the users to get hundreds of articles in a single click. You can directly publish them to the blogs so that it increases the rankings of blogs or websites.
Choose the Right Plan for article spinning.
Spinner Chief Plans
Spinner Chief has 1 Free Plan and 3 Paid Plans named Elite, Ultimate, and Team.
Here are all 3 plans with their features:
| | | | | |
| --- | --- | --- | --- | --- |
| Features | Free Plan | Elite Plan | Ultimate Plan | Team Plan |
| Batch-spin articles | Yes | Yes | Yes | Yes |
| Uniqueness percentage indicator | Yes | Yes | Yes | Yes |
| Grammar correction | – | – | Yes | Yes |
| Uniqueness percentage indicator | Yes | Yes | Yes | Yes |
| Super Spin | – | – | Yes | Yes |
| Cloud Thesaurus | – | Yes | Yes | Yes |
| SK Plugin | – | Yes | Yes | Yes |
| Video Scraper | – | Yes | Yes | Yes |
| Price (One Time) | FREE | $88 | $138 | $282 |
| Price (Yearly) | FREE | – | $107/year | $277/year |
| | Get Free Plan | Get Elite Plan | Get Ultimate Plan | Get Team Plan |
Get up to 55% Additional Discount on all plans of SpinnerChief.
This is the Best Offer for Limited Time.
Due to this evolving technology, many writers find it challenging to write articles based on user content. As such, you can hire writers for your blogs, but it takes more time. It is where Spinner Chief serves out as you can generate more articles in a single click.
Spinner Chief Pricing
Spinner Chief comes out in four plans, i.e., Free plan, Elite plan, Ultimate plan, and at last Team plan. The Elite plan costs you around $88 as a one-time fee, and the Ultimate plan costs you about $150, and the Team plan has a unique feature that costs you $696 as a one-time fee.
| | | |
| --- | --- | --- |
| Spinner Chief Plans | One Time Fee | Per Year |
| Free | – | – |
| Elite | $88 | – |
| Ultimate | $138 | $48 |
| Team (3) | $282 | $124 |
We like to suggest trying out a team plan as it has all the great features that help you generate content for the blogs and is cost-effective. For trying the latest version of Spinner Chief, you can pay $7 to know its features.
If you are thinking of buying a tool right now, don't waste time as the company is offering a minimum 40% discount on all the plans. It is the best tool for generating quality articles for your websites.
Download Spinner Chief Crack
Looking for a cracked version of Spinner Chief.
Spinner chief already has a very flexible pricing structure and It is also cheap as its competitors.
You can make payments & get its original version with regular updates & support.
Well, when we search Spinner Chief Crack or Spinner Chief Serial Number, Google shows us multiple websites with a free download of Spinner Chief and most of them are spammy and contains malware files.
The wrong software can erase your site all data and waste lots of time, So begin professional marketers after using lots of tools (Free, Paid & Crack).
If you really want to make money then you must spend it on the right tools. My advice for you download its original version and here is also a Forever Free Plan that you can use.
Should You Select Spinnerchief?
Final Verdict – Spinner Chief Review
Most people are finding it challenging to write posts for their blogs and websites. In this evolving technology, article spinners are in much demand as it saves time for people to write quality content for the sites such that they can focus on other related works.
On this Spinner Chief Review, we got ideas to create tons of content using spinner tools and save time + money. Its plugins add amazing features and make our content better for SEO.
And most of them may hear the article spinners, but the tool SpinnerChief is one of the best tools in the market, helping you generate unique and quality articles for your blogs and websites.
Most of them do not trust software for plagiarism issues, but this tool comes with a Copyscape plugin to remove any plagiarism detected in the generated articles.
After this tool has been updated to the latest version, Spinner Chief Review has got excellent and unique features to help you out in the generation of quality articles. You can use this tool and directly publish the articles on your blogs or websites as it takes care of readability and uniqueness.
Spinner Chief is a beneficial and excellent tool, and it is simple to use when compared to other tools in the market. Go and check out this fantastic tool, and We hope that you love this tool.
Some Queries Related –
Spinner Chief Review & Pricing – FAQs
Get more ideas about Spinner Chief Review from the below FAQs.
Does the tool use an algorithm for generating content?

Yes. It uses Artificial Intelligence to generate articles for your blogs and websites.

Will I get free updates on the tool?

No matter which of the plans you choose, the company provides you the free updates.

Is the content generated free from plagiarism?

Yes. It generates unique content and also passes the Copyscape plagiarism checker.
Specification:
Spinner Chief 6
| | |
| --- | --- |
| Category | Article Spinner Tool |
| Starting Price | $92/year |
| Key Features | Web & APP, Powerful Plugins, Manually Control, Team Version |
| Verdict | Some Additional Features & Plugins make it is our Fav Tool. |
| Free Plan | Yes, Forever |
2 reviews for
Spinner Chief 6