Jasper.AI Pricing Plan and Their Total Cost in 2023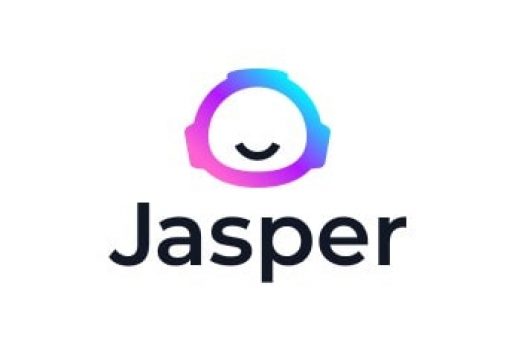 Jasper.AI Pricing Plan and Their Total Cost in 2023
Get to Know about Jasper Pricing Plans 2023 and the Best Jasper.ai Plan for you. Check the total Jasper Cost and Price of all Plans with Features so you can get the right AI writer Tool at the right price.
Are you planning to buy Jasper.ai?
Or Looking for a Jasper.ai Pricing Plan?
There are lots of AI writing tools available in marketing, but it is hard to find, which one is proving better value.
Jasper AI product is a great investment for those who want to save time and money by outsourcing their content.
In This post…
We are sharing everything that you need to know about Jasper Pricing, so you can make a better decision.
Jasper.ai Pricing Plans Post Summary:
| | |
| --- | --- |
| Jasper.AI Starting Price | $29/month |
| No. of Jasper Plans | 3 Plans |
| Free Trial | Available for 7 days |
| Jasper Total Cost (Annually) | $348 – $708 |
| Maximum Saving | Save up to $100 a Year |
| Jasper Subscription Duration | Monthly or Annually |
| Payment Option | Credit card |
| Money-Back Guarantee | 30-day Money-back guarantee |
Let's Start!!
How Much Does Jasper Cost?
Jasper AI is a robotic writer powered by cutting-edge AI technology that can create content 5x faster than an average human copywriter. It is very easy to get started using Jasper.ai and unlike a lot of ai software, there isn't much of a learning curve.
The platform also has the ability to scale for enterprises as well with unlimited project folders, or if you just start your project as a beginner then Jasper also has a plan for you.
Like every other tool, Jasper also has some pricing plan which is mainly based on the type of users and their needs. they have three plans, which are Starter, Boss Mode, and Business Plan (a customizable plan).
Jasper Prices And Features
Like every other tool the Plans of Jasper pricing is also based on users and the features they are providing, Jasper made their plan very smartly.
They added their plan features according to their users, which means if you are someone who just needs AI writing for limited work, then you can choose their starter plans and if you are someone who looking for some advanced features then you can choose the boss plan.
the Boss plan comes with the Harness of the full power of AI writing with the ability to create full-length content with full control & flexibility and If you have an enterprise and looking for some advanced features with a maximum number of limits then you can choose the business plan which is the customizable plan.
As you can see Jasper Provides their plan features according to their users, Aside from content writing you can see Jasper providing amazing features, you can simply know their features and choose the best plan for you.
Here we are sharing some more basic details about Jasper:
1. Starter Plan:
You access 50+ AI copy generators to write short-form content like ads, and product descriptions and improve existing copy. this plan includes features like Ai Template which is AI that helps you write short-form content like product descriptions, paragraphs, ads, and so much more.
Pricing Range: $24 – $332/month
2. Boss Mode:
This Plan comes with some of the advanced features of Jasper here you will get features like Compose & Command features, Increased limits on templates, Grows with your team, Priority chat support, and much more.
Pricing Range: $59- $600/month
Choose the right plan.
Jasper.AI Pricing Plans
Right now, Jasper provides only 2 kinds of plans. Earlier it used to provide the 3 plans.
These 2 Plans Are:
Starter – Basic Features
Boss Mode – Additional Features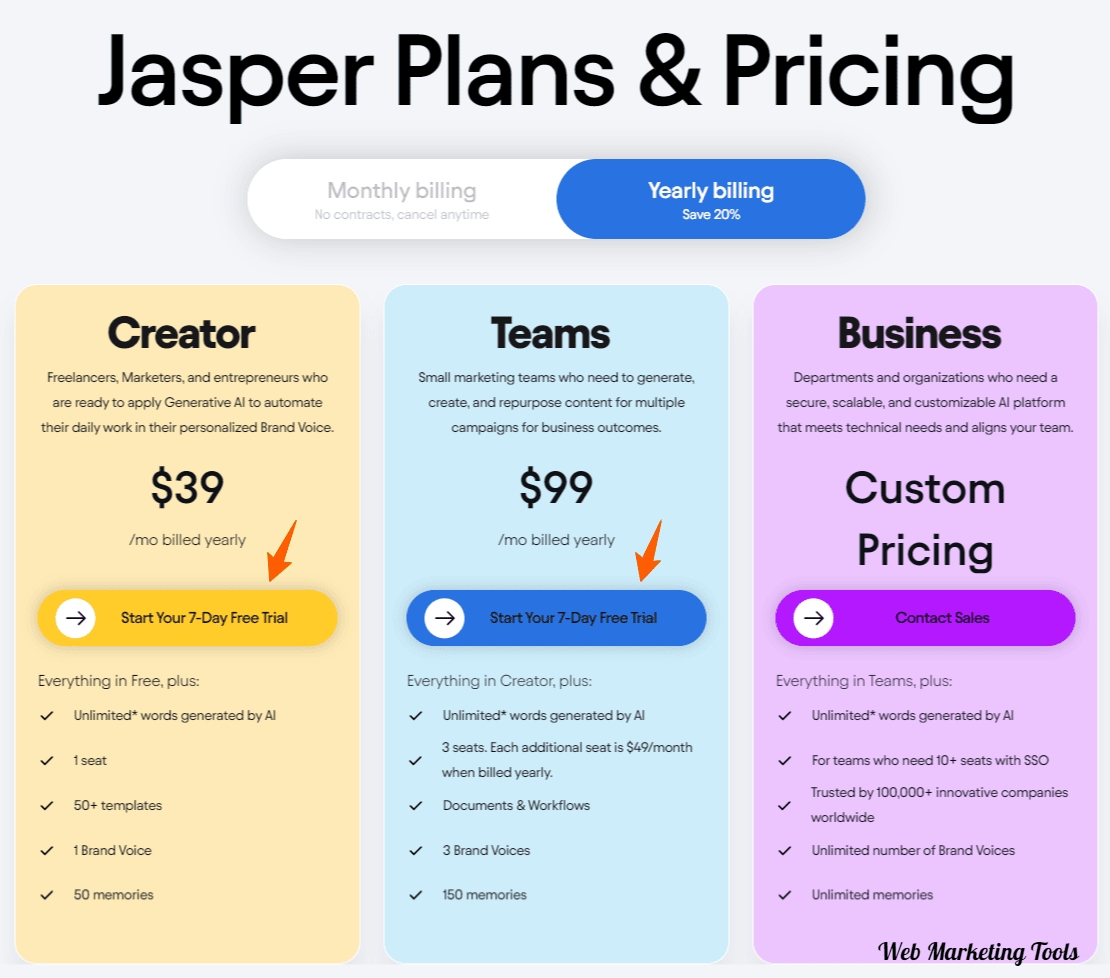 Let's get more details about these plans and know about their features and actual price.
Explore the JasperAI Plans and Select the right plan for your business.
Jasper.ai Starter plan
For hobbyists just getting started
This plan will cost you around $29/month. Also, this plan offers 20,000 words of credit. You will not get the long-form assistance in this plan that can help you in writing the article. 
The features that you will get in this plan are-
You will get 50+ short-form copywriting templates
An unlimited number of users can use it
With the help of this plan, you can create 5 project folder
By using this you can create content in 25+ language
Access by chat support
You can access the AI copywriting community
Jasper Starter Plan Price:
20,000 words/mo – $29/month
35,000 words/mo – $49/month
60,000 words/mo – $79/month
75,000 words/mo – $99/month
115,000 words/mo – $149/month
150,000 words/mo – $199/month
240,000 words/mo – $299/month
320,000 words/mo – $399/month
320,000+ words/mo – Custom Price
Jasper.ai Boss Mode Plan
For bloggers & businesses
Jasper Boss Plan is the best solution for Digital Agencies, Bloggers & SEO Writers. It has multiple features and advanced writing modes that give you flexibility and increase your writing speed by 5x.
This Plan comes with Team Management, SEO Optimization, Grammarly, and plagiarism checkers tools.
You can buy this plan by investing $119/month and this all also comes with unlimited word credits. You will also get features like recipes and commands in this plan.
Jasper Boss Mode Plans:
Unlimited Words
3,000 Characters output
Command Jasper Mode
Surfer SEO Partnership
50+ copywriting Templates
Grammarly & Plagiarism Checker
25+ Supported Languages
AI Copywriter's community
Jasper Boss Mode Plan Price:
50,000 words/mo – $59/month
100,000 words/mo – $99/month
300,000 words/mo – $279/month
700,000 words/mo – $600/month
700,000+ words/mo – Custom Price
Basically, Jasper made this plan for big businesses and enterprises that are managing a large number of Data, this plan includes all the features that you need related to AI writing this tool.
A business plan is a customizable plan, which that means, if you want to write a large number of data then you choose to customize the features and limits according to your needs.
Jasper Business Plan Features:
Custom words/user packages
Manage limits per user
Flexible billing options
Dedicated Account Manager
Onboarding & training sessions
Premium technical support
Jasper Business Plan Pricing:
This is a customizable plan of Jasper, which means there is not any fixed pricing for this plan, the pricing of this plan is based on limits and features you choose.
Jasper Total Cost
As We have already told you, Jasper.Ai plans pricing and its features. Jasper.ai offers a 17% discount or up to $100 discount on their all-pricing plan when you opt-in for an annual subscription
Now, we will calculate how much price we have to pay to Jasper as an annual payment.
We shared the total price and discounted price, so you can get the right deal according to your requirements.
| | | |
| --- | --- | --- |
| | Starter | Mode |
| Monthly Plan Price | $29/mo for 20k Words | $59/mo for 50k Words |
| Total Annually Payment | $348 | $708 |
| | | |
| Annually Plan Price | $24/mo | $159/mo |
| Total Annually | $288 | $588 |
All the above Jasper.io prices are without any Coupon or Special Offer.
Jasper has 2 different kinds of pricing plans which are very affordable and features are different in different plans and it depends upon you and your requirement which are mentioned below:
Monthly Subscriptions:
Starter Plan- Costs $29/month For 20k Words
Boss Plan- Costs $59/month For 50k Words
Annual Subscriptions:
Basic Plan- Costs $24/month For 20k Words
Boss Plan- Costs $49/month for 50k Words
Does Jasper Provide Any Lifetime Deal?
Jasper Free Trial & Lifetime Plan?
Jasper will help you to create great copy content using AI tech. If you look into business then offering a lifetime deal is not a profitable business for any company. In lifetime plans users just have to pay once and after that, they can use the tool rest of their life and Jasper doesn't want to give an offer like this.
In the Jasper Lifetime deal, user-pay only once for the software. While Jasper is continue is upgrading its features and configuration options.
Even if the company is not offering a discount but they are improving the tool day by day and making it more sufficient and competitive for the market.
Now Jasper AI has Boss, Mode, Recipes, and more options to create new content. Their high-quality copywriting features are always worthy of every content creator
Jasper Free Trial
To provide a better experience to their users, the company provides a free trial option to their users so that you can access their tool for a limited period of time, you can simply visit their site and start a free trial option, Jasper also provides a free trial option.
With the jasper free trial option, you can write up to 10k words which means you can use it for more than 5 articles, get an idea about the tool, and make a decision, on is this tool made for you or not.
You can enjoy this trial for 5 days with a limit of 10k word credits.
Free Trial Features:
3,000 Character Lookback
Command Jasper
Recipes
SEO Mode
Plagiarism Checker
Grammarly
50+ Copywriting Templates
25+ Supported Languages
Our team in Austin, Texas is ready to help you when you need it!
Priority Chat Support
Know More About This Tool –
Jasper Overview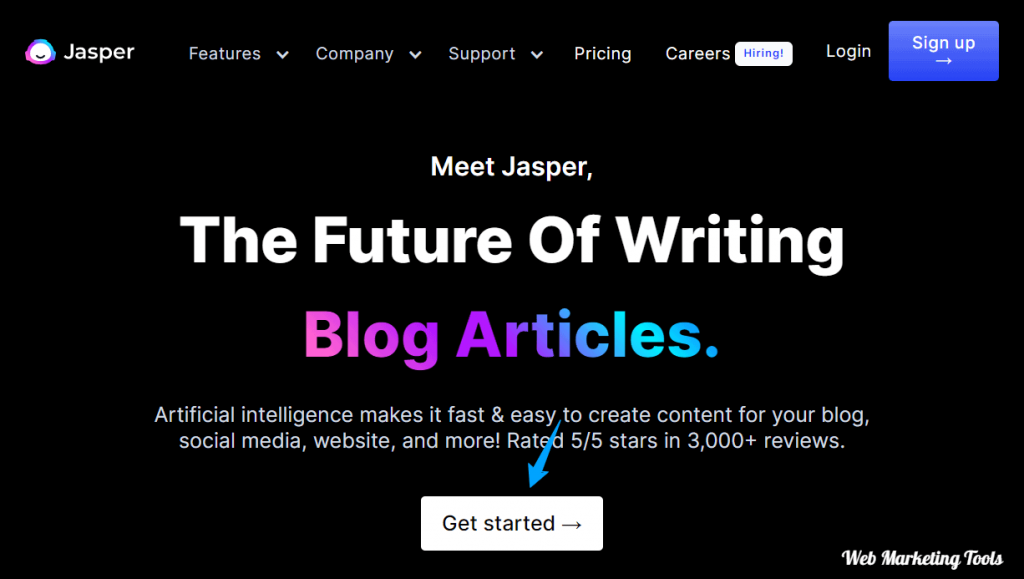 Jasper(previously known as Jarvis.ai and Conversiona.AI) is a kind of copywriting AI assistant that will help you to write good copy. The technology that is used in Jasper is GPT-3 and with the help of this, it creates content.
If you are the one who wants to write a good copy with the help of artificial intelligence then Jasper is the best tool available for you. If you are a copywriter, marketer, and businessman then it is very helpful for you because it helps you when you have writer's block. It creates a high-quality copy in no time.
It can write various things like landing page copy, Facebook ads, blog posts, and sales page copy. If you have to write an e-commerce copy or marketing email Jasper help you with everything.
If you are a marketer, businessman, or webmaster then it is a must-use tool for you. It will help you to create a great copy.
Jasper Features:
AI Templates – Jasper comes with a selection of templates that give you a jumping-off point for content creation.
Jasper Commands – Give simple commands and create amazing content
Jasper Recipes – Recipes are basically AI-generated content templates that you can use to create high-quality content quickly and easily.
Support 25+ Languages – It can create content in 25 languages, best for businesses who want to target a global audience.
Surfer SEO Integration – Another AI-powered tool to improve your ranking on Google SERP.
Grammarly Integrations – Fix all the Grammatical errors and make a good tone of your content.
Plagiarism Checker – Copyspace embed system creates plagiarism-free content
Does It Worth To Buy?
Conclusion: Jasper.ai Pricing Plan
Jarvis is a popular AI writing tool. The platform can generate all kinds of content at the click of a button – making it easy for anyone to create high-quality written content.
The best thing about this tool is, that you don't have to make many actions, all you have to do is open the program and then add your keyword just like in any other word processor software! and choose what type of content you need.
If you're willing to invest in this program, you could be using it to write top-quality content in no time, with virtually zero effort. then Jasper can be a better choice for you.
At the end of this post, we just want to say that we have mentioned every single detail that you need to know about Jasper pricing plans, now it is your choice which plan is more suited for you.
How Much Is Jasper AI Price?

The starting price of jasper is $24/month for 20k Words credit on annul billing and another plan which is boss plan, will cost you $59/month for monthly billing but it also has some advanced features.

What is Total Jasper Cost?

Jasper will cost you 288/year for a starter plan, in which you will get features like 50+ Ai Template, up to 5 users of Chat Support, and more.

Which Jasper Plan is better for beginners?

as a beginner, you can choose a state plan, in which you can get all the basic features and 20k words credit/month.

Does Jasper.ai's Pricing plan have Any Free Trial?

Yes, Jasper provides a free trial option for 5 days in which you can use Up to 10k words credit.

Is Jasper Ai worth it?

Yes, it is worth buying Jasper AI Tools, This is not our biased opinion, you can also check reviews on other sides, Jasper got pretty good reviews on their sites.

Does There any Jasper Ai demo Option?

Yes, Jasper also provides a Demo option, a 10-minute demo video, in which you will get all the basics and how it works.

How do I pay Jarvis AI?

You can pay through VISA, Mastercard, and American Express, simple you have to go to "Account Details' and check payment details.

How much does Jasper's writing cost?

Jasper Will cost you 29/month for 20k Words to 700k Words for $600/month.