Get an Overall Comparison of SEMrush vs Moz pro, Compare their Pricing, Plans, and features. Moz vs SEMrush pros & Cons. Know the major difference between Moz and SEMrush and Which one is better for you!
Comparing two SEO Tools is not an easy task, For a better comparison, we have to understand these tools better.
Both SEMrush and Moz Pro offer competitive analysis and reporting tools, allowing users to track their online performance and analyze their competitors' strategies.
SEMrush tends to be more focused on paid advertising campaigns, while Moz Pro is more focused on organic search optimization.
So as we have experience with both of these tools, So We can say we are valid for Answering which one we found better.
and that is why here we come up with an article on the Comparison of SEMrush vs Moz Pro. so you can get which one is a better option for you.
Let's Start
Quick Comparison of Moz Pro And SEMrush
here's a quick comparison table of SEMrush vs Moz Pro:
| Feature | SEMrush | Moz Pro |
| --- | --- | --- |
| Keyword research | Yes | Yes |
| Backlink analysis | Yes | Yes |
| Site audit | Yes | Yes |
| On-page optimization | Yes | Yes |
| Competitive analysis | Yes | Yes |
| Local SEO tools | Yes | Yes |
| Social media management | Yes | No |
| Content marketing tools | Yes | No |
Know More About These Tools.
SEMrush Vs Moz Pro: Overview
About SEMrush:
Semrush was started in 2008 by a small group of SEO Experts and IT Specialists, their main aim to create this company was to make online competition fair and transparent, with equal opportunities for everyone. and now we can see they are doing more than that.
SEMrush provides a complete SEO Tools Package, this tool will help you to complete all your goals related to your Website SEO, not just that, SEMrush also provides various tools that will surely help you to improve your overall digital marketing journey.
Aside from SEO, Their Paid Marketing Tools are also amazing even for Paid Marketing Campaign People prefer to choose SEMrush because of tools Like Keyword Magic Tool which is mostly used for Getting access to the largest keyword database on the market.
If we talk about their Stats and Facts, they have 10 million users who already tried SEMrush and over 21.1 Billion keywords, 142 Geo Data Base, and 808 million Domain Profiles, which is quite impressive data.
About MOZ:
From the beginning since 2004, MOZ doing a great job in the field of SEO and working as a leading company for many businesses which is built by Rand Fishkin and Gillian Muessig and both are experts in their field.
When we talk about Moz which is known as Moz Pro, This SEO tool comes with various SEO Features which are not just for Small businesses but also for big agencies. They also provide other services which are also amazing, but here we will discuss their SEO Tool.
Aside from SEO Tools, you can learn many skills around marketing and the best part is, after the completion of these courses you can be a certified person.
If you just started your journey in SEO, For you Moz has SEO Learning Center, in which they are providing all information related to SEO.
They also have a community that is basically of SEOs, In which ask you Questions about this tool or SEO and you will get answers from their experts.
Know Their Pricing.
Pricing Plans: Moz & SEMrush Compared
So Basically SEMrush Pricing Plans are divided into parts, and all these plans have different pricing and features, so you can choose any plan according to your need. also, you can get a discount on their pricing.
1. SEMrush Pro Plan
Pro Plan comes as the first plan of SEMrush, but this plan is not just basic as it is defined by its name. This plan comes with various amazing features like SEO Ideas Units, Scheduled PDF reports, PDF template sharing, etc.
In this plan, you can manage up to 5 projects which is enough for a beginner, with this plan you can also add a Listing Management Feature for Local SEO at the Additional cost of $20/month.
This Plan will cost you $119.95/month.
Features:
5 Projects
500 Keywords to track (with daily updates)
Keyword, domain, and backlink analytics
Pages To Crawls Option
Results Report
and more.
2. SEMrush Guru Plan
This SEMrush is the second and one of the most Usage plans, because this plan is come up with features that most people need, and as the company mentioned, this plan is mainly made For SMEs, growing agencies, and marketing consultants.
This plan comes with the feature which is Google Data Studio Integration, in which you can you can easily report on data from a wide variety of sources, without programming
This plan will cost you $229.95/month which is more than the pro plan but also comes with more features than Pro Plans.
Features:
15 Projects
1500 Keywords to track (with daily updates)
Keyword, domain, and backlink analytics
Pages To Crawls Option
Keyword cannibalization report
Google Data Studio Integration
and more.
3. SEMrush Business Plan
Here we come up with a plan that every big SEO agency needs because, in this Plan, SEMrush provides all the possible features that require to run a large agency or an enterprise. this plan provides some exclusive features that are not even provided by many SEO Tool Companies.
With this Plan, you will get the feature of API Access which is a method of gathering raw data from Semrush without using the standard website interface
So this Plan will cost you $449/month with the features like API Access, Share of Voice metric, etc.
Features:
40 Projects
5000 Keywords to track (with daily updates)
Keyword, domain, and backlink analytics
Pages To Crawls Option
Keyword cannibalization report
Google Data Studio Integration
Product Listing Ads
and more.
Moz Pro Pricing Plans
Know Their Plans
Moz Pro Provides four plans which are relying on person-to-person or business-to-business one thing we also god about his tool are they also Provide Discounts on their Annual billing. And all their plans include a 1-on-1 walkthrough and 24-hour online support.
1. Moz Standard Plan
If we talk about its standard plan, this plan is made for people who have just begun their journey in SEO, because this plan includes all the basic features that SEO Beginners need.
Not just that it comes with 5 Campaigns with each campaign you can track 1 website and 3 Competitors for Weekly ranking, site issues, and On-Page SEO Audit.
This Will Cost you $99/month, and it also includes On-Page Grader Reports, which are not provided with some other SEO Tools.
Features:
300 Keyword Rankings
100,000 Pages Crawled/Week
150 Keyword Queries/Month
5 Keyword Lists
5000 Backlink Queries/Month
50 Competitive Research Queries
2. Moz Medium Plan
The medium plan comes with some advanced features, and it also provided full access to keyword research tools. That means this plan will make your keyword research work easier.
You will get up to 30 Link Tracking Lists, with this feature you can create a list for targeting backlinks to help set goals, and track and analyze the link-building process.
And medium plan provides more limits than it standard plan. and this plan will cost you $179/per month.
1500 Keyword Rankings
500,000 Pages Crawled/Week
5000 Keyword Queries/Month
30 Keyword Lists
20,000 Backlink Queries/Month
75 Competitive Research Queries
Branded Reports
3. Large Plan
By MOZ, this plan is considered as a value-for-money plan, because this plan is cover almost all features of the Moz pro. This plan has Onboarding Session in which you can get 30 Minutes Complimentary On Board Session with a Moz SEO Expert.
The Pricing of this plan is $299/month and you will get features like Report Templates and more than 25 campaigns, if you want to increase campaign numbers you have to pay $10/month.
Features:
3000 Keyword Rankings
1,250,000 Pages Crawled/Week
15000 Keyword Queries/Month
60 Keyword Lists
70,000 Backlink Queries/Month
100 Competitive Research Queries
Branded Reports
4. Moz Premium Plan
Here we come to the advanced plan of MOZ pro, which includes all the features they are providing and in this plan, you will get maximum limits of Moz features.
You will get the Speed Crawl feature which is exclusively made for Premium plan users, this feature will increase the crawling speed 10 times faster.
This plan will cost you $599/month, yes you can say this plan is costly, but the features they are providing are worth it.
Features:
45000 Keyword Rankings
2,000,000 Pages Crawled/Week
30000 Keyword Queries/Month
100 Keyword Lists
100,000 Backlink Queries/Month
150 Competitive Research Queries
Branded Reports
Speed Crawl
Compare Their Features
SEMrush Versus Moz: Features Comparison
SEMrush:
When you look at the SEMrush dashboard, you will get surprised by lots of features because SEMrush is not just like an SEO tool, It has more than that like Social Media tools, Content Marketing tools Agency solutions, etc.
Aside from that, when you experience these tools you will find them easy to use even if you are a beginner because they have added all the tools in a very simple manner.
And At first, on top of the SEMrush dashboard, you can also see a project option in which you can manage all your working projects.
More than that you can also see Management Features in which you can see all your reports, Lead generation Tools, Making Calendar Tools, and Notes( This feature allows you to highlight dates in graphs and charts in certain Semrush tools and reports with custom information.)
Moz Pro:
As Moz Pro is an SEO Tool, so you can see all their dashboard's tools lying around SEO, You can see all the features are managed in a pretty good manner but still some people think that Moz does not have easy to use interface.
When you enter Moz Pro, you will see 6 tools which are :
Competitive ResearchTool: With this tool, you can analyze your competitor's data including their Backlinks, Top keywords, and their Performance, etc.
Keyword Research Tool: With this tool, you can do research on your specific keyword, and you will get all the data related to your keyword, like their Volume, Difficulties, and Related Keywords, etc.
Link Research Tool: With this tool, you can get all the backlinks data of a website, also this data provides you with various backlink opportunities.
On-Page Grader Tool: With this tool, you can analyze your On-Page Process, this tool provides you with parameters that show the quality of your On-page SEO.
On-Demand Crawl Tool: This tool also works as a Site audit tool that shows the overall health of your websites and also helps your website in fast crawling.
Rank Tracker Tool: This Tool is made for tracking your website's Keywords and performance and analyzing and tracking their ranking.
We personally used Moz Pro, so In your opinion, this tool is also on our list of easy-to-use tools. And the best part is, that you can also experience this tool by choosing its 30-day free trial, so you can make your own judgment about its interface.
SEMrush: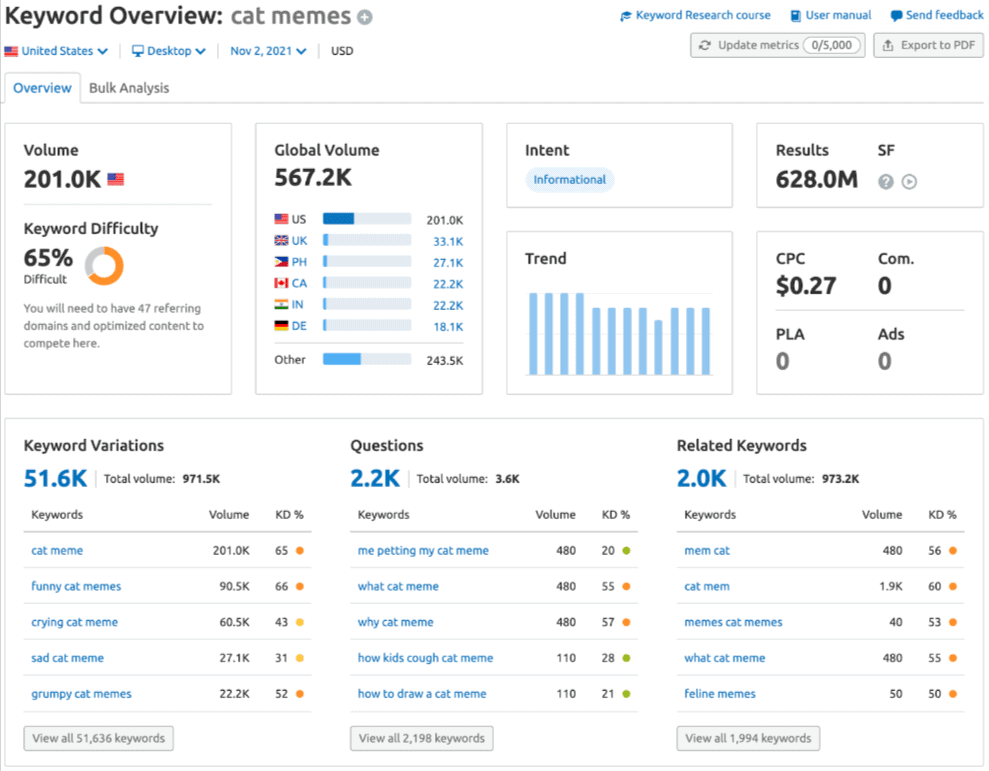 For Keyword research and analysis, SEMrush provides three features which are keyword overview, Keyword Magic Tool, and Keyword Manager. With these features, you can do more than keyword research.
Let's start with Its "Keyword research" feature, with this feature you can see the overall performance of a keyword like Keyword Variations, their Global/Contrywise volume, Keyword Difficulty, etc.
and "Keyword Magic Tool" will help you to provide keyword Ideas around your content this keyword works as Google Keyword Planner and this tool mainly comes under Paid Marketing Tools.
"Keyword Manager" Features will show you a deeper and perfect analysis of your keyword, In this keyword, you can select some specific keywords and get their fresh updates.
Moz Pro: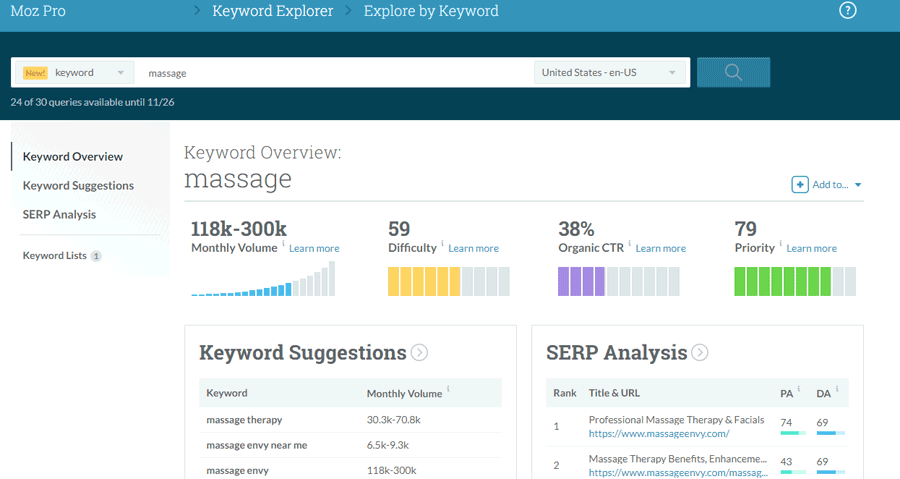 For Keyword Research, Moz has 5 features which are "Site Overview" in which you can check the overall performance of your website and check their keywords. "Ranking Keyword" allows you to see the SEPR Position of a website's Keywords.
Another feature is "Keyword Overview" this feature will show you the overall detail of the keywords, including their volume, and keyword Difficulty.
and "Keyword Suggestion" this feature mainly helps you to find out some related queries and keywords which revolve around your Topic.
The "SERP Analysis" Feature allows you to analyze your keyword For SERP. this will show you all the websites which are ranking on this keyword.
SEMrush:
For Tracking the Ranking and Position of a website, SEMrush provides a Specific tool, which is pretty interesting because it comes with lots of metrics to check the name of this feature is "Position Tracking", in which you have to set up your website.
And after that, you can see your website's keyword position on a daily basis, which is quite interesting because without any tools like that is a little difficult to track the position of a website.
with this tool, you can simply analyze SERPs by target keyword and pinpoint each SERP Feature that your site may occupy, and also Measure your SEO or PPC efforts In addition to tracking your keyword positions, you can also track overall visibility and share of voice
Moz Pro:
Moz has a Rank Tracking tool which is "Rank Checker" in which you can check the SERP position of your top keywords and their volume.
You can check your position at Search Engine Wise like you can check your keyword ranking on Google, Bing, Yahoo, and Google mobile. also, you can check country-wise.
Simply you have to enter your website data this will show you all the details of your ranking keywords by this tool you can track the ranking of your website's pages.
This tool metric will show you the Volume of the ranking keyword, Its Difficulty, the last checked date, and the ranking history.
SEMrush:
For Overall Competitive research, SEMrush provides 5 different features which are quite impressive, because most of the tools have only one or two features for analyzing their competition.
So those features are "Domain Overview" as its name it is pretty obvious that these features provide overall data of a website or your competitors.
The second feature which is "Traffic Analytics" is help to analyze the traffic source and data of a website, which is very important to know for Competitive research.
"Organic Research" features allow you to analyze the overall organic traffic and the sources of the website and also provide the overall SERP Features details of the website.
With the help of the "keyword Gap" and "Backlinks Gap" Features, you can get ideas around the keywords and backlinks that you are missing out in the comparison of your competitors.
Moz Pro:
Recently Moz added two features to their Competitive Research Tool, one "True Competitor" and the Second "Keyword Gap" and we can say these two features are enough for your Competitor's Analysis.
The "True Competitor" feature allows you to check your top competitors with their Domain authority, overlap, and their rivalry. Also, you can check your competitors countrywide.
With the "Keyword Gap" feature, you can check keywords that your competitors have, but you don't.
SEMrush:
For site auditing, SEMrush provides a feature whose name is the same as their work "Site Audit" as we all know site auditing is not a simple game. A tool needs to understand the overall website and the work SEMrush does for you.
You can monitor the overall health of your website and also check your website errors. In just a few clicks you can get an overall report of your website.
and also have advanced features in which you can make your own prioritization rules, you can use their advanced filters, Site Structure view, and integration with Google Analytics to make sure that you're working on your money-making pages first.
Moz Pro:
For Site Auditing, Moz Pro has an "On-Demand Crawl" feature in which manually you have to submit your website URL and you will get all technical details like Critical Crawler Issues, Crawled Pages and
Content Issues of your websites.
Not just that, this tool also has "Moz Recommends Fixing" features for your website, In which they will show you all the errors like Title errors, heading errors, etc.
SEMrush: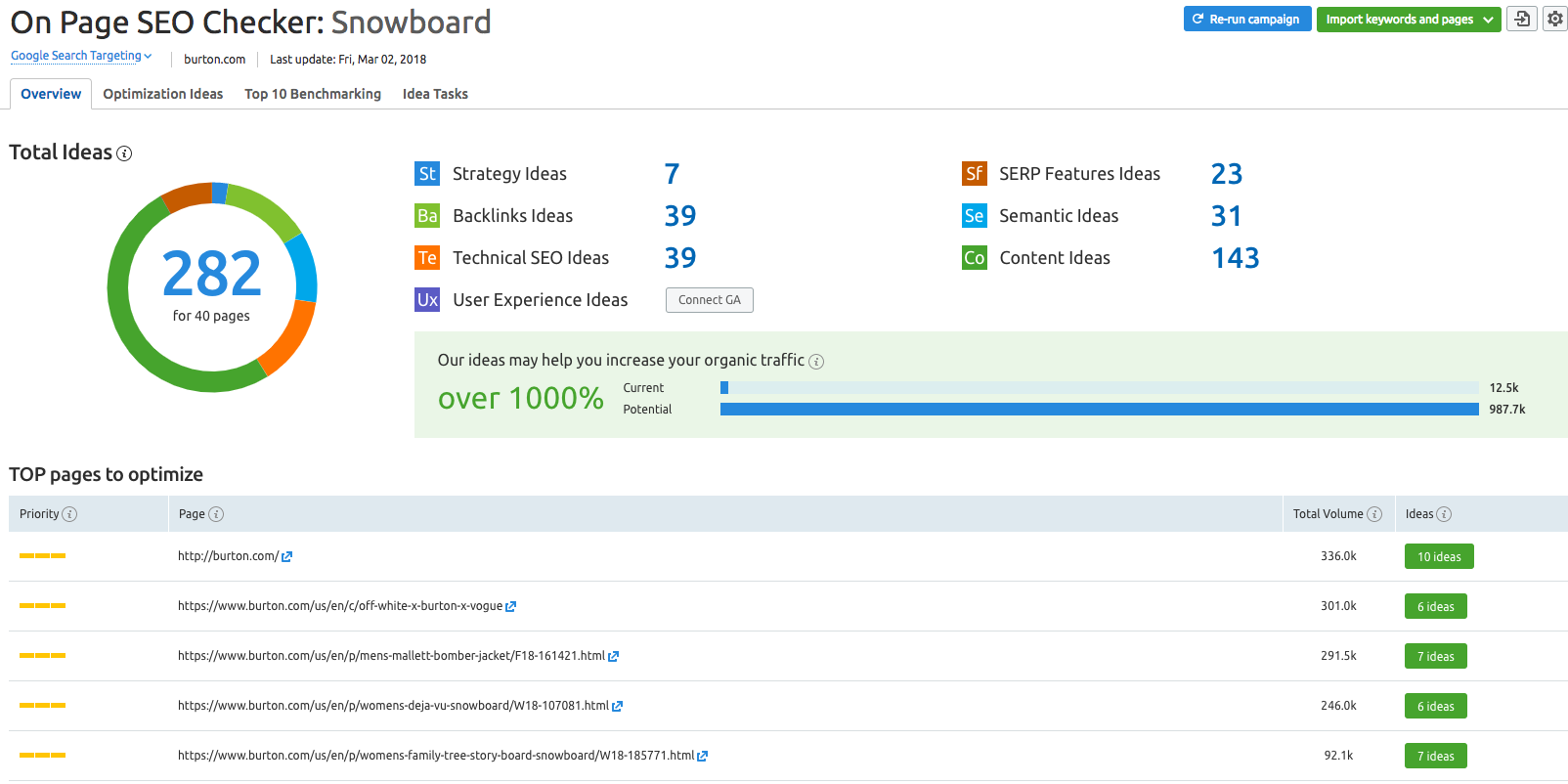 Everyone added content and images to their pages but sometimes they missed out on the major points for SEO here On-page SEO checkers comes, with tools simple you check your On-page SEO with some Specific parameters.
SEMrush Provides a tool which is called "On-Page SEO Checker". This tool does not just analyze your on-page SEO, but it also provides suggestions and ideas for better on-page SEO.
Now maybe your question is how SEMrush's On-Page SEO Checkers Works help you. By taking data from Semrush and Google, this analysis tool provides actionable steps to improve your rankings on Google by comparing your page with the top 10 real-time organic competitors for each target keyword.
Moz Pro: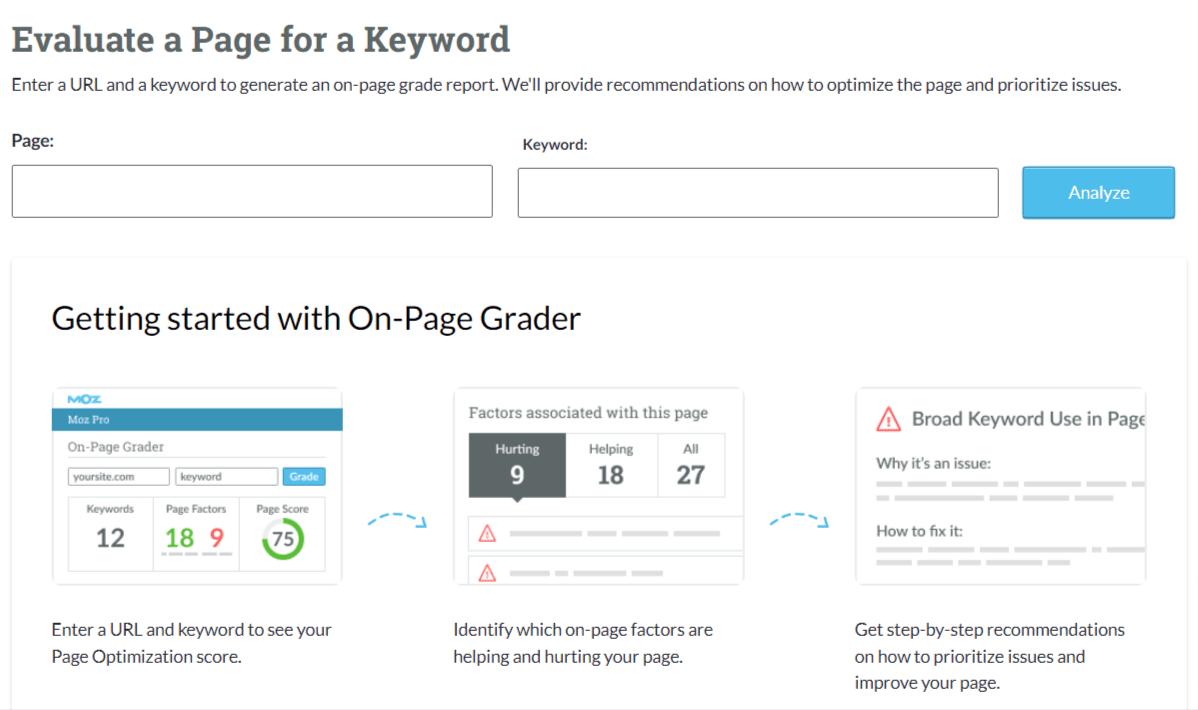 Most websites are provided this tool separately but Moz is not one of them, you can get their on-page SEO Tool which is "On-Page Grader", this tool checks all the On-Page Details like Title, Meta Description, and page location.
and also Analyze Your Page and provide a score, and also show the factors that are affecting your On-Page SEO which is quite a good feature.
this Tool will show you all the errors on your page so you can correct them and improve your page for SEO.
SEMrush:
SEMrush's Content Marketing tool has all the features that you need to uplift your Content Marketing journey.
SEMrush divides this tool into 5 Features which are: Topic Research, SEO Content Template, SEO Writing Assist, Brand Monitoring, Post Tracking, And Content Audit.
With their "Topic Research" tools you can discover a dozen topics related to your niches, you can find Find popular topics, headlines, and questions asked online to draw up a successful traffic-driving editorial plan.
"SEO Writing Assistance" Features provide a suggestion for better SEO For your content, this tool Checks your SEO score and originality, improves your readability, and adjusts the tone of voice to write an exceptional piece of content.
If you have to describe these features in simple words, then we can say SEMrush's Content Marketing Tool is one solution for your all content marketing Problems.
Moz Pro:
Moz is a good tool for SEO, as we can see above they are covering all the features of an Ideal SEO tool but currently, Moz doesn't have any tool for Content Marketing which is quite sad.
SEMrush: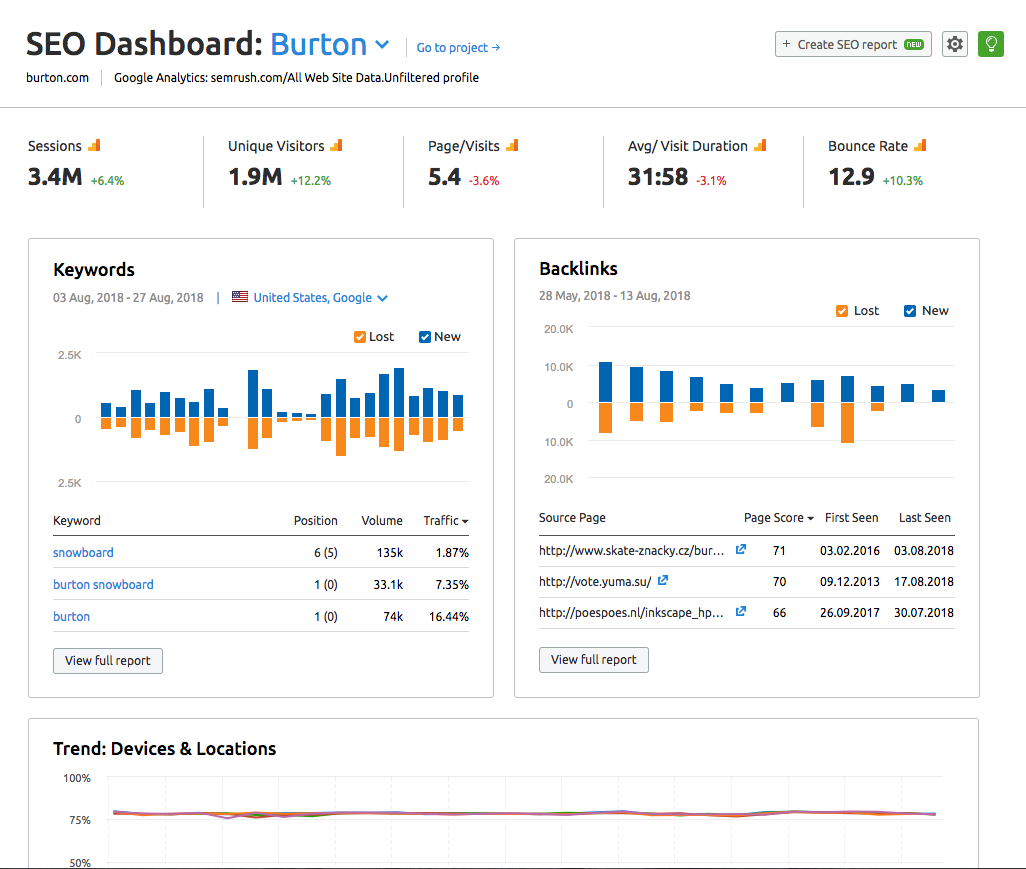 For Reporting SEMrush provides a specific feature which is "My Report" In this section you can see all reports you want, and in just a few minutes you can create insightful reports and automate your reporting and analytics process.
They also provide ready-to-use templates for your reports like Monthly SEO, Monthly Competitor Analysis, Google Ads Report, and more.
you can give clients immediate access to their reports with the Semrush CRM*. This builds a transparent line of communication between you and your stakeholders, plus it saves time.
You can Track your Every KPI With A broad range of data and data visualization, etc. al you can Personalize your PDF by integrating your brand with logos, colors, and more.
Moz Pro: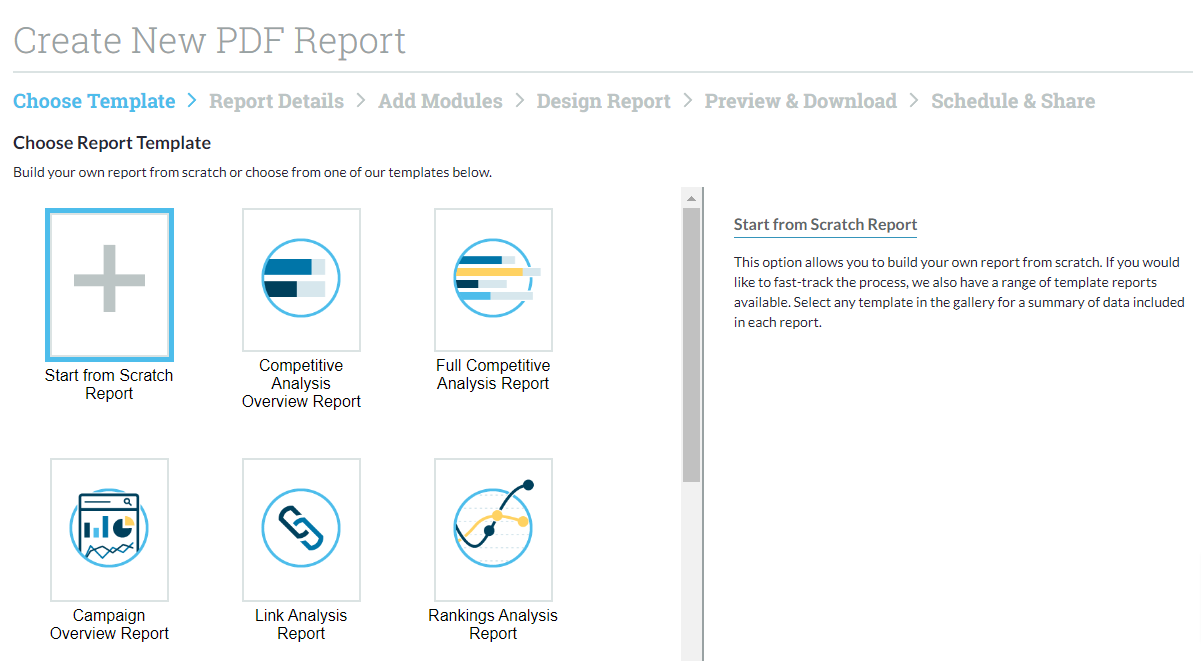 Moz provides a different section for reporting, which is "Custom Reports" in which you can customize your own reports, they provide a setup for creating a report which is very easy to create a report.
You can choose your own Report Templates like Competitive analysis reports, link analysis reports Campaign Overview reports, etc.
In simple words, This Tool allows you to build your own report from scratch. If you would like to fast-track the process, we also have a range of template reports available. Select any template in the gallery for a summary of data included in each report.
SEMrush:
Managing a website's backlinks is a pretty difficult task, but SEMruch makes things easy for you, Semrush provides a tool which is called "Backlink Analytics", with the help of this tool you can easily analyze your backlinks and your backlinks reports.
The interface of Backlinks Analytics features is pretty simple, even beginners can understand those metrics. there are lots of options like Checking referring domains, referring IPs, and Competitors' Backlinks.
with their "Backlink Audit" feature you can analyze your backlinks data and provide you the quality of backlinks, so you can save yourself from google penalties or other low-quality backlinks.
The "Backlink Gap" feature provides you data on backlinks that are missing from your site but your competitors have, simply this feature will provide you with more backlink opportunities.
It is hard to analyze every backlink of a website, but with the "Bulk Backlinks Analysis" Features, you analyze lots of backlinks at the same time, in just a few minutes.
SEMrush also has a "Link Building Tool" Feature you can acquire reputable backlinks with consistent outreach campaigns. by simply running your campaigns and automating them fully with this backlinking tool.
Moz Pro:
For backlink analysis, Moz has the "Link Research" Tool which has 8 features, but we will discuss only those which are made for backlinks, let's start with "Overview" you can check your data with this feature, "Inbound Linking" features show you the overall Inbound data of a website.
"Linking Domain" show the website from where we are getting backlinks and also shows the data of the website like its domain authority and the number of backlinks.
"Discover and Lost" Features allow you to check your new and broken backlinks. whenever you will get backlinks and lose backlinks to any site this feature will show you that data.
With the "Spam Score" feature, you can check the quality of your backlinks. this feature shows a parameter to identify the Spam score of the website's backlinks.
SEMrush:
Every company needs a better Customer Support System because every customer's Problem matters and SEMrush know it very well and that is why they come up with all the possible ways to talk to their customer.
SEMrush Has Three Features For Customer support:
Through Chatting: SEMrush knows this is the era of chatting and that is why they have a chatting option, in which you can chat with their support team and get a solution to your issue.
Feedback & Feature Suggestion: customer Feedback is important, Through these features, you can send your feedback, and also if you have any feature suggestions, you can also mention that.
Knowledge Base: If you have confusion about tools, like how they work so SEMrush makes a guide for all the tools, so you can simply understand how you can use them.
Moz:
We have never tried Moz's Customer Support, but we can say Moz is very serious about their customer support because on their pricing plan page, you can see on the top, they have mentioned: "All plans include a 1-on-1 walkthrough and 24-hour online support".
Help Hub Guides: For user help, they have created a section on the help guide, in which you can get every single detail of their tools.
Contact Through Email: They provide an option in which you can contact their team through email, simple you can enter all your issue and email address.
Community: With their Experts, Moz has a community, you can also join the Moz community and Ask your questions about Moz. A Moz Expert team will provide answers to your question.
Know their Plus & Minus Points.
Moz Vs SEMrush: Pros & Cons
Here are the advantages and disadvantages of SEMrush and Moz:
SEMrush Pros & Cons:
PROS
SEMrush Comes With a Simple to Use Interface
Come With one of the best Competitor Analysis Tools
They can provide a large number of data for reporting.
They provide a free trial option for their first-time users.
CONS
There is a limit to the number of projects.
The interface is simple but not that responsive.
Checkout- A Complete Review of SEMrush
MOZ Pros & Cons:
PROS
Better user experience with simple looking dashboard
Provide On-page SEO Checker with plans
Proving Free Trial Option
Responsive customer support is available 24/7.
CONS
Not mobile responsive
Not a lot of customization in the reporting.
Which One Do I Choose?
SEMrush Vs Moz Pro: Their Expertise
SEMrush Best For:
If you have a good budget and looking for some best tools for Digital Marketing, then we can say SEMrush should be on your "Must Have" list. If you look into its reporting feature, the data they are providing are impeccable.
And if we're talking about the overall working of this tool, then we can say they are providing a feature that is not just useful but also help you to improve the overall growth of your website or business.
If you have an agency or business and looking for a package of marketing tools, then without any doubt you can choose SEMrush. or even if you just start your online marketing work you can also go with SEMrush.
Best For:
Moz Pro Best For :
Moz has an extremely extensive set of features, which makes other services more understandable for businesses that are not familiar with SEO.
This being said Moz is currently one of the leading companies in SEO marketing. Moz's toolkit is versatile and makes an outstanding all-in-one toolkit for large and small enterprises alike.
Now we are coming to the point, Who can Choose Moz?? and In simple words "Everyone" who looking for the best SEO Tool, We are not saying this because this is our biased opinion or something, we are saying what they deserve.
As we said above, MOZ was made by a team of SEO experts who know what SEO Users need and they added all the features that require in an SEO Tool.
Best For:
Individual Blogger
Small Business
Which One is Better?
Conclusion: SEMrush & Moz Comparison
In this comparison of SEMrush And Moz, we just want to say that both of these tools are doing great in the field of SEO, Otherside SEMrush's Keyword Analysis is better than Otherside Moz's Competitive Analysis.
If we talk about their drawbacks then both tools have cons as we have mentioned above in this post, now we come to the point, Moz vs SEMrush, Which one is superior??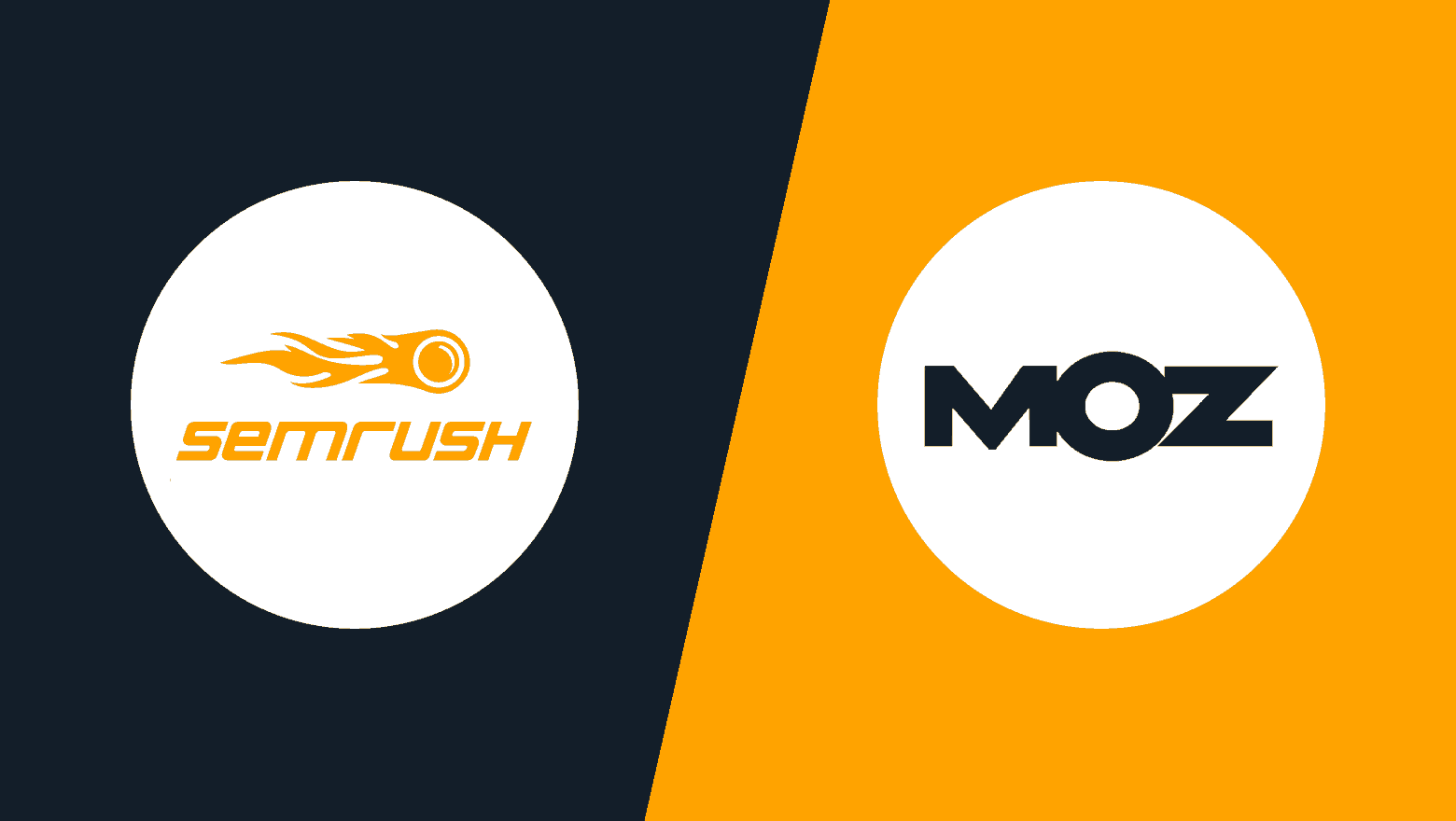 After this whole comparison, we have come to the conclusion, that both of these tools surely provide a good quality of service, but there are some features that are different in both tools.
So it totally depends on you, and what features you have requires so you can choose your SEO Tools wisely.
FAQs: Moz vs SEMrush Comparison 2023
Here we have added some frequently asked questions about SEMrush and Moz Pro.
What is one major difference between Moz and Semrush?
The one major difference between Moz and SEMrush is, that Moz's On-Page SEO Tool comes with their pricing plans and in the case of SEMrush, you have to buy it separately.
Is Moz or Semrush Better?
Both SEO Tools are doing better on their own because their pricing and features are very different.
Moz pro vs SEMrush, which has better pricing?
Moz Pro's basic plan price is $99/month and Otherside SEMrush's basic plan price is $119/month. if you go with affordability then you can go with Moz and if you looking for more features then you surly choose SEMrush.
SEMrush Vs Moz Pro, Which one is better for competitive analysis?
SEMrush and Moz, both tools are providing advanced features for competitive analysis, but there is a difference between their metrics accuracy, we think that SEMrush shows more accuracy as compared to Moz Pro.
Can I use Moz and SEMrush together?
Yes, you can use Moz and SEMrush together to get a more comprehensive view of your website's SEO performance. Moz can provide detailed insights into your site's link profile and on-page optimization, while SEMrush can help you analyze your competitors' strategies and track your search engine rankings.
Other SEO Tools Comparison Article
Get all the details about SE Ranking vs SERPstat, Check the overall comparison between Serpstat and SE Ranking, …
Compare Ahrefs and Ubersuggest with their Pricing and features & Choose the best SEO Tool, we have covered …