Get all the details about SE Ranking vs SERPstat, Check the overall comparison between Serpstat and SE Ranking, Compare Serpstat vs SE Ranking with their pricing, Plans, and features, and choose the best SEO Tool for you.
Sometimes it is hard to choose a better SEO Tool between the two most useful Tools, So it is hard to decide which is a better option for you.
But Don't worry, You don't have to care about it, We made this word easy for you.
For Choosing better SEO Tools between two tools, It is important to experience them. so after experiencing this tool…
We come to a conclusion that we are going to mention in this post, also we have mentioned how was our experience with their features.
Know More About These Tools.
SE Ranking Vs Serpstat: Overview
About SE Ranking
Se ranking is an Excellent SEO Tool Company that is doing a great job this the field of SEO, SE ranking provides a complete pack of SEO Tools, which you can use for enhancing your SEO efforts.
With SE Ranking you can spy on your competitor's Campaign and their top keyword and you can also check your Overall SEO report.
This Tool is mainly known for its Keyword Tracking tool which is quite impressive when we talk about its overall experience of this tool, we can say this is simple to easy, and the experience with tools is good!!
About Serpstat
When we talk about SE Ranking, Not just an SEO Tool comes to our mind, because SERPstat not only works as an SEO tool, but also includes other features for PPC, we consider this tool as a Growth Hacking tool.
The Founder of this tool is Oleg Salamaha, and he is so passionate about SEO Tools and working very long in the field of SEO.
SERPstats Consist of various features which can upfield your SEO Journey It provides backlink analysis and keyword research to help bloggers understand their audience better and improve their rankings on search engines.
and also you can surely try it for your PPC, and there are lots of things that we are going to discuss in this article.
Know Their Pricing.
Serpstat And SE Ranking: Pricing Plans
SE Ranking comes with Value for money pricing, the features they are proving at their price range are pretty good. Each Plan comes with different features and pricing, so simply you can check their features & Choose which plan is suited better to you!!
They have three plans and also their pricing depends on the billing you choose if you choose to bill for 12 months you will get a 20% Discount on their plans.
1. SE Ranking Essential Plan
This is the first Plan of SE Ranking and this plan covers all the basic features of SE Ranking including Competitive Research, Keyword Research, etc.
This Plan will cost you $31.20/month in which you will get 10 projects, a Website audit for 40000 pages, and an SEO Grouper option.
Features:
User seats: 1
Monitoring for 6,000 backlinks
On-page audit: 10 pages
Index Status Checker
SERP Analyzer: 10 keywords/pages
and more.
2. SE Ranking Pro Plan
Pro Plan Comes with some advanced features if we compare this plan with the first plan. the cost is more than twice but the features you will get also more than the first plan.
If we talk about Pro Plan Pricing so this plan will cost you $71.20 per month, with the features like keyword database expansion and Organic SERP history (three previous months).
Features:
Monitoring for 30,000 backlinks
On-page audit: 30 pages
Historical data on keywords/domains
Index Status Checker
SERP Analyzer: 100 keywords/pages
and more.
3. SE Ranking Business Plan
This Plan has all the advanced features that SE Ranking provides, if you are running a business or agency then this plan is made for you.
The pricing of this plan is $151.20 which is a reasonable price for a business plan, with this plan you will get an Unlimited number of projects including 20 competitors per project and a Website Audit for 700,000 pages.
Features:
Monitoring for 90,000 backlinks
On-page audit: 100 pages
Historical data on keywords/domains
Index Status Checker
SERP Analyzer: 1000 keywords/pages
API Access
Keyword database expansion: 25,000
and more.
SE Ranking Pricing and SE Ranking Plans – Choose The Best Plan

Know Their Total Cost.
As we come to the Serpstat pricing plan, You can say that they are providing such amazing services with affordable pricing plans, and the best part is if you don't want to choose their plans, and just want to experience this tool, you can try its free trial option.
This is the first plan of Serpstat which includes all the basic features, like rank tracking, site audit, and team management, etc. but has some limits.
This Plan is Best for SEO individuals, freelancers, and SMBs with a limited budget. you will get access to more than 20 tools for running SEO, SEM, and, PPC projects and analyzing the best online tactics of rivals to improve SEO the efforts of your projects.
This Plan Will Cost you $69/month, also you will get discounts on annual billing.
Lite Plan Features:
1 User
4,000 Searches per day
100,000 API credits per month
10 Rank Tracker and Site Audit
15,000 Tools credits
100 Share access
The standard plan provides some extra limits and extra features as we compare to Lite Plan. this plan is Ideal for established in-house teams and marketing agencies.
This Plan will cost $149/month, with the features like Access to Rank tracking API, Branded reports, and Extended Interface.
Standard Plan Features:
3 User
5,000 Searches per day
500,000 API credits per month
50 Rank Tracker and Site Audit
60,000 Tools credits
500 Share access
This Plan comes with the advanced features of SERPstats which include access to all the advanced features. This is the best value for big marketing agencies and large in-house teams with an extensive need for data.
Advances Plan will cost you $299/month, which includes features like Phone support, 1250000 Pages to Audit, and a Search volume crawling option.
Advanced Plan Features:
3 User
8,000 Searches per day
1,000,000 API credits per month
75 Rank Tracker and Site Audit
60,000 Tools credits
1000 Share access
This Plan is cover all the features of Serpstat, with this plan you can push your SEO marketing to the next level, This Plan is best for leading companies and large Agencies because this plan comes with a large number of data.
This Plan will cost you $499/month, this plan comes with an exclusive feature which is White Label reports which means you will get your reports without the Serpstat logo.
Enterprise Plan Features:
7 User
12,000 Searches per day
2,000,000 API credits per month
100 Rank Tracker and Site Audit
60,000 Tools credits
10,000 Share access
Serpstat Pricing Plans- Choose The Right Plan At Actual Price

Know Their Total Cost
Compare Their Features.
Serpstat Vs Se Ranking: Features Comparison
SE Ranking Dashboard:
When we compare the SE Ranking dashboard with other SEO Tools then we can say there is no major difference, the interface is very clean, and tools are managed in a better way, In simple words, we can say you don't have to suffer in finding any tool.
When you enter the dashboard first thing you will notice is their Campaign feature, which everyone needs and this is quite impressive.
when we look into the second feature, it has the "Competitors Research" tool, which includes all the features that require for your competitor's analysis. and the next tool is "keyword Research" which includes all the features for Keyword Analysis & Research.
and then SE Ranking's dashboard has a "Backlick Checker" for analyzing backlink data and a "Report Builder" for creating and customizing your SE Report.
Not just that they also include other features, but here we have mentioned all the SEO Tools.
Serpstat Dashboard:
The Serpstat dashboard allows users to visualize SERP data in a way that is easy to understand. It also provides insights into how effective your campaigns are.
With the dashboard, you can gain insights into how their SEO strategy is performing and identify which campaigns are working best for them.
when you will get access first you will notice the option of "Website Analysis" which basically analyses your website, then we can see the "Domain Overview" Option in which we can check overall domain performance.
In the "SEO Research" option you can see competitors, website position and top pages, etc. after that you can see PPC research, and then the URL Analysis option for checking URLs, and with the keyword research tool, you can research for a keyword.
With the backlinks analysis option, you can analyze your and competitors' backlinks. and there are also other features but currently, we don't need to discuss all of them.
Backlinks Analysis Comparison
SE Ranking Backlinks Analysis :
For backlinks analysis, SE Ranking has two tools and we can say these tools are enough to analyze your backlinks data, these Tools you can simply check your quality backlinks and also Monitor your backlinks
Backlinks Checker: You can Analyze referring domains, linking pages, and anchor texts and if want to know about your competitor's backlinks this tool does it for you also, you can measure the value of any backlink
Backlink Monitor: With this feature, you can keep your eye on your backlinks, and you can quickly identify and disavow bad links via this backlink monitoring platform tool, also Manage new and lost backlinks, backlink target ratio, dofollow/nofollow links.
Serpstat Backlinks Analysis:
Serpstat has a "Backlink Analysis" Tool, that helps marketers to find the best-performing keywords in their niche.
The tool provides a list of the top 10 keywords that are related to what you are looking for. It also provides a list of the most popular websites, that link back to your website.
With this one tool, you can do your overall backlinks analysis, like:
You can check the quality of backlinks to your site
Collect common link donors of your competitors
Analyze the results of your link-building campaign
Find malicious links you need to get rid of
Track lost and new backlinks
Make up a list of all anchors and link types.
Keyword Analysis Comparison
SE Ranking Backlinks Analysis:
For Every SEO Tool, creating a perfect keyword research tool is very important because the SEO Game depends on the volume of the keywords, so if a tool can't be able to show accurate data then we can the tool is not worth buying.
For Keyword Analysis, SE Ranking has two features: the first is Keyword Rank Tracker and the second is Keyword Research, let's discuss this keyword research tool.
Keyword Rank Tracker: This features track your specific keywords and their location, search engine, and device with 100% accuracy, also can analyze your search competitors for the specific keyword and much more.
Keyword Research: You can explore any keyword with the help of this feature, also you can your keyword list with similar, related, and long-tail keywords and Analyze any keyword against major SEO parameters.
Serpstat Backlinks Analysis Comparison:
Serpstat comes with a keyword research tool with a lot of features that can help you find the best keywords for your content. It provides you with the most popular keywords and search volume so that you know how many people are searching for it.
Basically, Serpstat divided its keyword research features into two parts and both features are doing a great job on their own.
Keyword Research Tool: Serpstat has the biggest keyword database which helps in collecting semantics for a site with such indicators: as volume, popularity, competition, and keyword difficulty. also, you can Analyze your competitors by keyword search results.
Keyword Trends: Serpstat claims that they have the first tool on the market for obtaining a list of trending search queries, and no competitors have analogs. You can collect a list of trending keywords and add them to your site, driving more traffic to conversion pages.
SE Ranking Rank Tracking: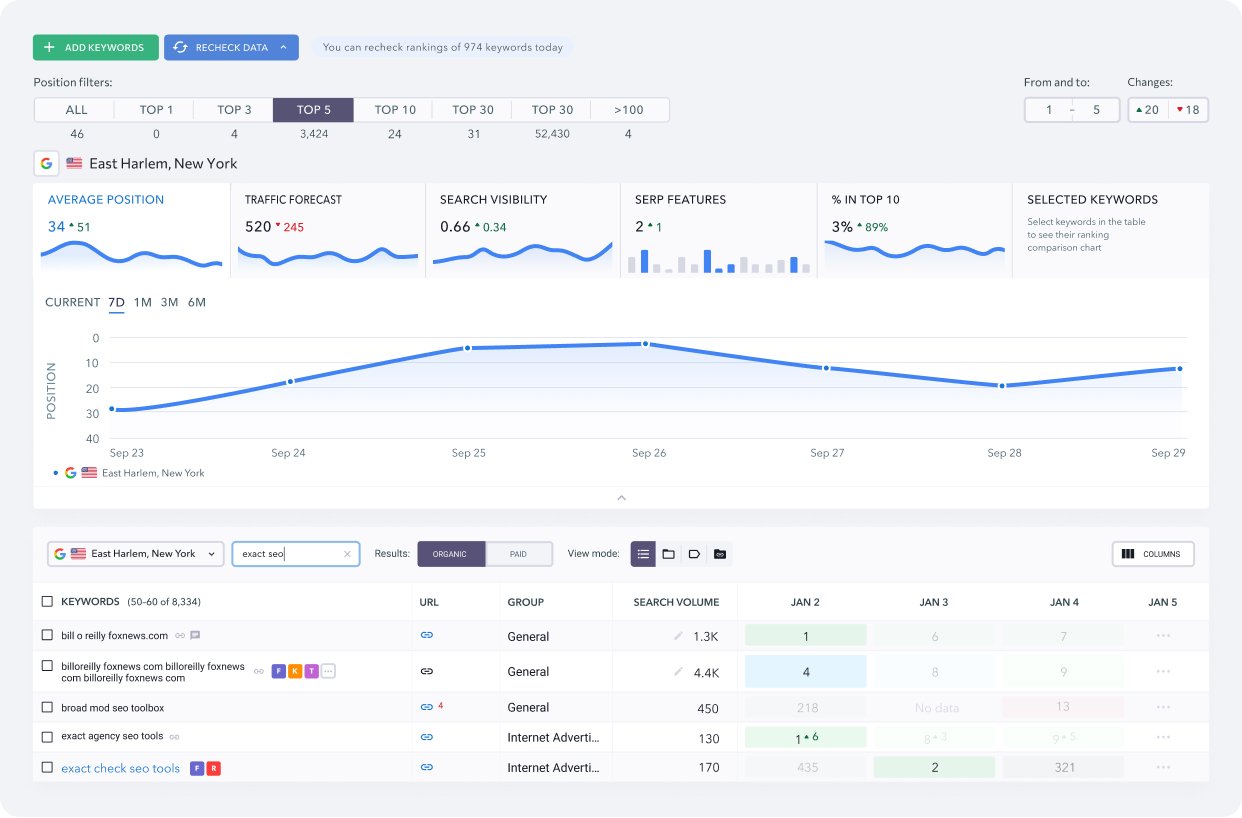 Checking how their keyword on SERP performs is a very important task and this is what the rank Tracking tool does, For rank Tracking SE Ranking has a "SERP Checker". with this tool, you can go beyond the basic SERP competitive research by analyzing pages' various SEO metrics in depth.
With SERP Checker you can understand what you should do to get your page ranked at the top of Google and Learn how many backlinks you need to rank higher than your competition.
Serpstat Rank Tracking:
With Serpstat's "Rank Tracking Tool," you can check global and local organic and paid search results of a domain and its competitors. It has a popular rank-tracking tool that allows you to track your website's ranking progress.
This rank tracking tool helps you to track your website ranking worldwide, you can track the ranking of your competitors, and in some clicks, you can group your keywords by tags and you can also Set up a schedule for automatic reports with changes' dynamics.
Competitor Research Comparison
SE Ranking Competitor Research:
Before creating content on any keyword, it is crucial to check how are our competitors performing and SE Ranking do this work easily for you, For Competitive Research SE Ranking has "Competitive Research".
With the Competitive Research tool, you can check your competitors' website traffic dynamics in organic and paid campaigns with this SEO software tool, Study your major competitors, find SERP newcomers, and compare your keyword list to that of your rivals
More than that you can get a full list of your competitors' target search queries and analyze them against key parameters.
Serpstat Competitor Research:
For Competitor research, Serpstat has a "Competitors Analysis" tool, This competitor analysis tool helps to find relevant online competitors, collect and analyze their most popular pages, the keywords which they use for promoting, ads that bring sales, identify an estimated budget and organic traffic of the site.
They have a competitor analysis graph option which clearly shows where your brand stands, now the point is what you can do with the competitor analysis tool. So here are some points:
Find your competitors in SEO and PPC
Find for which keys competitor pages are being ranked
Collect the best keywords of competitors for SEO and PPC
Find out the most popular pages of competitors that attract traffic
Spy on all ads of the competitors
Track domain visibility and traffic
SE Ranking Site Auditing:
Many don't do but a Website Audit is very important for a website because it is important to know the overall health of the website, like every SEO tool provides a Site Auditing option, SE Ranking has "Website Audit".
With Website Audit, you can find every crucial and minor issue that's holding your site back from top ranking spots, This tool suggests fixes to quickly optimize your site.
You can compare audit reports to learn what worked and what didn't with this search engine optimization tool
Serpstat Site Auditing: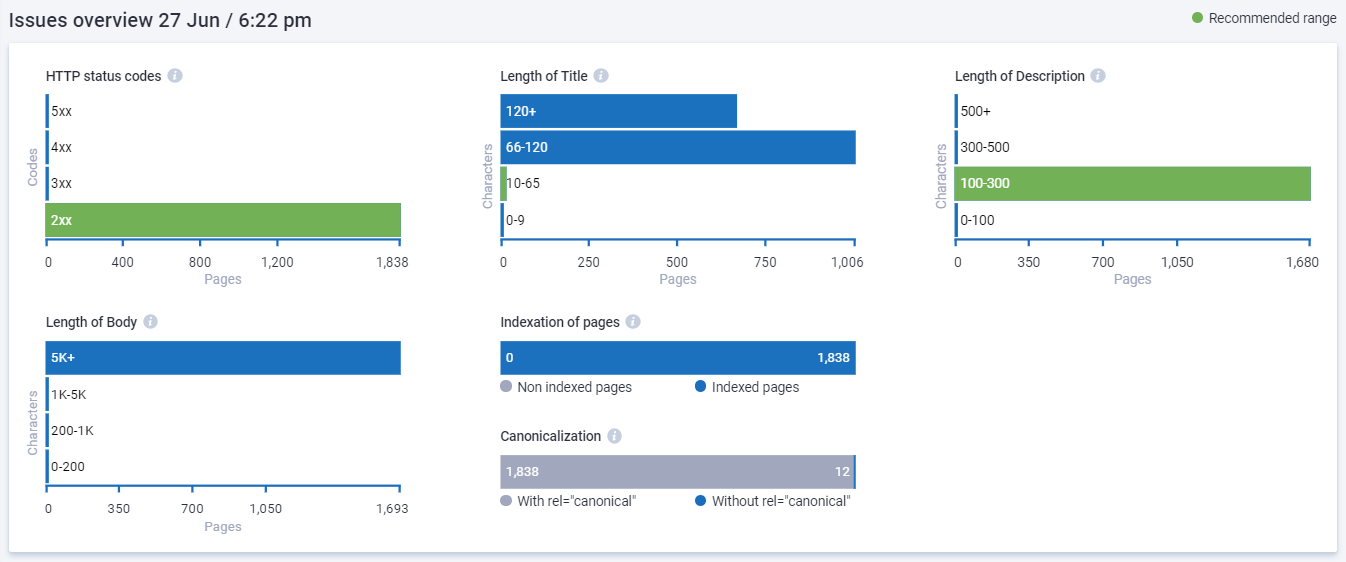 With the Serpstat Audit tool, you will get a quick and advantageous audit of any site allows you to find technical issues that affect optimization and site visibility. Audit results are displayed by priority and include issues and detailed recommendations for their elimination.
One of the biggest reasons to use Serpstat is that it has an incredible feature of Site Audits which you can use to run daily audits of your site.
You can get those audits mailed to your email account so that you can quickly make changes to your site to avoid SEO or technical-related issues.
SE Ranking On-Page SEO:
Sometimes we messed up with on-page SEO work because, without an On-Page checker, it is hard to determine what things work for better SEO, so SE Ranking's "On-page SEO Checker" makes on-page work easy for you".
These tools provide a detailed report on how well the particular page is optimized, with one click you can download a list of required fixes and recommendations and review the main parameters of your URL so that it features correctly on SERPs.
Serpstat On-Page SEO:
For On-page SEO, Serpstat has Page Audit Tools. this Tool finds out all the errors on your page, withing a few minutes this tool analyzes all the data of your on-page and also provides a recommendation to make your page More SEO Friendly.
Not just your page, you can also analyze your competitor's page and get their on-page information. so you can easily compare your page with theirs and get an idea of how you can optimize better.
SE Ranking Reporting: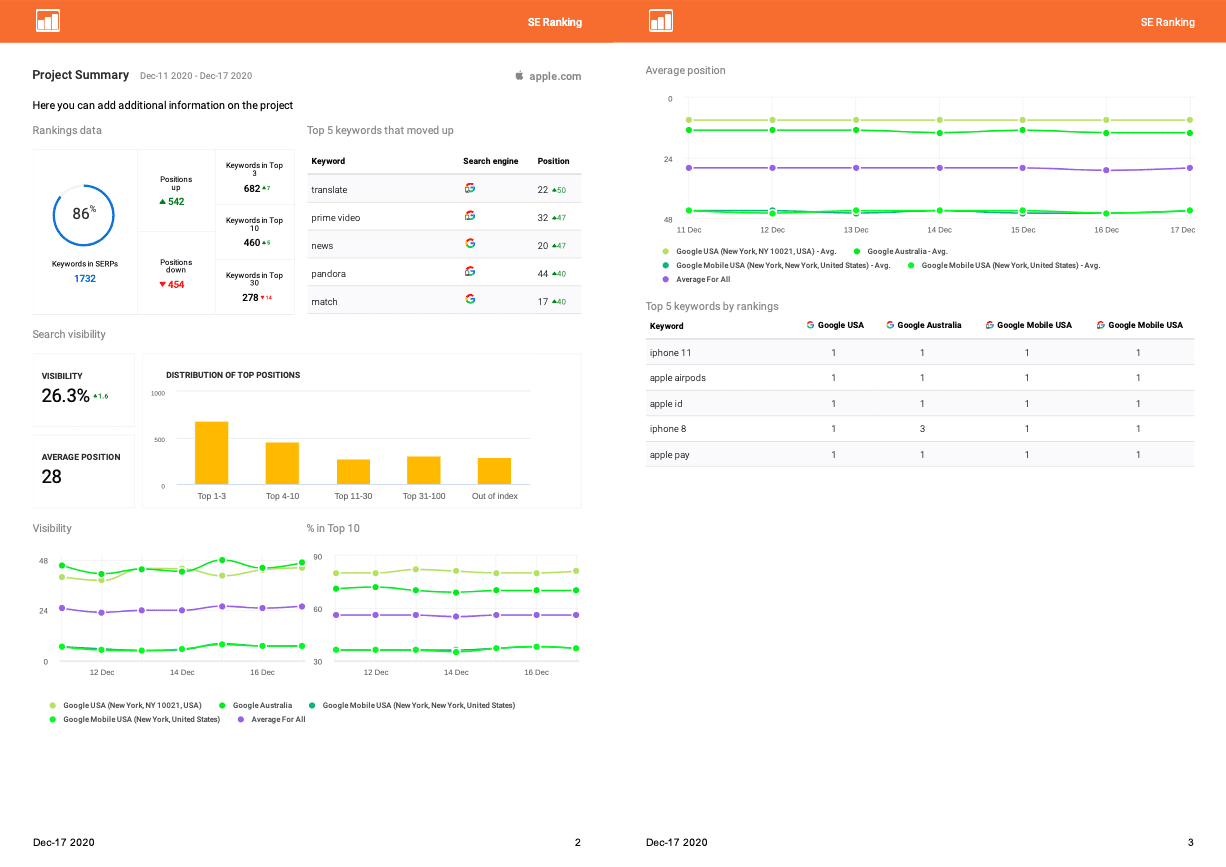 It matters how better you can show your data to your client because it makes a pretty good impression and is easy to understand. and SEO Tools company know it very well and that is why they create an option for Customizable reports.
With SE Ranking you can also create an impressive customizable report system, by using SE Ranking's Report Builder you can save time and resources with our advanced reporting tool: elaborate, customizable, and easy to comprehend.
Plus you can send out reports on-demand or set up an automated schedule.
Serpstat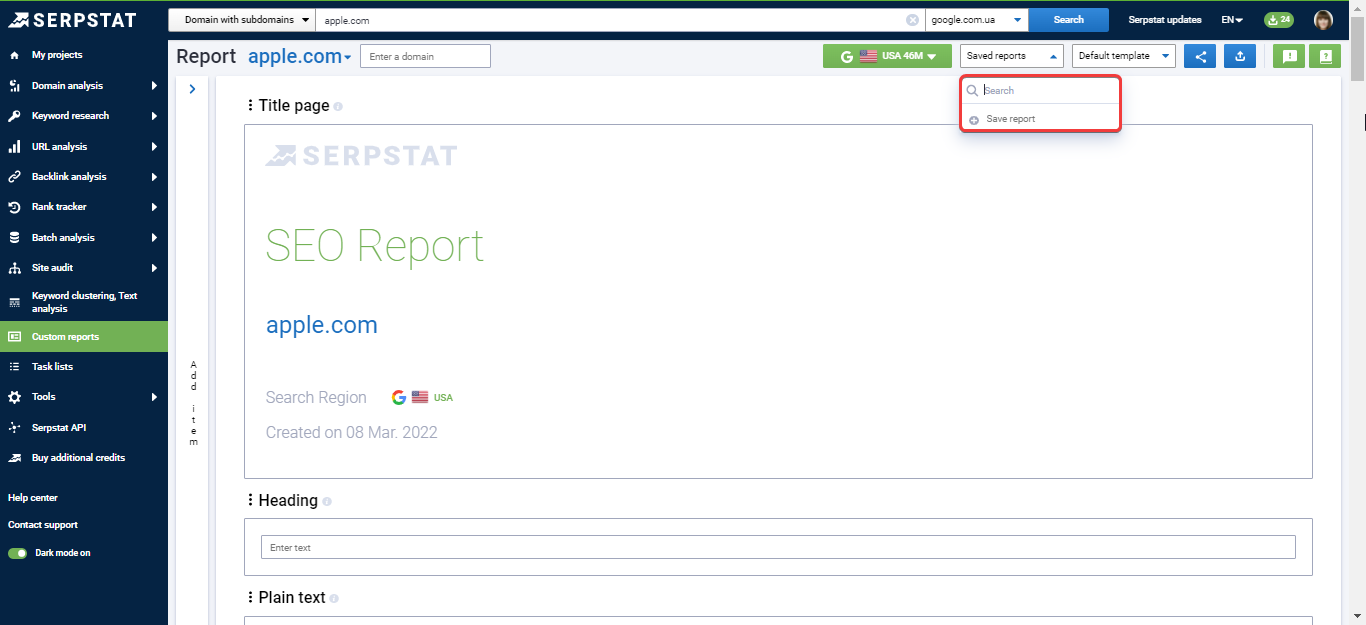 Serpstat Reporting provides a wide range of data and insights for marketers to make better decisions. with the option of creating a custom report, you can combine your large number of data at one point.
Custom reports allow the user to manage their data in their way, but some websites in the name of custom reports, provide very few options for customization, but with Serpstat you can make your report in your way.
Customer Support Comparison
SE Ranking Customer Support:
The better Customer Support, the more company cares about their customer. Let's Look into how SE Ranking solves the problem of their customers.
If we look into SE Ranking's Help Page, There have three options which are Getting Start, Knowledge Base, and FAQs. Let's discuss this in more detail.
Getting Start: When you click on this feature, You can see a video and some content that overall tell you all the details & Features of SE Ranking.
Knowledge Base: This Option tells more in-depth details related to SE Ranking.
FAQs: This option collects all the queries related to SE Ranking, including Issues and How to Process.
Se Ranking also has a Contact Page where you can see an option for Email Contact, so simply you can send your problem through email. also if you are a user from USA or Uk, you can contact them by phone.
Serpstat Customer Support:
As we said before, Customer support is very important for business, and as we are knowing more about SERPstat We find out their customer support team is very good at their work, and unlike some other SEO tools companies, they are providing a phone support option, but only for Advanced and enterprise plan.
Here is how Serpstat can help their customer:
Consultation: This is a premium and paid feature of Serpstat in which you can contact them through spy and Google. also if you can Adnvace and enterprise plan, you contact them on call.
Webinar: To know this tool better, Serpstat provides a Webinar option, these webinars are announced by the team, so if you want to know this tool better you can join them.
Email Support: If you have any queries related to their tool, simply you can mail them, and they will respond to you as soon as possible.
Serpstat Academy: This Place is made for learner and new users, in this place Serpstat provide lots of knowledge aside from their tool.
Know Their Benefits and Drawbacks.
Serpstat Vs SE Ranking: Pros & Cons
Here are the good and bad sides of both SEO tools:
SE Ranking:
PROS
Plans Prices are pretty affordable.
Their Keyword Tracking Tools are favorites of many.
Very easy to setup
Their Reporting Feature is awesome.
Cons
Quick Support is not available.
Some reports are not so accurate
Checkout- Complete Review of SE Ranking
Serpstat:
PROS
It is providing a Free Trial option for trial option fr their first user.
You can Schedule daily, weekly, or monthly reports
Keyword Clustering features are one of the unique features.
They have white-label and brand reports
CONS
Their accuracy of keyword difficulty is not that good.
The dashboard is a little bit low
Checkout- Complete Review Of SERPstat
Reason To Choose.
SE Ranking Vs Serpstat: Their Expertise
Why You Should Choose SE Ranking:
As we have mentioned all the points of SE Ranking now we come to the question which is very important to ask. for whom is this SEO Tool made and why SE Ranking is best??
Let's Come to our point, As You have mentioned above and also mentioned by many reviewers, the SE Ranking's Keyword Tracking tool is pretty good.
And the second thing people like about it is, that this is very easy to set up. aside from that their pricing plans are affordable.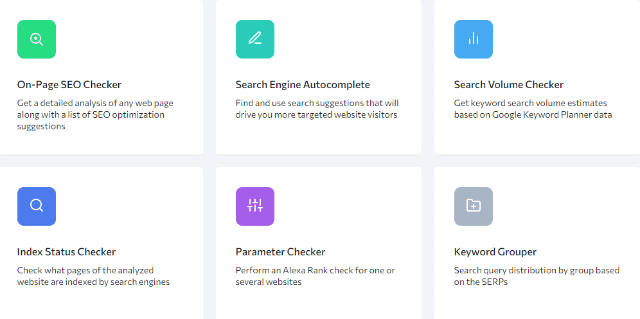 So as we have mentioned all points that we find out SE Ranking works better in that point, so if you are thinking all these points matter to you then you can go with SE Ranking.
Then what about other features? They don't work well?? Nah, we never say that!! We SE Ranking becomes a leading tool in the industry of digital marketing and they are serious about their features so, of course, their other features are also good.
Why You Should Choose Serpstat:
Serpstat is a leading SEO software that helps businesses to improve their rankings on search engines. It has been in the market for over 10 years and has helped thousands of businesses to grow their online presence.
It has a clean interface that makes it easier for marketers to see how their ads are performing. It also gives them the ability to set up alerts, so they can get notified when something goes wrong with their ad or campaign.
Serpstat is the perfect tool for any content marketer & SEO who wants to find new keywords or do competitive research. It has a lot of features that make it easy to use.
You can set your budget, specify the time frame, and even choose what type of device you want to use. Serpstat also provides some great insights into how well your chosen keywords rank on Google.
Which One is Better?
Conclusion: SE Ranking and Serpstat Versus
Finding the best SEO Tool is not that easy for any user, there have lots of things to notice. if someone asks us how we choose a better SEO Tool.
We tell them a simple point, you don't have to find the best SEO Tool in the world, all you need to know is what features you require and which company provides it better.
Now there is still a question in your mind, SE Ranking vs Serpstat which one is better?? Right??
Let us clear your point, as we said above there is no need to know which one is better, there are only matters which one is suitable for you.
If we talk about SE Ranking, their Competitive analysis tool is working pretty well and Otherside when we talk about Serpstat, people like their keyword research tool.
So, we can say, both of the tools provide the same Tools but their pricing and plan features are different. so you can choose which plan is best and suitable for you.
Serpstat Vs SE Ranking: FAQs
Here we have added some frequently asked questions related to Serpstat and SE Ranking.
What is one major difference between SE Ranking and Serpstat?

The one major difference between SE Ranking and SERPStat is their pricing, where SE Ranking starts at $18.6/month, and the other side Serpstat starts at $55/month and the features they provide in these pricing plans are also different.

Is Serpstat or SeRanking Better?

Both tools are capable to handle any SEO Task, SE Ranking has a better option for Competitor analysis and Serpstat has a better rank-tracking tool.

SERanking vs SERstat, which has better pricing?


SE Ranking costs you $18.6/month but it has some limited features as compared to Serpstat's first plan also Serpstat includes PPC Option.

Serpstat Vs SE Ranking, Which one is better for competitive analysis?

As we focused on many reviews for SEranking vs Serpstat, we found out SE Ranking has a better competitor analysis tool and
Other SEO Tools Comparison
Compare Ahrefs and Ubersuggest with their Pricing and features & Choose the best SEO Tool, we have covered …
Get an Overall Comparison of SEMrush vs Moz pro, Compare their Pricing, Plans, and features. Moz vs SEMrush pros & …