Compare Mailpoet vs Mailchimp with their Pricing and features and Choose the best Shopping cart platform, we have covered all the possible topics about Mailchimp and Mailpoet.
So if you are looking for a better Mailchimp and Mailpoet comparison this post is made for you!!
This Article is Really going to help you to get complete details for both email marketing services Mailchimp and Mailpoet.
Well, sometimes many people are confused about which email marketing software is best to get their desired results. That's why you're reading this article to clear all your doubts and pick the Right email marketing tool for you.
We're covering all the necessary information & detailed comparison between Mailpoet vs Mailchimp email marketing tools in WordPress. Help you to pick the right plugin to grow your business to the next level.
So without wasting a second let's dive in.
Let's Figure it Out!!
Mailpoet And Mailchimp: Quick Comparison
Here is a quick summary of both email marketing platforms.
| Feature | Mailpoet | Mailchimp |
| --- | --- | --- |
| Price | Free plan, $15-$65/month | Free plan, $9.99-$299/month |
| Email Templates | Customizable templates | Customizable templates |
| Email Editor | Drag-and-drop editor | Drag-and-drop editor |
| Subscriber Management | Unlimited subscribers | Limited subscribers by plan |
| Segmentation | Available | Available |
| Automation | Available | Available |
| A/B Testing | Available | Available |
| Integration | WordPress plugin | Integrates with various apps |
| Analytics | Basic analytics | Advanced analytics |
| Support | Email support, knowledge base | Email support, live chat |
Note: Features and pricing may vary based on the plan.
Know These Tools Better.
Mailchimp Vs Mailpoet: Overview
MailChimp, We all know this is one of the Top most Email marketing tools in the industry.
We are also called the All-in-One Email Marketing tool for growing businesses. Now Mailchimp has millions of customers using their services and Actually getting the results they're looking for.
Today Mailchimp offers more than email marketing services like – Landing page creation/ Social media posts/ Facebook and Google ads/ Retargeting Ads/ Marketing Automation and More.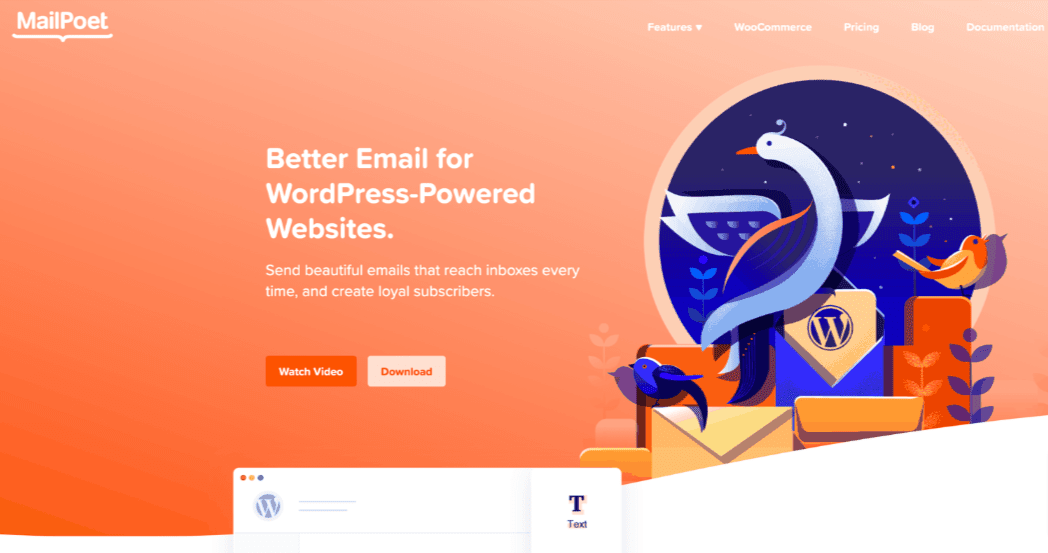 MailPoet is one of the Powerful email marketing tools built for WordPress. Well, Mailpoet is WordPress centric email marketing plugin.
The best part about MailPoet is, they offer only One thing Email Marketing Service, and They offer this service well. Mailpoet sends the best Email directly from WordPress. MailPoet has 300k users across the world.
In MailPoet, two things like competitive edge:
Everything inside WordPress: With the help of MailPoet you can design & send a New Engaging Newsletter without leaving your WordPress dashboard. It's super Easy to Use & Start Email marketing.
Minimal Learning Curve: Mailpoet is Super Easy to set up and Use. Even if you're a beginner you can create your first Email Campaign in a few minutes because of MailPoet's Good interface and Super easy to use.
In this article, we're going to discuss major differences and Their Best Uses for doing email marketing. For your Convenient, We're comparing these two plugins side by side so that you don't need to focus too much to make decisions on which plugin is best for you.
We Announce the Winner At the End after a complete comparison.
So, When choosing your Email Marketing plugin we make sure that all comparisons between Mailpoet vs Mailchimp and their Points must be important for you to consider which one is best.
Let's Discuss This.
How To Choose A Better Email Marketing Tool?
Email Marketing we used for growing business Because:
Everyone Check Email Daily: Now emails becoming our primary source, we communicate with others professionally, and we check our emails daily. Every professional Work/ Job letter/ Notice always comes to our Email that's why we can't ignore the power of this Email Platform to grow our business
Much cost-effective: Email Marketing is much more cost-effective than any other social media platform. Seriously, you don't need to spend lots of money on email marketing just by spending one time you massive results for a lifetime.
Fastest Way to Increase Traffic on your Website: If you're running a website or any Funnel and ready to start getting results, Email marketing gives you a boost. This is Cost effective method to drive traffic to your website easily. Just Send the audience a template or announcement Mail and they click and visit your Website.
Better Tracking And Analysis: The Best Tracking you can do with email Marketing is because in Email Marketing you can exactly analyze who checks your mail/ Who Open/ Who clicks your link etc depth analysis. This helps you to Gain the right idea about How to Nurture your audience and offer what they're looking for.
Strength Relationship with Existing Customers: You can send Emails to nurture an audience/ wish them on their birthdays/ Give them great deals/ give them values etc. this is the Easiest way to connect with your audience and Realise their importance in your business.
Gain New Customers(Leads): Suppose, you just have an Email List and Now you start Email Marketing and offer them the best services. Probably they are interested in your products or services So they become your clients from leads. This is How you can build your New customers Easily.
Compare Their Pricing.
Mailchimp And Mailpoet: Pricing Plan Compared
Both Email marketing Tools Have Affordable Pricing Plans, so you don't have to think twice before buying any plan:
In Mailchimp Paid Plans like Subscriber Based Plans and Pay-As-You-Go pricing models.
In Subscriber Based Plan has features like:
$11.00/Month for 500 Subscribers
$17.00/Month for 500 Subscribers
$299/Month for 10,000 Subscribers
Mailchimp Pricing Plans – Right MailChimp Plan & Total Cost?

Check All Plans and Their Total Cost.
MailPoet offers two Premium plans: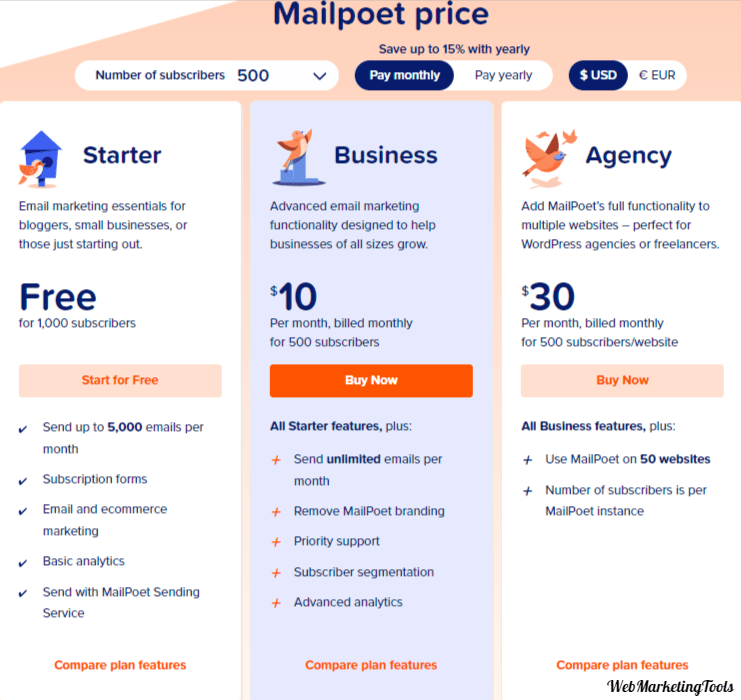 The Business Plan: We're talking about is, $10/month which offers all the Premium newsletter features but without Email Sending Services. This Plan for those is Most Valuable who have a large number of Subscribers and Want to nurture their audience so you can go with this plan to optimize your Email Marketing Campaign.
The Agency Plan: Includes Premium features plus you get MailPoet Email sending services. This plan starts at $30/Month for 500 Subscribers. Remember your First 1000 Subscribers' services are Absolutely Free for all Premium tools. And After reaching 1000 Subscribers mail poet charges its essential plan.
Compare Their Features.
MailPoet Vs Mailchimp: Features Comparison
Let's Start all Major Features Comparison between Mailchimp vs Mailpoet:
Email Marketing Within WordPress 
Mailpoet is One of the Best Email Marketing tools in terms of Manual and Automated Email Marketing. Because in MailPort you can Design, Build and Send Emails and Newsletter Manually and Automatically directly from the WordPress dashboard. It's easy to access and No Technical Skills are Required.
Mailpoet doesn't Require Any Account registration or account activation like Mailchimp.
This plugin allows you to connect your WordPress site to your Mailchimp account and enables you to create and embed subscription forms, collect email addresses, and send emails to your subscribers directly from your WordPress dashboard.
Strong chances when you send it to your audience Get ready for more Subscribers in your newsletter.
Simply, with MailPoet You easily Run your Email Marketing Campaign nurturing your Audience just by using the WordPress dashboard.
In Mailchimp email marketing tools you get additional features but they're paid not free as MailPoet Email Marketing Tool.
You can use Mailchimp for email marketing within WordPress by installing the Mailchimp for WordPress plugin.
So, in this Battle MailPoet tool wins.
In the Mailchimp Email Marketing tool when you use to send newsletters, Mailchimp has a bit of a learning Curve. In Mailchimp plugin, it has an amazing UI and Lots of Great Features.
But in Mailchimp, if you want to send a Newsletter to your targeted audience you need to do a whole lot of configuration or setup Systems – like domain Verification / Linking API / other Technical Steps (If Required).
It Means in marketing purposes you can Market your audience / Nurture them / Deliver your Email and Newsletter but if You're looking for Super Easy Setup not doing any technical work in that way maMailChimpay not be the right option for you. And that's where MailPoet Comes in.
In MailPoet, It's Completely easy to set up your Desired Campaign as Simple as Installing a plugin in WordPress.
All you need to do just select the Email Or Newsletter you want to send to your Target Audience and then you can Start Designing your campaign through campaign builder super easy to use and build a campaign in a few minutes. This is a Drag and Drop tool.
Overall, when it comes to using all features without doing any technical Set-up or any Manual work then we choose Mailpoet as a Light and Easy plugin to use without putting in the effort. You'll see that creating campaigns in Mailpoet is So Easy.
Email Stats and Analytics:
This is Something you need to look at Seriously, When we Talk about the Mailpoet Email Marketing tool, in terms of Email Stats and Analytics they offer basic levels of Email Stats Like – Open Rate and Click Rate in the Mailpoet Free Version.
Because of Advance delivery Reports and High Statics, you need to upgrade your plan to a paid plan. 
Wait If You're a user of MailPoet then a big Surprise for you i.e., you get paid Premium plan for free if you've 1000+ Subscribers.
In Mailchimp, This is completely at the next level. Even Mailchimp's free Version gives you advanced-level features like delivery insight, open/click rates, comparison to the industry average, top links, top locations, and many more.
Mailchimp wins this battle.
Email Campaign (Post Notification Emails):
In this feature let me tell you the truth, MailPoet and Mailchimp both have Great Drag and Drop Email builders.
Where MailPoet offers 50 Pre-built email templates in their Free Version. Whereas in Mailchimp most of their Pre-built email templates are available in the paid plans only.
Mailchimp Email Builder offers Such as the ability to insert gift / Instagram Posts and many exciting additional features. Mailchimp Email Builder is like a content studio.
That's something new, it's a Tie between Mailpoet and MailChimp email marketing tools.
When we talk about Post Notification Email
Mailchimp sends post notifications by the WordPress site's RSS. It's by default because WordPress sends the entire post content in the RSS feed.
There is a limitation in Mailchimp to edit or customize post notification emails.
On the other hand, MailPoet has Robust integration with WordPress that enables to pull of post information from WordPress databases.
Thanks to this Integration with WordPress now you've tons of editing options and Customising options in your Email notifications in its Automatic Latest Content.
This results, in you creating far more content with lots of editing in post notifications with MailPoet.
In MailPoet it takes less than 15 minutes to create post-notification emails.
Stills it's TIE, Mailchimp (Newsletter and Drip campaigns), MailPoet (Post notification Email).
MailPoet offers three Email delivery options:
Email Delivery via your web Host: If we talk about this method, this way you can actually reduce your Email marketing expense. But if it's free keep in mind that it has very Poor email delivery rates. And still, you're using this method to over limit your account can be suspended or terminated.
Email Delivery Via 3rd-Party Services: Yes, You can go with a third-party option, Mailpoet supports third-party like Amazon SES or SendGrid to Emails. By using a third-party method you can send emails
Email Delivery via MailPoet's Email Sending service: Mailpoet uses its own email sending services. MailPoet email delivery service is capable of sending 50,000 Email Per hour. The Best part is, you can enjoy this service without spending money. It's completely free. Where You can send Unlimited emails to up to 1,000 subscribers for Free.
In Mailchimp, As We already know that Mailchimp offers world-class Email delivery rates Because emails are sent via Industry-leading infrastructure.
Free Plan: Subscriber & Email Limits :
Mailchimp offers a Free Plan that you can use, in this free plan you get 2000 Subscribers limit with a maximum email sending capacity of 12,000/Month.
Mailpoet offers its Premium Plan for absolutely Free up to the 1000 Subscribers limit. This means you can Enjoy all Premium features offered by MailPoet Such as Brand removal, Advance Analytics, and WooCommerce Emails all for Free Till 1000 Subscribers.
There Are Two takeaways :
MailPoet offers unlimited email sent to 1000 subscribers & Personally, this is a Great deal to use it. In Mailchimp, you can send 12,000 emails/month to up to 2000 Subscribers.
Mailpoet is the only Premium Plugin in the market that offers you all Premium features in its free Plan with up to 1000 Subscribers.
A/B TESTING & Automation Emails:
In MailPoet they don't offer any A/B Testing in their Services but in another hand, MailChimp offers A/B Testing in their essential Plan so that you can get desired results.
So, if you're looking for A/B testing Email marketing tools then you need Mailchimp this time. They offer the best possible A/B Testing Methods in your Email Marketing Campaigns.
MailPoet offers Automation emails (like welcome & drip campaigns) and the amazing thing is this Automation feature is by Default for Your 1000 Subscribers to get more Engagement with your Target audience.
But Mailchimp offers this automation in their paid plan of $14.99/Month for 500 Subscribers.
Mailchimp Support Email Integration with WooCommerce with a plugin i.e., Mailchimp for Woocommerce. This Plug-in is already used by 500,000+ Users but the rating of this plug-in is only 2.3 which indicates users are not getting desired features they're Looking for. 
The team of MailPoet said that they're working on users' requirements and make sure in future updates they'll cover all their requirements in their Woocommerce plugin and Increase their Rating with Genuine Users.
After getting details, MailPoet soon launches new features that include:
Automated Transactional emails while Sign-up/ checkout/ First Purchase
Automated Product Recommendations Email Ex- Purchase this Category or purchase
Customer segmentation, based on past purchase
Customer list and revenue per email
These Promises are Given by MailPoet that they'll add these features Soon to their plan.
So the winner is Mailchimp (Now) and MailPoet after they release these features.
Key Factors to Differentiate These Platforms-
Mailpoet and MailChimp: Major Difference
Mailchimp and Mailpoet are both popular email marketing platforms, but there are some major differences between the two.
1. Integration:
Mailpoet is a WordPress plugin that integrates with your WordPress website, while Mailchimp can integrate with various platforms including WordPress.
2. Pricing:
Mailpoet offers a free plan and affordable paid plans based on the number of subscribers, while Mailchimp offers a limited free plan for up to 2,000 subscribers and more expensive plans for larger lists.
3. Features:
Mailpoet focuses on email marketing features, such as email templates, drag-and-drop editor, and automation, while Mailchimp offers additional features like social media integration, landing pages, and multi-channel marketing.
4. Support:
Mailpoet offers email support and a knowledge base, while Mailchimp offers live chat and email support, along with a comprehensive knowledge base.
Mailpoet is a good choice for those who use WordPress and want a simple email marketing solution, while Mailchimp is a better option for those who need a more comprehensive marketing tool with additional features and integrations.
Check out the good and bad sides-
MailChimp And Mailpoet Pros And Cons
Here are the plus and minus points of both email marketing platforms.
Mailpoet Pros and Cons:
Pros
User-friendly WordPress plugin
Affordable pricing plans
Unlimited subscribers and segmentation
Automation and A/B testing features
Customizable templates and drag-and-drop email editor
Cons
Limited integration options
Basic analytics
No phone support
Mailchimp Pros and Cons:
Pros
Free plan for up to 2,000 subscribers
Advanced analytics and reporting
Integrates with various apps
Advanced automation and A/B testing features
Live chat and email support
Cons
Expensive pricing plans for large subscriber lists
Limited features on the free plan
Limited customization options for templates
Which Email Tool is Better?
Conclusion – Mailpoet Vs MailChimp Comparison 2023
Now We'll conclude this article by discussing complete details about both Email Marketing tools and the best plug-in for WordPress.
After this Tough Fight, we can say that Mailchimp Email Marketing tools are for those who want more than just Email Marketing, they give them access to lots more features to play with / Try and Test to get Better Results.
Like – Social Media, Paid ads, Retargeting ads, and managing revenue it's like a complete online business management dashboard for you.
If Your requirements like Marketing based and Presence show in all social media types then you should go for the Mailchimp Email marketing tool.
MailPoet is for those people who want a Simple Email marketing tool, with only one thing to focus i.e., Email Marketing or nurturing the audience.
Where you can manage this email marketing with a WordPress dashboard. Just want to optimize your email list then this Tool is for you.
Overall, email marketing is all about Growing your business, nurturing your leads, and Generating Sales. You should pick the right tool based on your requirements.
FAQs: MailChimp And Mailpoet Versus
Here we have added some frequently asked questions about Mailpoet and MailChimp.
What is Mailpoet?
In simple words, we can say MailPoet is a free email newsletter plugin for WordPress that is currently used on over 400,000 WordPress websites. 
What is Mailchimp?
Mailchimp is an all-in-one marketing platform that helps you manage and talk to your clients, customers, and other interested parties
Which one do you choose in comparison to Mailchimp and Mailpoet?
Both email marketing tools are pretty popular, you don't have to be confused by asking which one is better, simply you have to know which features you want and which tools are providing those features.
Mailchimp vs Mailpoet, Which has Better Pricing?
Mailchimp and Mailpoet, both tools are providing pretty good deals and free plans. so if you just want to start you can choose their free plan. otherwise, the Mailpoet plan starts at $9.
Why Email Marketing is a Must for a Growing Business?
Email Marketing is all about Gaining new Customers, and getting their attention through email to our business. In Email Marketing our Main purpose is to send the information/ offer/ Deal/ Notification so that our audience remembers us and our Work