Are you looking for the best comparison between Groovefunnels and Clickfunnels?
Compare Groovefunnels vs Clickfunnel with their Pricing and features & Choose the best Salesfunnels, we have covered all the possible topics about Clickfunnels compared to GrooveFunnels.
Unveiling the Battle of Sales Funnel Titans! Discover which platform reigns supreme in this comprehensive comparison.
Explore the features, pricing, and performance of GrooveFunnels and ClickFunnels to make an informed choice for your online business.
Get ready to supercharge your sales funnels with the ultimate winner!"
In this article, we have discussed all the key factors and comparisons between Clickfunnels and Groovefunnels. Also, which one is best for you?
Both Groovefunnels and Clickfunnels are marketing platforms for building funnels. These web-based platforms have tons of features and options to offer.
Now, without further due let's get deep into Groovefunnels vs Clickfunnels review.
Let's Start-
Quick Comparison: Groovefunnels and ClickFunnels
Here are the early comparison between these ultimate sales funnel builders.
| Feature | Groovefunnels | ClickFunnels |
| --- | --- | --- |
| Price | Free plan, $99-$299/month | $97-$297/month |
| Landing Pages | Unlimited | Limited to plan |
| Sales Funnels | Unlimited | Limited to plan |
| Payment Gateway | 7 integrations | 4 integrations |
| Affiliate Program | Available | Available |
| Membership Sites | Available | Available |
| Email Marketing | Available | Available |
| Blogging | Available | Not available |
| Webinar Funnel | Available | Available |
| Support | 24/7 live chat, email | Email, limited phone support |
Compare and choose the best one
Compare the Pricing Plans of Both Funnel Builders
Another important feature that plays an important role in getting the best tool is their pricing plans. Always check carefully about what pricing, and features they are offering. And then choose out of them too.
Let's compare their pricing plans as follows:
Groovefunnels offers the following plans:
Base Plan
Silver Plan
Gold Plan
And Platinum Plan
Groovefunnels plans advantage is that it's all plans offer basic important features. Another advantage is that its basic plan is totally free.
So if you are a beginner it's very affordable to you and can upgrade to pricing plans after getting a better understanding. Its other plans are also very effective. Let's check out:
1. GrooveFunnels Base Plan
Groovefunnels' base plan is fully free for use. Its base plan includes GroovePage Lite, GrooveAffiliate, and GrooveSell.
When you register then automatically get registered for the affiliate program here and get a 20% recurring commission per referral.
Base plan features:
GrooveAffiliate
GrooveSell
GroovePage etc.
Get the lifetime deal with an amazing prices:

GrooveFunnels Lifetime Deal and GrooveFunnels
2. GrooveFunnels Silver Plan
The silver plan will cost you $99/month. Here you can experience the pro version of GroovePages. Here you will get access to:
GrooveSell
GrooveAffiliate
GrooveMail
GrooveMember and
GrooveVideo.
And referral commission rate is the same at 20%.
3. GrooveFunnels Gold Plan
Groovefunnels gold plan costs $199/month. And this plan you will get access to:
GrooveSell
GrooveAffiliate
GrooveMail
GrooveMember and
GrooveVideo
GrooveBlog
GrooveDesk
GrooveCalendar
Groovesurvey
GrooveQuiz.
Here, the commission still is 20% per referral.
4. GrooveFunnels Platinum Plan
Groovefunnels platinum plan has everything its own need for making its business successful and if one wants to optimize the sales funnel. This plan is its mega-deal.
Groovefunnels' silver and gold plans will be officially launched and there now it offers only two plans i.e. base plan for free and the platinum plan for the lifetime subscription option.
For paying $497, you will get it's all its features for a lifetime. This plan included:
GrooveSell
GrooveAffiliate
GrooveMail
GrooveMember and
GrooveVideo
GrooveBlog
GrooveDesk
GrooveCalendar
Groovesurvey
GrooveQuiz
GrooveWebinars Live
GrooveWebinars Automated
GroovePages for Shopify.
This plan also offers 14 days free trial. You will get three payment options in the platinum plan for lifetime access no need to pay again and again.
Pricing for different tools included in platinum plan GrooveFunnels.
GroovePages Pro $1,188
GrooveMail $3,828
GrooveMember $468
GrooveVideo $240
GrooveWebinars $1,198
Groove Affiliate (40%) $2,970
GrooveKart $948
GrooveBlog $264
Groovedesk $180
GrooveCalendar $96
GrooveSurvey $1,198
Option 1:
The first option is can try out its functionality for 14 days for free as it offers a 14-day free trial. Then can decide if it works for you or not.
Then need to pay $497 each in three monthly installments.
Option 2:
This option is more convenient than the first one as you can pay in six monthly installments of $288 each.
Option 3:
This plan is suitable if you want to grow a small business as you can pay monthly installments over 12 months. So pay $188 per month for a year and become a lifetime member.
These offers are limited for some time and can get close sooner. After the official launch of the platform Platinum plan will cost $299/month.
Checkout the latest pricing of Groovefunnels:

GrooveFunnels Pricing Plans and Features
Clickfunnels offers three pricing plans. And no free plan for users is offered. It offers 14 days free trial which is great as one can try it out and make a decision as per experience.
These three plans are:
Standard plan
Platinum Plan
Collective Plan
1. Clickfunnels Basic Plan
The standard plan of Clickfunnels costs $97/month and gives limited access to the tools.
In this plan, you get access to funnels up to 20, pages limited to 100, and 3 custom domains. Along with that only one user account and three payment gateways.
Basic Plan Features:
Share funnel
20 funnels
100 pages
1 admin user
3 Payment gateways
3 domains
Chat support
2. Clickfunnels Pro Plan
The cost of the Clickfunnels platinum plan is $197/month. In this plan, you will get unlimited pages, unlimited funnels, and three user accounts.
In this plan, you get access to 9 payment gateways and 9 domains. It also offers a funnel follow-up feature and also enables all courses on FunnelFix.
Platinum plan features:
Share funnels
Unlimited funnels
Unlimited pages
3 sub-users
9 domains
Unlimited follow-up funnels
Chat priority support
3. Clickfunnels Funnel Hacker Plan:
Collective Plan is a $297/month and complete package which Clickfunnels offer. Here one gets unlimited pages, unlimited funnels, and follow-up funnels. Here it also offers VIP phone support and access to training, coaching, and live events.
ClickFunnels Funnel Hacker Plan Features:
Unlimited funnels
Unlimited pages
Follow up funnels
FunnelFix
Live Phone Support
9 sub-user accounts
All courses access
Get more pricing details about Clickfunnels:

ClickFunnels Pricing Plans and Features
Get the maximum discount with promo code:

ClickFunnels Coupon and Promo Code
Know Their Major Factors.
Major Difference Between These Platforms
Having so many similarities between Groovefunnels and Clickfunnels still they have unique features which make them different from one another.
Let's check out these differences between Clickfunnels and Groovefunnels:
1. FunnelFix
Clickfunnels has a bigger advantage than Groovefunnels which is FunnelFix. FunnelFix is also called the " Netflix of online marketing". Here you will find an amazing collection of courses and training.
It will give a great experience for both beginners and experienced marketers.
Its usage limitation depends on the plan you purchased. The platinum plan will give you full advantage of FunnelFix.
2. Calendar Feature
Clickfunnels doesn't provide this feature. So one needs to integrate externally but it will be quite expensive. On the other hand, Groovefunnels has the GrooveCalendar app which makes it easy to schedule appointments and many more.
3. SEO and Blog Feature
Groovefunnels uses a JavaScript framework called Vue.js. which allows pages to load even faster. Whereas Clickfunnels uses old techniques in this regard.
And secondly, one can't write a blog in Clickfunnels so one can't be able to provide fresh content which helps in the SEO factor. Groovefunnels will enjoy the blog platform functioning in early 2023.
So in terms of SEO and blog posts, Groovefunnels comes out as a better platform than Clickfunnels in this regard.
Compare Their Features.
Compare Features of Groovefunnels vs Clickfunnels:
It's time for a ClickFunnels comparison with Groovefunnels. Let's get started…
Groovefunnels provide readymade sales funnel templates also you can customize them totally as per your need. Websites and landing pages can be created using these templates.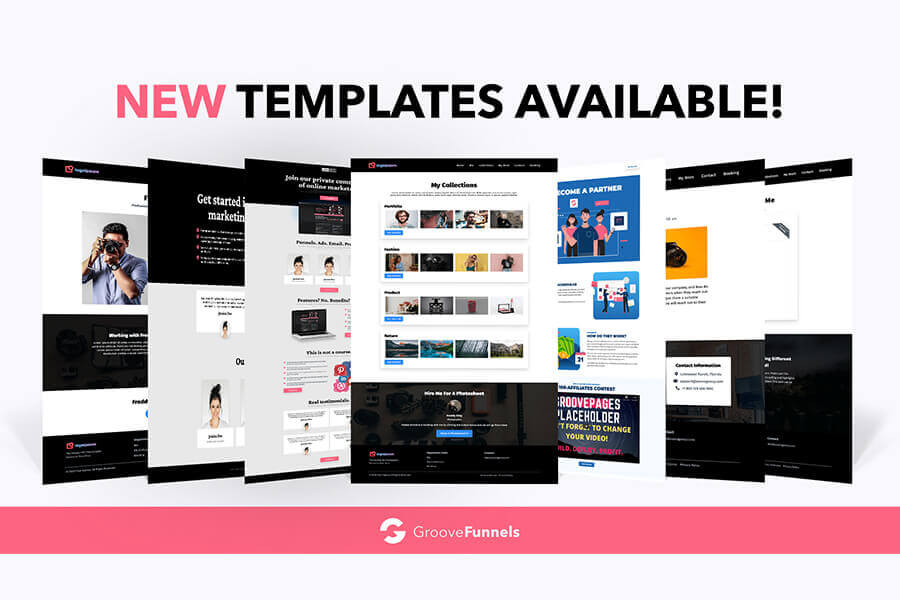 It offers a huge number of templates i.e. 180 plus templates for landing pages and more than 10 complete templates for websites.
On the other hand, Clickfunnels funnel templates are very strong and have the power to turn visitors into paid customers. It has automatically connected page builders, shopping carts, etc. So just do a plug and be ready to get started.
So, after comparing groovefunnels comes out with more effective templates than Clickfunnels. In groove funnels, customization is also super easy to do.
In terms of the video hosting feature, groove funnels come out as a winner because Clickfunnels itself doesn't support video hosting.
So in Clickfunnels, you need to go for a third-party service if you want video hosting.
Whereas it has Groovevideo which is its own platform for video hosting. It also provides various customize options like a call to action, or you will also be provided with A/B Split Testing and in-depth analytics.
So, if you need video hosting then groove funnels is perfect for you in this regard.
Drag and Drop, Landing Page, and Website Editor
Groovefunnels has a very impressive and straightforward drag and drops editor. It provides so many features that one can't ignore its drag-and-drop editor.
Here, the builder is divided into the following sections.
Namely
Blocks
Pages
Funnels
Blocks
Elements
Pop-ups
Stats and integrations.
Another advantage here is one can use a custom domain in its free plan or one can use its own domain with Groovefunnels.
Clickfunnels drag and drop editor is equally strong and well-designed and has 18 different elements to offer. But its user navigation is not that smooth. Overall it offers a decent drag and drops editor.
Here also groove funnels took the attention due to its usable and strongly well-designed drag-and-drop editor.
Both platforms offer this feature but let's see how they are different. Groovefunnels offers full affiliate software for free. It offers weekly payouts and commissions on recurring monthly payments.
It also has a complete system in this regard and one can access to GrooveSell for free makes it more effective.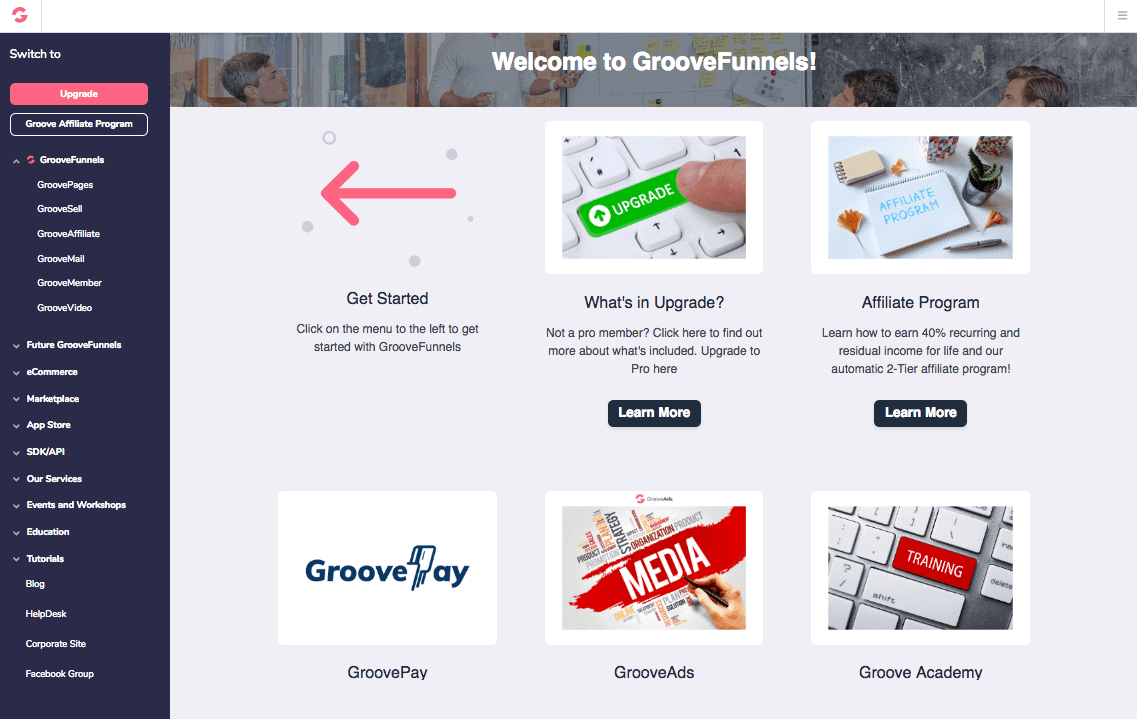 Clickfunnels has a backpack that is its affiliate management tool. In Clickfunnels, you need to pay for high plans to get it.
Groovefunnels membership setup process is easy and one can easily be a member and access the content after payment.
Groovefunnels membership setup is quite simple and it allows drip and gate content. It also offers different plans for membership and even free access as well.
Here, a free account per groove member is allowed only 100 members. If you want unlimited numbers of members then can upgrade to the lifetime account.
Clickfunnels also offers membership features but it is quite complex to set up and maintain. Also, there is lacking customization options here.
Along with that, it doesn't provide a smooth customer experience and there is a lack of tools for interactions between the members. Added to that not responsive for mobile users.
For the membership area, Groovefunnels is a winner.
Email Marketing Automation
Groovefunnels has a GrooveMail feature for offering email marketing automation tools. It is very easy to add lists, send emails, and follow up and many more features are provided here.
Its interface is also very good and neatly arranged. One can easily navigate here and is powerful to handle.
Clickfunnels also provides integrated email marketing automation by integrating with lots of apps like MailChimp and Zapier.
In Clickfunnels it is easy to build email lists and it provides different and beautiful templates for emails and allows you to create emails and lot many more.
So, in providing email marketing automation, Clickfunnels is a star here as groovefunnels has some limitations.
Custom Support And Community
GrooveDesk is Groovefunnel's built-in app. Here one can raise tickets. They respond really quickly and also you can connect to them via live chats. They are pretty good at solving issues. And try their best to help you out.
Clickfunnels also provide excellent customer support. It offers Facebook groups, chat, and blogs to solve your queries and help you out. They also have documentation.
Both platforms offer the best customer support in their own best way.
GrooveFunnels is designed to be user-friendly and easy to use, even for those who have no coding or design experience.
The platform features a drag-and-drop visual editor that allows users to easily create and customize their sales funnel pages without the need for any technical knowledge.
Both Groovefunnels and Clickfunnels are easy to use. One doesn't need any prior knowledge to use these tools.
Both offer simple and effective drag-and-drop interfaces for managing and creating funnels and pages.
ClickFunnels provides a user-friendly dashboard that allows users to manage their sales funnel, view analytics, and monitor performance.
The platform features a drag-and-drop visual editor that allows users to easily create and customize their sales funnel pages without the need for any technical knowledge.
Know their Integration.
Integration: Clickfunnels And Groovefunnel
Both companies provide amazing Integration with software, so let's a look there:
GrooveFunnels:
Groovefunnels integrates with the following systems:
Gmail
Vidyard
DocSend
Salesforce
Google Calendar
LinkedIn Sales Navigator
And others.
Clickfunnels:
On the other hand, Clickfunnels integrates with many popular software which include:
For email Integrations-
MailChimp
Ontraport
AWeber
Constant contact and many more
Payment gateways Integrations-
Keap
Stripe
EasyPayDirect
Android Pay
PayPal
API
NMI and others
Know Their Advantages And Disadvantages
Groovefunnels Vs Clickfunnels: Pros & Cons
It's time to see the pros and cons of both platforms one by one. So that one can get a better understanding of the tool before using it.
These are some of the basic pros and cons of both Groovefunnels and Clickfunnels as follows:
Groovefunnels Pros & Cons:
Pros
Free Web Hosting
Mobile responsive design
Lifetime deal package
Lots of advanced options
Blog feature
Video Hosting
Cons
Not yet fully launched
Few numbers templates
Clickfunnels Pros & Cons:
Pros
More Integrations options
Variety of different templates
Easy to build strong funnels
Drag and drop tools
No processing fee
Ease of use 
Cons
The only higher plan offers an affiliate program
Shopping cart features are less impressive
Know Their Drawbacks
Clickfunnels Vs Groovefunnels: Drawbacks
Other than amazing features both tools also have some drawbacks which we are going to discuss in detail.
Clickfunnels has strong features and functionality but it lacks in some factors i.e. It's basic plan has only a few features so if want more features need to pay for a higher pricing plan and it also lacks video hosting features. Let's see in detail:
Clickfunnels has an extremely restrictive basic plan which is one of its disadvantages. Many of the features like affiliate programs and email automation are lacking in its lower plan.
So if one needs all these features then one has to go for only higher plans. Its lower plans have only limited features.
If you want to host a video on the same platform then need to go for other competitors. As Clickfunnels doesn't have any features like video hosting. Groovefunnels has a GrooveVideo app for video hosting.
Lack of Calendar and Helpdesk feature
There is also lacking calendar and Helpdesk tools in Clickfunnels. On the other hand, Groovefunnels offers these features in its basic plans as well.
No Blog Feature and Weak SEO
SEO is very important nowadays. Well, optimization of pages helps in fast ranking and gaining organic traffic. But the sad part is Clickfunnels have no blog features and overall SEO is weak.
Groovefunnels is growing and operates with higher and superior technology than Clickfunnels. It has provided all one needs in a marketing platform. But developing all the features effectively will take a more extended time.
It is still at its beta level. Its official launch was in July 2020 but still, it needs more time to make available all the functionality. And many important features are postponed.
Its team is working hard but still needs some more time to settle well otherwise it has taken a major growth comparable with Clickfunnels.
Groovefunnels community is not that large. Clickfunnels has over 250,000 communitY whereas has over 75,000 users.
The Groovefunnels community is not as large as Clickfunnels but its progress rate is high. As it's a new platform and Clickfunnels is serving for over 15 years.
Integrated Sales Pipeline
Groovefunnels decided not to provide features of the Integrated sales pipeline. They are not hosting this feature yet. Their reason for this is that Pipedrive has been exceptional.
Know Their Expertise.
GrooveFunnels Vs ClickFunnels: Their Expertise
Here mentioned all the points that make these tools a better option in their fields:
Groovefunnels Is Best For?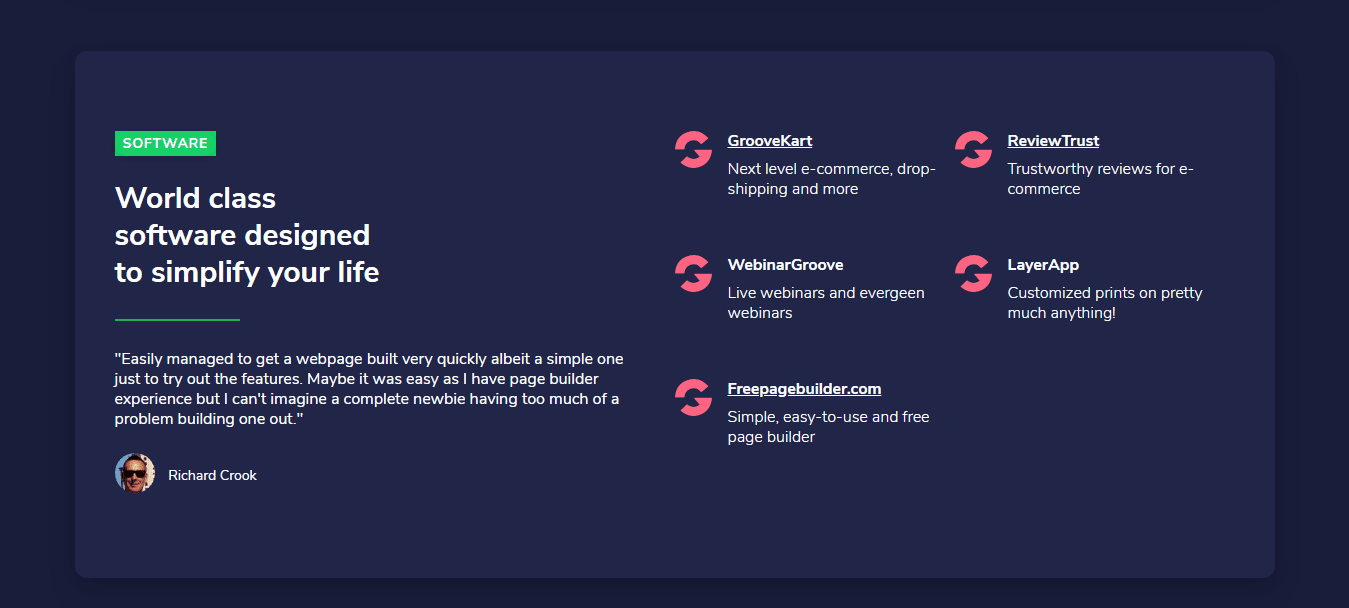 Groovefunnels is best for you if you want lifetime free access to GrooveSell (e-commerce platform) and GroovePages (funnel builder). Choose Groovefunnels if you want to host videos as it has GrooveVideo regarding this.
If you prefer tickets for queries and a digital calendar for the task you must do, Groovefunnels is for you. It also uses a progressive JavaScript platform for faster loading of pages. 
So enjoy Groovefunnels if you want access to all these amazing features.
And the best part is, Groovefunnels also provide a lifetime free plan:
Get the Lifetime Deals in Groovefunnels:

GrooveFunnels Lifetime Deal and Free plan
Clickfunnels Is Best For?
Clickfunnels has FunnelFix for providing information on every aspect of digital marketing and if you want a digital marketing library of content must choose ClickfunnelsClickfunnels.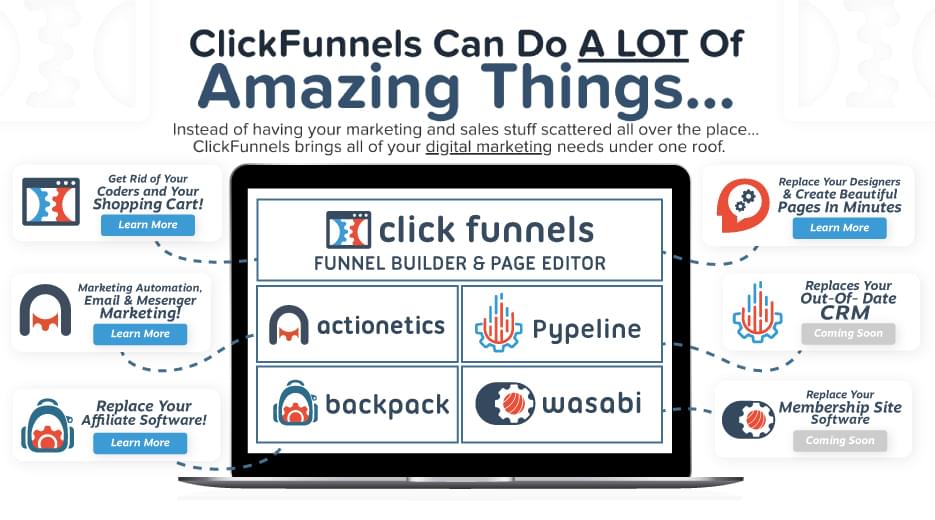 Looking for a strong funnel builder then Clickfunnels is very powerful in providing strong funnel building.
It also has a large variety of templates that are even customizable as well make your page more attractive and appealing.
If you want an integrated sales pipeline then also Clickfunnels is best. It also has called for a customer service feature.
Its interface is also clean and good which makes it ideal for beginners to use.
And Clickfunnels Provide 14 Days Trial with amazing features:
Start Clickfunnels Now:

ClickFunnels Free Trial – Start ClickFunnels Trial Now
Conclusion-
GrooveFunnels & ClickFunnels Compared 2023
In the article, we have discussed the major difference between Clickfunnels and Groovefunnels and their in-depth comparison. Both the tools are highly strong having tons of amazing features.
Now the decision is up to you, choose between the two as per your choice. Try them out and go for the best one for you which suits your needs. Also, don't forget to check out their pricing plans.
Try Clickfunnel's free trial for 14 days or Groovefunnel's basic plan for free to make your decision. For any queries let me know in the comment section below.
Compared Groovefunnels vs Clickfunnels, but Still Confused??
Don't worry, comparing two tools is not that easy that is why we make your work easier:
Best of Luck
ClickFunnels Vs Groovefunnels: FAQs
Here we have added some frequently asked questions about Goorvefunnels and ClickFunnels.
What is the main difference between ClickFunnels and GrooveFunnels?
ClickFunnels is a well-established sales funnel platform with a focus on simplicity and ease of use. On the other hand, GrooveFunnels is a newer, all-in-one digital marketing platform that offers a wider range of tools beyond just sales funnels.
Which platform offers better customization options for sales funnels?
Clickfunnels is an online marketing platform that offers you to sell and manage digital and physical products online. It also has strong features for building sales funnels and pages.
Do Clickfunnels offer a free trial?
Yes, Clickfunnels offers 14 days free trial period.
How is Groovefunnels better than Clickfunnels?
Groovefunnels overcome Clickfunnels in many ways:
1. Effective Pricing plans 
2. Tons of extra features than Clickfunnels
3. More powerful marketing tools as have so many apps in this regard.
Is Groovefunnels free?
Groovefunnels has a basic plan which is free for use. It's totally free. And offers you to access its major features. You will get access to GrooveSell, GroovePage and GrooveAffiliate, and others.
ClickFunnels vs Groovefunnels, which one has better pricing?
We can say both tools are providing pretty good pricing options, We have say click funnels starts with the lowest price, but there is a major difference between their features.
Other Funnel Tools Comparison
Are you looking for an honest comparison between Kartra and Clickfunnels? Compare Kartra and Clickfunnels with …
Compare Kartra and Samcart with their Pricing and features & Choose the best funnel builder. We have covered …