CartFlows Pricing Plans (Select a Right Plan)

CartFlows Pricing Plans (Select a Right Plan)
Compare all the CartFlows Plans with Features, Pricing, and Total Cost. Check CartFlows Pricing Plans Total Cost, Payment Methods, Split Option, and Free vs PRO version comparison.
let's check out the CartFlows Pricing and CarFlows Plans in 2023. Improve your checkout pages with an outstanding interface optimize conversions and gain more profits. Get the best plans and start your beyond creations to grow your business.
Do you want to know about the actual pricing of Cartflows?
We are here to clear your every doubt and confusion about CartFlows. It will change your WordPress into a marketing-selling machine.
Some details are provided below to help to get the best plans.
Compare the all features
Check out the total cost
Discount offers
Maximum savings in the total cost
30 days Refunding features
This article will help you to ensure your purchasing decision. CartFlows is the right choice for every sales funnel builder.
Today we will explain all the pricing plans and CartFlows features according to your needs.
Pricing of Plans of CartFlows:
| | |
| --- | --- |
| Number of Total Plans | 3 Plans |
| CartFlows Starting Price | $79/Year |
| CartFlows Payment Options | Paypal, Stripe |
| CartFlows Durations Of Subscription | Annual & Lifetime |
| Free Plugin Version | Yes Available |
How much does CartFlow Cost?
CartFlows offers their users to choose 3 different types of pricing plans which are Starter Plan, Plus Plan, and Pro Plan. Starter Plan cost $74 per year, Plus Plan cost $149 per year, and Pro Plan cost $269 per year.
Here is the CartFlows Plan:
Starter Plan – $74/year
Plus Plan – $149/year
Pro Plan – $269/year
It's built to work right inside WordPress so you won't have to learn new software. It works with major page builders so you can easily start using templates or create your own.
In this article, you will get all the CartFlows pricing details to choose the best one for your funnel-building journey.
CartFlows Plans and Overview
CartFlows Plans, Prices, and Features
CartFlows also has a free plan option with limited features. It would be a good start to build and explore for the new WooCommerce users.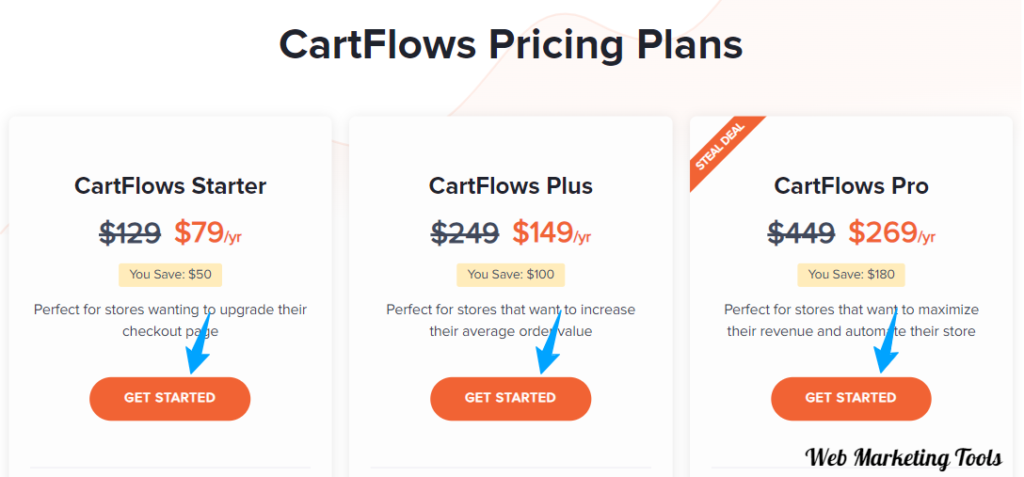 CartFlows Starter Plan
For the Checkout Features.
Starter Plan is CartFlows's first premium plan, that cost only $79/year.
This plan have all the smart checkout features and functions.
Use On 1 Website
Checkout Features:
Modern Checkout Styles
One Column Checkout
Two-Step Checkout
Multistep Checkout
Visual Checkout Field Editor
Custom Checkout Fields
Google Address Autocomplete
Real-time Email Validation
Cart Abandonment
Checkout Takeover
Product Options
This is the 2nd Pricing Plan of CartFlows.
This plan can be used on up to 10 Websites, which makes this plan right for freelancers and small agencies. Although due to its more features, it is also best to plan for an individual store owner.
This plan comes with OrderBumps, One Click Upsell-Downsell, and Some Other benefits.
CartFlows Plus Plan Features:
Use On up to 10 Websites
Dynamic Order Bumps
Order Bump Grids
Modern Order Bump Styles
Custom Order Bump Locations
Dynamic One-Click Upsells
Smart Funnel Routing
Dynamic Upsell Templates
Other Benefits:
Premium Support
Amazing User Community
Great Documentation & Video Tutorials
This is the last plan of the CartFlows with lots of features to increase your product sales and let's put work on Automation.
This Pro Plan Comes with Sale Funnels Features, that increase the chance of a visitor converting into a customer. Some common features like A/B Split testing and Optimized Funnel Templates.
It also has automation features that are worth $800 per year.
Use On up to 30 Websites
SureTriggers Pro Automation*
PayPal Payment Gateway (Coming Soon)
A/B Split Testing
Automation Features ($800/yr value):
INFO
If you are not getting interested then you can refund your money easily with the policy of a 14-day money-back guarantee.
CartFlows Free vs Pro Plan Comparision
CartFlows also provides a free version of the WordPress plugin.
Here are a quick comparison of the CartFlows Free and Premium version features.
| | | |
| --- | --- | --- |
| Features | FREE Plan | PRO Plan |
| A/B Split Testing | NO | YES |
| One-click upsells/down sells | NO | YES |
| Landing page Templates | Limited | YES |
| Number of FLows Allowed | Limited | Unlimited |
| Custom fields for checkout | NO | YES |
| Canvas mode | NO | YES |
| Facebook Pixel Integration | YES | YES |
| | Get Free Version | Get Premium Version |
WooCommerce Checkout & Funnel Builder
About CartFlows WP Plugin
CartFlows is a WordPress plugin that was founded by two co-founders Sujay Pawar and Adam Preiser in October 2017. They work in the same field as behind the world-famous Astra theme and WCrafter website.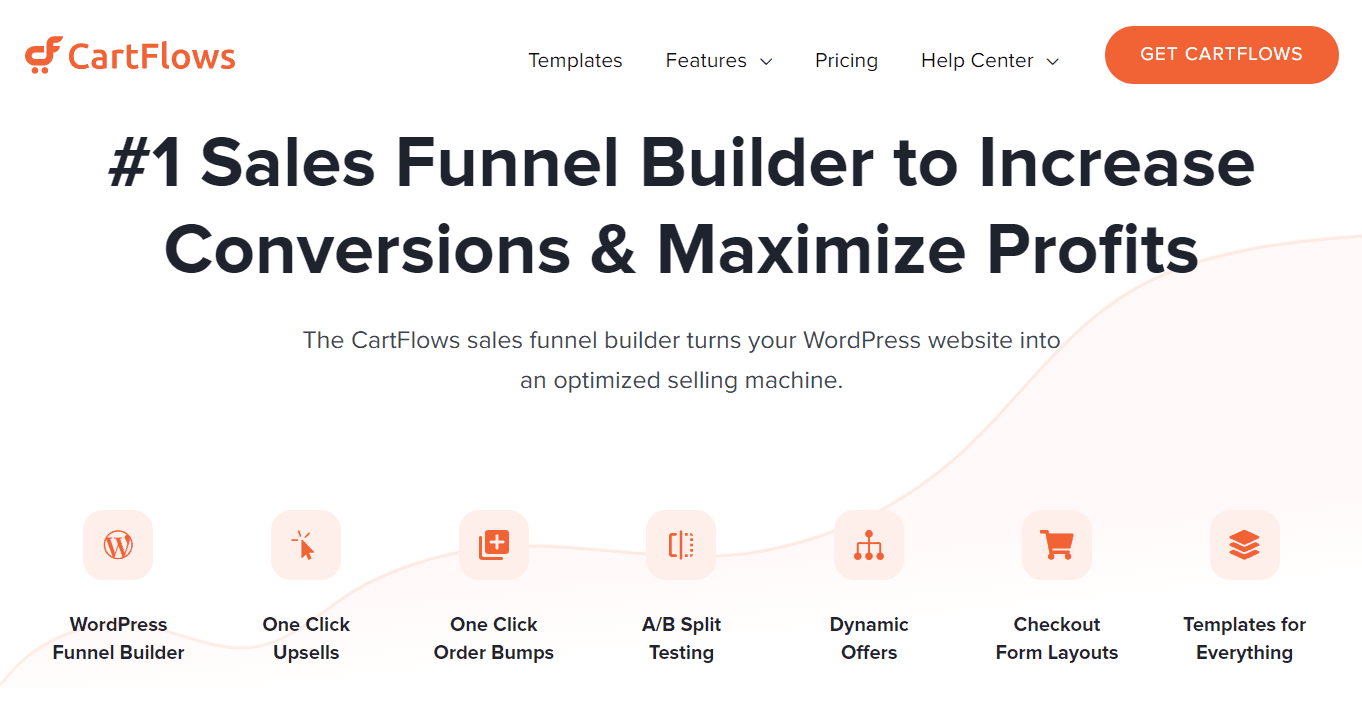 Cartflows was the plan that aimed to build a particular system that provides full control to target the buyers to increase their sales funnels. They made the best WordPress plugin to grow and earn quickly.
You must also know about everything of CartFlows that is quite compatible with the support of Woocommerce. If we talk in simple words it helps you to sell your products more effectively.
The platform offers multiple solutions to support the marketing strategies and techniques to change your visitors into customers. With dozens of features already attached like One Click upsell, Order Bump, Dynamic offers, Canvas Mode, Conversion Templates, A/B Split Testing, Checkout Layouts
We would recommend going with CarFlows Pro Plan if want to access all the advanced sales funnels features. Did you know why we recommend the CartFlows Pro Plan? Because it brings you more profit as well as the other complicated sales in WordPress website.
CartFlows Key Features:
Use On up to 30 Websites
Build Unlimited Funnels
Premium Templates
Conversion Optimized Checkout
Checkout Offers
One Click Order Bump
One Click Upsell & Downsell
Cart Abandonment
Dynamic Offers
Canvas Mode
Modern Checkout
Checkout Takeover
Top Notch Support
Amazing User Community
Excellent Documentation & Video Tutorials
CartFlows Key Features:
let's look into the WooCommerce checkout Improvements in each and every option:
Single or Two column layouts: Take advantage to get full control of the layout options. For a better way to describe it, get two columns like most stores or a single column if you want to add more or other content like testimonials, guarantees, and FAQs.
Real-Time Validation: First of all check the customer's account if it already exists, when users start typing, the password will be displayed on the screen. And if not then customers can check the box and their checkout details which can help the customers to create their user account.
Google address autocomplete: If the Users information already exists and he starts typing with starting letters, the pop-up comes with the whole customer's details. And if he selects the whole text, this will auto-filled.
New field interactions: Use the labels in the field layout with using great animations and a unique interface to impact their customers when they put their data.
Field manager: You can add, remove and arrange according to your purposes the fields on your checkout page easily with the modern checkout pages.
Order box control: The order button can be customized you can change the text of the order button and also have the option to show a padlock and order total inside the button.
Order summary box: When the customer fills the order, the order summary will follow them but the best thing is on mobile it will collapse.
Modern skeleton loader: A modern skeleton loader with WooCommerce customers will see a spinning wheel when they move anything related to the order.
Coupon box Control: Avoid the forms. Let customers pay for their specific payment options that are already integrated with CartFlows.
Should you avail of this deal?
Conclusion – CartFlows Pricing Plans
CartFlows is a key that accessing learning and helps you to create amazing flows in 60 seconds.
It's built to work right inside WordPress so don't need to learn new software.
It works with outstanding page builders so you can easily start using templates or you can also create your own content. Customer support will be responsive and truly helpful.
There are some cool and cheap ways to drive website traffic, by using the CartFlows funnel builder and express checkout option you can easily convert visitors into customers.
So now you are fully justified about the CartFlows software.
But when it comes to the Lifetime Plan, you will save the maximum money value by the CartFlow's most valuable plan with the one-time cost of $999 only. You can access all available features for a lifetime without any further restrictions.
To know more about CartFLows
FAQs: CartFlows Pricing Plan and Total Cost
Here are some Frequently asked questions that help you out with all kinds of doubts and queries about CartFlows pricing plans for 2023.
1. How much does the actual cost of Cartflows?
CartFlows cost $79 per year to $239 per year. It has 3 premium plans with different features and different number of sites.
2. What are the payment gateways of CartFlows?
To be safe and secure transactions it will have two types of payment CartFlows accepts online through credit and debit cards, Paypal, and Stripe without including any other charges.
3. Can I change my CartFlows plan at any time?
CartFlows allows you to change your current plan, just go to the CartFlows main dashboard and enter (The My account) page. It will not affect your free 30 days risk-free period.
4. Which is the Best Plan For Beginners?
For the Beginners, we would like to recommend the Plus Plan, This plan have all the smart features and options to increase your sales and it can be easily managed by a beginner.
Compare all the CartFlows Plans with Features, Pricing, and Total Cost. Check CartFlows Pricing Plans Total Cost, …
Compare the Free and PRO Features and Check Premium Plans.
Latest and Active CartFlows Promo Codes 2022, to get a maximum discount of up to 50% and save $200. Working CartFlows …
Get Working Discount on the CartFlows Plans.